Love listening to audio from your phone or tablet? Huawei has a new product on its stands. Meet the Huawei FreeBuds 3. Launched in Germany in September, they're known as the world's first open-fit wireless earphones with active noise cancellation.

(Update, December 13: We have the comparison! See Huawei FreeBuds 3 vs Apple AirPods 2: Which earbuds are better?)
They're now officially available in the Philippines for P8,990 (around $176). And you get P2,000 ($39) off if you buy them with select Huawei phones. A promo worth checking out, right? Of course, the big question is, are these buds any good? Here are five things that stand out in a good way, in no particular order.
Right size and fit
Our initial impression of the Huawei FreeBuds 3 is that they're convenient. Our review sample are done up in a smooth, glossy-white finish, similar to the surface of their charging case. They also come in black for those who love a classic, with a side of subdued elegance.
The earbuds are about an inch long. They're small and lightweight, and they sit in your ear rather than plug into its opening as standard earphones do. Despite that, they're comfortable to wear for extended periods. They don't fall off easily, which is surprising. We walked around the neighborhood and went on long commutes without them budging.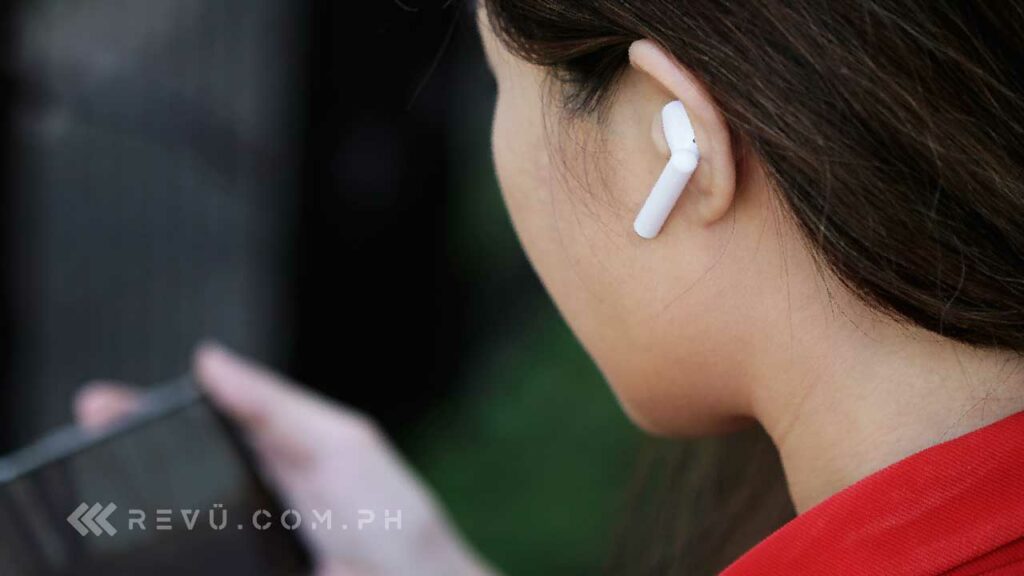 We haven't tried working out with them, but then again, we probably don't need to go that far to prove a point; these earbuds are not designed for fitness or sports. They're IPX4-certified, though, which is to say you can use them in the rain, while doing intense exercises, and more. Just remember not to take them for a swim or wash them.
Dual-purpose case
The included charging case is one of the major strengths of the Huawei FreeBuds 3. It not only houses the earbuds, but also doubles as a portable wireless charger. It packs a 410mAh battery to charge the FreeBuds 3 (which have a claimed four-hour battery life) four times over and extend their total playback time further, up to 20 hours in total. The case tops up over a wired USB-C connection.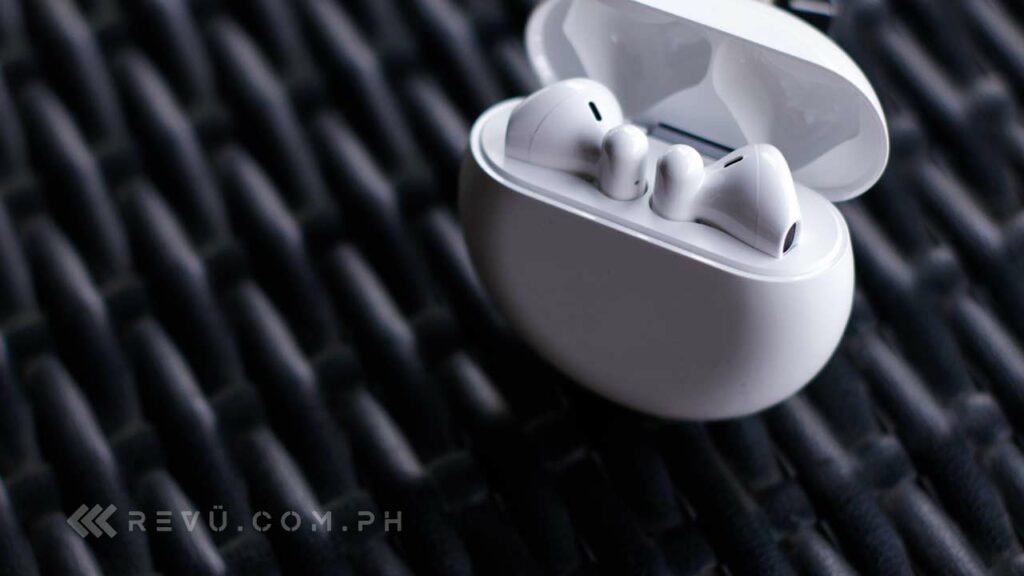 In keeping with the individual buds, the case is pleasingly compact, smaller than the palm of your hand. Its rounded, symmetric design also makes it easier to hold and slip in the pocket when not in use. It has a magnetic lid that snaps closed and keeps the FreeBuds 3 in place.
Perfect pairing
You can pair the FreeBuds 3 on their own (for those who own an Apple device) or with the help of the AI Life app you can download from Huawei's App Gallery or the Google Play Store. You can also scan a QR code from the retail packaging, and this takes you directly to the app's download page.
To enter pairing mode, you must press and hold the button on the side of the case for two seconds until the small LED indicator starts blinking. You can then turn on your device's Bluetooth and select "FreeBuds 3" from the Bluetooth list to pair the units.
To pair your device with the FreeBuds 3, press and hold the button on the side of the case for two seconds until the small LED indicator starts blinking. Turn on your device's Bluetooth and select 'FreeBuds 3' from the Bluetooth list
It gets much easier from the first pairing. The next time you want to connect using the same device, you only need to open the case while the earphones are docked. We used the FreeBuds 3 with several devices running Android — both Huawei and non-Huawei — and iOS. Easy peasy, every single time.
As we said, you can also use Huawei's AI Life app for easy pairing. But having it installed on your phone or tablet has other advantages, too. It allows you to monitor the battery status of the case and each individual earbud. You can adjust noise-cancellation levels on the fly, albeit at the expense of battery life.
You can even customize what the double-tap shortcuts do from the app. By default, double-tapping the left earbud toggles active noise cancellation. The same gesture on the right bud starts playback or skips the current track. The app is also what you'll use to update the earphones' firmware.
Audio goodness
What about sound quality, which is at least as important as any other key specification or feature? In a word: excellent. We were actually surprised by how good they sound considering their open-fit design and the lack of ear tips that create a natural seal. The sound is thick, with a decent amount of weight around the middle, while the bass comes through with enough oomph for our tastes and hits pretty hard for this form factor.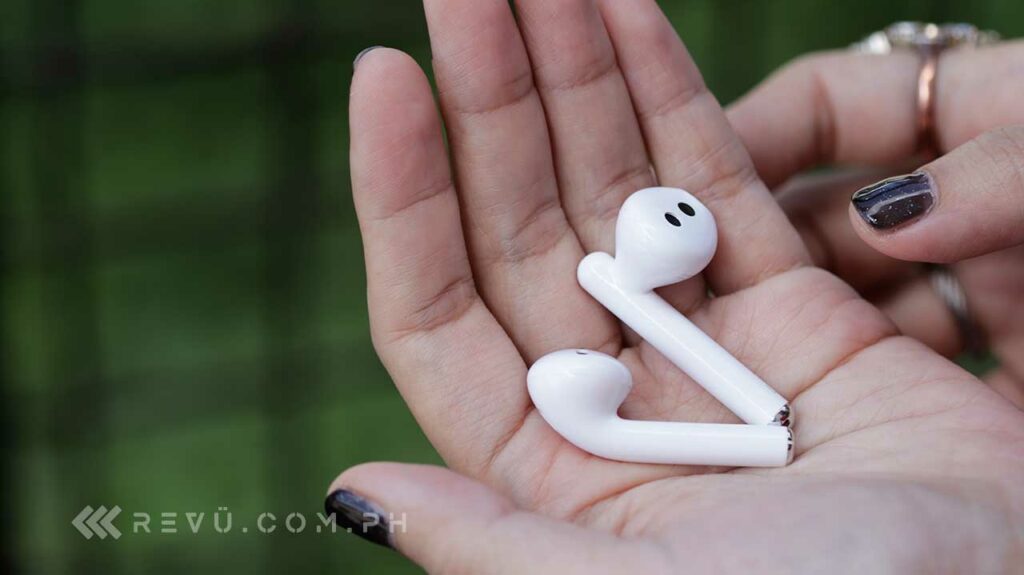 The noise-canceling feature is useful and lets you enjoy your favorite music, movie, or TV show without the distraction of background chatter — or keyboard clicks, in our case. It also lets you listen to content at safer volumes, as you won't need to always turn up the volume to drown out the noise around you.
Plenty of smarts
Powering the FreeBuds 3 is Huawei's latest Kirin A1 chip with Isochronous Dual Channel Connection. This technology allows the earphones to receive data individually, as opposed to sending it to one bud first, and then bouncing it off to the other earbud. The old way of doing things adds latency and draws more power.
Huawei says the Kirin A1 can also stay locked on to your phone or tablet even in crowded environments where interference between wireless devices can cause performance and reliability issues. It supports Bluetooth 5.1 and comes with BLE or Bluetooth Low Energy to provide the right balance between low latency and reduced power consumption along with a more stable connection.
Should you buy the Huawei FreeBuds 3?
The FreeBuds 3 are an instant recommendation especially if you're using a Huawei phone running Android 10 like the Mate 30 or Mate 30 Pro. Even if you are not, they're still among the most feature-packed earphones around for under P10,000, and the noise cancellation can make a difference in the right environment.
They're lightweight, comfortable to wear for long periods. They sound great. And the battery life with the case should get you through a week if you're not a heavy listener.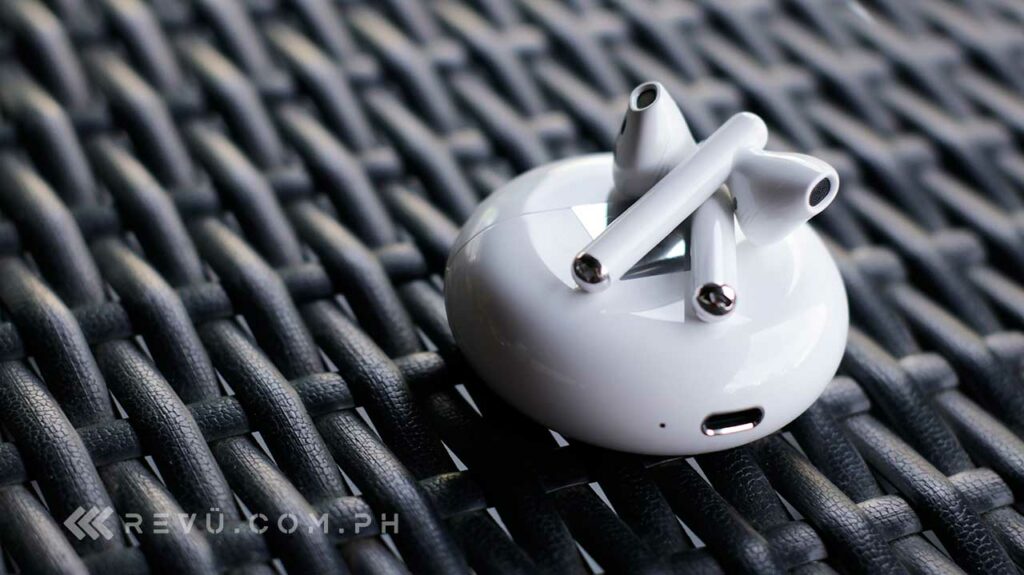 At P8,990 ($176), they're competing with Apple's AirPods. But the AirPods 2 with a wireless charging case, which should be standard for all wireless earphones, cost P11,790 ($231). The AirPods Pro that come with noise-canceling capabilities, just like the FreeBuds 3, are a joy-deflating P14,990 ($294).
We'll be coming out with a comparison article featuring the FreeBuds 3 and AirPods 2. So if you're an Apple user, you might want to check back in a week or two to read what we have to say about how these two stack up against each other, and, more importantly, find out which pair is a better buy.
---