Realme has announced the Buds Air true wireless earphones in the Philippines, less than a week after teasing it on social media.

These earphones are the company's first offering in the TWS or True Wireless Stereo space, and like majority of the products in the Realme portfolio, the Buds Air won't make a dent on your budget. But many other TWS earbuds are also inexpensive; in fact, some are cheaper than the Buds Air.
So, what makes these earphones special? Are they even worth the money? Find out in our Realme Buds Air review.
Realme Buds Air price, availability, and promos
In the Philippines, the Realme Buds Air are officially priced at P3,990, roughly $78 converted. They're initially available in white, but they will also be offered in black and yellow colors. You can buy them starting January 22 online through Lazada and offline nationwide from Realme stores and kiosks.
SEE ALSO: Realme 5i launching in the Philippines Jan 29
As an initial offering, they will go on sale on the official Realme Lazada store for P2,990 ($59). The discounted price will only be valid on January 22 and 29 and February 6. Additionally, Realme is giving away free wireless chargers to the first 100 customers.
As an initial offering, the Realme Buds Air will go on sale on Lazada for P2,990 ($59) on January 22 and 29 and February 6
Realme Philippines will also be offering P500 ($10) discount vouchers on its Facebook page from January 22 to February 6. Finally, those who purchase a Realme phone and a Buds Air will enjoy an additional discount of P1,000 ($20).
Hardware
Opening the box, the first thing you'll probably notice is the wireless charging case for the Realme Buds Air. It's familiar, obviously Apple-inspired — yet surprisingly small compared to other cases out there. It's even smaller than that of the OPPO Enco Free and Huawei FreeBuds 3, and roughly the same size as the tiny, shiny cube that holds the regular AirPods. It's also predictably lightweight, coming in at just 42.3 grams.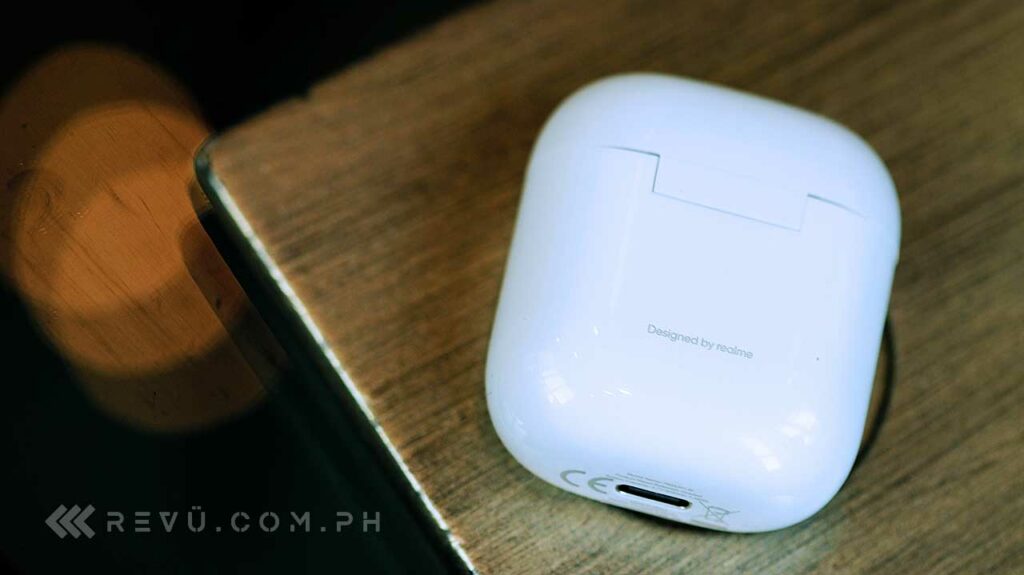 But unlike others, the case has a more plasticky feel and sheen about it, which, we suppose, can't be helped given Realme's aggressive pricing model. It's magnetic, so the earbuds won't fall off when you flick the top of the case open. And while the hinge mechanism of our unit doesn't allow for a perfectly smooth open and closing action, it isn't flimsy, as it can be on a lot of budget options down in this price segment.
The case doesn't feature the Realme logo; instead, it simply says "Designed by Realme" on the back. A single button on the front can pair the earphones with your device if you hold it down. The multicolor LED status indicator is embedded into the case body, just above the pairing button, and lights up to help guide usage.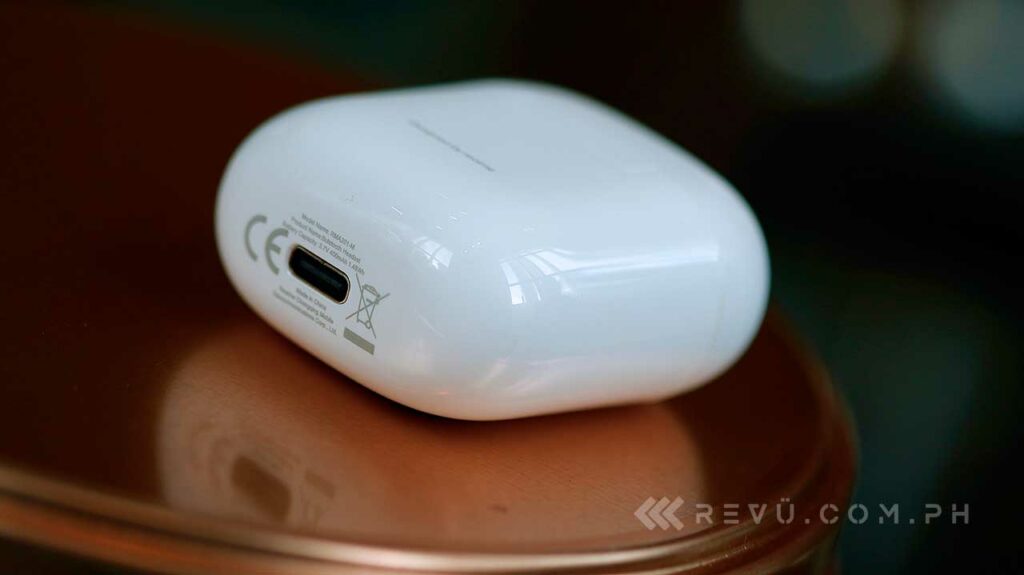 At the bottom, you will find a USB-C port for wired charging, but the Buds Air also allow for wireless charging using any Qi-compatible charger. You can likewise use a phone with reverse wireless charging to top off the case. Adding cable-free charging is helpful to avoid a messy wired setup.
The battery life is pretty good at two or three hours on one charge, and the case holds enough power to keep the earphones going for days with continuous use
Similar to other charging cases, the Realme Buds Air includes a built-in battery that extends listening time up to a total of 17 hours. Of course, the earphones themselves have individual batteries and can offer three hours of playback before needing a recharge. In our testing, the battery life is pretty good at two or three hours on one charge, and the case holds enough power to keep the earphones going for days with continuous use.
The LED on the front indicates the battery level of the charging case. Green means the amount of charge left is more than two-thirds full; yellow indicates the battery is less than two-thirds of its capacity; and red indicates it's time to recharge the case. The housing with the earbuds inside take about two hours to juice up from zero via the USB-C port.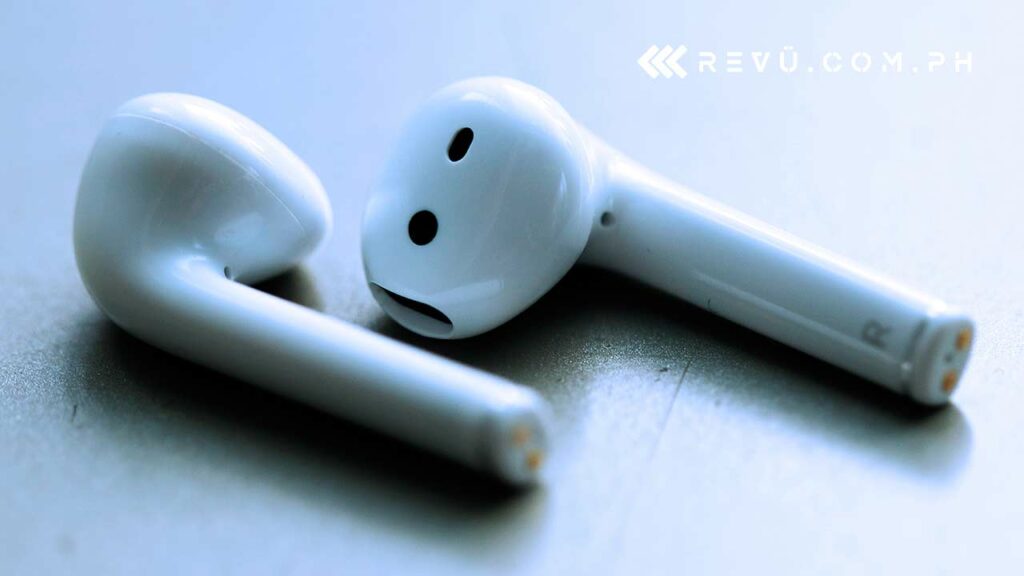 Each earphone weighs only 4 grams and sits on the ear without placing too much pressure on it, making the Buds Air perfect for long-time use. The buds have an open-fit design at the top attached to an elongated stem with a silver strip at the base. They have a glossy finish matching the surface of the charging case that houses them.
Box contents
Realme Buds Air with wireless charging case
User guide
USB-C cable
Pairing and functions
The Realme Buds Air support Bluetooth 5.0 for lower latency and better range compared with previous-generation Bluetooth technologies. To pair the earphones with your device, all you need to do is open the charging case, press and hold the button on the front, then select "Realme Buds Air" from your device's Bluetooth list.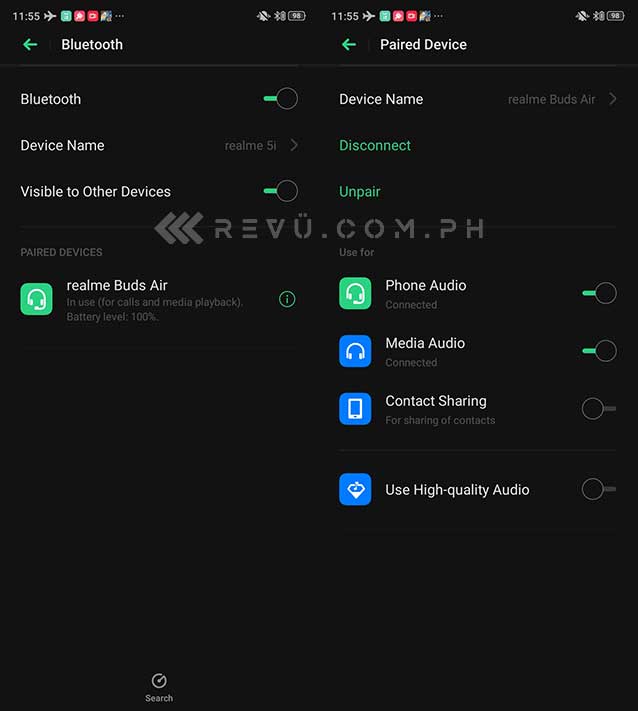 They will work with most devices, including iPhones, and it's worth mentioning that Android voice assistants such as Google Assistant and Alexa are supported. You get Siri integration on iOS as well, which is good to see and somewhat surprising.
The Buds Air feature touch controls for media playback and answering calls. A double-tap on either earbud pauses the track or answers a call; triple-tapping skips to the next song; a long-press on one earbud launches a voice assistant on your device or ends a call; and long-pressing on both earbuds activates or deactivates a low-latency mode for games like Mobile Legends and Call of Duty: Mobile, where latency actually matters.
Long-pressing on both earbuds activates or deactivates a low-latency mode for games like Mobile Legends and Call of Duty: Mobile, where latency actually matters
The sound of an engine revving indicates that the mode is active. Leaving it on will drain the battery faster, so keep that in mind.
Another highlight of the Buds Air is automatic wear detection courtesy of optical sensors on the inner side of each earbud. This means playback will automatically stop if one of the buds is removed from the ear. Putting it back will unpause audio. We found wear detection to be pretty much infallible, pausing playback as soon as we take the buds out. Similarly, music will resume within seconds after you insert the earphones back in your ear.
Having this feature will help you engage in small talk with people, as you can remove one earbud to quickly pause a track, talk, and then put the earbud back in to resume playback — all without using your phone's screen.
Performance
As with any audio hardware, sound quality is the biggest deciding factor in determining if the gear is worth the money. So, do the Realme Buds Air perform well? Absolutely. SBC and AAC codecs are supported for high-quality audio, but the lack of aptX support can be considered a notable shortcoming. The earphones are powered by Realme's custom R1 chipset, while two 12mm dynamic drivers provide the sound.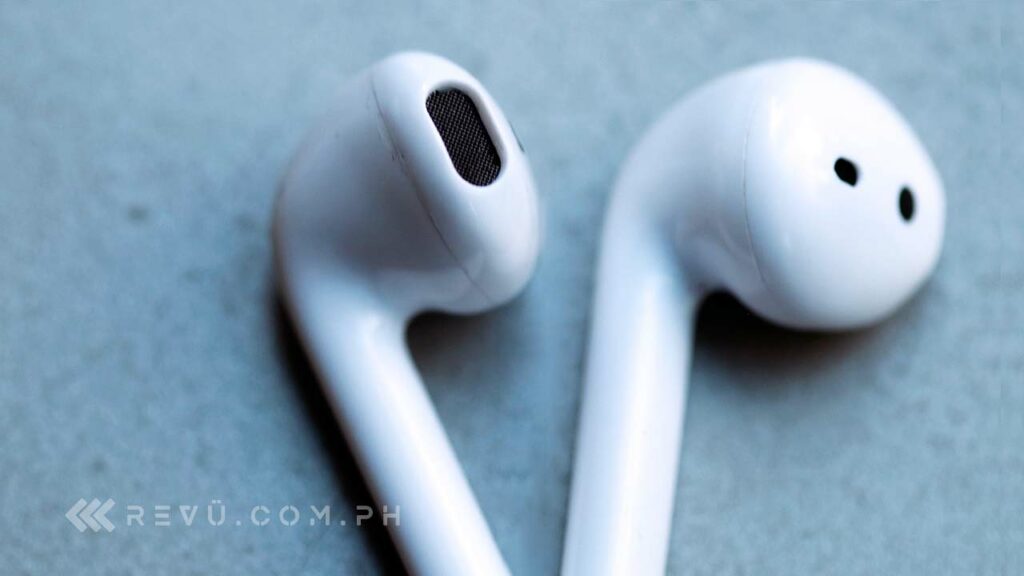 The bass performance feels punchy, bold and impactful, and the highs and lows sound good and retain their strong nature. The treble sounds are clear and allow vocals in music and podcasts to shine. The buds can also get quite loud if you need them to, but distortion starts to hit at peak volume, as expected.
The sound quality over voice calls is fine, and the inclusion of integrated microphones — one in each bud — will make sure your voice comes through clear. At the same time, the dual-mic setup allows for some noise reduction when taking a call.
READ ALSO: Huawei FreeBuds 3 vs Apple AirPods 2: Which earbuds are better?
As far as the overall sound is concerned, we think the Realme Buds Air are on a par with the second-generation AirPods, and certainly better than most other TWS earbuds in the segment. The AirPods comparison is particularly striking considering the Realme's much lower cost.
Final thoughts
Realme once again delivers a good, feature-rich product that won't break the bank.
These earphones hit the mark in terms of sound and come bundled with a compact wireless charging case that includes wireless charging, as well as USB-C compatibility. They pair quickly and easily with most devices, while the battery life is more than adequate for days of continuous use.
The Realme Buds Air are a solid and worthwhile addition to the brand's rapidly expanding ecosystem of products. Hopefully, we'll see more audio devices from Realme before the year ends.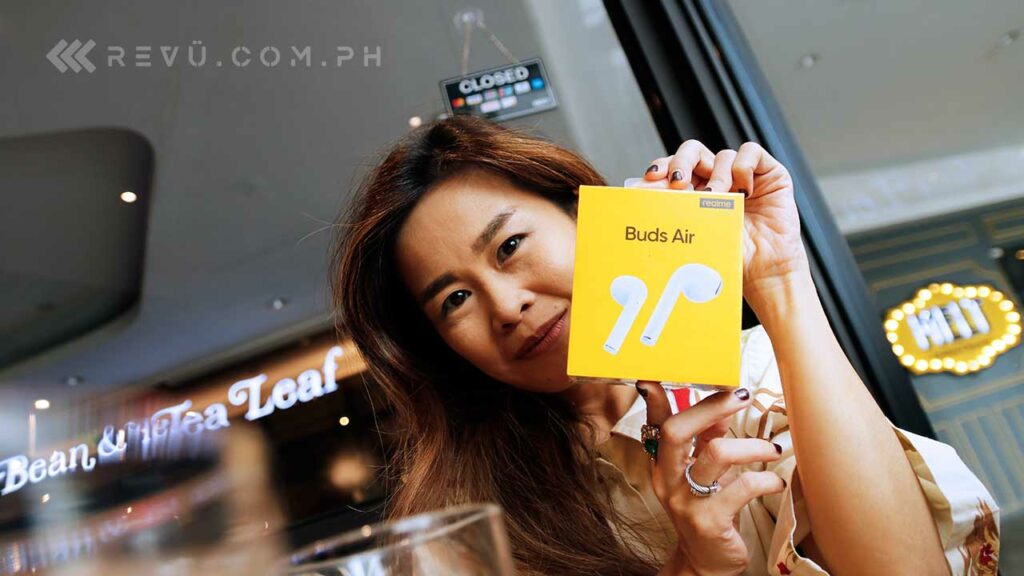 ---