Huawei has recently launched the Y7p in the Philippines to give budget-conscious buyers another quality option without spending too much for features they might not use or appreciate.
But between Huawei's latest Android offering and the Samsung Galaxy A30s — a much more expensive purchase — which phone deserves your cash? To answer that, let's take a look at both devices from a hardware and performance perspective.
Of course, we also have to take into account the price gap between the two, because a higher price tag doesn't necessarily mean you get more for your money. Similarly, a great price doesn't always translate into great value.
In the Philippines, the Huawei Y7p is priced at an impressive P9,990, or around $198 converted. The Galaxy A30s, on the other hand, will run you P12,990 ($257). That's a pretty steep difference, especially on a tight budget. So, which phone should you be going for if you have around P12,000 ($237) to spend, roughly? Let's discuss.
Hardware
Both the Huawei Y7p and Samsung Galaxy A30s feature plastic designs and reflective rear panels that produce an eye-catching shimmery effect. The Y7p has a more attractive finish, though, and uses a 3D nano texture on the back, resulting in a more visibly prominent sheen. On top of that, Huawei's Aurora Blue variant turns heads with a green-blue gradient that makes it look absolutely stunning.
Obviously, the decision with regard to good design comes down to personal preference, but if we had to pick one, it would be the Huawei Y7p. Easy. It just looks better in our opinion, regardless of the color on the back.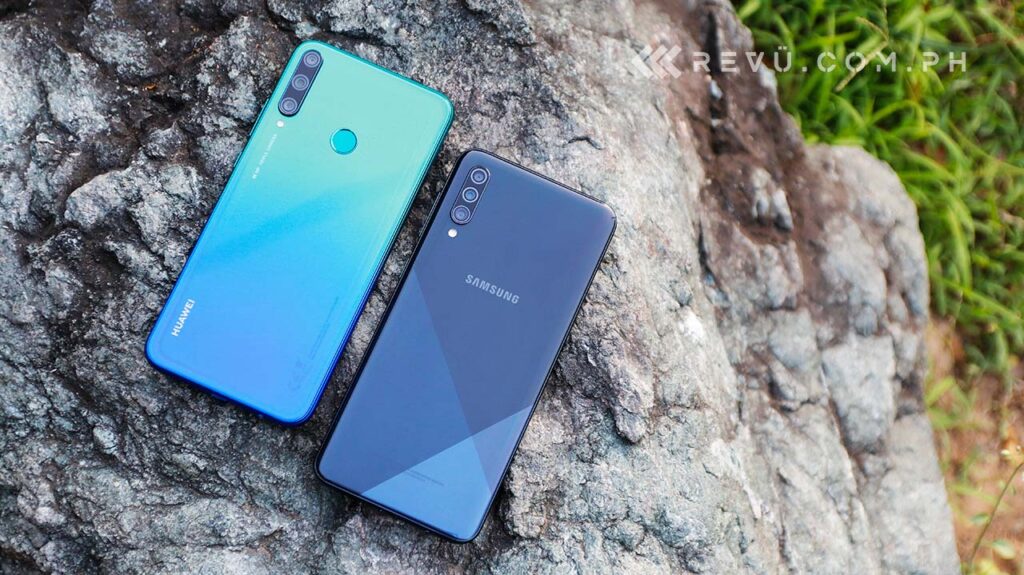 Another thing that the Huawei phone has over the Galaxy A30s is a sturdier build. Unlike the Samsung handset, the Y7p doesn't scratch quite easily. If you look closely at our A30s unit, you'll see some scuffing and deep scratches that can be felt with your finger. The worst thing is that we haven't dropped the phone since getting it. Not even once.
In terms of size, the Y7p and A30s are about equal, and both fit great in the palm and are easy to operate with one hand. The fingerprint reader of the Y7p is located on the back; it's a physical sensor, as opposed to the in-screen solution of the Samsung device.
And while that means the A30s looks more seamless on the outside, the tradeoff is it can't be unlocked without partially or completely turning on the display first. The Y7p's rear-mounted sensor is likewise faster than one embedded into a screen.
Screen
The Huawei Y7p's display is LCD and measures 6.39 inches. And the Samsung Galaxy A30s? It gets a 6.4-inch Super AMOLED panel to give it its vividness and images with high contrast. Both screens run at 720p resolution, and they perform well for their respective price points, although the Huawei handset does punch above its weight in terms of picture quality.
The main difference, at least in our opinion, lies in their camera cutouts. The Y7p has a punch-hole screen, so it's actually closer to a full-screen front than the Galaxy A30s, which incorporates a waterdrop notch at the top center.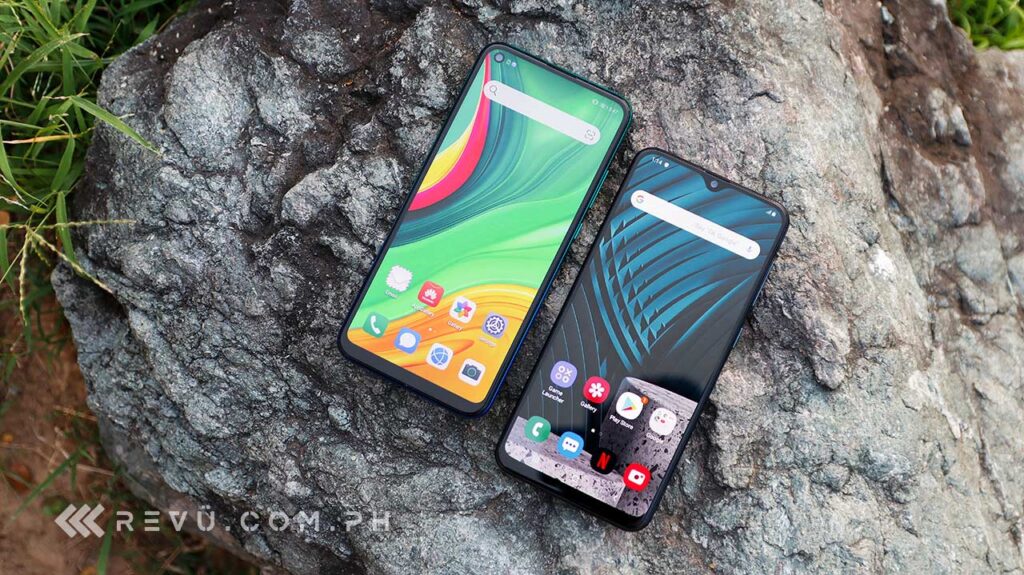 What's more, the cutout for the Y7p's selfie camera is just 4.5mm wide — one of the tiniest in any smartphone, let alone a budget-priced one. Additionally, Huawei's punch-hole solution uses advanced manufacturing technologies to create a hole that's only 0.1mm deep, compared with traditional in-display cutouts that completely go through the panel.
Camera
The Huawei Y7p boasts three cameras on the back consisting of a 48-megapixel sensor and dedicated shooters for ultra-wide and portrait photography. This makes it one of the few phones on the market with a high-resolution sensor complemented by a versatile set of lenses. Plus the 48-megapixel camera uses 4-in-1 pixel binning, allowing you to take high-quality pictures even in the dark or at night.
If this is the first time you're hearing about it, pixel binning combines data from four pixels to produce a single larger pixel with more information, and therefore higher brightness, detail, and dynamic range. It is usually reserved for phones that pack better hardware in the camera department and are much more expensive. But with the Y7p, you'll get it without spending north of P10,000 ($198).
Further, the latest budget model from Huawei includes the company's outstanding camera app with Super Night Shot mode for brighter and more detailed photos without the need for a tripod or gimbal. Essentially, Super Night Shot works by capturing several images at different exposures and fusing them together to get a higher-quality one. The results can be staggeringly good. You can check out some comparisons between the regular and the Super Night Shot photos in our review of the Huawei Y7p.
Daytime shots. Those shot on the A30s come first
The Samsung Galaxy A30s, on the other hand, features a 25-megapixel primary camera and two secondary cameras for wide-angle and portrait shooting. It's basically the same setup as the one on the Huawei, except the primary shooter isn't as good, and there's no night mode to speak of or rave about.
Samsung Galaxy A30s vs Huawei Y7p (Super Night Shot mode enabled)
That said, the low-light performance of the A30s doesn't compare with what the Y7p is capable of under the same conditions. It's no contest, really — the latter handily beats the Samsung when it comes to night shots.
For taking selfies, the Y7p and A30s are equipped with 8- and 16-megapixel sensors, respectively. Samsung's higher-resolution sensor understandably delivers more detailed pictures, and the background-blur effect is believable when shooting in Live Focus mode.
Selfies taken with the Samsung Galaxy A30s and Huawei Y7p, in that order
Performance
The Huawei Y7p has an in-house HiSilicon Kirin 710F, while the Galaxy A30s opts for Samsung's own Exynos 7904. Both phones we used in this comparison pack 4GB of RAM and 64GB of expandable storage. However, it's the Y7p that offers faster processing and gaming performance in terms of benchmarks, as well as real-world use.
How come the numbers and experience vary? To explain it, we'll have to go into some technical details. The Kirin 710F inside the Y7p is based on a 12nm manufacturing process, while the A30s' Exynos 7904 leverages a 14nm node. Using a lower CPU node brings improved power efficiency and performance, so the Kirin 710F is better in that sense. Further, Huawei includes four fast CPU cores that are also clocked higher, as opposed to only two in the A30s.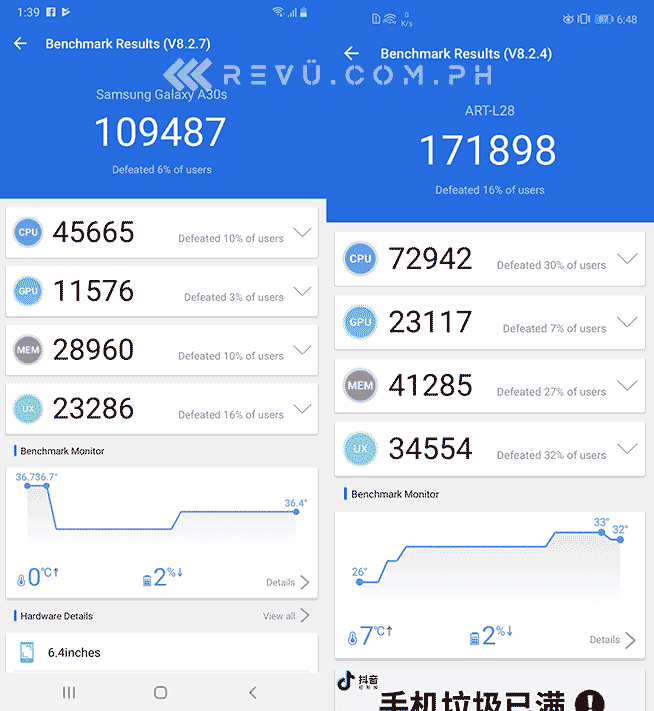 The Y7p also benefits from Huawei's GPU Turbo 3.0 in its Android Pie-based software, and this can seriously speed up your games by helping the phone allocate resources where they're needed most. GPU Turbo 3.0 means more battery savings as well, and the company says it can cut down on power consumption by up to 10% depending on what you're playing.
The growing list of GPU Turbo-supported titles includes Mobile Legends: Bang Bang, PUBG Mobile, Fortnite, Real Racing 3, and Minecraft. Having said that, if you are even somewhat interested in mobile gaming, the Y7p doesn't disappoint at all with what it brings to the table. The Samsung Galaxy A30s is a capable gaming handset, too, even though its benchmark scores may not be all that impressive next to the Huawei.
The Huawei Y7p doesn't ship with Google apps and services preloaded, but it gets EMUI 9.1 based on Android Pie with Huawei Mobile Services on tap. HMS is also available on other Huawei devices, including much older ones, and it should only get better now that the company has decided to make it a focal point of its global mobile strategy moving forward.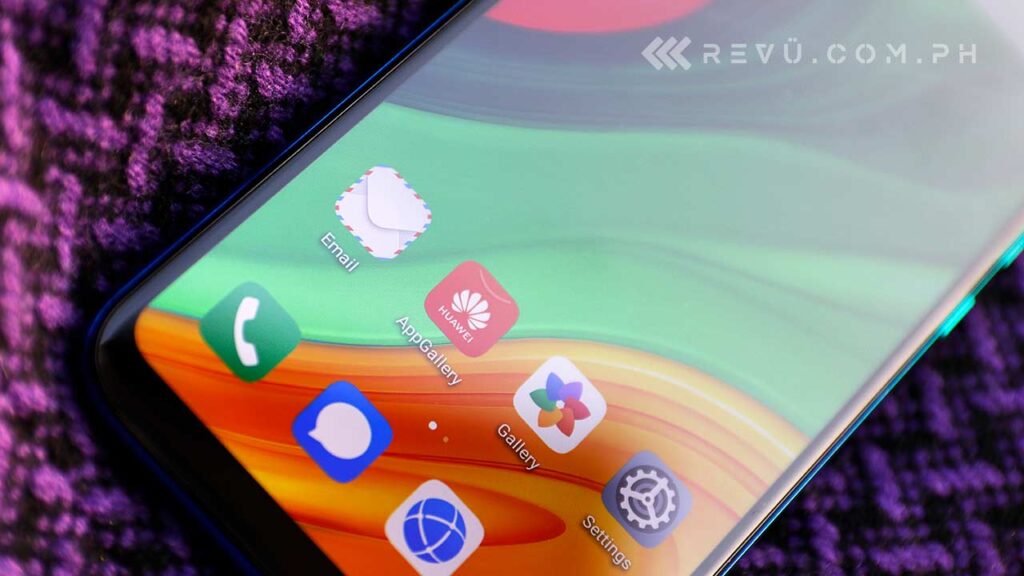 One of the hallmarks of HMS is AppGallery, where you can download some of the most popular local apps for Android, such as Facebook (using a direct download link), TikTok, Viber, GCash, GMovies, ShareIT, and more. It is now the third-largest app store with over 400 million active monthly users worldwide.
We've been using Huawei devices without GMS for some time, and we've consistently been impressed with the improvements added to HMS, which now allows in-app purchases on select apps using a card or Huawei points earned via the AppGallery. Better yet, it's also secure; we frequently get software updates that address security vulnerabilities within Android.
Battery and charging
Both smartphones have a 4,000mAh battery, but the Huawei Y7p doesn't charge over USB-C unlike the Galaxy A30s. It also doesn't come equipped with fast charging. However, in terms of average battery life, the two devices are pretty much equal, offering a full day of moderate to heavy usage. With lighter use, you can probably stretch the battery life to two days.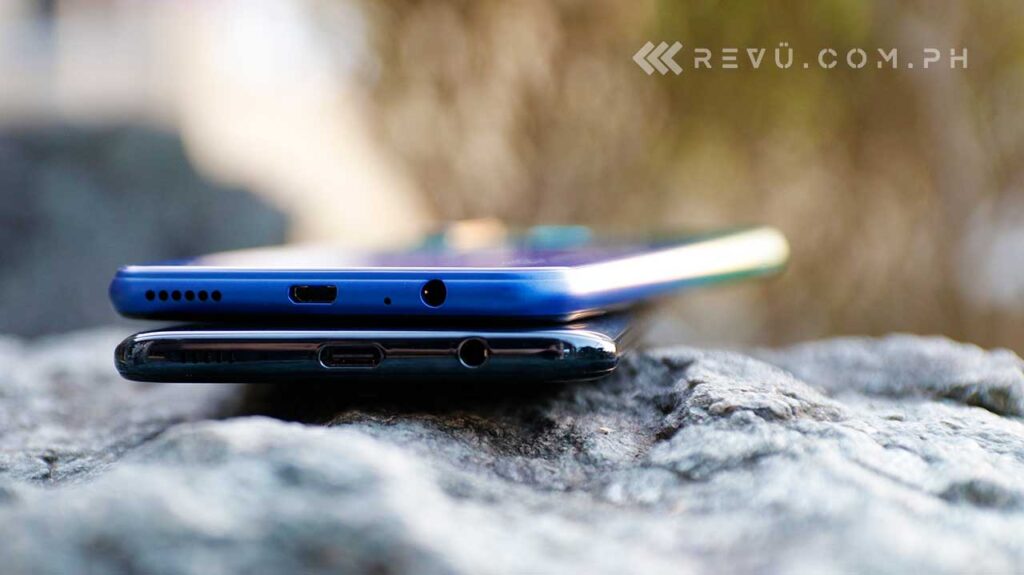 Power management is one of the strongest suits of the Huawei Y7p. The device also gives you a choice between Power Saving and Ultra Power Saving modes to extend the battery life further. If you always wanted a device on which you can watch videos while commuting to your workplace, browse the internet and social media, play games for an hour or so, and then come home with some power left, the Y7p is one of your best options on the local market.
Final thoughts
It's impressive that the Huawei Y7p can do all the things it does at the price it's worth, even handily beating the Samsung Galaxy A30s in our performance and camera tests. At only P9,990 ($198), we already know it's one of the best phones in its category. But when placed next to its pricier competition from Samsung, its value is magnified with greater intensity.
Sure, the A30s has some bright spots, too, including a well-sized Super AMOLED screen, a triple-camera setup on the rear, and a 4,000mAh unit that supports USB-C fast charging. But it's also substantially more expensive than the Huawei model, costing a couple of thousand pesos more.
From a value perspective, the Huawei Y7p just makes a lot more sense. It can do pretty much all the same stuff — plus a few other things — for less.
The Huawei Y7p can do pretty much all the same stuff — plus a few other things — for P3,000 ($59) less
Samsung Galaxy A30s specs
6.4-inch Super AMOLED display with waterdrop notch, 1,560 x 720 resolution (19.5:9)
Octa-core Exynos 7904 processor
4GB RAM
64GB expandable storage
Triple 25-megapixel, f/1.7 (main), 8-megapixel, f/2.2 (ultra wide), 5-megapixel, f/2.2 (depth) rear cameras
16-megapixel, f/2.0 front camera
Fingerprint reader (in-display)
4,000mAh battery with 15-watt fast charging via USB-C
One UI based on Android 9 Pie
Colors: Prism Crush Black, Prism Crush Green, Prism Crush White
Huawei Y7p specs
6.39-inch LCD display with punch-hole cutout, 1,560 x 720 resolution (19.9:9)
Octa-core Kirin 710F processor
4GB RAM
64GB expandable storage
Triple 48-megapixel, f/1.8 (main), 8-megapixel, f/.2.4 (ultra wide), 2-megapixel (depth) rear cameras
8-megapixel, f/2.0 front camera
Fingerprint reader (rear-mounted)
4,000mAh battery with 10-watt charging via microUSB
EMUI 9.1 based on Android 9 Pie, Huawei Mobile Services or HMS
Colors: Aurora Blue, Midnight Black
---