Huawei just took the wraps off another Y series phone in the Philippines, just weeks after releasing the Huawei Y9s locally.
Impressively, the Huawei Y7p launches with a lower price tag while featuring the same Kirin 710F chipset as the Y9s and sporting a nearly bezel-less design that adopts the punch-hole solution of the Nova 5T.
SEE ALSO: Samsung Galaxy A30s vs Huawei Y7p: Is a more expensive phone better? and PH price drop: Huawei P30, P30 Pro, Mate 30, Mate 30 Pro
The gradient rear design looks great and adds to the overall aesthetics, and the phone has three cameras on the back as well. It's also headlined by a 48-megapixel primary image sensor, like the Y9s.
On paper, it's certainly a sweet deal, but should you buy it? To find out, we put the Huawei Y7p through its paces as our daily driver. Read our review below.
Huawei Y7p price and availability
In the Philippines, you can pick up the Huawei Y7p for P9,990 (around $198 in U.S. currency), with Aurora Blue and Midnight Black as your color options. Preorders kick off February 17 and ends on the 27th at authorized Huawei stores and resellers nationwide. Shipping is set for February 28th. Customers who pre-purchase the handset offline will receive the following:
Huawei CM510 Bluetooth speaker worth P990 ($19.60);
50GB of cloud storage for two months; and
500 Huawei points via the AppGallery.
Meanwhile, online preorders through Lazada and Shopee will get these freebies:
power bank worth P1,499 ($29.64);
Huawei CM510 Bluetooth speaker valued at P990 ($19.60);
50GB of cloud storage for three months;
500 Huawei points via the AppGallery;
P1,000 ($20) voucher for the Huawei FreeBuds 3 (claiming is from February 28 to March 9); and
50% cashback for the first 10 customers.
Hardware
The Huawei Y7p uses a plastic shell with a nice gradient coloring on the back for the Aurora Blue variant and a mostly glossy finish that can scratch and pick up fingerprints rather persistently.
The color gradient on the rear panel is visible — not just when you hold the device at certain angles — and it actually extends to the edges of the phone. So even if you look at the body from the left or right side, you'll see two colors instead of one.
The Midnight Black version of the Huawei Y7p is much more conservative, sporting an all-black colorway that will appeal to people who prefer a simpler design.
Regardless of which color variant you end up with, you'll find a distinctive design on the back of the Huawei Y7pm where light is refracted to form a rectangle made of colorful lines
But regardless of which color variant you end up with, you'll find a distinctive design on the back of the Y7p where light is refracted to form a rectangle made of colorful lines. Huawei says this is made possible by the nano texture etched into the phone's polymer body.
At 176 grams with the battery included, the smartphone is a bit lightweight, but it definitely doesn't feel fragile or cheap in any way. And you'd be forgiven for thinking that the handset costs much more than it really does. If it wasn't for the plastic chassis, we'd probably think it is on the expensive side, too.
The weight and dimensions of the Huawei Y7p also make it quite easy to hold and operate one-handed. The curved sides of the phone add to the comfort factor as well.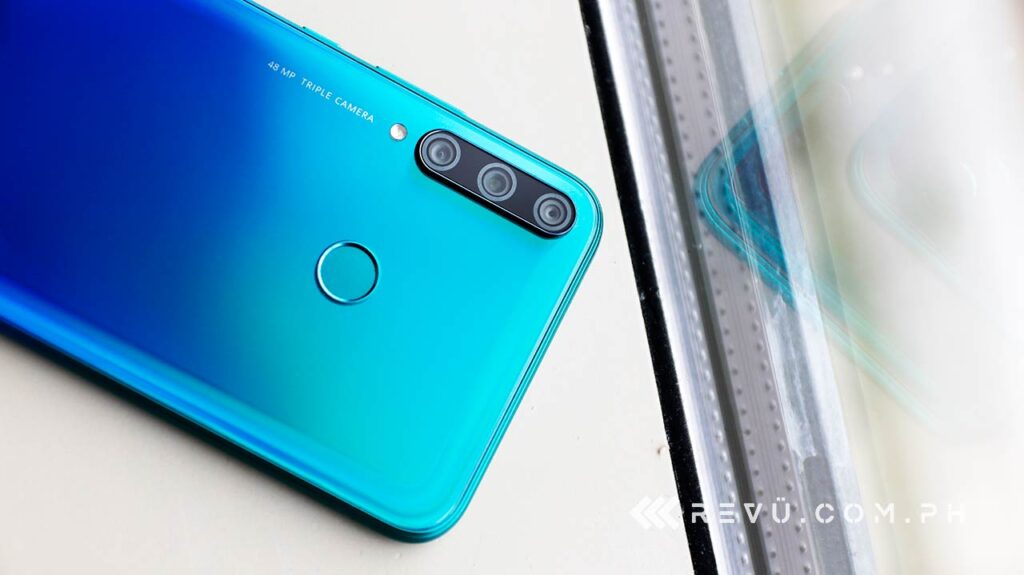 The Y7p has a physical rear-mounted fingerprint sensor that is fast and reliable, and, unlike face unlock (which this Huawei also has), works even in complete darkness. It can identify up to 5 different fingerprints and can be used to lock files and apps with your fingerprint.
Flip the handset to its back, and you'll find a triple-lens camera setup with dedicated lenses for ultra-wide and portrait shots. Like on most other smartphones, the lenses are arranged vertically, right next to flash module.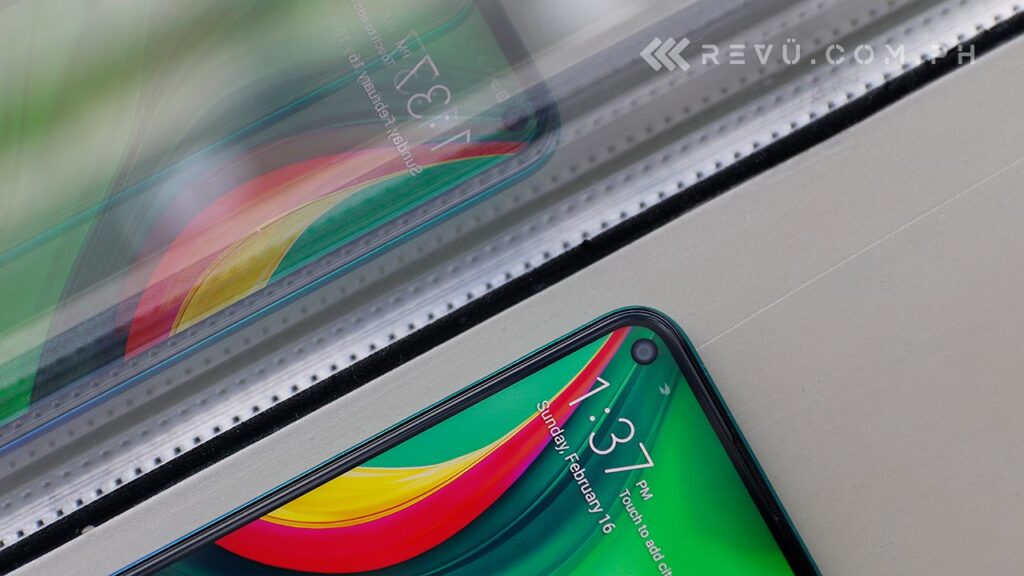 On the front, the Huawei Y7p features a single camera in a punch-hole cutout on the upper left. The cutout is visible when using a light wallpaper. However, if you apply an image that's dark enough to your home screen, it won't be a distraction.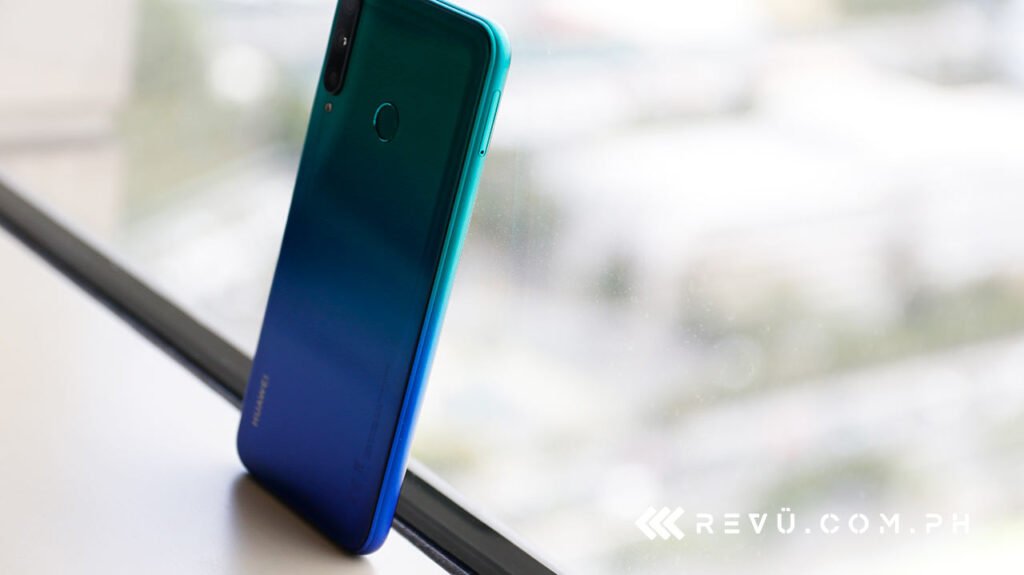 The left-hand side of the device houses a card tray that supports microSD cards up to 512GB. It has slots for two nano SIM cards, too. Along the bottom, you'll see a traditional headphone jack, a microUSB port for charging and file transfer, and a single loudspeaker for voice calls and media playback. As you might expect, sound quality is decent but not great.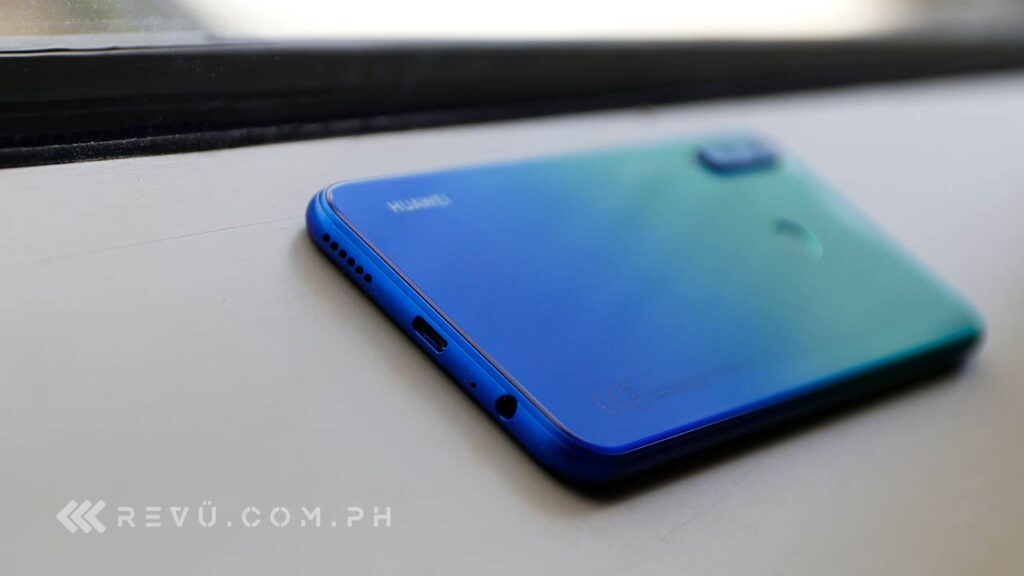 Display
Fronting the Huawei Y7p is a 6.39-inch LCD screen that offers good color reproduction, saturation, and contrast for the price. It's got nice viewing angles, so you can still use the phone even when you hold it up at a weird angle. It also stays visible outdoors, but you might have a hard time seeing it under direct sunlight.
And although the screen maxes out at 720p, it's still sharp enough for almost anything you'll be watching and all the basic tasks you'll be doing on it, such as web browsing and checking your emails and social media feeds.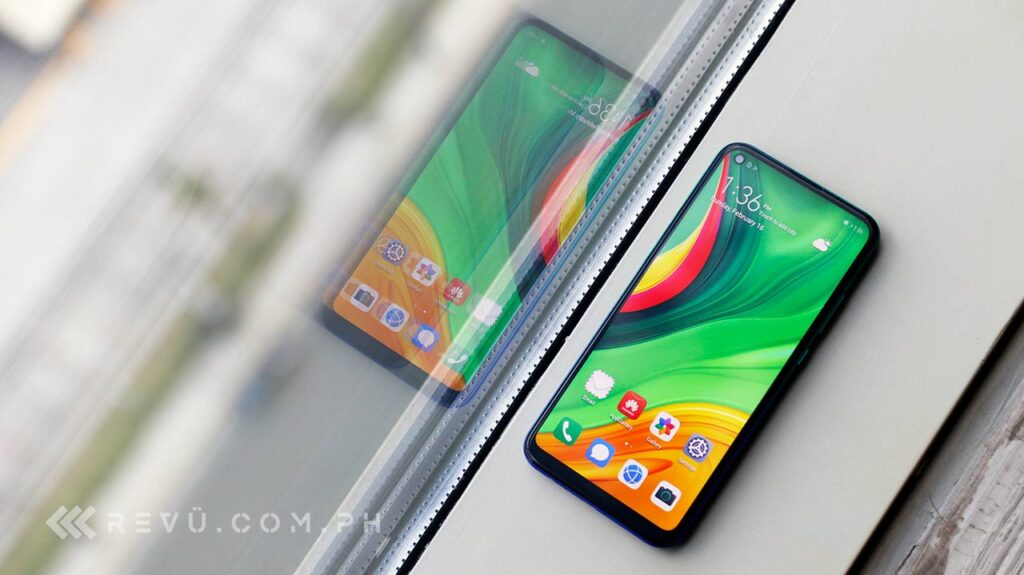 The Y7p's bezels are impressively slim, too, especially at the top where you won't see a notch for the front-facing camera. The punch-hole cutout has likewise allowed Huawei to push the screen-to-body ratio slightly above 90%, further than it's ever been on a budget phone from the company. The higher ratio gives the Huawei Y7p an almost-bezel-less look without incorporating a pop-up mechanism for its selfie camera.
Gesture navigation is supported, per usual, and so is Eye Comfort mode, which filters out harmful blue light emitted by device screens. Blue light could have a negative impact on your sleep patterns, so we suggest enabling this feature if you regularly find yourself fiddling with your smartphone late at night.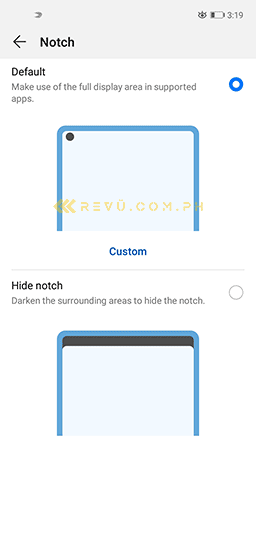 In the Settings app, you'll also find options to hide the cutout completely with a thick black bar across the top of the display or obscure it only when using certain apps. We don't find the cutout distracting at all; most users probably won't mind seeing it, too.
The only time it became a major distraction was when we were playing Mobile Legends: Bang Bang, and the cutout partially got in the way of the quick commands. Simply rotating the device should solve the issue.
Camera
The front and rear cameras are often overlooked when discussing low-cost devices, but thankfully, that's not the case here. The Huawei Y7p has three cameras on the back and a single front-facing camera for selfies, all of which are decent.
A 48-megapixel, f/1.8 camera headlines the rear setup, and it actually makes the Y7p one of the most affordable phones on the market equipped with a high-resolution sensor. Its low-light capability comes courtesy of Huawei's acclaimed Night mode, which combines AI stabilization technology and an extended exposure time of 6 seconds to take brighter, more detailed night shots.
Additionally, the main camera uses 4-in-1 pixel binning to produce a 12-megapixel photo with bigger pixels that can capture more light from a scene. And no, you can't use the full resolution of the 48-megapixel sensor to take a detailed picture.
Sample pictures taken with the Huawei Y7p
The secondary cameras — an 8-megapixel, f/2.4 ultra-wide shooter and a 2-megapixel portrait one — are perfectly serviceable when there's an adequate amount of light in the area. The more light the cameras absorb, the less grainy and noisy the pictures in general. You can't switch on Night mode if you're not using the main cam, which is unfortunate. We would have liked to have shot some landscape photos with the ultra-wide camera.
For advanced users, the Huawei Y7p includes a Pro mode with manual controls for ISO, shutter speed, auto-focus, and exposure compensation, but the regular Photo mode should be fine for most scenarios.
The 8-megapixel, f/2.0 selfie camera does a commendable job in most situations, even when posing against a strong light source. Selfies are not the sharpest, but the overall quality is decent and good enough to be posted on social media.
Selfies captured on the Huawei Y7p
Performance
Inside, the Huawei Y7p packs a 12nm HiSilicon Kirin 710F chipset coupled with Mali-G51 graphics, 4GB RAM, and 64GB of built-in storage. This makes it the most affordable handset with a Kirin 710F inside — at least in the Philippines. While it's certainly not a powerhouse like the Kirin 900 series chipsets, it does perform day-to-day tasks well and efficiently.
Can the Huawei Y7p game even if it's a budget phone? Watch us play Mobile Legends, Black Desert Mobile (2:00 mark), and Asphalt 9 (4:00 mark) on the handset
It also handles most demanding games, including Black Desert Mobile, Asphalt 9, and Blade of God, at decent frame rates. And, yes, the Y7p supports High Frame Rate mode on Mobile Legends. Our review unit scored 171,898 points on Antutu Benchmark. That's slightly better than the scores we got on devices running a Qualcomm Snapdragon 665.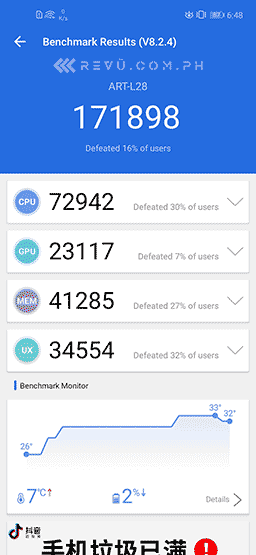 The Y7p ships with EMUI 9.1 based on Android 9.0 Pie and Huawei Mobile Services, aka HMS, out of the box. Unfortunately, it doesn't come with the Play Store and other Google apps and services, which means you'll have to rely on Huawei's own AppGallery and other third-party sources to download and install Android apps on the phone.
This may seem like a bummer, but we think the biggest miss here is dated Android 9.0 Pie. Many newer phones have been updated to Android 10 this year, and many more are expected to follow, so it would have been nice if the Huawei Y7p started with Android 10, as opposed to waiting months for the software upgrade, if it does come.
READ ALSO: Huawei Y9s vs Samsung Galaxy A30s vs Vivo S1: Midrange showdown
Of course, EMUI 9.1 is still a nice interface — pretty, smooth, and intuitive to use even for first-time users. But EMUI 10 brings along numerous UI changes and new visual elements, in addition to standard Android 10 features like better privacy controls and a system-wide Dark mode that supports third-party apps.
Plus, Huawei is continuously improving HMS, adding more top applications to the AppGallery daily and integrating more services into the platform.
Battery life and charging
The Huawei Y7p includes a reasonably sized 4,000mAh battery, which charges over microUSB up to 10 watts. That isn't out of the ordinary, considering many budget phones today carry at least a 5,000mAh cell.
However, because Huawei's EMUI software handles battery management well, we can easily make it through a day without charging. It will probably survive the second day if it isn't heavily taxed by games or a full-brightness setting.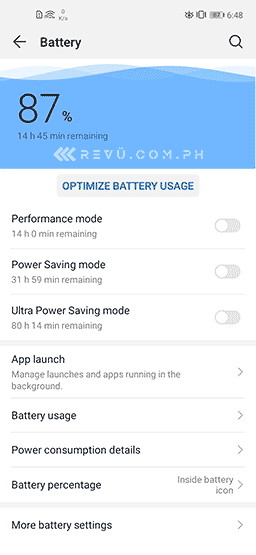 The included 10-watt charger can take a bit long to juice up the handset, though — around two hours to get a dead battery to full capacity. That said, we wish Huawei put a USB-C port instead of microUSB for better compatibility with current and future devices.
Perhaps it will happen with the Y7p's successor. The more expensive Huawei Y9s doesn't arrive with fast charging, let alone USB-C, so it's really no surprise that the Y7p has skipped these features as well.
Final thoughts
With a triple-camera setup with Night mode and ultra-wide settings, a punch-hole screen surrounded by slim bezels, and a capable and efficient Kirin 710F chipset as its main attractions, the Huawei Y7p is the company's most compelling smartphone yet for under P10,000 ($198). And if you like what you see here, the Aurora Blue color option will give you another reason to hit the store and digital shelves.
SEE ALSO: Debunking myths: Huawei Mobile Services explained and How Huawei plans to grow its business through its ecosystem
The only major downside, we would say, is that the Y7p doesn't come with Google services and apps preinstalled. Still, with or without Google, this is a tempting upgrade for anyone who owns an entry-level phone, especially if HMS continues to improve the way it has throughout the recent months.
Huawei Y7p specs
6.39-inch LCD display with punch-hole cutout, 1,560 x 720 resolution (19.9:9)
Octa-core Kirin 710F processor
4GB RAM
64GB expandable storage
Triple 48-megapixel, f/1.8 (main), 8-megapixel, f/.2.4 (ultra wide), 2-megapixel (depth) rear cameras
8-megapixel, f/2.0 front camera
Fingerprint reader (rear-mounted)
4,000mAh battery with 10-watt charging via microUSB
EMUI 9.1 based on Android 9 Pie, Huawei Mobile Services or HMS
Colors: Aurora Blue, Midnight Black
---