Samsung is one of the big tech companies that offer a diverse range of smartphones. While a lot of attention is understandably on the flagship Galaxy S series, there are still some exciting things happening in its other segments, too.
The Galaxy A71, alongside the Galaxy A51, ushered in the new era of Samsung phones for 2020. A month or so since its introduction, the midrange handset made its way to our shores with the promise of a big screen, latest Android version, excellent camera performance, and long battery life. Does the Samsung Galaxy A71 hold up to this vow? We find that out ourselves, so we can let you know.
Price and availability
The Samsung Galaxy A71 is only available in one configuration: 8GB of RAM and 128GB of onboard storage. The handset is priced at P22,990, which is around $452 in the Philippines, and like its predecessors, comes in three colors: Prism Crush Black, Prism Crush Blue, and Prism Crush Silver. 
You can buy the Galaxy A71 from Samsung Experience Stores and authorized retailers, as well as from the following online stores: Abenson, Argomall, Lazada, MX MemoXpress, and Shopee. 
Hardware
As we mentioned, the Samsung Galaxy A71 was one of two phones that first introduced the design language the company is using for 2020. It gave us a glimpse at the use of the divisive rectangular camera module that the Galaxy S20, Galaxy S20 Plus, and Galaxy S20 Ultra also sport.  
Our test unit came in Prism Crush Blue, which features subtle geometric and stripe patterns in varying shades of blue. As its name suggests, it shows off a prism when light hits it a certain way.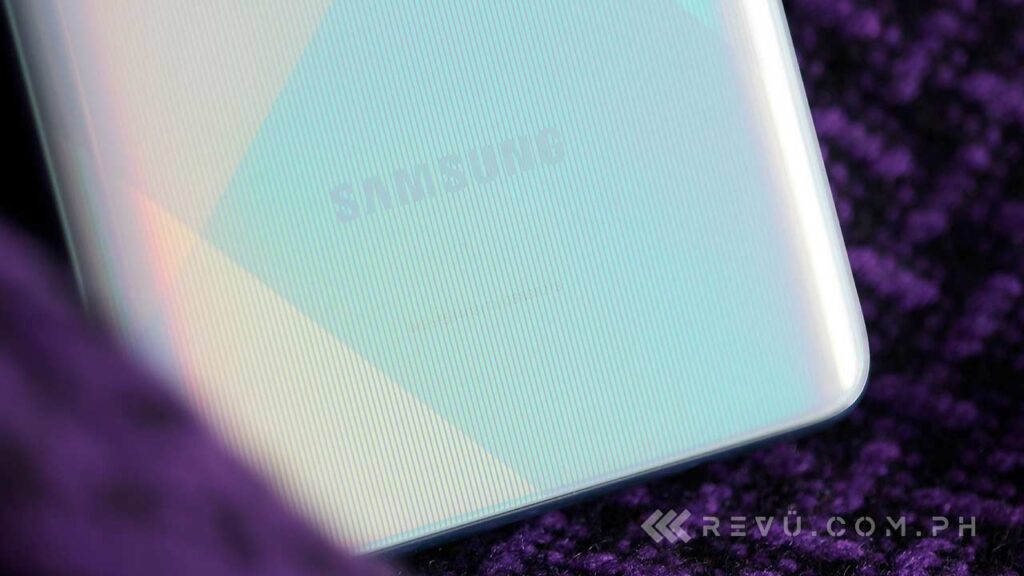 The Galaxy A71's back is made out of what Samsung calls 3D Glasstic, which is a fusion of glass and plastic. It means you don't have to be as precious with it as you would be with a glass-backed phone, but it does take away from the "premium-ness" of the phone. The device's pattern can mask it a bit, but it also attracts fingerprints. You can use the included plastic case to protect it, though. 
It feels well-built and can be held comfortably with one hand. The grip of the smartphone is excellent. But for a lot of users, it's still going to be a two-handed device, which is the case for a lot of handsets available right now.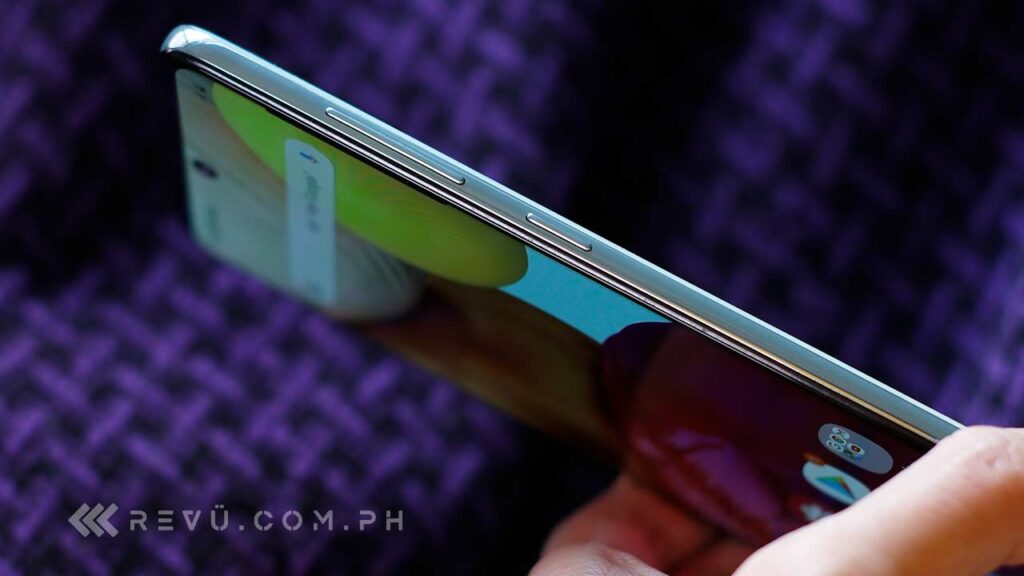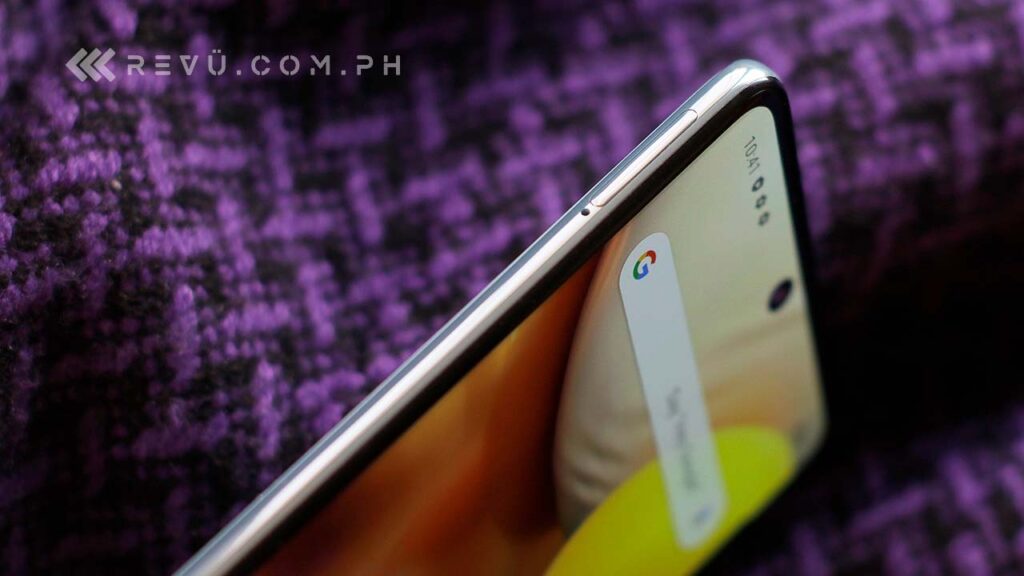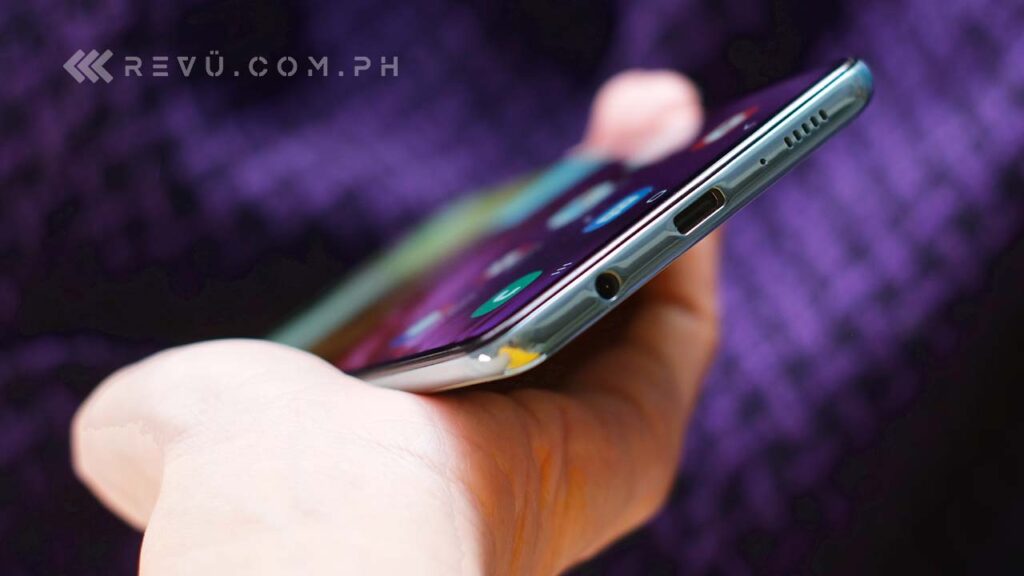 The Samsung Galaxy A71 keeps its volume rocker and power button on the right. The left side houses the slot for two SIMs and a microSD card. There's a hole for the mic at the top and bottom of the phone. And the bottom also has the 3.5mm audio jack, USB-C port, and single speaker. 
Screen
The Infinity-O display is another polarizing design decision from Samsung. Some of you might not like that punch-hole cutout located at the top center of the 6.7-inch screen instead of at the top left or right where it's easier to hide or ignore.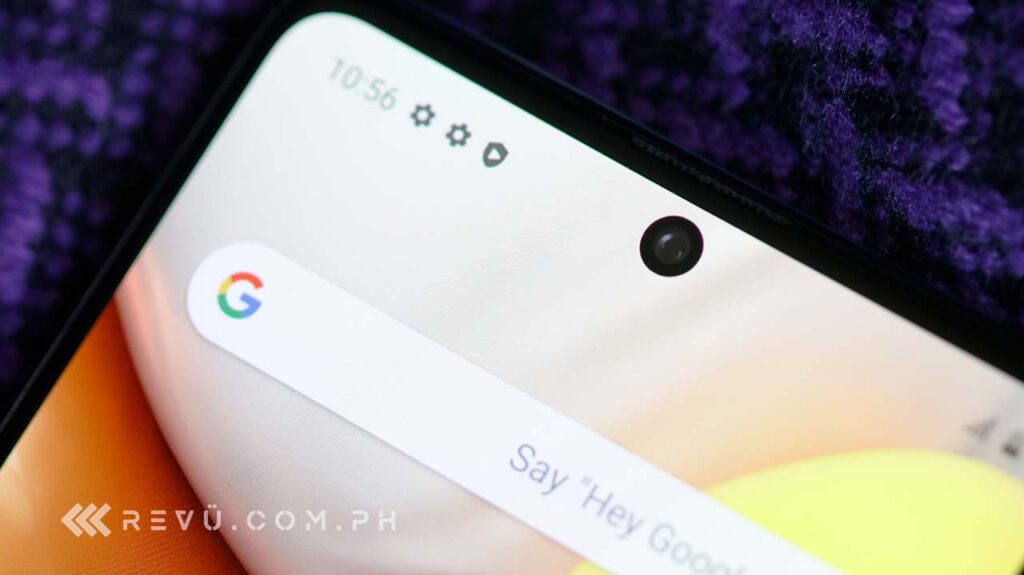 Thankfully, it still only just takes up space that the notification bar does, so you can somewhat overlook it, especially if you have a darker wallpaper or you have system-wide dark mode enabled. But if you like bright wallpapers, your eye might be drawn to it. We've been able to mostly ignore it, mainly because the blacks are deep on this Super AMOLED panel. 
However, even with the seemingly-bigger-than-average cutout, the bezels around the Samsung Galaxy A71 are almost non-existent, so you still have a lot of screen real estate to work with. With a 2,400 x 1,080 resolution, the phone's display shows detail and color well. It has excellent viewing angles, and it remains usable even when you're out on really sunny days.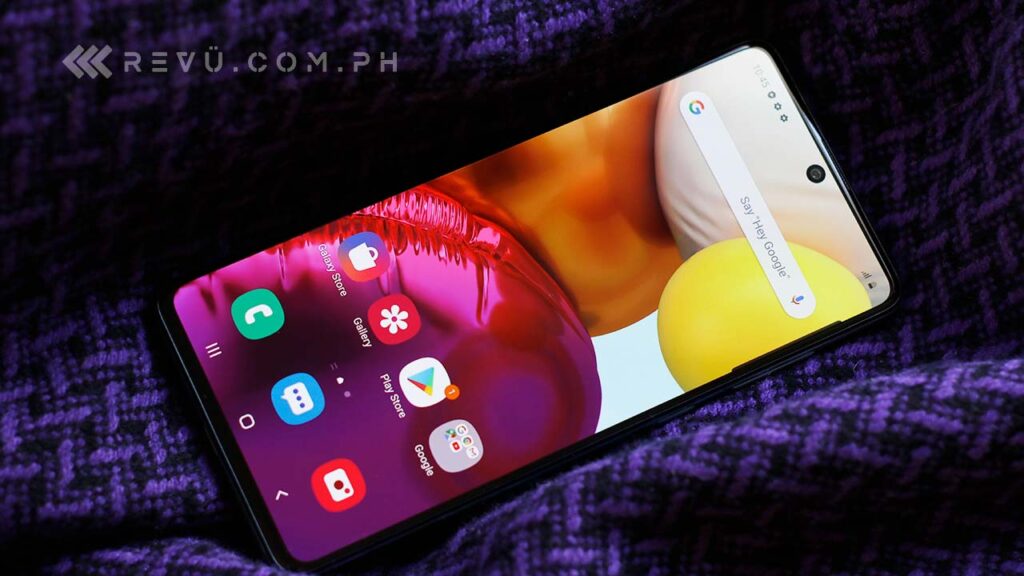 While we lament the lack of water-resistance, this handset's screen is at least damage- and scratch-resistant, thanks to Corning Gorilla Glass 3 protection. Now, when it comes to securing your device, Samsung embedded its fingerprint scanner in the display, too. It's generally responsive, but when your hands are a bit damp, or you don't quite press down on the sensor, it won't register your fingerprint. 
Performance
Taking a look at what powers the Samsung Galaxy A71, and you can tell at a glance that it'll be plenty capable. The handset runs on a Qualcomm Snapdragon 730G with 8GB of RAM and 128GB of expandable storage, as well as the latest Android 10 operating system skinned with Samsung's new, pared-back One UI 2.0.
SEE ALSO: Samsung Galaxy Note 10 Lite launched in the Philippines
We like how even though the company simplified things with One UI 2.0, we still get a lot of ways to customize the phone to our liking. You can do things like select what app or action is triggered when you press the side key/power button, use Edge Screen for easy access to your favorite apps, and offer some unique features like "Adapt Sound."
That function tweaks audio settings to suit your preference or age to "find the best sound for you" when you're listening through headphones. A thing we're missing is the ability to automatically schedule the Blue Light filter to turn on and off.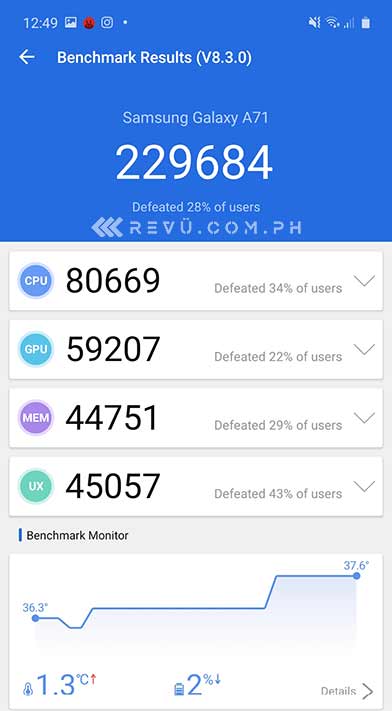 The Galaxy A71's benchmark scores are decent. With its midrange processor, it has even made No. 29 in Antutu's February 2020 ranking. And while there are more affordable options that are ranked higher, benchmarks don't mean daily performance is any better or worse.
Day-to-day use is not an issue with the Samsung Galaxy A71. It performs every task you throw at it with ease. The only time we've felt it heat up is when we've been playing games for extended periods or using the camera continuously. The only app crashes we've experienced was while trying to start up Asphalt 9. It didn't happen all the time we played, though. 
Day-to-day use is not an issue with the Samsung Galaxy A71. The only app crashes we've experienced was while trying to start up Asphalt 9. It didn't happen all the time we played, though
Playing graphics-heavy games isn't an issue either. Asphalt 9 was playable even with the settings maxed out. There were no lags or issues that happened when we played Marvel Super War, either.
It's not a perfect device. We've had mixed success with both Face Unlock and the optical fingerprint scanner. Sometimes it takes a bit of patience and multiple tries to get it to unlock the screen. Audio from the single speaker is decent, but not exactly magnificent. 
Camera
The cameras on the Samsung Galaxy A71 are one of the standout features — not just for what the camera module looks like but what they can offer as well. It has a 64-megapixel primary sensor with an f/1.8 aperture, which is double the megapixels over last year's Galaxy A70. There's also a 5-megapixel macro camera with an f/2.4 aperture, a 12-megapixel ultra-wide shooter with an f/2.2 aperture, and a 5-megapixel depth lens with an f/2.2 aperture. The selfie camera has 32 megapixels with an f/2.2 aperture.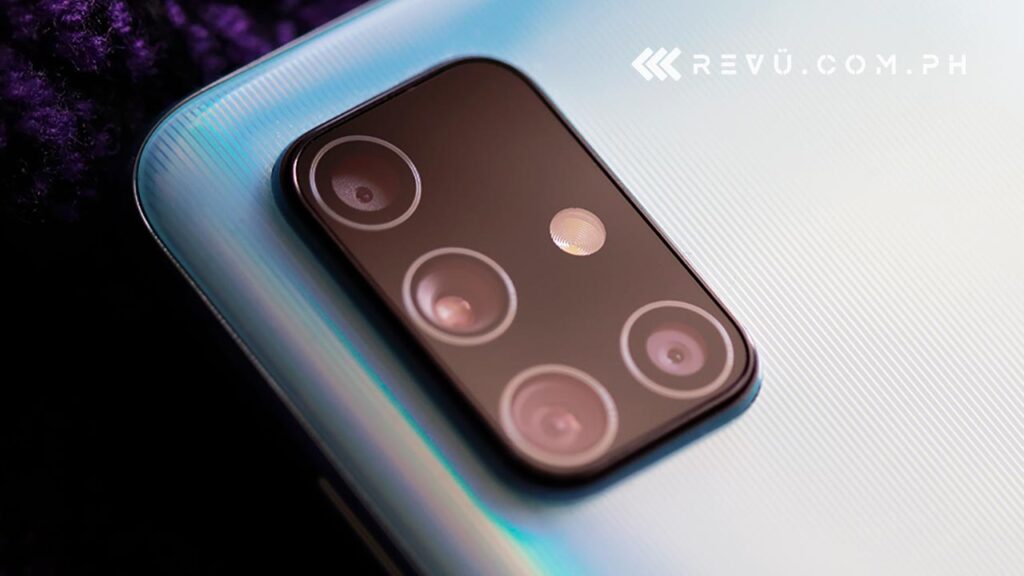 While megapixels aren't everything, we have to say it helps produce great shots. Auto-focus, when you try to get too close, is hit or miss, but otherwise, it focuses quickly. The pictures come out detailed and as accurately colored as possible.  
Samsung still tends to oversaturate photos, but the company has been able to pull back over the years somewhat. You will see stark differences between images taken with or without Scene Optimizer. Scene Optimizer automatically detects what you're taking a photograph of and adjusts its settings accordingly to give you the best possible shot. You can experiment even with shooting against the light. The phone will try to produce decent pictures for you. 
Pictures captured on the Samsung Galaxy A71. We used Scene Optimizer for the second and fourth images. Those without watermarks are shot in Night mode
Ultra-wide-angle shots turn out great for trying to get as much into a frame as possible. Distortion is an inevitability, though. We would've wanted a telephoto lens here, but we're nitpicking a bit. For closeups, it's somehow better to use the primary camera then try to use macro mode. Samsung still offers Live Focus here if you want to simulate the bokeh effect. We noticed the more subtle the blur, the better the outcome is. You will need a steady hand for Night Mode. But these can produce decent shots given enough time.  
Selfies shot on the Samsung Galaxy A71. Take note that the second, third, and fourth pictures were taken in Live Focus (Portrait) mode. 2nd: level 0, 3rd: level 3, and 4th: level 7 (highest)
The Galaxy A71 produces decently colored and detailed videos, especially if you take videos outdoors when it's bright out. Focusing isn't much of an issue. On its own, shooting in 720p or 1080p allows you some somewhat-steady videos.
What can help with stabilization is enabling Super Steady mode. It significantly improves the shakiness of the videos, mimicking clips recorded from devices attached to gimbals or tripods. The downside is it only works in Full HD (1,920 x 1,080 resolution) and not with the ultra-wide-angle lens. 4K videos will be shaky if you record while moving since it doesn't support video stabilization. The quality dip is evident in modes like Slow Motion and Super Slow Motion, but they are fun features to play around with. 
A compilation of videos shot on the Samsung Galaxy A71
Battery
The Samsung Galaxy A71 has an ample 4,500mAh battery. Even with its big display, it's easy to get a day — or two, if you're frugal — out of its battery. The great thing is it doesn't even take that long to top it up. With the handset's USB-C port, you get from 0% to 100% in just an hour and a half using the included 25-watt fast-charging brick. 
We achieved as much as 15 hours of screen-on time while running the PCMark test, but we average around eight hours of screen-on time a day, which gives us that extended use on a single charge. The only thing missing here is wireless-charging support.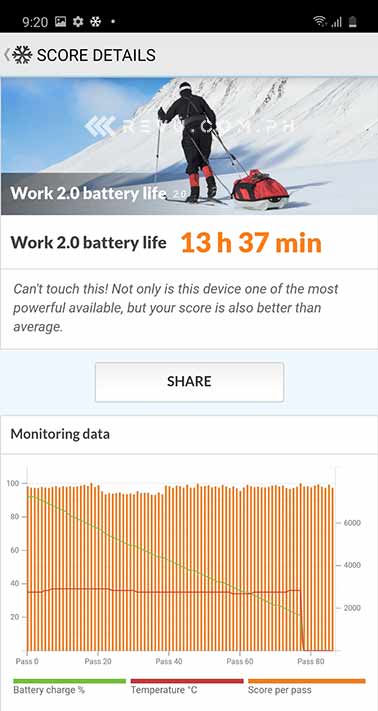 Final thoughts
The Samsung Galaxy A71 poses itself as an affordable alternative to the Galaxy S series. But it's still a bit out of reach for those with strict budgets. You might need to look elsewhere to get more bang for your buck. Now, if you're a Samsung fan and can spare the extra thousands, this handset is a solid buy. You get decent performance, a great camera setup, and a battery that lasts a reasonable amount of time.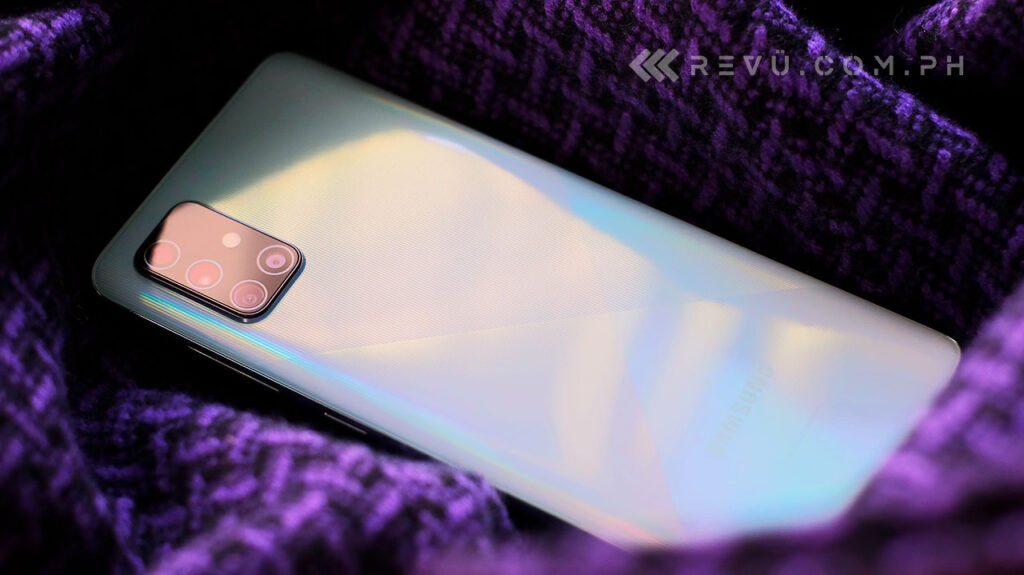 Samsung Galaxy A71 specs
6.7-inch FHD+ 2,400 x 1,080 Super AMOLED screen
Qualcomm Snapdragon 730G octa-core processor
8GB RAM
128GB storage
Quad 64MP (main), 12MP (ultra-wide), 5MP (macro), 5MP (depth) rear cameras
32MP (main) front camera
Fingerprint sensor (under-screen)
4,500mAh battery with 25-watt USB-C fast charging
One UI 2.0 based on Android 10
---