OPPO has officially unveiled the OPPO Reno 3 and Reno 3 Pro in the Philippines. The phones are now available for purchase online, and at physical OPPO stores and partner retailers later.
We've already published our review of the standard Reno 3 edition, so now it's the Reno 3 Pro's turn. Read on to find out if OPPO's new premium midrange offering is for you, or if you're better off looking somewhere else.
Price and availability
In the Philippines, the international version of the OPPO Reno 3 Pro sells for P28,990, or approximately $575, off-contract. It's also available on a postpaid plan for as low as P999 ($20) monthly for 24 months through local telco Smart Communications.
What's inside the box
OPPO Reno 3 Pro
Clear case
30-watt VOOC 4.0 wall charger
USB-C cable
Earphones
SIM-eject tool
User guide
Warranty card
Hardware
Design-wise, the OPPO Reno 3 Pro looks a lot different from the Reno 2 series, sporting a plastic build, as well as a vertical quad-lens setup with a noticeable camera hump protruding on the back and a dual punch-hole design for the selfie shooter on the front.
In a rather surprising choice, the smartphone is somehow closer to the aesthetic of many Xiaomi and Huawei handsets than what came before. The regular Reno 3 looks to be inspired even more by smartphone series from other OEMs.
The OPPO Reno 3 Pro looks a lot different from the Reno 2 series
The plastic housing is also quite unfortunate, especially given the Reno 3 Pro's premium price tag. We found that the back scratches quite easily, and should be handled with more caution. Thankfully, the same can't be said about the screen, which has a layer of scratch-resistant Corning Gorilla Glass 5 to protect it from lasting damage.
The included clear silicone case in the retail box will also help keep the device from slipping out of your hands, but it doesn't elevate the main camera module from a flat surface as much as we'd like it to.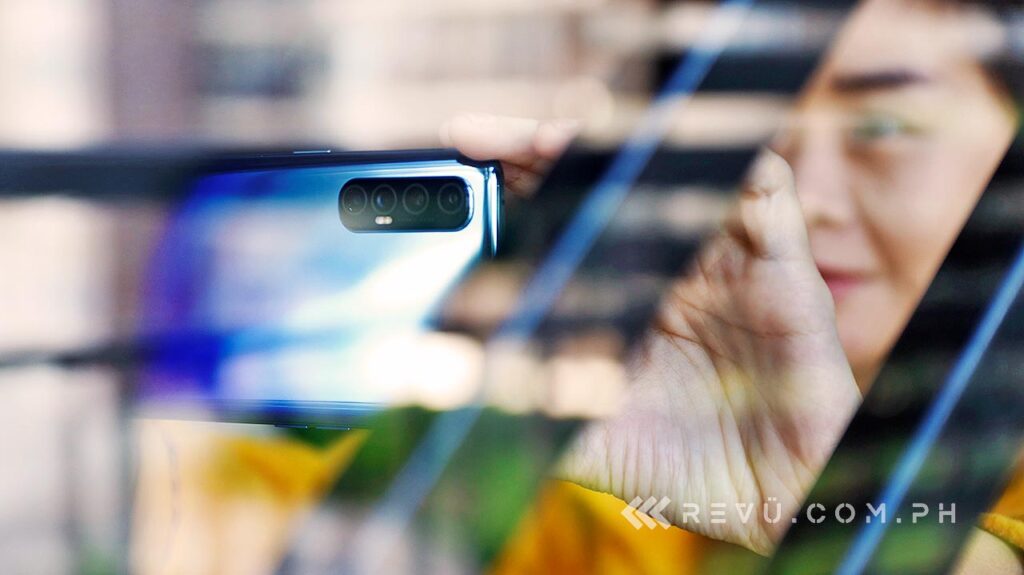 Our unit comes in a lovely Auroral Blue gradient design. There are two other colors to choose from, though: Midnight Black and Sky White. If you want something with a minimal aesthetic, the black version seems like the obvious choice; otherwise, the blue and white variants are the ones you should decide on.
In terms of buttons and ports, the OPPO Reno 3 Pro offers what you would expect from a midrange model, plus a headphone jack for wired listening. It charges over USB-C, while the loudspeaker is a single unit that delivers decent and loud audio for casual Netflix and YouTube streaming.
Similar to other OPPO phones, the power button along the right edge has a distinctive metallic-green accent, making it easier to locate in the dark. The volume controls with separate up and down keys are located on the left. All three buttons are tactile and feel satisfying to push.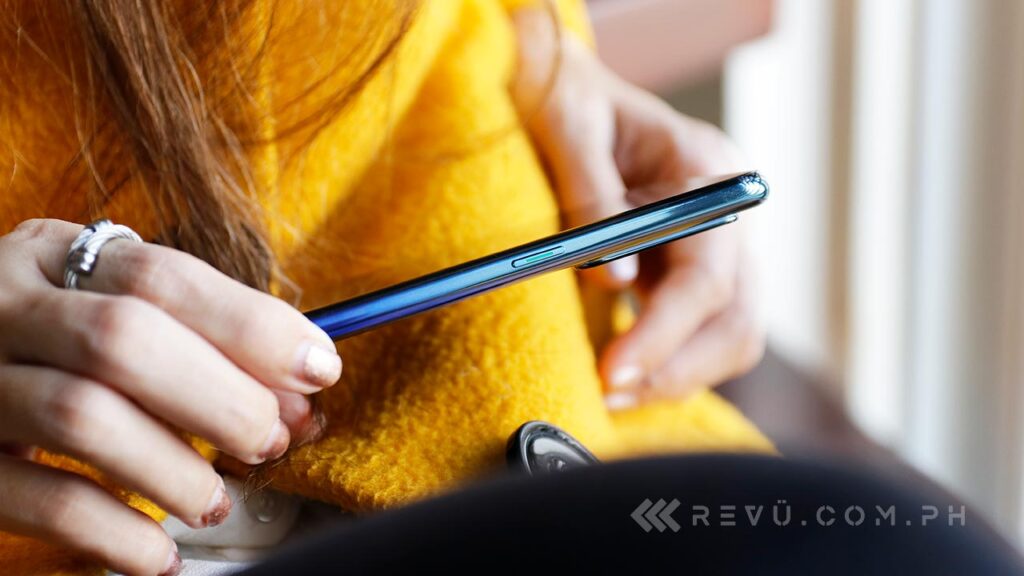 One-handed usage is perfectly possible with the OPPO Reno 3 Pro's ample screen size. The frame is sleek, and the rounded edges on the back also make it pleasant to hold for extended periods. Its weight — about 175 grams — doesn't compromise the feel of using the device and carrying it around with one hand.
If you're looking for a physical fingerprint scanner, you won't find one here; this handset has a fingerprint sensor built into the display assembly. It certainly helps with the design, and OPPO's biometric-unlock feature is among the best in the industry. The Reno 3 Pro's face unlock works well, too, and is surprisingly decent in low light.
Screen
Moving to the display, the OPPO Reno 3 Pro fronts a 6.4-inch AMOLED with subtly curved edges and narrow bezels that give prominence to the panel.
Of course, it helps that the phone doesn't have a notch; again, it has a dual punch hole in the upper left corner. The punch hole is small, too, and shouldn't interfere with your viewing experience.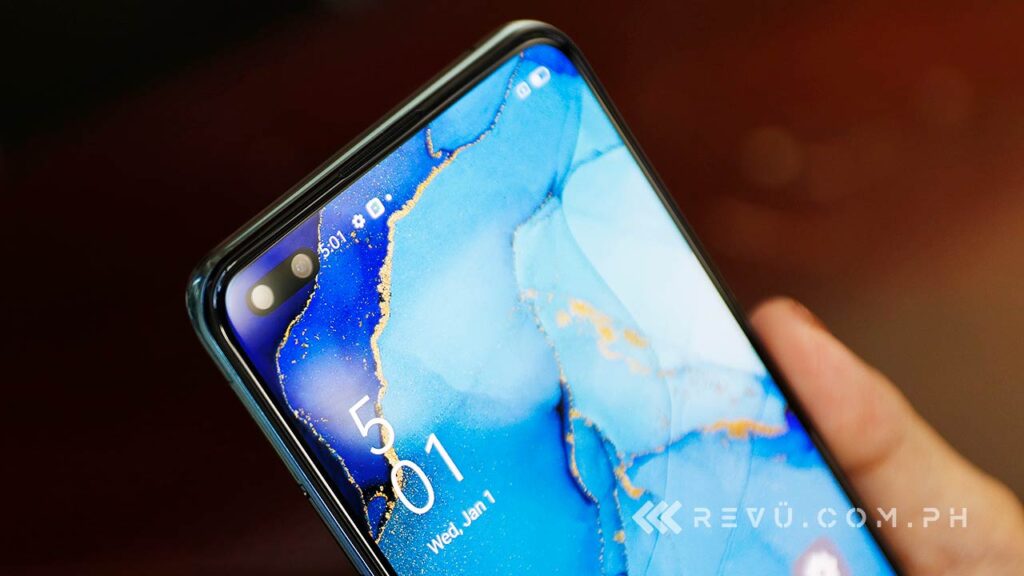 The resolution is 2,400 x 1,080. It works out to a tall aspect ratio of 20:9, whereas the screen-to-body ratio is 91.5% — pretty impressive. The display's refresh rate sits at a standard 60Hz, so it isn't as fast or smooth as some other screens in the midrange. It could definitely be faster given the price point.
But is it any good? Well, yes. The good news is that the display on the OPPO Reno 3 Pro performs on a par with some of the better OLEDs on the market.
Colors look bright and nice, with enough contrast and punch; black levels are respectable; and the viewing angles are excellent — there's no color shift as the screen is tilted or rotated.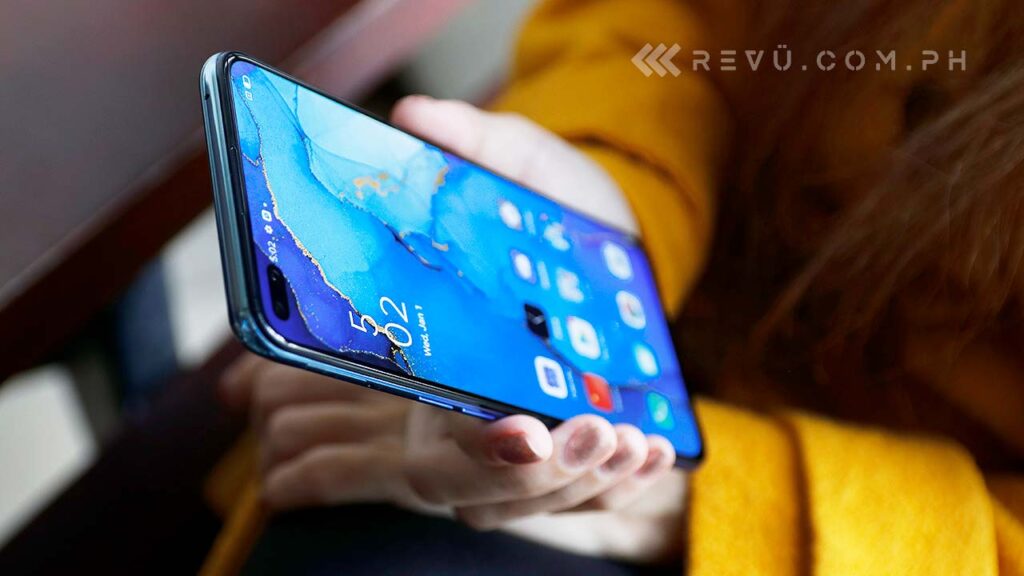 Sunlight visibility is pretty good as well. More importantly, you can stream Netflix, HBO, Disney, and more in high definition because the Reno 3 Pro ships with Widevine L1 DRM certification out of the box. Movies and games (if the graphics settings are set to medium or high) generally look great on the phone.
The display has an always-on lock screen, which will shorten the battery life considerably if left on all the time. But it's helpful in limiting the time you spend unlocking the screen and checking your phone for notifications and emails.
There are plenty of digital and analog clock lockscreen styles to pick from. You can even enable Pure Screen Off, a more minimalist option that displays only the time when the screen is off.
Cameras
For taking pictures — something this phone is built to excel in — the OPPO Reno 3 Pro comes with the following specs:
64-megapixel primary camera with f/1.8 aperture lens
13-megapixel telephoto camera with f/2.4 lens
8-megapixel ultra-wide-angle camera with f/2.2 lens and 120-degree field of view
2-megapixel mono sensor with f/2.4 lens
The smartphone is capable of taking pleasing indoor shots, while pictures captured outdoors in daylight look excellent.
To help with extreme low-light situations, there's Night mode, as well as Ultra Dark mode, which captures several images of the same scene and stitches them together into one shot with richer colors and less noise. The latter automatically kicks in when the scene is extremely dark.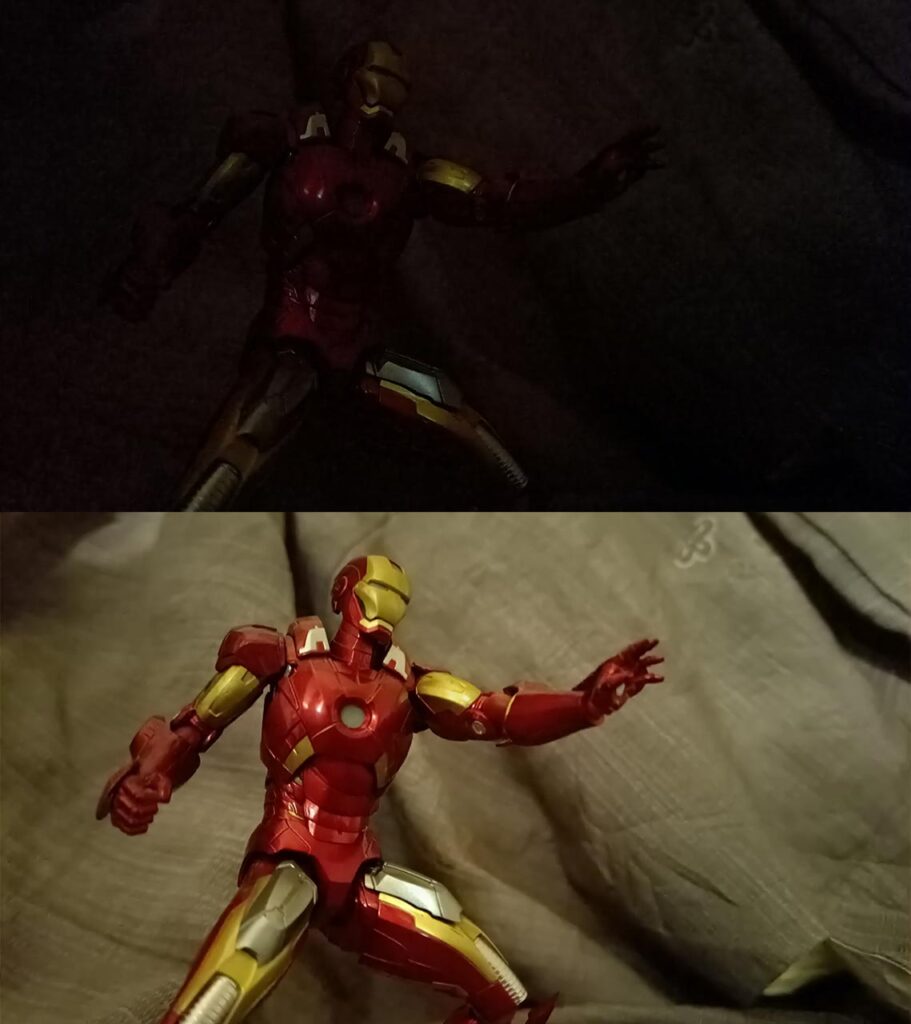 Using Expert mode, the camera software also allows you to produce a 108-megapixel image with crisp fine detail.
Zooming-in series. 1st and 2nd sets: 1x, 2x, and 5x. 3rd set: 0.6x, 1x, 2x, 5x, 10x, and 20x. Take note that the first picture is a resized 108-megapixel picture. The full-resolution version can be found here
As for the telephoto camera, we like that it offers 2x optical zoom, 5x hybrid zoom (meaning it combines the optics of the camera and software optimization), and up to 20x digital zoom.
This should cover you for most of your telephoto needs, and the high-level zoom is usable and much better than what most other devices offer. Meanwhile, the wide-angle option is perfectly fine for outdoor use, but the image quality is usually not high when shooting indoors.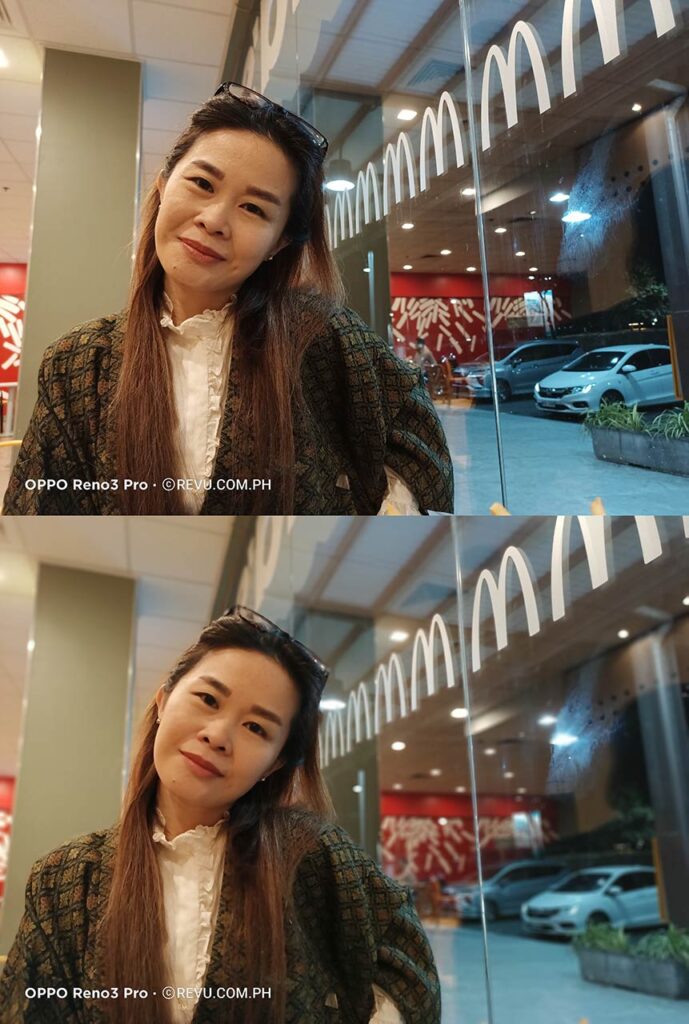 The front-facing setup pairs a whopping 44-megapixel camera with f/2.4 lens and a 2-megapixel depth sensor to help the camera shoot better portraits with a natural-looking bokeh effect and accurate edge detection. In addition, the extra sensor allows for faster and more accurate face unlock.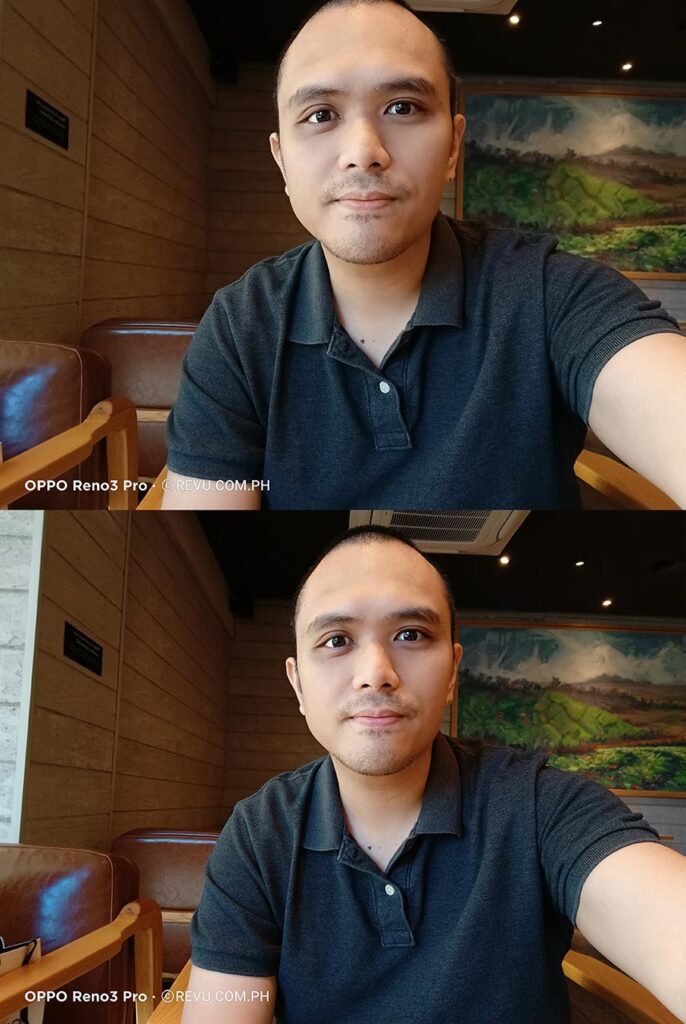 For the most part, OPPO's promise of excellent selfies rendered with good detail and blurred backgrounds is realized here. Do note, however, that if you're shooting in Portrait mode, the field of view will be narrower, so you may need to adjust your position in the frame.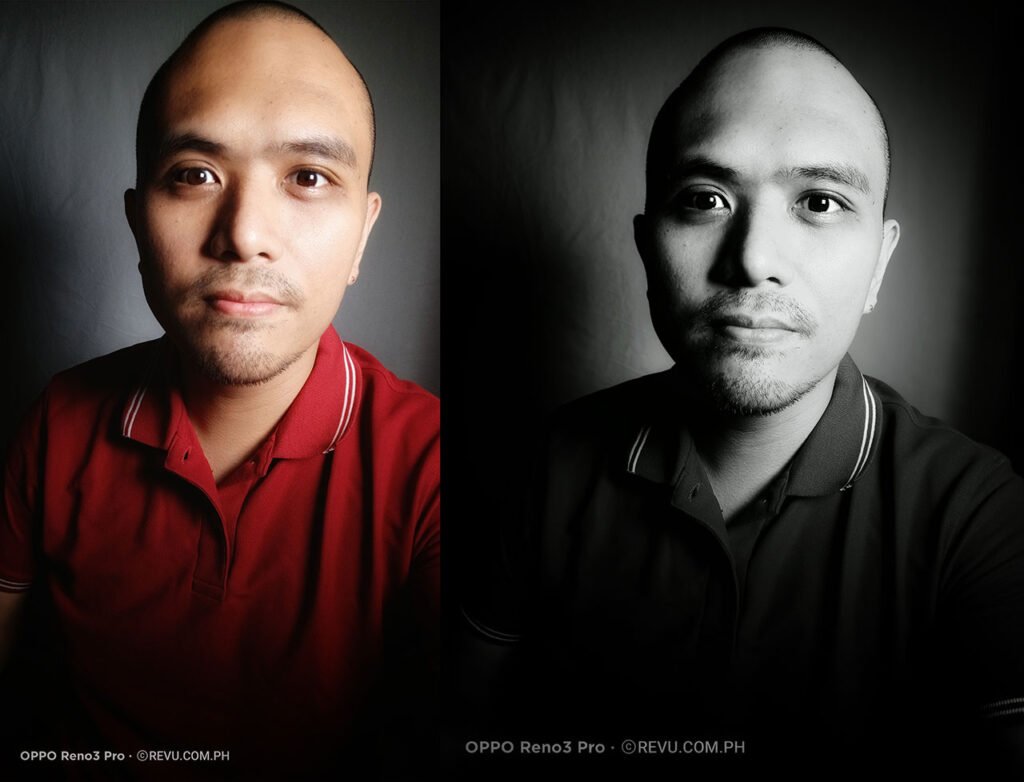 Another thing: OPPO's AI-powered camera app will automatically edit your photos after the fact to get brighter and sharper results. But while we welcome the initiative, this will lead to brighter backgrounds when shooting with dramatic lighting.
It can be a nuisance in some cases, especially when you're trying to go for a certain aesthetic. It would be nice to have the option to turn off the AI-based features in the photo gallery completely.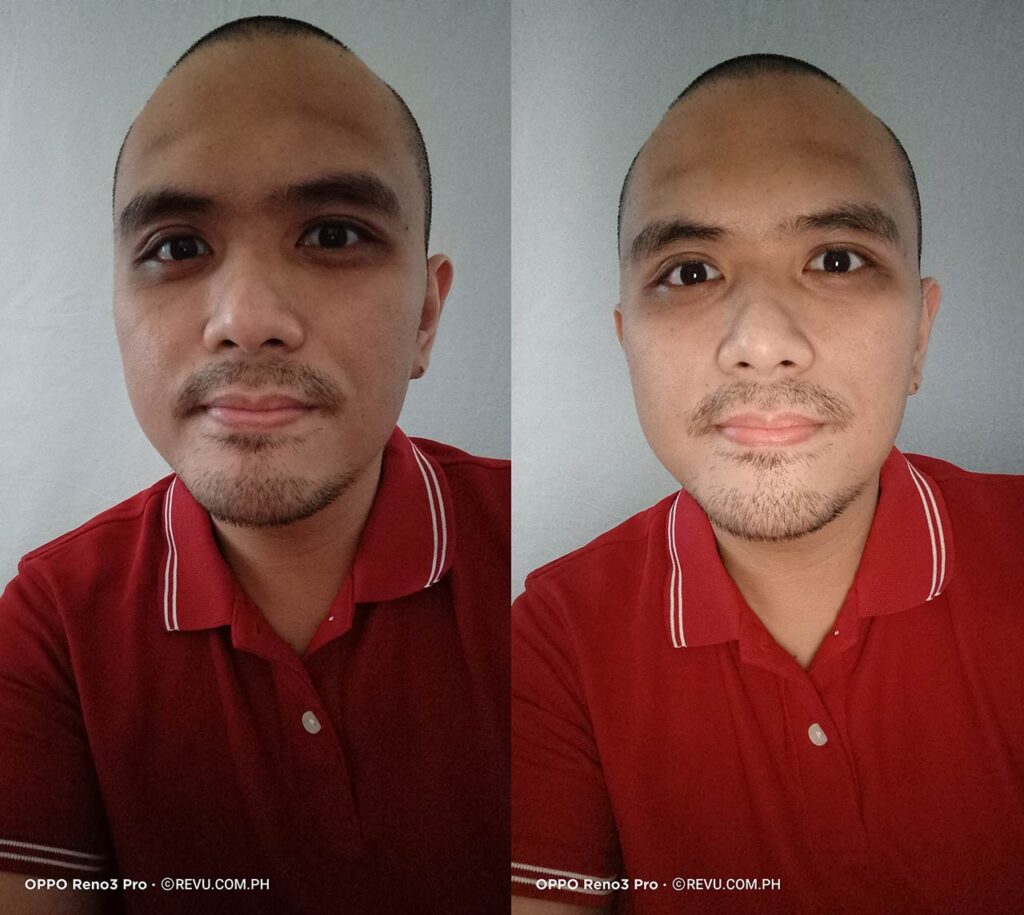 For shooting in low light, the selfie camera is equipped with an Ultra Night Selfie mode, which takes multiple pictures simultaneously and combined to create an image with reduced noise and brighter highlights. It can also utilize the screen as a flash of sorts to light up your face.
The OPPO Reno 3 Pro shoots up to 4K and 1080p at 60 frames per second, with results looking solid and stable enough when panning the camera in certain directions.
If you're going to shoot handheld while walking, we recommend enabling the Ultra Steady feature located at the top bar of the camera app for more stable footage.
Performance
On the inside, things get a little sticky. The global version of the OPPO Reno 3 Pro launched outside of China runs a MediaTek Helio P95 coupled with 8GB RAM and up to 256GB storage. Its octa-core chip is limited to 4G LTE services.
Meanwhile, its Chinese counterpart gets a more powerful Qualcomm Snapdragon 765G and 5G connectivity where available.
Watch us play Mobile Legends, Fortnite (8:00 mark), and NBA 2K20 (8:00 mark) on the OPPO Reno 3 Pro
The other specs are different, too, but to us — and to many others — the thing that stands out here is the shift to a less capable chipset in exchange for better cameras on the front and back of the international variant.
Perhaps that's fine for now, as 5G isn't widely adopted yet by majority of operators around the world. In the Philippines, only Globe Telecom offers a consistent 5G signal in a posh neighborhood of Metro Manila.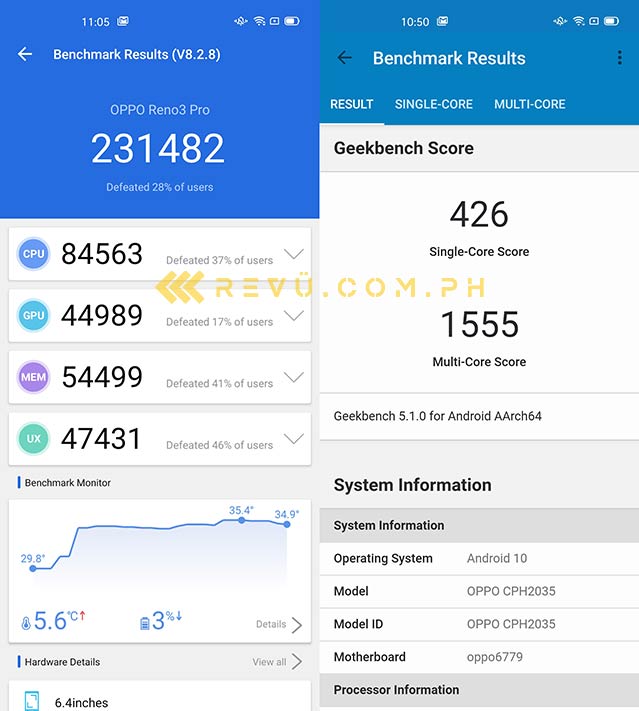 The Antutu benchmarks for our review unit are in the same range as devices powered by the Qualcomm Snapdragon 710 and Snapdragon 712. Our best run in version 8.2.8 of the app managed 231,482 points. The Qualcomm Snapdragon 730G in last year's OPPO Reno 2 yields higher scores in the Antutu app.
Elsewhere, the Geekbench numbers also tell us that the Reno 3 Pro is an average performer. And while gaming performance isn't one of the highlights of this OPPO, it can run heavy games, such as Call of Duty: Mobile, Black Desert, and PUBG Mobile, that demand high-end resources at medium to high graphics.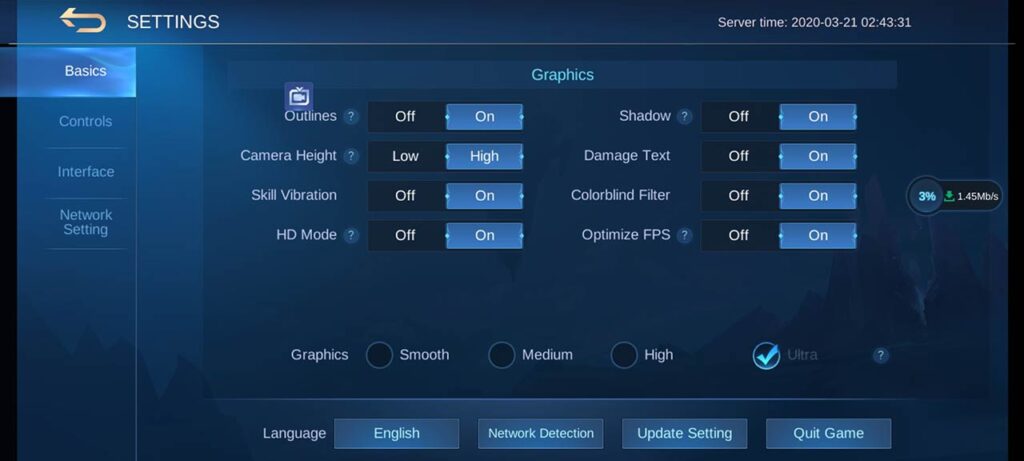 Unfortunately, the Reno 3 Pro doesn't support the Ultra preset, as well as High Frame Rate mode (aka HFR) on Mobile Legends. This is likely because the game hasn't been optimized for the Helio P95 yet; it happens frequently with newer processors.
Fortnite, which, for some reason, isn't listed on our device's Play Store app, is playable at medium settings with the fps hovering at around 20. You can pick up the game through the Epic Games Launcher app.
Battery life and charging
The OPPO Reno 3 Pro carries a 4,025mAh battery inside and supports the company's latest VOOC 4.0 fast charging at 30 watts using the included power brick and cable. Wireless charging isn't onboard, although if it makes you feel any better, wired charging is still the fastest option for top-ups from empty.
In our testing, we found that the new VOOC solution can charge a dead battery to full in 55 minutes, while charging to 50% capacity takes around 20 minutes, which is consistent with OPPO's claim. Both charging times are impressive and faster than that of many competing smartphones.
We found that the new VOOC 4.0 solution can charge a dead battery to full in 55 minutes, while charging to 50% capacity takes around 20 minutes
Battery life is always a big concern for smartphone owners, and the Reno 3 Pro delivers satisfying usage times between charges. We're able to comfortably get a full day of use out of the handset without running particularly low on battery.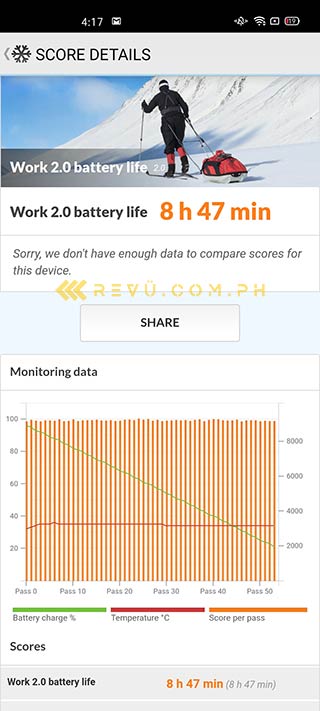 With lighter usage, or with usage that involves heading out of the house to shop for daily essentials and go to the bank — hence, we don't need to fiddle around with the phone too often — we can stretch a full charge to one and a half days. In PCMark's battery test, our unit managed 8 hours and 47 minutes from full capacity to 20%.
Final thoughts
The OPPO Reno 3 Pro's highlights include a powerful camera set and a nice, fingerprint-sensing OLED display with an almost full-screen aesthetic. We wish the company had opted for a faster Qualcomm or MediaTek processor — preferably with 5G — while the battery life can last a full day without problems.
Taken as a whole, the OPPO Reno 3 Pro is a good phone, but it's not a particularly exceptional one. And it's not as affordable as the regular P18,990 ($376) Reno 3 either. For the money, OPPO presents a decent deal.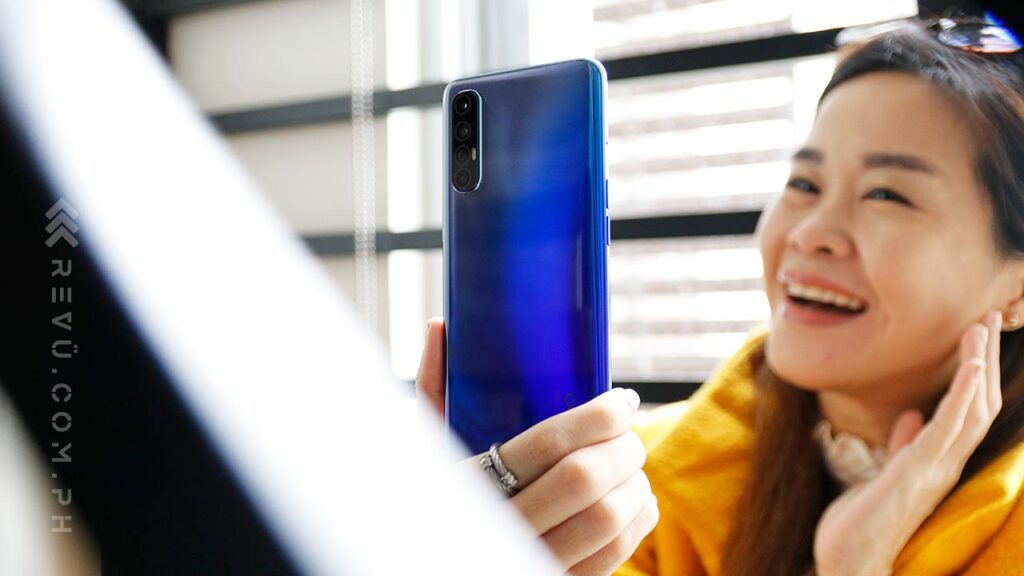 OPPO Reno 3 Pro specs
6.4-inch Super AMOLED display, 2,400 x 1,080 resolution (20:9) with Corning Gorilla Glass 5
Octa-core 12nm MediaTek Helio P95 processor
8GB RAM
256GB expandable storage
Quad 64-megapixel, f/1.8 (main), 13-megapixel, f/2.4 (telephoto, 2x optical zoom and up to 20x digital zoom), 8-megapixel, f/2.2 (ultra wide), 2-megapixel, f/2.4 (mono) rear cameras
44-megapixel, f/2.4, 2-megapixel, f/2.4 (depth) front cameras
Fingerprint reader (in-display)
4,025mAh battery with 30-watt USB-C fast charging via VOOC Flash Charge 4.0
ColorOS 7 based on Android 10
---