OPPO Philippines follows up last year's OPPO A9 2020 with this new eye candy: the OPPO A92. This new midrange handset shares a lot of the A9 2020's DNA — from a quad-camera setup and a 6.5-inch display to a long-lasting 5,000mAh battery. But this year's model carries some notable changes, too, making it a very "of the moment" kind of phone. And we're here to dig a little deeper into this new OPPO smartphone for you.

Price and availability
The OPPO A92 is officially priced in the Philippines at P15,990 (around $319). You can already preorder it starting today, June 20, until June 26, with release scheduled for the 27th. Early adopters will get a free Rockspace P62 Pro power bank valued at P1,299 ($26).
The OPPO A92 is only available in the 8GB RAM + 128GB expandable storage option. You can get it in Twilight Black or Shining White. We've seen the Aurora Purple in other markets, but it doesn't look like OPPO is carrying this variant at the moment (perhaps in the future?).
Hardware
The OPPO A92 remains as striking as the first time we saw it. The pretty, candy-like color will appeal to a younger set of users or those who just want to deviate from the usual color options.
We tested the Shining White version, which was a refreshing color for a smartphone to come in. The gradient coloring shifts from a solid aquamarine at the bottom to a mostly white shade at the top. It has hints of blue and green on the sides as well.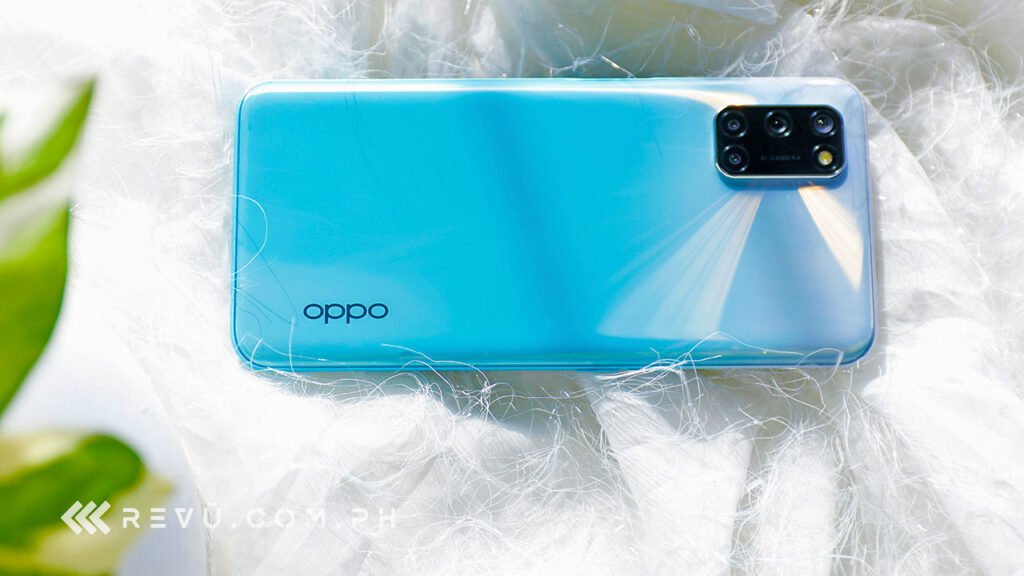 There are notable similarities between the color variants of the A9 2020 and the A92, but the OPPO A92 looks more like a phone from 2020 with its slightly protruding rectangular camera module. It's a look popularized by the 2020 Samsung Galaxy phones and now available with a lot of its competitors, OPPO included. Without putting on the supplied silicone case, the camera bump sticks out enough to make the device wobble if placed on a flat surface.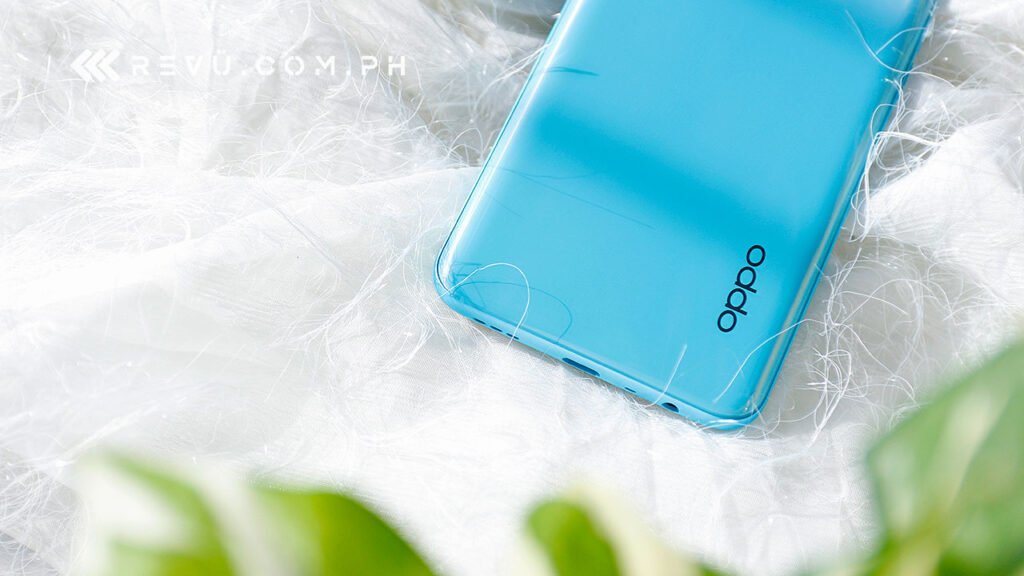 The rear panel has a glossy finish, paired with a matte frame. The back edges curve towards all sides to make the handset comfortable to hold and carry. Since it's made of plastic, it feels lighter to hold. One-handed use isn't an issue, even if you have slightly smaller hands.
OPPO keeps to its button layout with the A92. The right-hand side still houses the power key, which now doubles as a fingerprint reader. Directly opposite that, there are the separate volume keys and the dual-SIM card + microSD card slot above that. At the base of the phone, there is a 3.5mm audio jack, a USB Type-C port, and a speaker grille.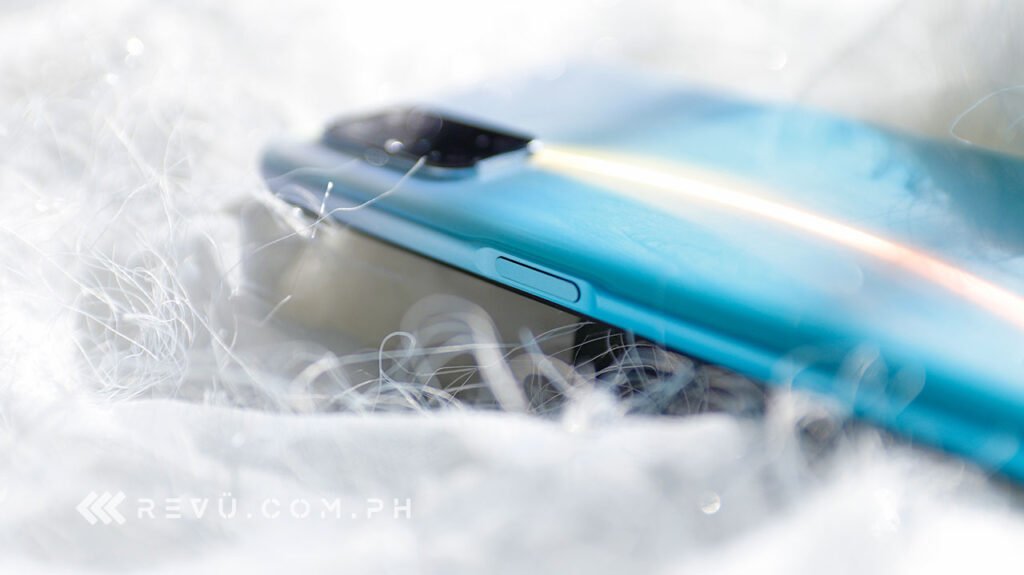 The fingerprint scanner works as we expected it to. It was fast and accurate. Face unlock is also an option on this handset. But for better security and quicker access, the physical sensor is usually more useful.
We particularly like that the OPPO A92's speaker grille at the bottom isn't the only place where the sound comes out. The thin grille at the top of the display, which is also where your earpiece is, will also project sound. So in case you cover the bottom speaker while playing or watching videos, you can still hear some audio coming out of the top of the screen.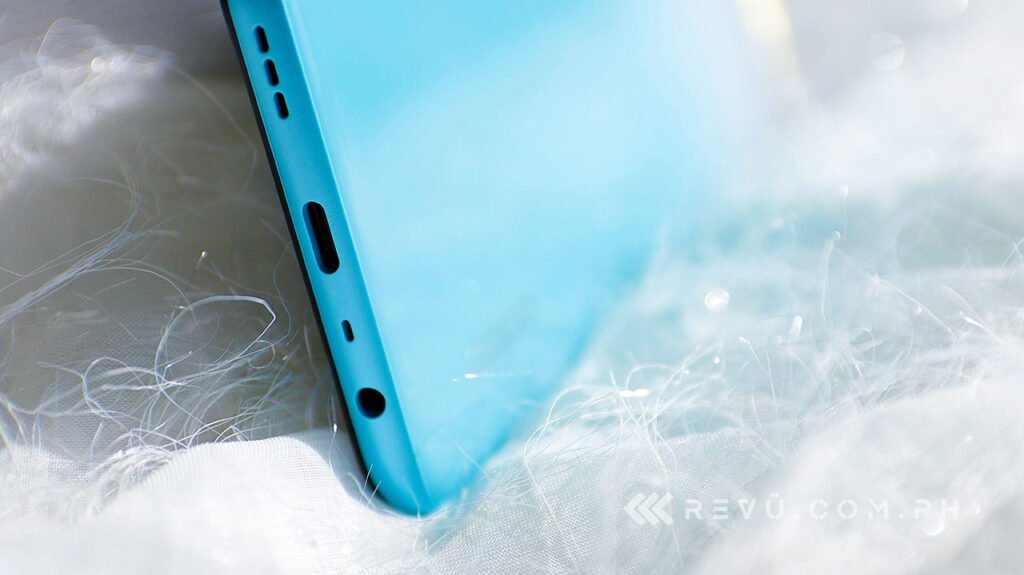 It's not the loudest speaker we've heard, but it sufficiently fills a small room with decent sound. And you can make out music and dialogue when you use it in a relatively larger place, say, a living room.
We also appreciate that OPPO equips the A92 with a better 18-watt adapter, a significant upgrade from the A9 2029's 10-watt power brick.
What's inside the box
OPPO A92 unit
Silicone case
SIM-eject tool
18-watt wall adapter
USB-C charger
3.5mm earphones
Warranty card
User guide
Screen
While the OPPO A92 retains the 6.5-inch screen size of the OPPO A9 2020, the former gets a much-needed resolution upgrade to 2,400 x 1,080 pixels from 1,600 x 720 on the previous model. It offers a mostly full-screen experience with only a small punch-hole cutout shoved on the top-left portion of the display. It's a bit noticeable at first, but after extended use, you'll tend to forget it's there.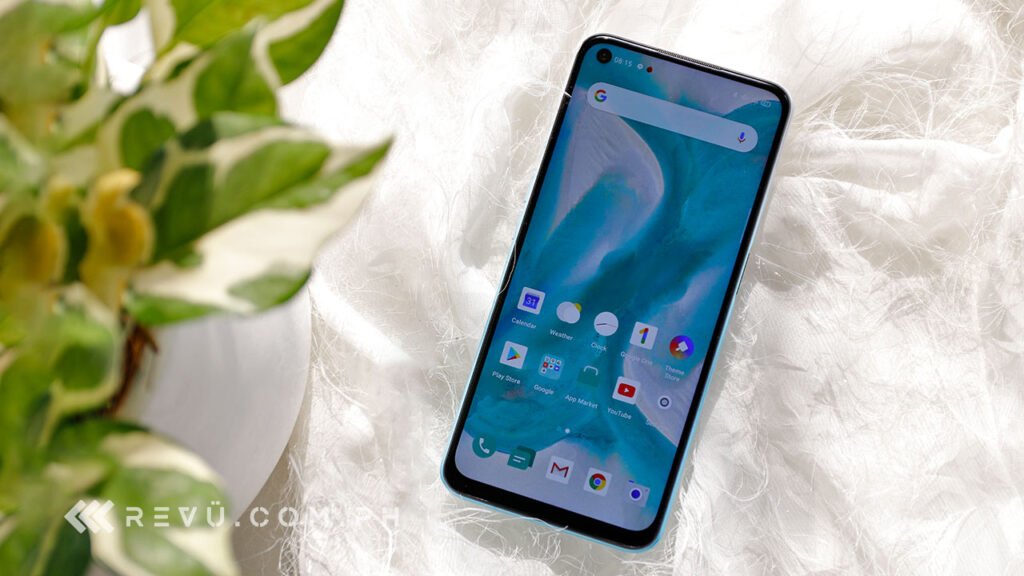 The panel on the OPPO A92 has good color reproduction and excellent viewing angles paired with decent black levels and a sufficiently bright screen. You can use it out during a sunny day without much of an issue. Its dimmest setting is entirely usable in a dark room. And if you want to take care of your eyes more, you can enable Dark Mode or Eye Care. The front panel's temperature can also be adjusted via a slider.
Camera
The OPPO A92 comes equipped with a quad-camera setup on the back and a single 16-megapixel selfie shooter in the notch. The rear sensors include a 48-megapixel primary lens, an 8-megapixel ultra-wide-angle shooter, a 2-megapixel macro sensor, and a 2-megapixel depth camera.
It produces crisp, detailed photos. If you want an extra boost in color and brightness, the OPPO A92 has the Dazzle Color feature. It can sometimes make a picture look too artificial, so it's something to use sparingly (or at least try to take photos without them, too).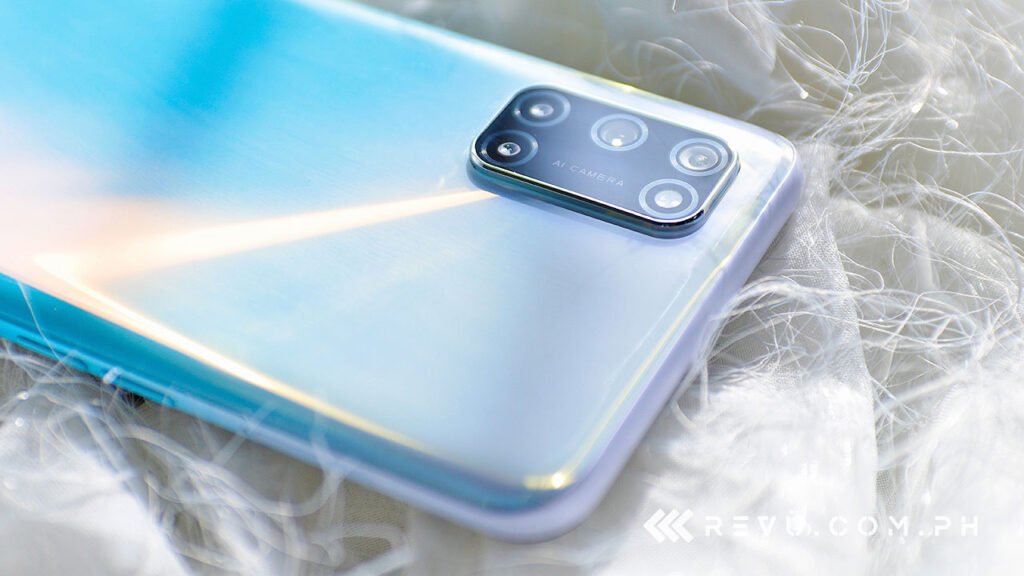 By default, the smartphone will capture 12-megapixel images on the main shooter. But if you want the extra detail, you can also shoot in full 48-megapixel resolution. We were plenty satisfied with the 12-megapixel pictures, but it's good to know the option is there. We're missing the opportunity to save RAW copies of photos in the camera's Expert Mode, though.
Speaking of modes, this handset offers the usual collection of features like Night, Video, Portrait, the aforementioned Expert, Sticker, Pano, Time-lapse, and Slo-mo. This unit also has Google Lens integration right into the camera app. Meanwhile, the front-facing camera has Video, Photo, Portrait, Pano, Time-lapse, and Sticker modes.
Night mode is one of the features we like to put to the test because it comes in handy when you're out and about in the evenings (remember those days?) or in situations with less-than-ideal lighting.
[sciba leftsrc="hhttps://www.revu.com.ph/wp-content/uploads/2020/06/OPPO-A92-sample-picture-Revu-Philippines_night-mode-house.jpg" leftlabel="Night mode" rightsrc="https://www.revu.com.ph/wp-content/uploads/2020/06/OPPO-A92-sample-picture-Revu-Philippines_night-house.jpg" rightlabel="Auto mode" mode="horizontal" width=""]

Night mode vs Auto mode
The OPPO A92 does as well as we expected it to in low light. Shots taken in Night mode have a resolution of 3,264 x 2,448, which is slightly smaller than the 4,000 x 3,000 resolution of photos taken in Auto. It will crop in a bit. But what you get are images with bright lights that aren't overexposed and a slight boost in clarity for the shadows. There's just a lot more detail in pictures taken in Night mode than when you rely on Auto. You still don't have to do much; just keep a steady hand then point and shoot.
Ultra-wide (with Dazzle Color) vs Ultra-wide vs Auto
As for getting more of your subjects into a shot, the 8-megapixel ultra-wide sensor performs as anticipated. It gets more into a photo, but expect the pictures to be just a little bit less sharp and detailed. It's not something we recommend you use in Night mode. It's best used in well-lit areas.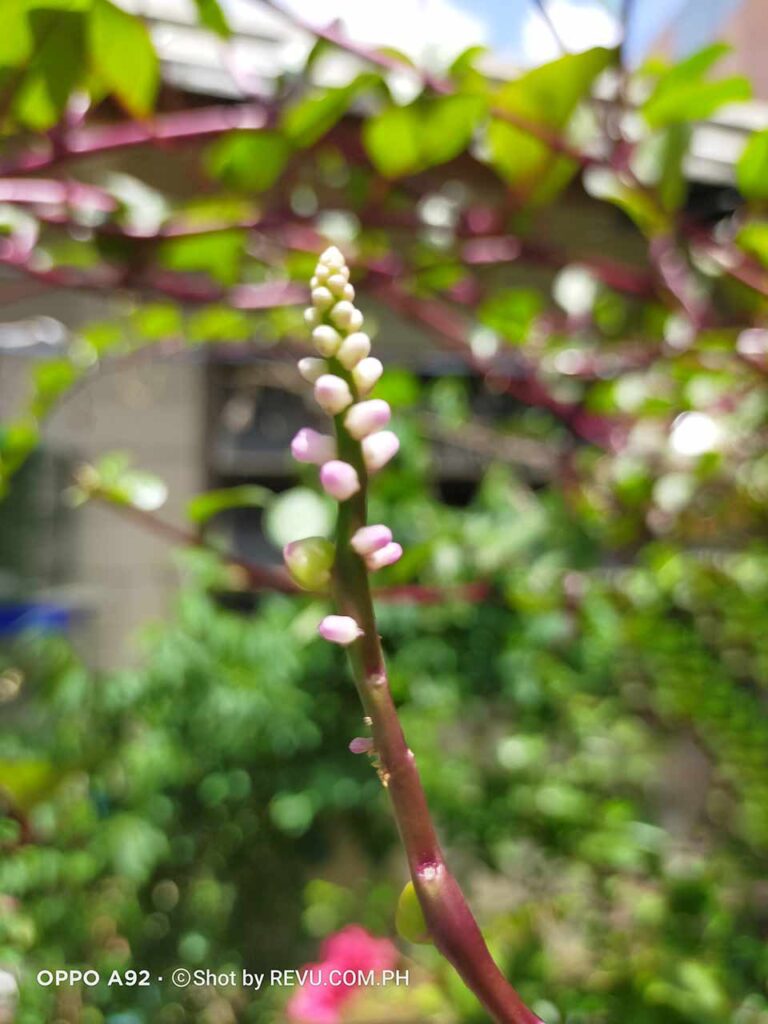 The OPPO A92 doesn't have a dedicated Macro mode in the app. But if you zoom close to a subject, the app will let you know that it switched to the macro lens. We found it challenging to focus on this lens, so it wasn't something we used a lot while reviewing. We've seen better macro cameras on other phones in this price range.
Auto vs 2x zoom vs 2x zoom with Dazzle Color vs 5x zoom vs 5x zoom with Dazzle Color vs 10x zoom vs 10x zoom with Dazzle Color
Portrait mode is another notable feature of the OPPO A92. It does as advertised, giving you the option to adjust the bokeh as you take your photo. It won't let you do so after the fact, so be sure to get the blur intensity you want.
Portrait vs Auto
It still has a bit of trouble with stray hair, but in general, it works pretty well both for the rear- and front-facing cameras. We even tried it on a cat and flowers, and it managed to identify the subjects correctly. The portrait samples you'll see in this review were shot at the default 60% blur.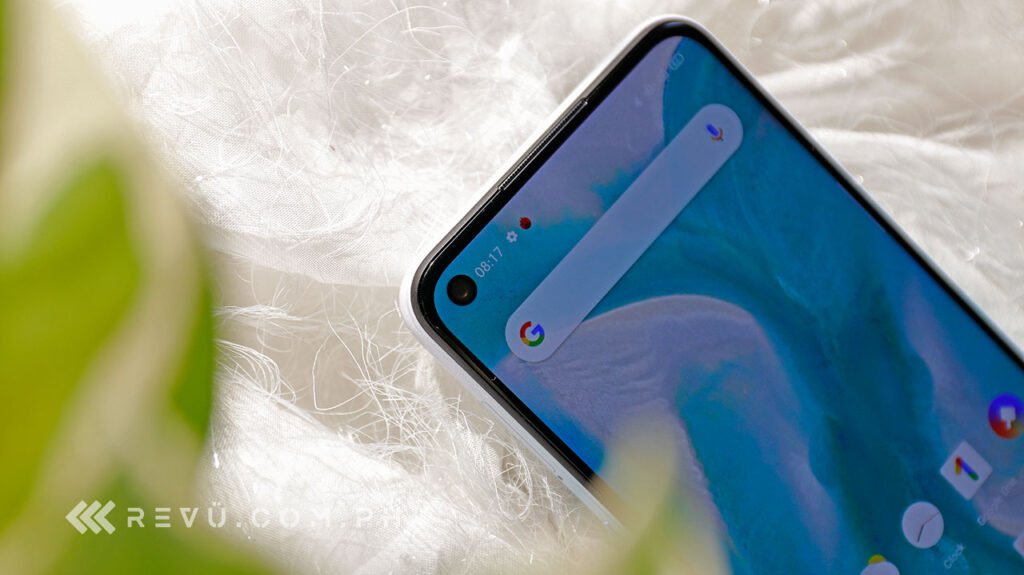 Being able to take great selfies has always been an OPPO specialty. And the OPPO A92 is no different. The photos look as natural and flattering as possible. And if you want it, the Beauty mode is still available to enhance your selfies.
Auto vs Portrait vs Beauty
We were especially impressed by the quality of the front-facing camera when used for video chats. We were on a call with family on Facebook Messenger, which displayed crisp and clear videos from our end. It's the kind of camera you'd want to use if you aim to look your best during video calls.
As for actual video recording, the OPPO A92 supports resolutions of up to 4K at 30 frames per second. There's no 60fps support here. In 4K, expect the videos to be a bit shakier. If you shoot in 1080p resolution, there's stabilization support to help get rid of that shakiness, even with handheld videos.
Performance
One aspect of the OPPO A92 that remains the same as the OPPO A9 2020 is that it is also powered by a Qualcomm Snapdragon 665 chipset with 8GB of RAM and 128GB of built-in, expandable storage. The one change is that it now runs on OPPO's latest ColorOS 7.1 based on Android 10. It's a significant upgrade that gives you access to Android's newest features and offers a cleaner user interface with less bloatware. But performance-wise, you can expect to get the same experience, more or less.
Some might not be happy that there isn't a newer processor on the OPPO A92, and we can't blame them for that concern. You're not going to get groundbreaking benchmark scores here. But it's not a bad chipset. Actual use proves it can easily handle basic tasks and gaming without much of an issue. You just shouldn't expect high frame rates or even silky-smooth performance in general. It'll occasionally stutter, but not enough that you'd be dismayed with its use.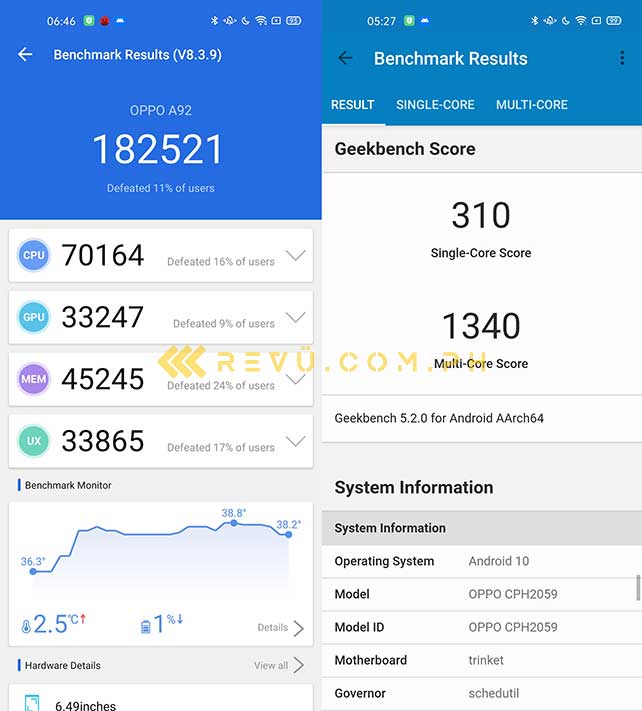 We were still able to do some light gaming; tons of YouTube, Viu, and Netflix watching; Spotify streaming; reading and responding to emails; and even writing part of this review on this handset. The only time we've noticed it tripping up was when we were using the camera app for an extended time. But after restarting the application, it worked fine. One missed opportunity is it doesn't support Full HD playback on Netflix, which some devices at this price point already does.
Out of the box, the handset used 21.2GB of storage from 128GB. It's not much of an issue since you get a lot of extra space to work with.
Battery
The 5,000mAh battery on the OPPO A92 will readily give you a full day of heavy use. We even got a respectable 15 hours and 32 minutes from our PC Benchmark test. We tried using it with the screen on for most of the day and got around nine to 10 hours of use.

With a battery capacity this large, though, it still takes a bit of time to charge, even with 18-watt fast charging via USB-C. It took us around two hours and a half to get from 0% to 100%. We were able to reach 50% at around 58 minutes. It's not as fast as we'd like it to be, but it is an improvement from the OPPO A9 2020's three-hour charging time.
If we compare it to the OPPO A9 2020, it seems to be missing reverse charging. It would be a useful feature for a phone carrying this large-capacity battery.
Final thoughts
There are a lot of good things going for the OPPO A92. It has a fresh, eye-catching design; large battery capacity; decent and flexible cameras; and relatively stable performance. Casual users will get a lot out of this handset. But the OPPO A92 still faces fierce competition in its price range. And an older, entry-level processor might be a deal-breaker for some.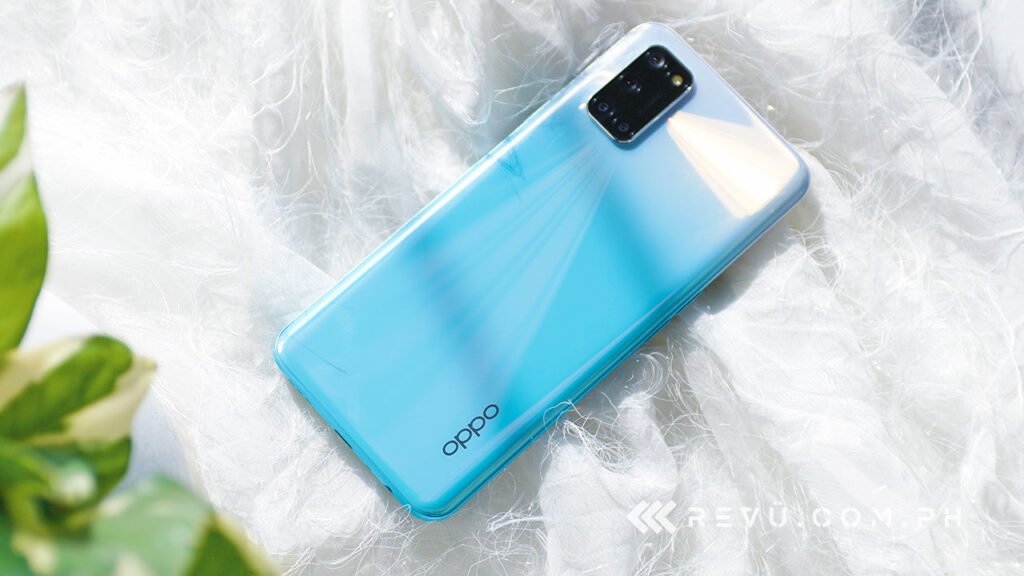 OPPO A92 specs
6.5-inch LCD display, FHD+ resolution, 20:9 aspect ratio
Octa-core Qualcomm Snapdragon 665 processor
8GB RAM
128GB expandable storage
Quad 48-megapixel (main), 8-megapixel (ultra wide), 2-megapixel (macro), 2-megapixel (depth) rear cameras
16-megapixel front camera
Fingerprint reader (side-mounted)
5,000mAh battery with 18-watt fast charging via USB-C
ColorOS 7.1 based on Android 10
Colors: Twilight Black and Shining White
---