Vivo pulls out all the stops with the flagship X50 Pro, but that's not the subject of this review. Instead, we're talking about its almost P15,000 (around $308) cheaper sibling, the Vivo X50.
As expected, Vivo, the top smartphone vendor in the Philippines for two consecutive quarters, had to cut a few corners to bring the price down. Even then, the handset promises to be a powerful midrange device. Granted, it is on the more expensive side of the segment, so it still packs in a compelling feature set that we will dive deeper into with this review.
Price and availability
The Vivo X50 comes in 8GB RAM + 128GB storage configuration at a price of P25,999 ($534). Instead of the 5G model, we here in the Philippines are getting the 4G variant of this handset. It's available in Glaze Black, Frost Blue, and pink variants. You can purchase it online and offline.
Hardware
Out of the box, the Vivo X50 leaves a great impression. It's slim, sleek, and lightweight with a frosted glass back. Even with its big screen, you can comfortably hold the X50 in one hand.
Our review unit came in Frost Blue, which is smooth to touch and look at, and shines like opal when light hits it. The matte finish adds texture to the device and helps mask fingerprints. It is a bit slippery, though, so we still preferred to use the included silicone case.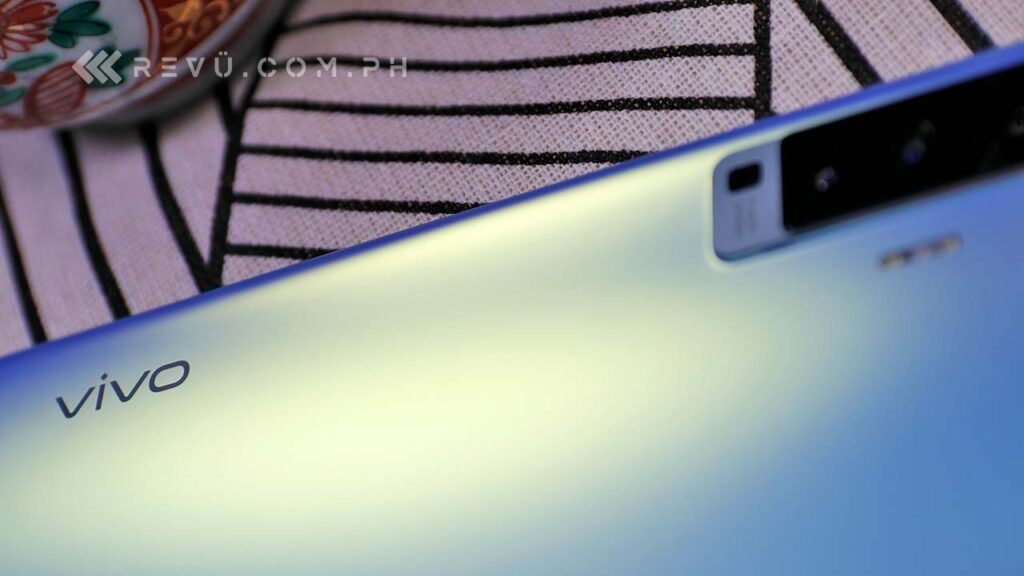 The quad-camera setup is neatly placed on the top-left corner of the device's back with metallic silver accenting the module's rounded rectangle shape. At the bottom left, there is the Vivo logo. A small punch hole interrupts the display for the selfie camera. Located on the top-left corner, it moves the notification icons to the right, so it doesn't interrupt your scrolling, watching, or gaming.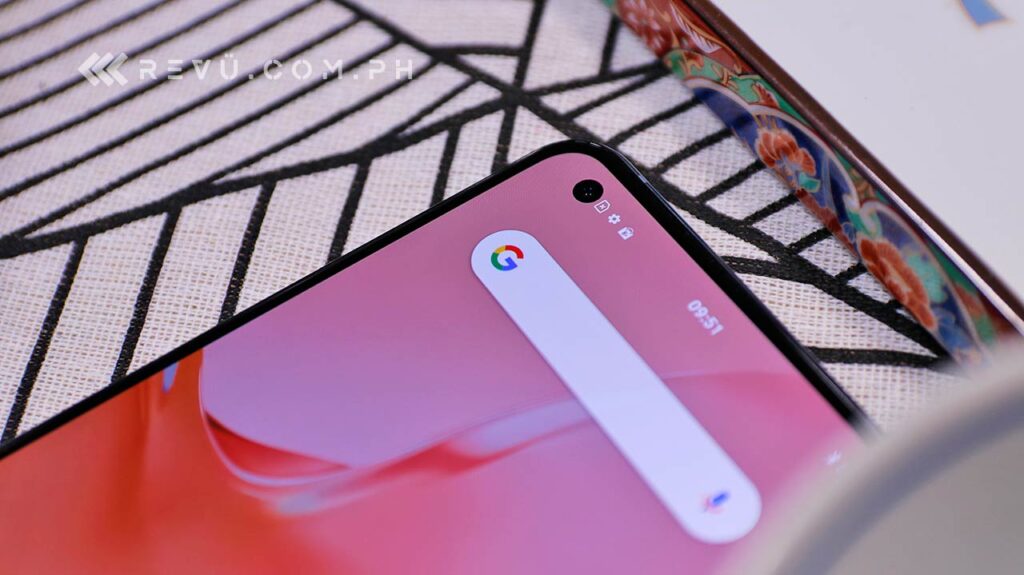 The right side of the phone has the volume rocker and power button. The top has a second mic near the right corner, while the words "Professional Photography" are etched into the left side. The bottom has a USB Type-C port, a dual SIM tray, a speaker grille, and a microphone.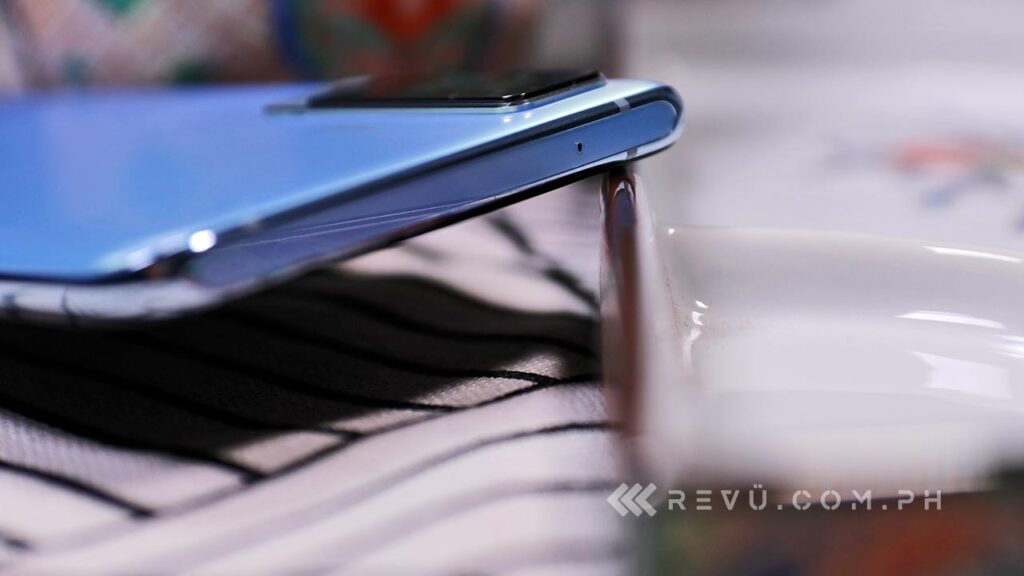 The bottom-firing speaker sounds decent and loud, but it is prone to be covered when we're watching or playing games in landscape.
The Vivo X50 protects your device with a combination of face unlock and an under-display fingerprint sensor. Both work as well as we've expected. And you have the option to combine the two security features to make it easier and quicker to unlock the handset.
As you may have noticed, a few things are missing. There's no microSD card. You'll have to make do with the built-in 128GB, which is down to 110GB of usable storage. There isn't a 3.5mm audio jack, either. But Vivo includes a Type-C adapter, so you can plug in the included Vivo XE160 earphones into the phone.
What's in the box
Vivo X50
Earphones (XE160 (3.5mm jack) + Type-C adapter)
Documentation
Type-C to USB Cable
USB Power Adapter
SIM Ejector
Protective Case
Protective Film (applied)
Screen
When a smartphone crosses the P20,000 ($411) mark, we have more expectations from the phone. One of the things we want to see is a better display. Vivo delivers with the X50. It has the same size, resolution, brightness, and refresh rate as the more premium Vivo X50 Pro. It features a 6.56-inch AMOLED display with 2,376 x 1,080 resolution (19.8:9), a 90Hz refresh rate, and 1,300 nits brightness. But the X50 has a flatter panel with just a wee bit more bezel on the sides, which some of you might prefer to the X50 Pro's curved screen.
Thankfully, Vivo keeps up with the trends and packs in that higher screen refresh rate with a 180Hz response rate. It makes scrolling smoother and more responsive on the X50. Playing games is a treat because of this. The company offers a Smart Switch option where the phone determines "the most appropriate screen refresh rate can be selected automatically according to the actual usage scenario." Or you can keep it in 90Hz or switch back to 60Hz if you want to save a bit of battery.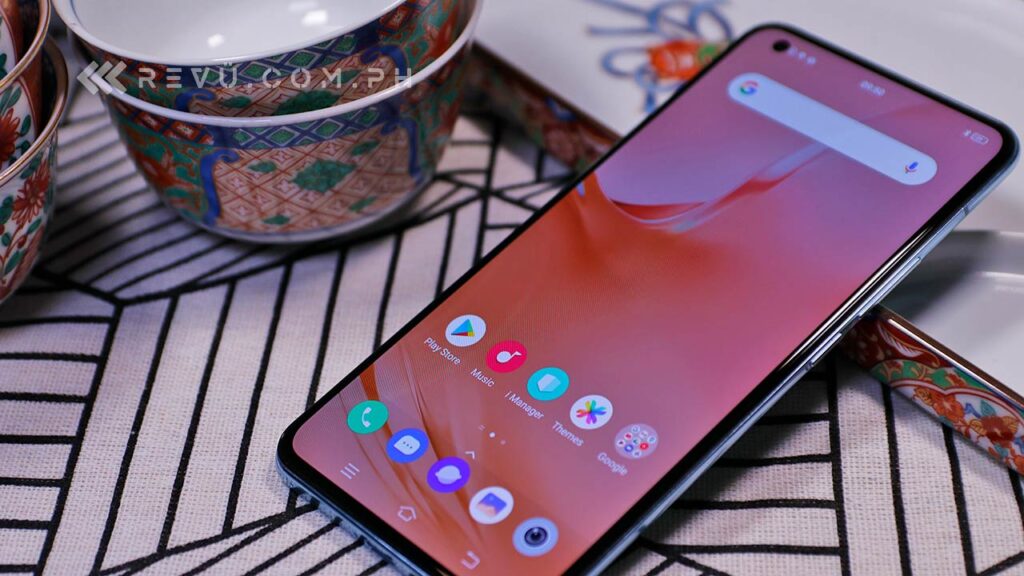 The handset has excellent viewing angles and offers rich and vibrant colors. Using it outdoors on a bright day isn't a problem. And your watching experience is enhanced, thanks to HDR10+ support and Widevine L1 Certification. The latter means you can stream full-HD content on Netflix and Amazon Prime, among others. The Vivo X50 also supports DCI-P3 Color Gamut.
To help protect your eyes, the smartphone comes with Eye Protection and Dark Mode as well as Low Brightness Anti-Flicker, which helps reduce screen flicker to alleviate visual fatigue when the screen's brightness is set to low. The downside is there might be more screen noise in this mode. And if you are looking for the Always On Display option, the Vivo X50 has that feature, too.
Camera
Vivo makes it clear that the X50 is a photography-focused handset. While it doesn't get the gimbal camera system that the X50 Pro has, the X50 offers a wide range of features and sensors smartphone photographers can enjoy.
The device sports a quad-camera module at the rear. It comes with a 48-megapixel Sony IMX598 primary sensor with an f/1.6 aperture, an 8-megapixel super-wide-angle lens with a 120-degree field of view and an f/2.2 aperture, a 5-megapixel macro lens with an f/2.5 aperture, and a 13-megapixel portrait lens with an f/2.5 aperture. In front, there's a 32-megapixel sensor with an f/2.5 aperture.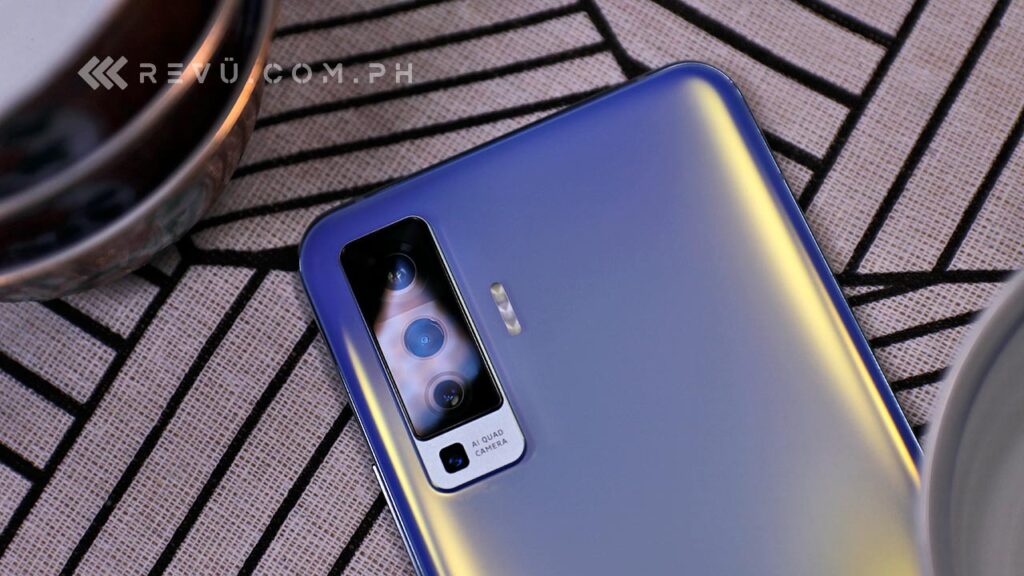 In the limited time we've spent with the unit, we were impressed with what the Vivo X50 can do. In bright lighting, you can get some detailed, rich photos. Focusing doesn't seem to be a problem. And the handset offers 2x optical zoom and up to 20x hybrid zoom. The optical zoom is particularly useful if you want to get just that little bit closer to your subject. Of course, hybrid zoom brings you that much closer, but expect to produce somewhat-grainy shots. It's not something we use often, but it's there if you want it.
The Vivo X50 offers 2x optical zoom and up to 20x hybrid zoom. Samples: 1x (look at the center of the picture), 20x zoom (yes, there's a spider there!), 1x, 2x zoom, 10x zoom
With its artificial-intelligence capabilities, it correctly guesses most of the time what we're taking a photo of. It identifies succulents, cats, buildings, and the like easily. The 48-megapixel sensor produces 12-megapixel pictures by default, but if you want the full 8,000 x 6,000 resolution, then that option is available to you as well.
With the Sony IMX598 sensor, Vivo promises that the X50 handles overall light sensitivity better than those with the IMX582 by up to 10%. And that's particularly useful for taking photos at night or in dark places, which is a specialty of this phone.
SEE ALSO: Watch: Vivo X50 Pro 5G is a phone and gimbal in one package
Vivo takes Night mode further with Extreme Night Vision, a new denoise algorithm that kicks in when "extreme darkness" is detected. It uses the optical image stabilizer to extend exposure time and then uses the phone's AI noise-reduction algorithm to get better tone, higher brightness, and less noise in these dark conditions.
We've tried it out in a dark backyard and driveway, and sure enough, it gets more detail. Vivo even includes some filters you can play around with to jazz up your pictures. You'll get the best results if you have a tripod handy. But it's still possible to shoot by hand. You just need to keep very steady to make sure the photos come out great. And yes, you'll need to keep it stable for a few seconds.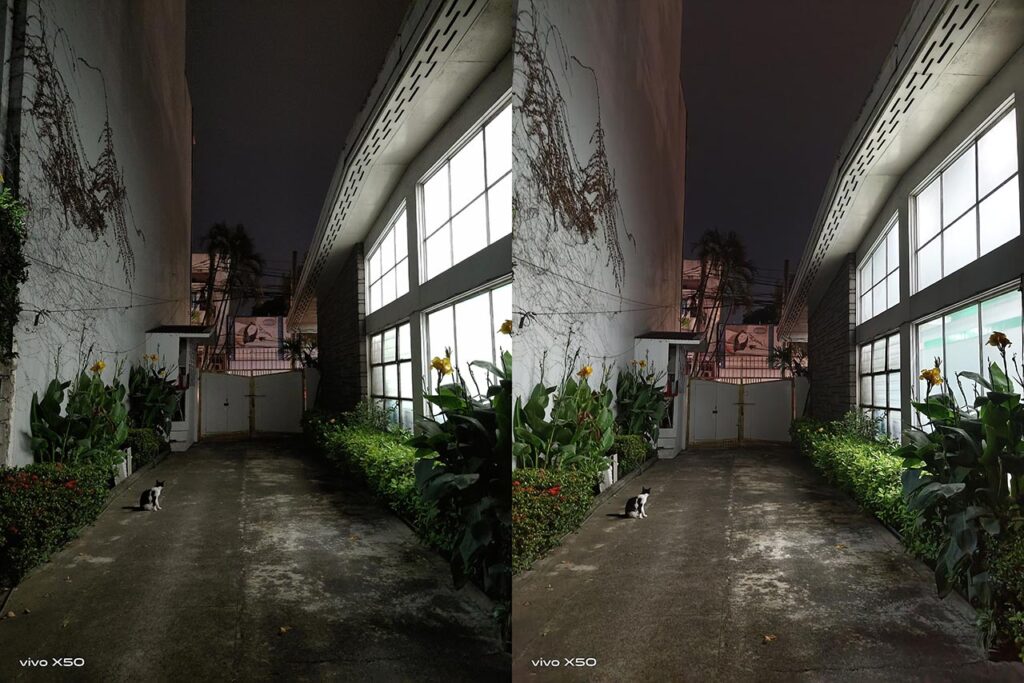 Night mode also works with the wide-angle lens, but it's still better left for the main camera. The wide-angle sensor helps you take better landscape photos with its 120-degree field of view. But since it corrects distortion, Vivo claims it has a 108-degree field of view. It's best used on a bright day to get better shots.
Auto vs ultra-wide
The 13-megapixel portrait lens is designed after a professional 50mm f/2.0 prime lens, to ensure you get more flattering portraits. With the help of Vivo's algorithm, it works to separate your subject from your background better. It still has a bit of trouble making out edges sometimes, but it mostly works well. And you can adjust bokeh after the fact, which is something we appreciate.
If you want to do toy photography or just like getting up close and personal with your subject, the macro lens with its 1.5cm focus distance allows you to do just that.
Love taking macro shots? You should seriously consider getting the Vivo X50 (and Vivo X50 Pro)
More sample macro shots
Vivo also equips the X50 with a Pro Sports mode, which can take motion snapshots with almost-zero delays. With a combination of OIS and a custom-made sensor (which reduces exposure time), it can capture someone jumping up with speed and precision. It's great for action shots or even just for capturing photos of your active children or pets.
Videos are something the Vivo X50 is equipped to help you get the most out of. While it doesn't have the gimbal system on its more expensive sibling, it does offer a slew of features that can make your smartphone videos look like professionals shot them. If you'd want to venture into vlogging, this might be a good handset to try that out with.

The Vivo X50 offers features like 4-axis stabilization with OIS and electronic image stabilization, smart zoom, and 3D sound tracking, slow motion, and time-lapse. A clear version of the video above can be found here
The Vivo X50 offers features like 4-axis stabilization with OIS and electronic image stabilization, smart zoom, and 3D sound tracking. Smart zoom and motion AF tracking helps keep your subject in focus. It can detect the subject even if it goes out of range and returns, perfect for filming moving subjects. This feature is complemented by 3D sound tracking, which follows the sound coming from your chosen subject no matter where they go. And if you like playing around with what you shoot, there are Slo-Mo and Time-Lapse options, too.
While OIS and EIS help keep our videos as steady as possible, there's an extra Ultra Stable mode, which shoots in 1080p. The X50 can record clips up to 4K at 30 frames per second. If you want to shoot in 60fps, that is only available for 1080p and 720p resolutions. Even without the gimbal system, we're still pretty happy with what the X50 can do when it comes to videos. Focusing isn't an issue here either. And with the many modes you can play around with, it gives you more room to be creative.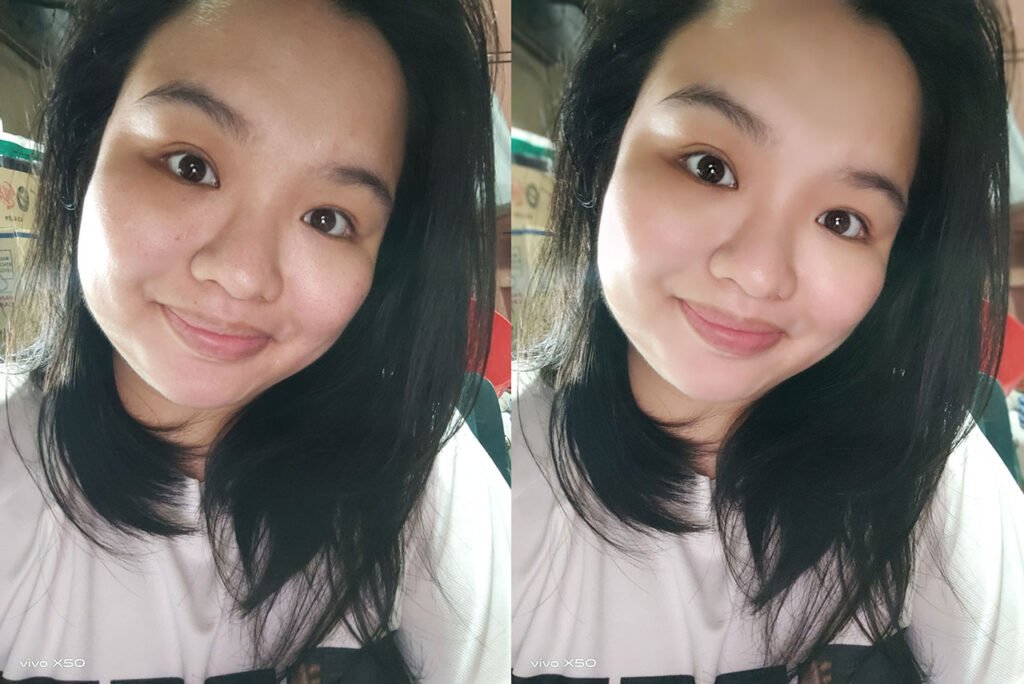 Selfies are another thing Vivo excels at. And with the X50, you get plenty of flattering pictures in well-lit areas or even in dark rooms. The front-facing camera also supports Night mode. Portrait helps create that bokeh to put the focus on you, but you can't adjust it after the photo is taken. And it has trouble with some stray hairs. But, otherwise, we were able to get good pictures of ourselves with this phone. And yes, it has the Face Beauty feature, if you want to tweak your selfies. If you're going to bring that to your video calls, Face Beauty is available there as well.
Performance
While the Vivo X50 doesn't have the latest and greatest when it comes to processors, it does offer a tried-and-true chipset for the midrange segment. The Qualcomm Snapdragon 730 paired with 8GB of RAM performed as well as we thought it would. It could handle stuff when we needed to work and when we wanted to play. It could take more graphics-intensive games, and multitasking wasn't an issue. It didn't lag or crash during our tests.
Extended hours of use made the phone's temperature shoot up a bit, but not to the point where we couldn't use the handset. Even with the older chipset, the phone itself feels well-optimized, possibly because of Vivo's software.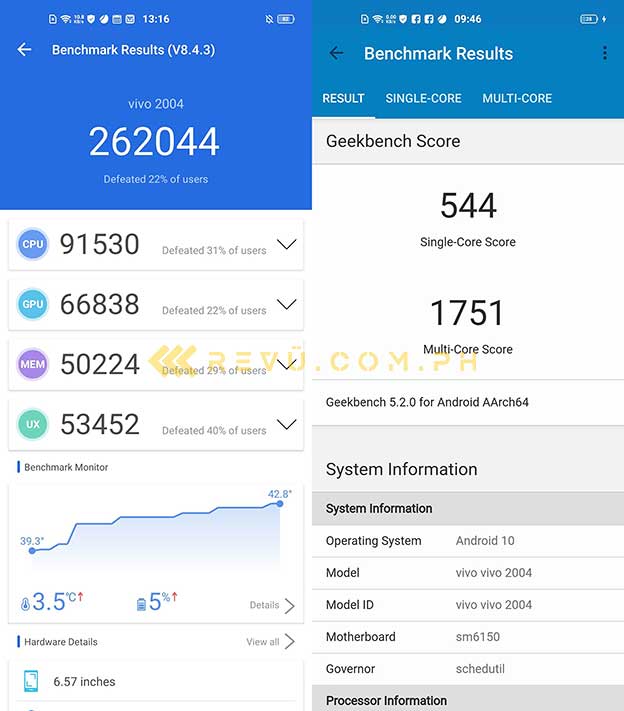 The Vivo X50 comes layered with Vivo's FunTouch OS version 10.5 based on Android 10. The user interface looks less cluttered and now offers an app-drawer option, too. We could still do with less preinstalled apps on the phone. For the most part, you get stock Google apps without too much of an overlap with Vivo's apps.
We do like the customizability it offers when it comes to the UI. You can choose everything from whether you want icons to have rounded or squared-off corners to Dynamic Effects that change the animation you see when you unlock the phone, charge it, insert the USB cable, etc. Vivo even offers the Ambient Light Effect feature here, which lights up your screen's borders when a notification comes in, and, yes, you can tweak the colors and the like there, too.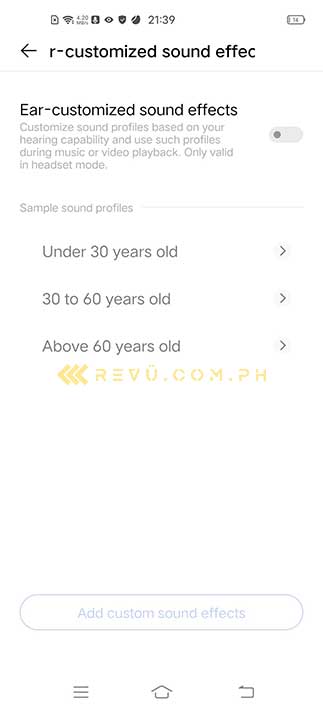 You also get navigation gestures and a quick-launch sidebar. This handset even comes with "ear-customized sound effects," which tweaks the sound profile based on who is listening (based on age) and uses these during music or video playback. But this function only works in headset mode.
If you want to get the ultimate gaming experience, Vivo's Ultra Game Mode is on this phone, too. The Vivo X50 is an all-around stable performer.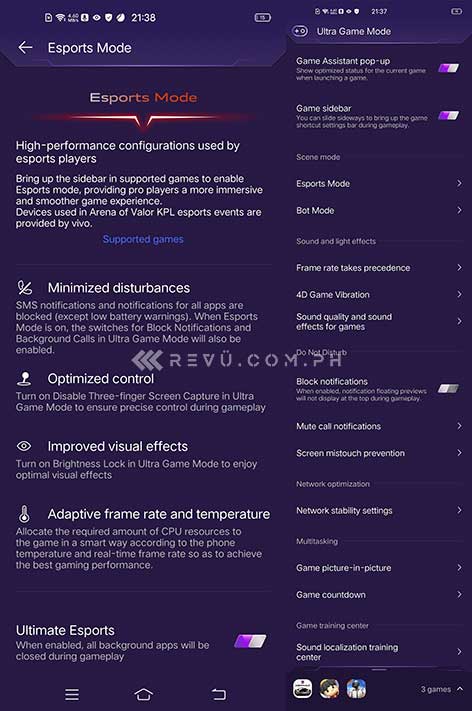 Battery
On paper, the Vivo X50's 4,200mAh battery capacity doesn't seem remarkable. But then, we remember it's a thin 7.55mm handset, so it offers as big a battery as it can. On average, we could eke out around 13 hours of use with the screen on for most of it in Smart Switch mode. If we left it on the 90Hz refresh rate, we still got a respectable 11 hours or so. PCMark scores rate the X50 at 14 hours and 46 minutes.

The better part of the deal is its fast-charging capabilities. The Vivo X50 supports 33-watt FlashCharge, which gets us from 0% to 100% in around an hour and 10 minutes. Vivo claims you can get up to 58% in just 30 minutes, but we got somewhere close to 50%, which was still pretty good.
It's good to know that the X50 can last you through the day, and when you do need to charge, it doesn't take too long to top up.
Final thoughts
The Vivo X50 eases your lust for a top-tier phone at a price that might be more suitable for your budget. You get an eye-catching, sleek design; a great set of cameras; stable and smooth performance; and decent battery life. Maybe you can't go full flagship price yet, but you want a smartphone with a lot to offer. The Vivo X50 shows it can play with the big boys without demanding more from your wallet.
The Vivo X50 shows it can play with the big boys without demanding more from your wallet
Vivo X50 specs
6.56-inch E3 AMOLED display, 2,376 x 1,080 resolution (19.8:9), 90Hz refresh rate, up to 1,300 nits brightness
Octa-core Qualcomm Snapdragon 730 processor
8GB LPDDR4x RAM
128GB/256GB UFS 2.1 storage
Quad 48-megapixel, f/1.6 (main), 8-megapixel, f/2.2 (ultra wide), 13-megapixel, f/2.4 (portrait), 5-megapixel, f/2.4 (macro) rear cameras
32-megapixel, f/2.4 front camera
Fingerprint reader (under display)
4,200mAh battery with 33-watt fast charging
Colors: Glaze Black, Frost Blue, pink
---