Counterpoint Research has shared with us at Revü more detailed information on how the smartphone vendors performed locally in the second quarter of 2020.
Based on the market-research firm's findings from its Market Monitor service, Vivo still held its No. 1 position in the Philippines with a market share of 20.9%. Our guess is that entry-level devices such as the Vivo Y11, which was top retailer MemoXpress' bestselling model during the first major COVID-19-related lockdown in the country, helped Vivo retain the crown.
The company just released its first 5G phone — the Vivo X50 Pro — and its first truly wireless earphones — the Vivo TWS Neo — in the Philippines. It also introduced the regular Vivo X50, a cheaper variant of the Vivo Y11, and another budget handset in the Vivo Y30.
Hot on its heels was Realme, which grew 97% quarter on quarter and 7,400% year on year — an amazing feat considering it officially entered the local market only in November 2018. The brand had a market share of 20.6% last quarter. The first quarter's fifth-placer surpassed OPPO, Xiaomi, and Samsung to take the second spot.
Yesterday, August 28, it wrapped up its month-long fan festival by launching the Realme C12 with 6,000mAh battery a little over a week after it unveiled the Realme C15.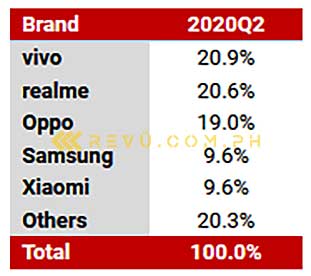 In third place was OPPO, which garnered a 19% market share from April to June. It was the third brand under BBK Electronics to enter the top 5. In case you didn't know, Vivo and Realme are also part of BBK.
This month, the manufacturer announced the global variants of the OPPO Reno 4 and OPPO Watch.
Landing fourth and fifth, respectively, were Samsung and Xiaomi, each with a market share of 9.6%. In August, Samsung unveiled its Galaxy Note 20 and Galaxy Note 20 Ultra flagships and silently released the sub-P4,000 (sub-$83) Galaxy A01 Core Android One smartphone. Xiaomi, on the other hand, rolled out the Redmi 9C, whose review we have yet to publish next week because of some projects we're doing.
Notice that of the top 5 smartphone vendors in the Philippines last quarter, only Samsung is a Korean brand — the rest are from China. "The competition among the Chinese players is getting tough and is evident from the close market share," added Counterpoint research analyst Abhilash Kumar. This is in a market that declined 26% YoY and 7% QoQ in Q2 2020 amid the COVID-19 pandemic.
It's interesting to see how smartphone-vendor rankings change over time. Based on publicly available data, Samsung, OPPO, Vivo, Cherry Mobile, and Huawei — in that order — were the biggest winners locally in the third quarter of 2019. From April to June in 2018, the largest players were ranked as follows: Samsung, Cherry Mobile, Vivo, OPPO, and Huawei.
In case you missed this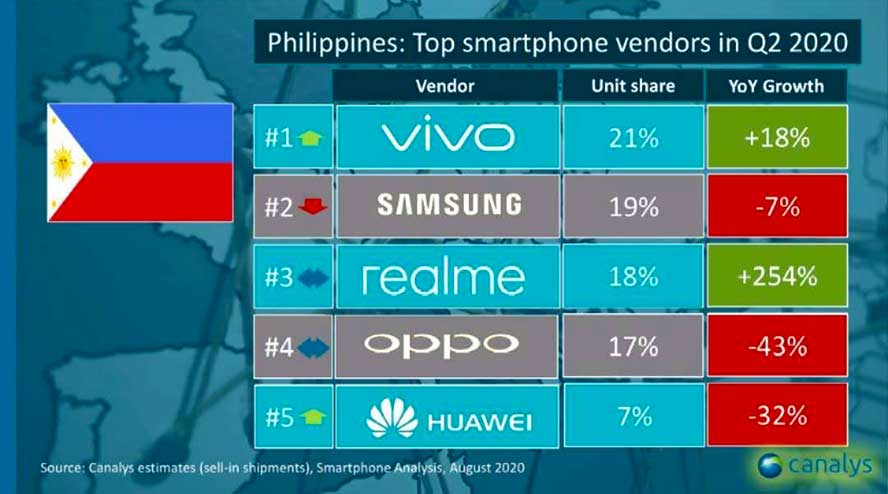 ---