There's a better variant of Samsung's cheapest smartphone yet, which we at Revü discovered was quietly released in the Philippines in early August.
According to local retailer MemoXpress, it is exclusively selling the Samsung Galaxy A01 Core with 2GB of RAM and 32GB of storage. Recall that the earlier version only has half the RAM and storage. But the good news? The new model is still priced at P3,990 (roughly $82 converted).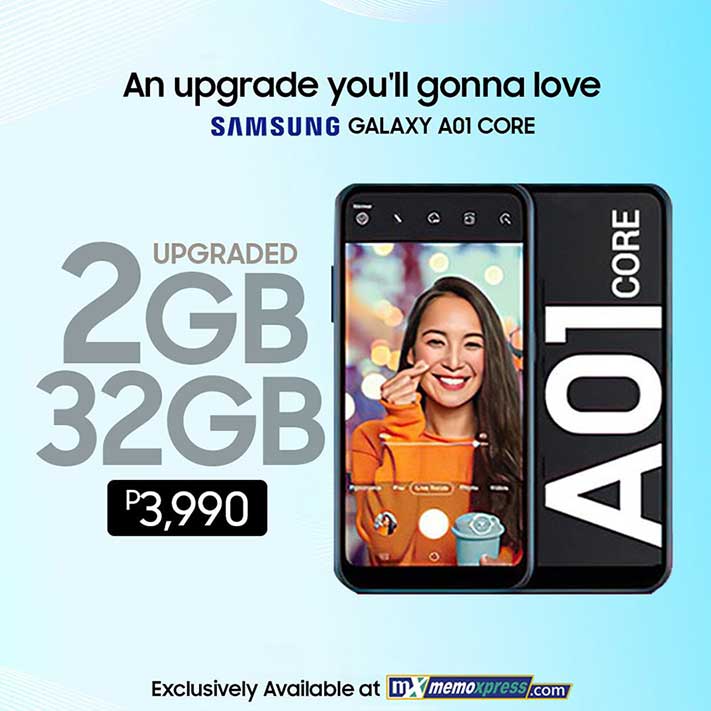 People might scoff at that memory configuration. You shouldn't really expect much from it, that's true. However, keep in mind that the Samsung Galaxy A01 Core is an Android One phone.
Android One is a lightweight operating system that uses less resources, with only the most important apps loaded. The preinstalled applications do not take up a lot space, too. What's more, Android phones get at at least two years of OS updates.
SEE ALSO: Top 5 smartphone brands in the Philippines in Q2 2020 — Counterpoint
Elsewhere, you are still looking at the same specs. This version of the Samsung Galaxy A01 Core features a 5.3-inch screen, 8- and 5-megapixel rear and front cameras, and a 3,000mAh battery. It is powered by a MediaTek MT6739 chip. As basic as smartphones come, yes, but it should be good enough as a starter handset.
Specs of the upgraded Samsung Galaxy A01 Core
5.3-inch LCD display, HD+ resolution
28nm quad-core MediaTek MT6739 processor
2GB RAM
32GB storage
8-megapixel, f/2.2 rear camera
5-megapixel f/2.4 front camera
3,000mAh battery
Android One (Go Edition) based on Android 10
Colors: Black, red
---