Realme follows up the Buds Air and Buds Air Neo with even more affordable true wireless earbuds. The Realme Buds Q are not just cheaper; they're smaller, too. How much did Realme have to compromise to come up with the Buds Q? Or is the company defying expectations with these earbuds? That's what we hope to answer with this review.
Price and availability
The Realme Buds Q come in at just P1,490 (around $31) in the Philippines. And they're already available nationwide at Realme stores and kiosks. Those who plan to buy the earbuds online can get them through Lazada.
Hardware
Realme is incredibly proud that renowned French designer Jose Levy has helped design the Realme Buds Q. His name is even mentioned on the box.
The concept is to create these earbuds with a full curved body and no straight lines, allowing it to fit in your palm. The buds are designed to be sharper at the top and blunt at the bottom to better isolate outside noise and fit better and comfortably in your ear canal. The charging case also features this perfect curve design, which Realme calls the Cobble design. It comes in a shape that resembles an oblong pebble. It has a frosted texture to make it nicer and smoother to look at and touch.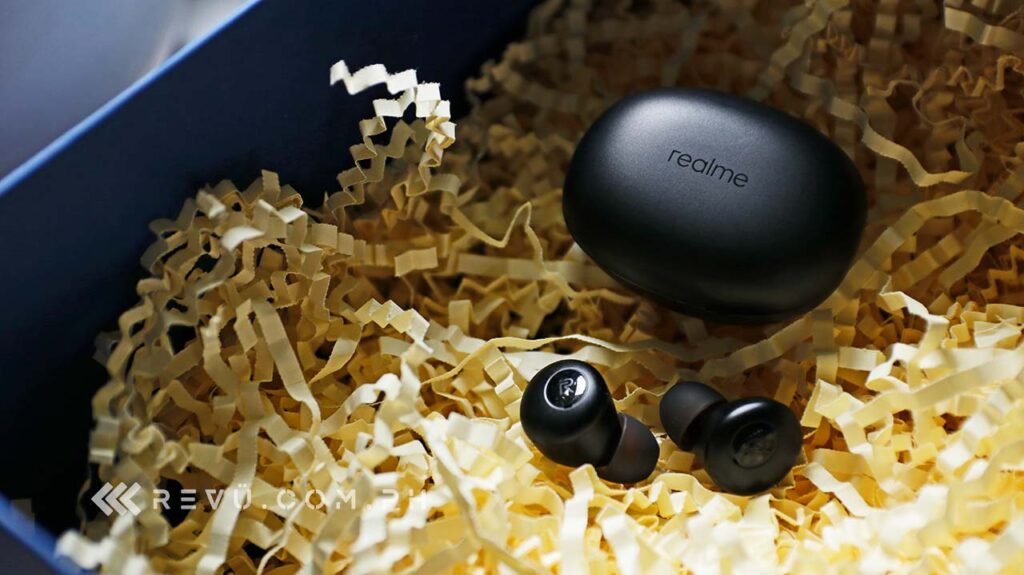 Make no mistake that the Realme Buds Q are an entry-level accessory, though. They're still made of plastic. They seem sturdy enough, but don't expect them to handle drops or scrapes well. The upside is that it makes these wireless earbuds extremely light. Each bud weighs just 3.6g, with the entire packaging coming in at only 35.3g (including the charging case). They don't feel uncomfortable in your ears. Even when we used them for hours, there was no strain at all.
We feel that Realme needs to do some work with the fit, though. Even with changing the ear tips, the earbuds don't quite sit as snug as we want them to be. We could use them while doing yoga, but there was always the risk of one of the earbuds falling out. You can use the Realme Buds Q for workouts, as they have an IPX4 rating. They won't be up for a swim, but they can handle a bit of drizzle or some sweat.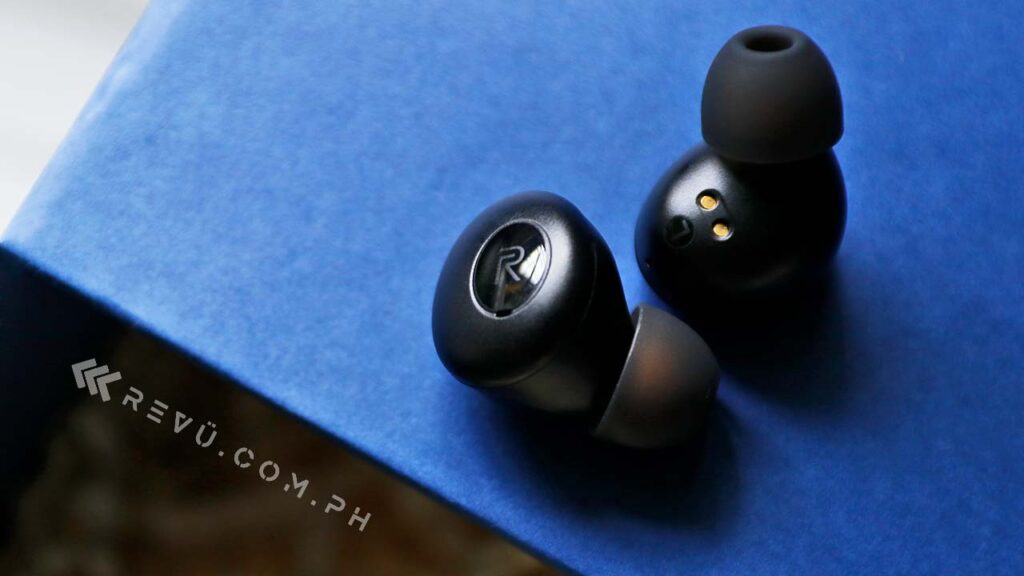 We were supplied with the Quite Black variant to test, which looks quite sleek. Admittedly the dark color makes it hard to spot on a dark table or inside a bag. But for those who want the more polished look, they will appreciate this design. We like the nod to Realme's signature "yellow and black" look with the yellow part hidden in the ear tips. Others won't see it, but it's a nice nod to the brand's colors. The Realme "R" logo is visible in the small touch area on the earbuds' backs. There's also the Realme logo on top of the charging case.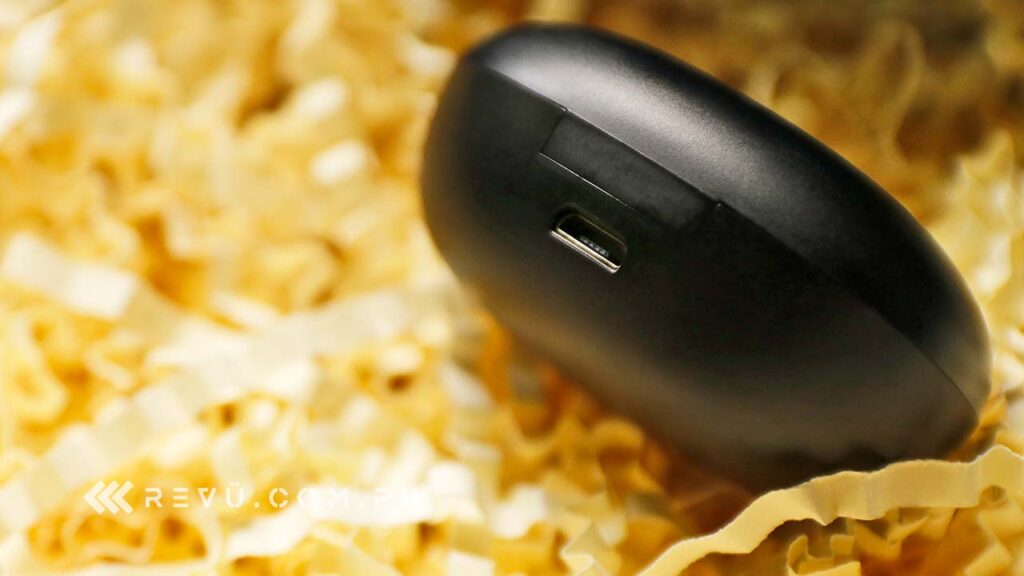 The front of the case has a charging indicator and a little lip to make it easier to lift the lid. The back houses a microUSB port for charging. Realme supplies a relatively short charging cable with the Buds Q, so you might want to use other microUSB cords you have if you're going to plug it into a wall socket.
What's in the box
Realme Buds Q earbuds
Ear tips (S, M, L)
Charging case
MicroUSB cable
Quick start guide and warranty card
Setup and operation
The Realme Buds Q have an easy way to pair with the Android devices we have on hand. All you need to do is take them out of the charging case and head to the Bluetooth section in your smartphone, and you can connect them like you would other Bluetooth devices. Realme also says you can keep the buds in the charging case and press and hold on the touch area for five seconds to pair. But we never got this method to work for us. Another way is through the Realme Link app, but the simplest is still the first method we mentioned.
Once paired, the Buds Q can auto-reconnect if the earbuds are out of the case and the Bluetooth on the paired device is on.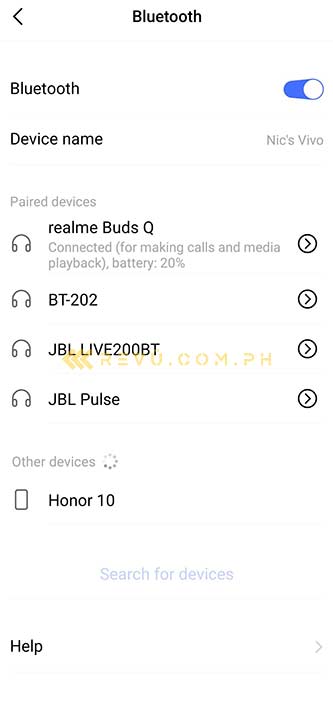 These earbuds support Bluetooth 5.0 with a 10m range. While they pair easily, we notice that the Realme Buds Q need to be kept in the line of sight of the device they're connected to. When we walk behind a shelf or a bit far from it, the sound stutters, reminding us that these wireless earbuds are entry-level ones. They reconnect quickly when we're within range or within its line of sight, though.
The capacitive touchpads on the earpads aren't typical for wireless earbuds in their price range. And we appreciate Realme's efforts for putting them on here. We find them pretty responsive. It will miss out on some taps. But more often, we got them to work, which is good.
It allows us to control the buds without having to touch the source device. By tapping on the touchpads, you can do things like play or pause the content, go back to the previous track, skip to the next track, toggle Game Mode, or call up your device's voice assistant. These are customizable through the Realme Link app, which is available on the Google Play Store. So, if you're using an iOS device and want to try this out, you're not going to have access to this feature.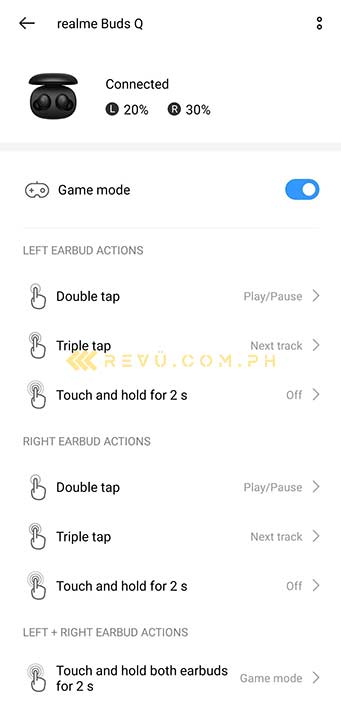 The Realme Link app is also the only way to check how much battery each earbud has. In the Bluetooth section of your mobile device's settings, you'll only see the average battery percentage of both earbuds. We'll talk about the battery more later.
Performance
As in-ears, the Realme Buds Q offer a good passive seal on its own. Of course, there is no active noise cancellation here, so we rely on the passive cancellation it provides. And it's pretty good. When we're listening to songs or podcasts, we can't hear people talking or other external noise, allowing us to concentrate on what we're listening to.
Passive cancellation is pretty good. When we're listening to songs or podcasts, we can't hear people talking or other external noise
We're pleasantly surprised that the Realme Buds Q come equipped with a large 10mm dynamic driver, improving sound quality. Combined with AAC codec support and its design, we get better quality from these affordable buds. They support the standard SBC codec, too.
You'll hear more and better if you try to increase the volume level as much as possible. The details get lost when the volume is too low. But when you hit that sweet spot, you'll get a decent amount of sound separation and even a bit of bass that isn't too obnoxious or overpowering.
Audiophiles won't be impressed. They aren't the target market, after all. But for regular folk, they won't be too bothered by the Realme Buds Q's sound quality.
SEE ALSO: Realme 7 Pro review: Need for (fast-charging) speed and Realme 7 camera test: Is Sony's 64MP sensor better?
The earbuds aren't reliant on each other, so you can continue listening with one ear if you want. And, of course, there's no automatic ear-removal detection, either. While we miss the feature, some would prefer this implementation. And for their price, we expected that the feature wouldn't be available at all anyway.
As for their gaming-related performance, the Realme Buds Q come with a Game Mode supported by 119ms Super Low Latency. It's not spot-on; we can still hear some delays, even when we activate Game Mode. But it's better than some slightly pricier earbuds we've tested. It would be best if you still kept those wired earphones on hand for gaming.
But we do commend the earbuds' capability to switch seamlessly between game audio and a voice call. We were able to continue playing while on the phone with someone. And when the phone call was done, they switched the audio right back to the game without delay.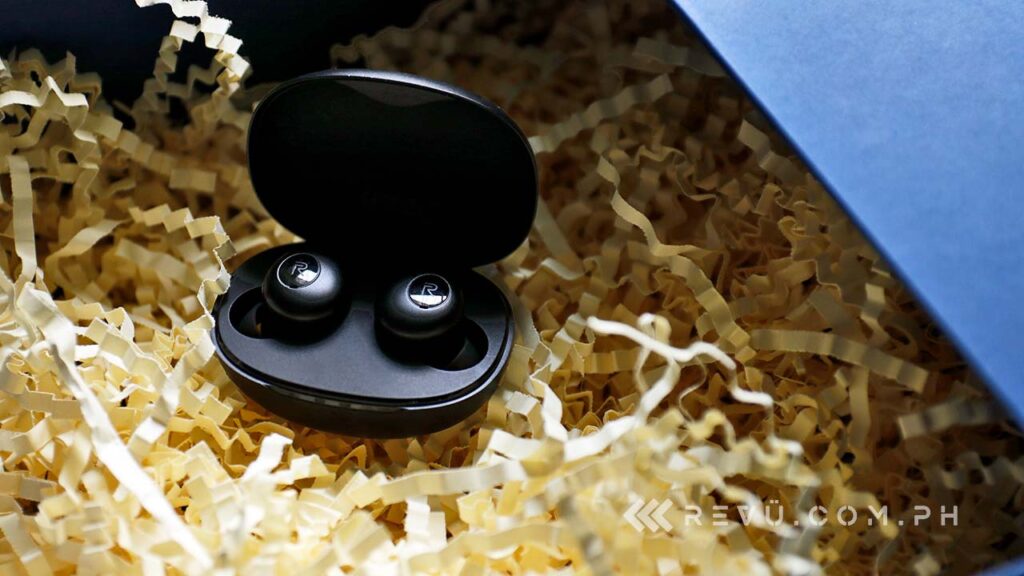 They're a bit hit or miss with the call quality, though. We've had some people tell us the sound comes out a bit tiny and muffled, while others could hear us just fine. Of course, factors like cell signal or internet connection could affect call quality. But, more or less, we got through our calls fine. We could hear the people we're talking to clearly.
One trouble spot we found was trying to converse with Google Assistant while wearing a mask. It couldn't understand us until we took off the covering. So, it's one thing to consider if you're using the Buds Q in public to take calls while wearing a mask.
Battery
Realme claims you can get 4.5 hours out of the Buds Q when you use them to listen to music or around three hours for continuous calls. While we didn't make three-hour calls, we did get approximately 4.5 hours of listening time, sometimes around five hours or so.
We get approximately 4.5 hours of listening time, sometimes around five hours or so
There's no mention of fast charging here, and they come equipped with a microUSB port, too. So, they take a bit of time to charge. When we charge them using the case, we can top them up from zero at around an hour and fifteen minutes. The Realme Buds Q let us fully charge from the charging case three times, and then we get about 30% from the fourth charge. To juice up the case, it takes around two hours, which is the same as Realme advertises.
The numbers aren't bad, to be honest. We've achieved the same result with other wireless earbuds in its price range. So, the Realme Buds Q don't stand out in this regard, but they're not bad, either.
Final thoughts
The Realme Buds Q stick to the basics, and we aren't disappointed with that. You still get decent sound and an excellent passive seal with these in-ears. The buds are light to carry and use, which is great, but they also require extra care to make sure you don't lose them. The touchpad's responsiveness still needs work. Low latency for gaming is okay, but not perfect. And their battery life is in the range of other TWS. If you want to try out using a pair of wireless earbuds, this affordable option is a good start.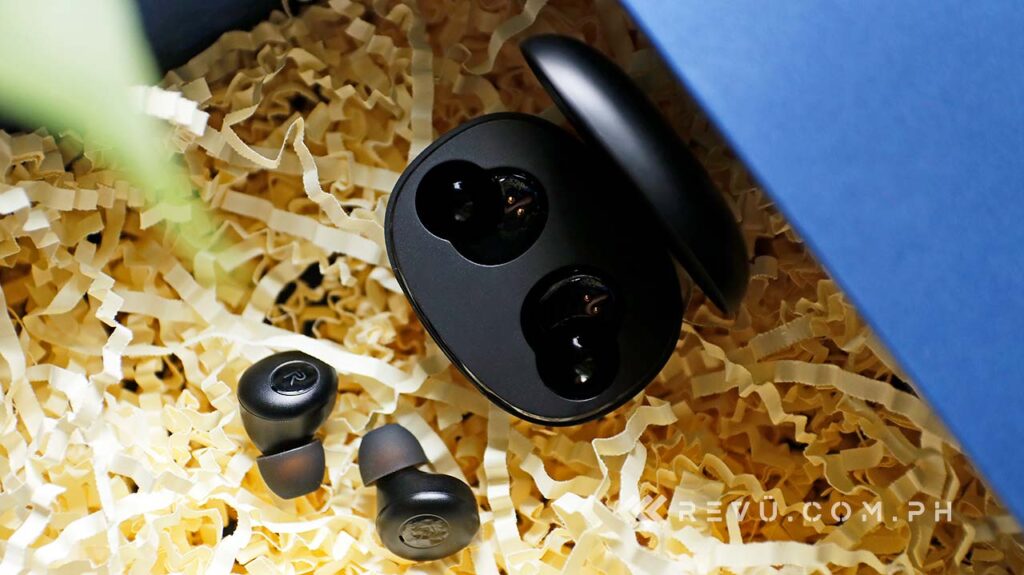 Realme Buds Q specs
Bean-shape design
10mm driver
Passive noise cancellation
119ms low-latency (in Gaming mode)
microUSB charging port
400mAh battery (case) with 20-hour battery life (earbuds with case; 4.5 hours per bud)
Color option: Black
---