Samsung's 5G offerings were initially limited to its premium products — the flagships with the best specs and the highest prices. If you wanted a 5G handset from the brand, you needed to shell out the big bucks for it. Now, the renowned smartphone maker has a new handset that is its most affordable 5G phone yet.
The mandate of the Galaxy A series is to bring flagship features to its midrange segment. And so the Samsung Galaxy A42 5G hopes to bring 5G connectivity to more consumers. We've already shared our initial impressions and benchmark results on this phone. But now, we're here to talk about the experience of using the device.
Ookla and Fast: 5G speed tests on the Samsung Galaxy A42 5G in Rizal province
We appreciate the future-proofing Samsung offers with the Galaxy A42, especially as local telcos Globe Telecom and Smart Communications continue to aggressively roll out more 5G areas in the Philippines. But since many of you might not have access yet to 5G speeds, let alone a device that is readily compatible with the latest mobile standard, we wanted to focus more on this handset's day-to-day experience and whether it can hold up as a midrange phone. You can read our full review below.
Price and availability
As a refresher, the Samsung Galaxy A42 5G is priced at P19,990 (around $415) in the Philippines, and you can get it in Prism Dot Gray and Prism Dot Black colors. You can also purchase it through a Globe or Smart data plan, which we recommend if you're going to be upgrading from a prepaid service, anyway.
Hardware
It's easy to spot the Galaxy A42 if you look at it from behind. It has horizontal lines separating the different gradient layers, reminding us of Lego blocks stacked on top of each other. We tested the aptly named Prism Dot Gray variant, as you can also spot dot matrix-like patterns on the Glasstic back under a rainbow finish that's a signature for the Galaxy A series. It's a design that we appreciate for its uniqueness, but some of you might not feel the same.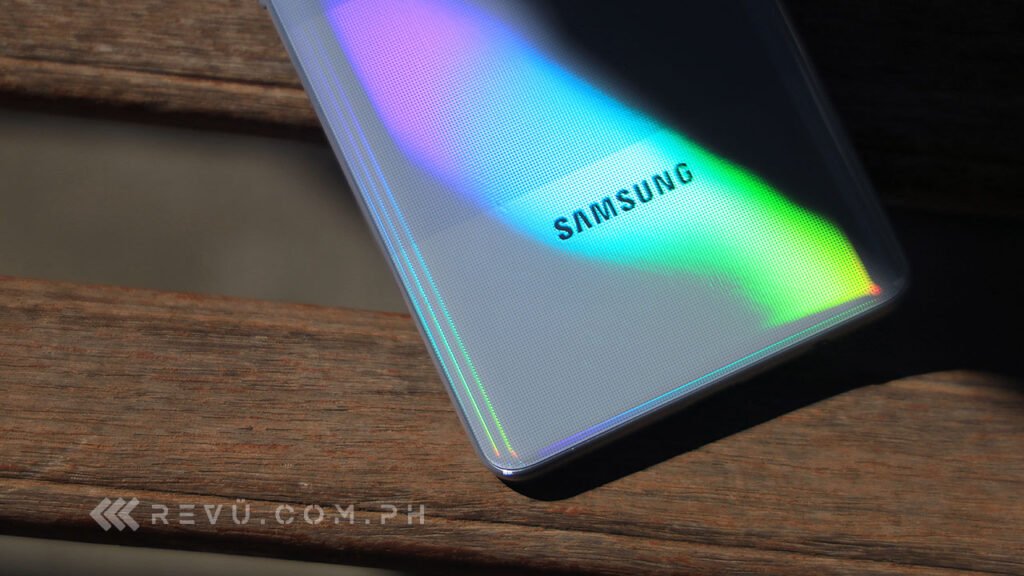 Glasstic, as you may know, is Samsung's term for its plastic material that looks like glass. It might look like a glass back, but holding the Galaxy A42, there's no mistaking the plastic construction. It does make the smartphone feel light in hand, and the material doesn't attract as many smudges as glass-backed devices.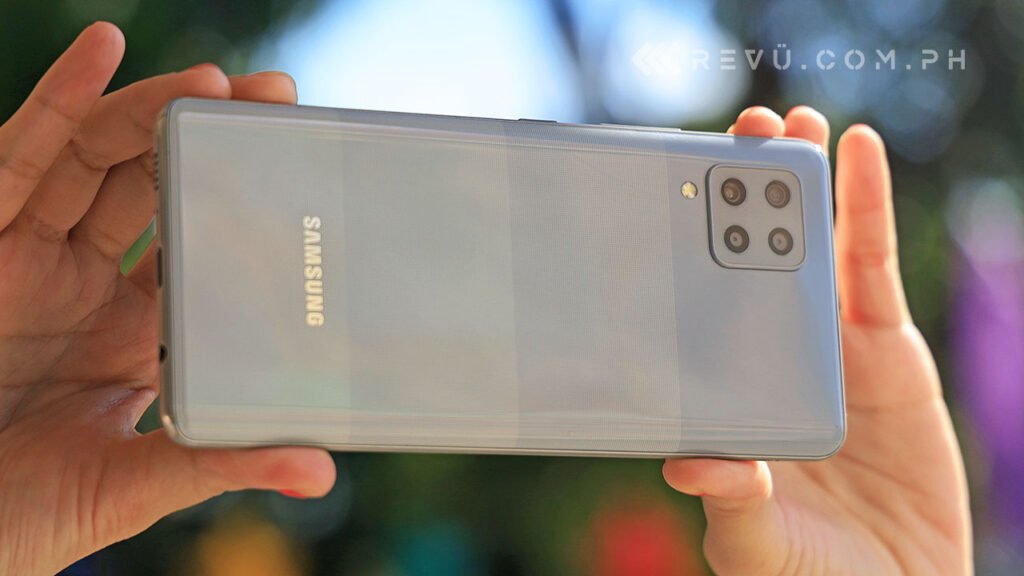 With a large display, the phone is relatively large, too. But it's still a slim unit that's comfortable for one-handed use. It's impressive how thin it is, given that it sports a big battery. As we mentioned in the first impressions, the edges are more square than round, so it might not feel as natural or ergonomic in hand.
The display's only interruption is the waterdrop notch for the lone selfie camera and thin bezels at the sides. As with other midrange Samsung phones, the screen doesn't curve off the sides.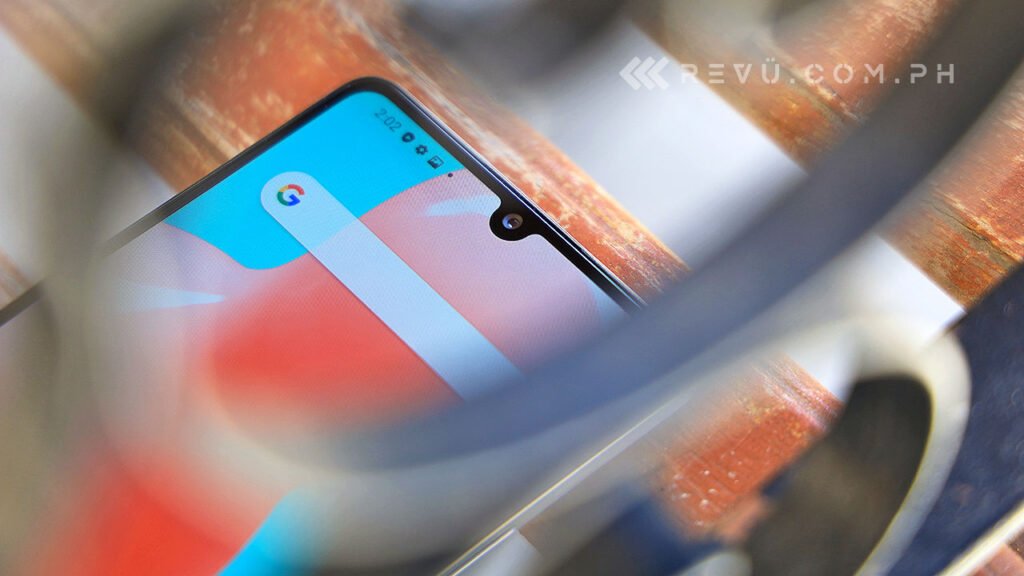 One other divisive design element of the Samsung Galaxy A42 5G is its square camera housing for its quad-camera setup. It does play off on that Lego block-like look for us. And it blends into the background somehow, as it shares the same color as the rest of the body. It has a minimal-enough bump that it keeps the phone flat when placed on a table.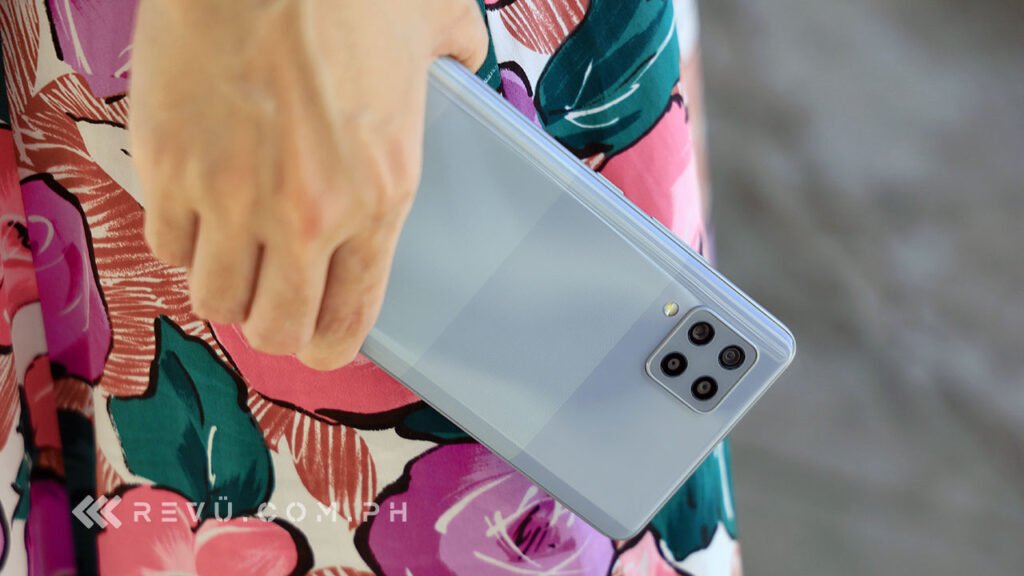 The right side houses the volume rocker and the power button, while the left side is where the hybrid card tray is located. It supports two SIMs, with the second SIM tray also serving as the microSD card slot. The top has a mic port, while the bottom has a 3.5mm audio jack, USB-C port, mic port, and speaker grille. The fingerprint sensor is hidden under the display. It works as well as any other under-screen scanner we've used.
The Galaxy A42's speaker is loud for its size. It's a bit tinny when we max out the volume, but otherwise, it serves its purpose. Its location, though, makes it easy to cover when we're playing games in landscape.
Unfortunately, Samsung only sent us over the Galaxy A42, so we can't share what comes in its retail package.
Screen
The Samsung Galaxy A42 5G comes equipped with a large 6.6-inch Super AMOLED display. As with other Super AMOLED screens, the colors come out vibrant and sharp with the help of the deep blacks. The downside for this particular model is it only has an HD+ resolution and a standard 60Hz refresh rate. For a smartphone that's geared for the future, it's a bit disappointing that we only get this resolution paired with this refresh rate.
If you're used to a 720p panel, this shouldn't be much of an issue. But if you come from a device with a 1080p display, you might notice the difference.
Even with an HD+ display, the Galaxy A42 supports Widevine L1, allowing you to watch content on services like Netflix and Amazon Prime Video in HD.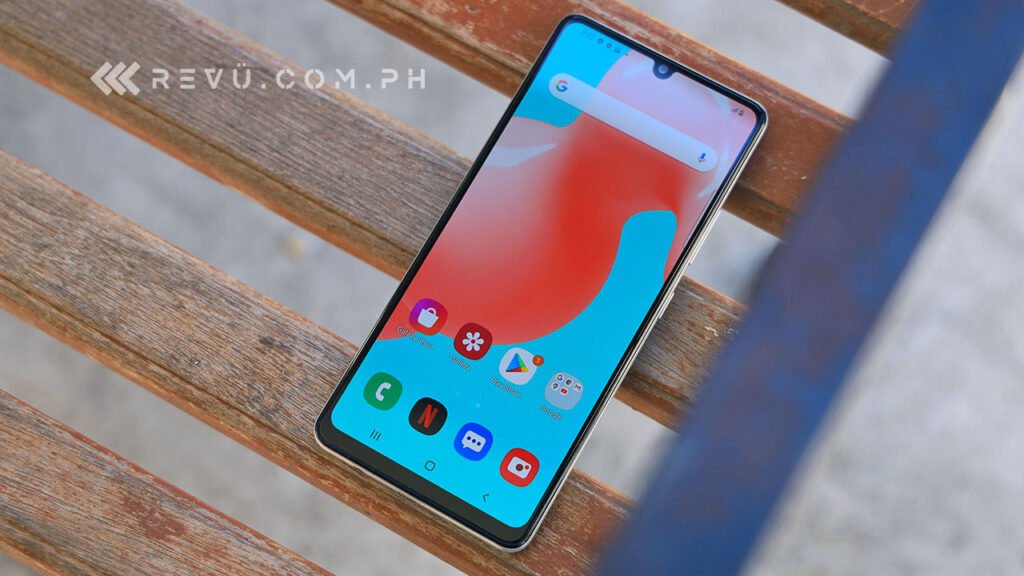 The upside to this low pixel density is it may eat up less battery. We could use it well enough outdoors on a bright day, and it can be sufficiently dim that we don't blind ourselves by looking at the screen in a dark room. It comes with Dark Mode and offers features like adaptive brightness and blue light filter.
There are two Screen modes to choose from — Vivid or Natural — and the display's white balance is adjustable as well. You can choose between having navigation buttons or gestures to navigate through the user interface. It even allows you to adjust the back-gesture sensitivity. And if you're used to Samsung's Edge screen option, that is available here, too, giving you a more straightforward way to access your favorite apps.
Cameras
The Samsung Galaxy A42 5G comes with a total of five cameras, including a quad-camera setup on the back and a single selfie shooter. The rear cameras consist of a 48-megapixel primary lens, an 8-megapixel ultra-wide sensor, a 5-megapixel macro camera, and a 5-megapixel depth sensor. The setup is similar to the Galaxy A51, but the Galaxy A42's ultra-wide sensor has a lower megapixel count. In front, there's a 20-megapixel fixed-focus selfie camera.
Samsung covers the basics with its camera, but we certainly wished it opted to include a zoom camera in this setup. The main sensor's image quality has limitations when it comes to cropping in and retaining a fair amount of detail. You can zoom in digitally up to 10x, but expect the picture quality to drop.
1st set) 1x, 2x zoom; 2nd and 3rd) 1x, 10x zoom
Samsung cameras are known to crank up the color and saturation of their pictures. And the Galaxy A42 is no different. So, if you don't like to tinker around with your photos, you might appreciate what Samsung does with your pictures.
If you want more of the scene in your shot, there is a 123-degree ultra-wide sensor at your disposal. You will notice the quality drop at night or in dark rooms, but you can use this sensor for recording videos.
[sciba leftsrc="https://www.revu.com.ph/wp-content/uploads/2020/12/Samsung-Galaxy-A42-5G-camera-sample-picture-via-Revu-Philippines_1x.jpg" leftlabel="1x" rightsrc="https://www.revu.com.ph/wp-content/uploads/2020/12/Samsung-Galaxy-A42-5G-camera-sample-picture-via-Revu-Philippines_ultra-wide.jpg" rightlabel="Ultra-wide" mode="horizontal" width=""]
Well-lit area
[sciba leftsrc="https://www.revu.com.ph/wp-content/uploads/2020/12/Samsung-Galaxy-A42-5G-camera-sample-picture-via-Revu-Philippines_1x-a.jpg" leftlabel="1x" rightsrc="https://www.revu.com.ph/wp-content/uploads/2020/12/Samsung-Galaxy-A42-5G-camera-sample-picture-via-Revu-Philippines_ultra-wide-a.jpg" rightlabel="Ultra-wide" mode="horizontal" width=""]
Dark area, not that well-lit as in the place above
We're not particular fans of macro cameras on smartphones, and the Galaxy A42 won't change our mind in this respect. It seems to fare a bit better than the macro sensors in other phones we've tested. But it would help if you had a steady hand or a tripod ready to get your shot. Or, in some cases, you should just rely on the primary camera and zoom in instead.
Sample macro shots with their respective 'Auto mode' versions
The depth camera on the Galaxy A42 is convenient when you use Samsung's Live Focus feature, which shows you and lets you adjust the amount of background blur your photos get. We love that Samsung enables you to change background blur even after you've taken the picture.
The smartphone also comes with a Night mode, which helps balance out pictures you take at nighttime or in dark environments. Sometimes Photo mode will suffice to get decent shots in the evening. However, if you take pictures where there is lots of light, those images can turn out better in this mode. We'd suggest you experiment with both settings to get the shots you want.
Auto mode vs Night mode
A unique Samsung feature available on the Galaxy A42 is the Single Take mode, which automatically creates different presets of an image that you can easily share on social media.
Video recording on this handset goes up to 3,840 x 2,160 at 30 frames per second. It shoots up to 4K, but it won't support filters and Samsung's Super Steady mode, a software-based stabilization feature. And if you're looking for 60fps recording here, it's sad to say that it isn't available. Videos we've taken while walking around come out relatively stable, even without enabling Super Steady. As expected, though, things get a bit shakier when we record in 4K.
1) Auto; 2) With filter; 3) Auto; and 4) Live Focus (Portrait)
Flattering selfies are easy to achieve with the Samsung Galaxy A42 5G's selfie camera. Images come out sharp, even if you don't enable the simple beauty filters available on this phone. And with a wide-enough focal length, it will let you fit more of the background in or take selfies with another person in the shot.
These pictures were from our hands-on review more than two weeks ago. 1) Auto; 2) Single Take; 3) 1x; 4) Ultra-wide; 5) 1x; 6) Ultra-wide; 7) Ultra-wide; 8) 1x; 9) 10x zoom; 10) Auto; 11) Auto; 12-13) Selfie — Auto; and 14-15) Selfie — Live Focus
Performance
The Galaxy A42 didn't give us much trouble during our testing period. It is the first Qualcomm Snapdragon 750G-powered handset we've tested. Like the Snapdragon 765G, it has a Snapdragon X52 5G modem, which supports Sub-6GHz and mmWave spectrums. This means the phone is compatible with global 5G spectrum bands, including those used by local telcos Globe Telecom and Smart Communications. As we mentioned, the Galaxy A42 also supports Wi-Fi 6 connectivity, which means it can take advantage of Wi-Fi 6 routers and mesh systems.
Even if we tested the 4GB RAM/128GB storage option, it didn't stutter or crash while we used it to browse social media, take our test photos and videos, watch some Netflix and YouTube, or do some light gaming. You might need to try out games in their different graphics settings, as the more power-intensive ones will need to be played in lower configurations.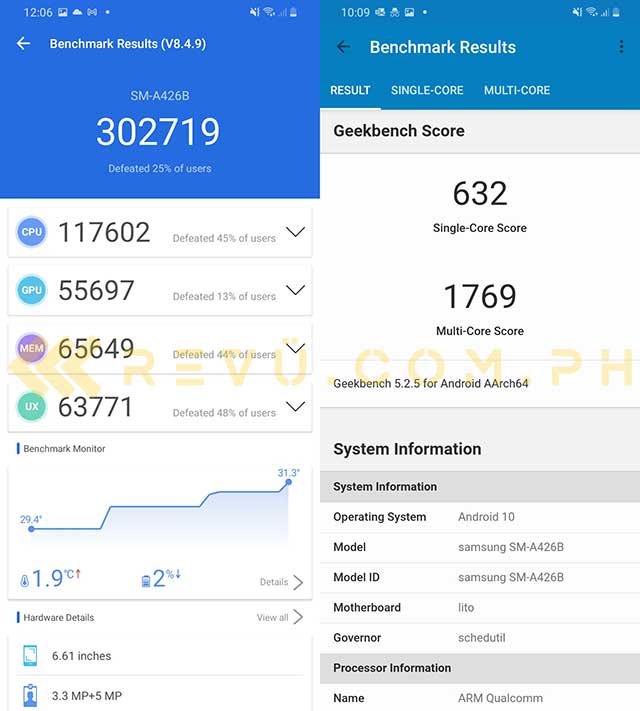 Samsung protects this phone from any security issues with its Knox features. It promises "multi-layered security," so your private data will be safe from malware and other malicious threats.
This handset runs on One UI 2.5 based on Android 10. It doesn't come with too much bloatware, which we appreciate. Its simplified Settings page makes it easier to look for the features and settings we want to tweak.
Samsung also equips the Galaxy A42 with its Game Booster feature, which helps optimize the phone while playing your favorite mobile games.
Battery
One noteworthy feature of the Samsung Galaxy A42 5G is its 5,000mAh battery, one of the largest capacities available for smartphones. Even without the PCMark battery test we did, we expected this handset to perform well. And in our short time with it, we got a day and a half on average even if we used it as our daily driver.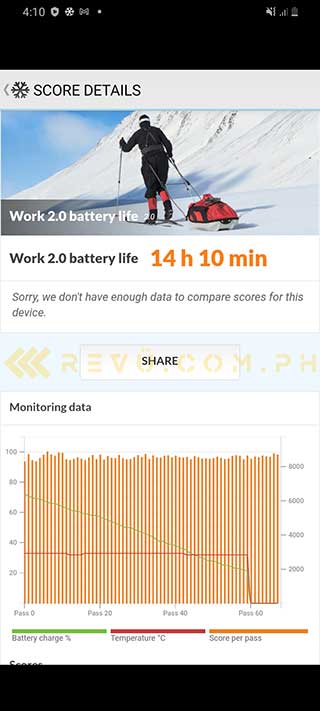 As we mentioned, we only received the test unit without any accessories, so we can't say how fast the Galaxy A42 charges. Samsung claims the device offers fast charging, as it supports up to 15 watts over a USB-C. With a third-party charger, it usually took us close to three hours to charge this phone fully. So, prepare for a bit of a wait when you're recharging the Galaxy A42.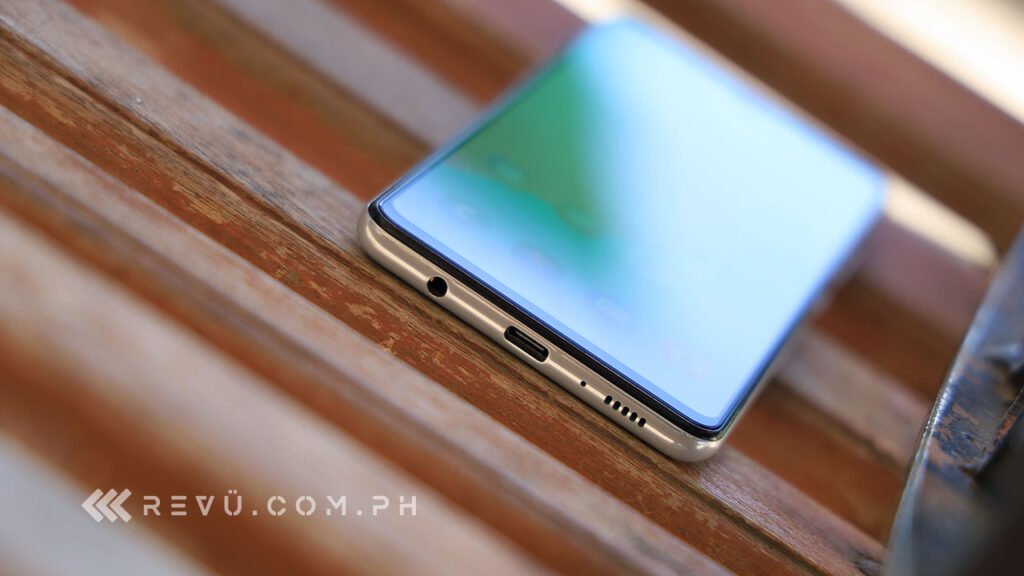 Final thoughts
The Samsung Galaxy A42 5G holds up its promise as a capable midranger, one that's ready for next-gen connectivity. Is it a better device than other 5G smartphones, though? There are others in its segment and price bracket that offer a bit more, especially if things like a faster display refresh rate or resolution matter to you.
But if you are loyal to the Samsung brand and are deeply integrated into its ecosystem, the Galaxy A42 will offer you a good smartphone experience. There's little to complain about.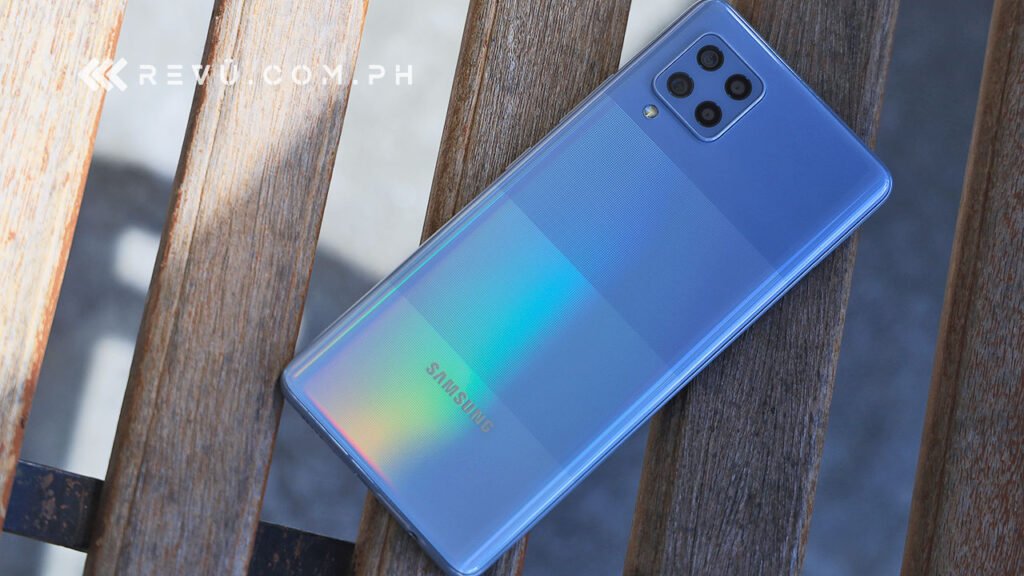 Samsung Galaxy A42 5G specs
6.6-inch HD+ (720 x 1,600) Super AMOLED Infinity-U Display
Qualcomm Snapdragon 750G processor
Tested: 4GB RAM, but the one in retail has 6GB of RAM
128GB expandable storage (up to 1TB)
Quad 48-megapixel, f1.8 (main), 8-megapixel, f/2.2 (ultra-wide), 5-megapixel, f/2.4 (depth), 5-megapixel, f/2.4 (macro) rear cameras
20-megapixel front camera
Fingerprint reader (under the screen)
5,000mAh battery with 15-watt USB-C charging
One UI 2.5 based on Android 10
---