Following a strong third quarter in 2020, MediaTek has surpassed Qualcomm to be the top smartphone-chipset vendor for the first time, according to market analyst Counterpoint Research. The Taiwanese chipmaker expanded its market share to 31% last quarter from 26% in the same period as last year.

Qualcomm, on the other hand, dropped to 29% from 31% the past year, but was named the biggest 5G chipset vendor in the previous quarter. The U.S.-based vendor powered 39% of 5G handsets shipped worldwide. Apple, Samsung, Huawei's HiSilicon, and Unisoc each had 12% market share (rounded for ease of presentation, of course) for the quarter ended September 2020.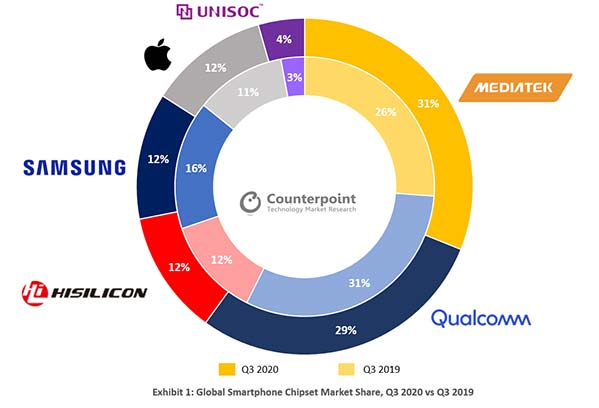 Another interesting data from the report shows this: The demand for 5G smartphones doubled from July to September, with 17% of all phones sold during the said period capable of accessing super-fast data speeds, thanks to the latest industry standard. With the launch of the Apple iPhone 12 series this quarter, it is expected that a third of the handsets bought in the fourth quarter of 2020 will have 5G support. Qualcomm will also likely bounce back strong and retake the lead from MediaTek to close the year.
Counterpoint says that MediaTek's unprecedented market dominance was due to its performance in the midrange segment and emerging markets like Latin America and Africa; the U.S. ban on Huawei devices; and surge in sales of Samsung, Xiaomi, and Honor phones with MediaTek silicon inside. The share of MediaTek chips in Xiaomi devices alone has increased by more than three times since the third quarter of 2019.
SEE ALSO: Apple iPhone 12 bestselling 5G phone in Oct despite late launch and iPhone 12 chip beats Snapdragon 888 in benchmarks
The market-share boost is indisputable evidence that MediaTek's decision last year to focus its branding around gaming-centric G series chipsets, as well as affordable 5G-enabled Dimensity processors, has paid off tremendously.
One of the world's cheapest 5G phones is the MediaTek Dimensity 720-based Realme V3 5G. It is priced from $150 (around P7,222 converted). In the Philippines, the most affordable 5G phone after the now-P17,999 (P378) Huawei Nova 7 SE 5G is the OPPO Reno 4 Z 5G with a price tag of P18,990 ($398). It uses MediaTek's Dimensity 800 silicon.
---