Samsung is expected to announce its flagship Galaxy S21 series later this month, possibly as soon as January 14 — much earlier than usual, if rumors are to be believed. Whether the leaks are true, it's likely that the Korean company will launch the Samsung Galaxy Buds Pro in the Philippines soon. Perhaps alongside the Galaxy S21 phones.
(Update, January 4: The Samsung Galaxy S21 series' launch date is confirmed! Are the Galaxy Buds Pro launching on that day, too?)
Word has it that the Samsung Buds Pro will be launched alongside the Samsung Galaxy S21, Galaxy S21 Plus, and Galaxy S21 Ultra
Recently, the Galaxy Buds Pro were confirmed on Samsung's Canadian website. We stumbled on the same set of premium true wireless earbuds, too, this time on Samsung Philippines' official support page. Locally, the earbuds use the model number SM-R190. Other than that, the site doesn't divulge the earphones' specs, key features, or appearance.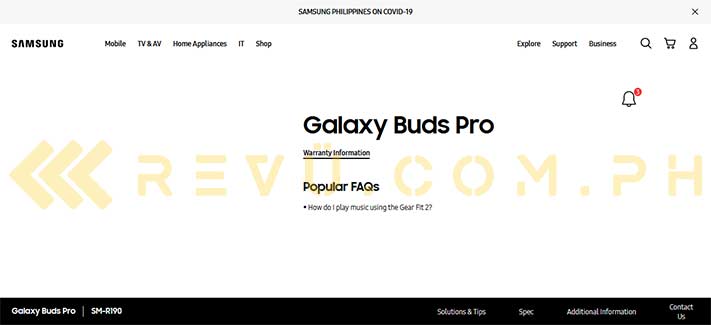 But thanks to earlier leaks, we do have an idea what the Samsung Galaxy Buds Pro bring to the table, as well as what they look like. The earphones are expected to look mostly identical to the Galaxy Buds Plus from last year, sporting a glossy rounded design and soft silicone in-ear tips. They also include a two-way speaker, a trio of microphones in each earbud for active noise cancellation, and an 11mm woofer paired with a 6.5mm tweeter to help the pair deliver immersive and spatial sound.
December 23, 2020
What to supposedly expect from the Samsung Galaxy Buds Pro
Samsung also reportedly confirmed IPX7 water resistance and a "new Galaxy Buds widget," along with a conversation mode that will stop audio playback if the earphones detect a person talking. The Galaxy Buds Pro apparently offer a 61mAh battery in each bud and a 472mAh battery for the rounded-off square charging case.
According to slides leaked on Twitter, the Samsung Galaxy Buds Pro will be priced at $199 (around P9,570 converted) in the United States, or $30 (P1,443) more than the Galaxy Buds Live and $50 (P2,405) less than the Apple AirPods Pro. In the Philippines, the Galaxy Buds Live cost P8,990 ($186) at launch, so our guess is that the Pro edition will retail at around P10,000 ($207) when they officially hit stores.
---