Estimated reading time: 3 minutes

Lenovo-owned Motorola will unveil the Motorola Edge S in China on January 26, according to the company's official teaser image posted on Weibo. The teaser has also confirmed the phone's back design. Though a global release has yet to be announced, the Motorola Edge successor should pick up a lot of interest outside of the Chinese market, as it will be the first smartphone to debut Qualcomm's new Snapdragon 870 5G chipset.
(Update, January 26: The Motorola Edge S, the first Qualcomm Snapdragon 870 5G phone, is official — and it's priced from just around $300!)
Additionally, the Edge S has been confirmed to have Turbo LPDDR5, as well as Turbo UFS 3.1 storage. Motorola says Turbo LPDDR5 will provide a significant boost to virtual memory, improving performance by up to 72%, while the faster storage is said to increase write speeds by as much as 700MB/s.
SEE ALSO: Best-performing flagship, midrange phones in Dec 2020
The Snapdragon 870 5G, which is essentially a higher-clocked follow-up to the Snapdragon 865 Plus and Snapdragon 865, is currently the chip with the highest clock speed in the mobile space, with a prime core running at 3.2GHz. For comparison, the Snapdragon 865 Plus and Snapdragon 865 have prime cores running at 3.1GHz and 2.94GHz, respectively. The 5G modem (Snapdragon X55) is the same; the GPU is almost identical, except you get a higher clock rate on the Snapdragon 870; and the new SoC uses a 7nm process, too.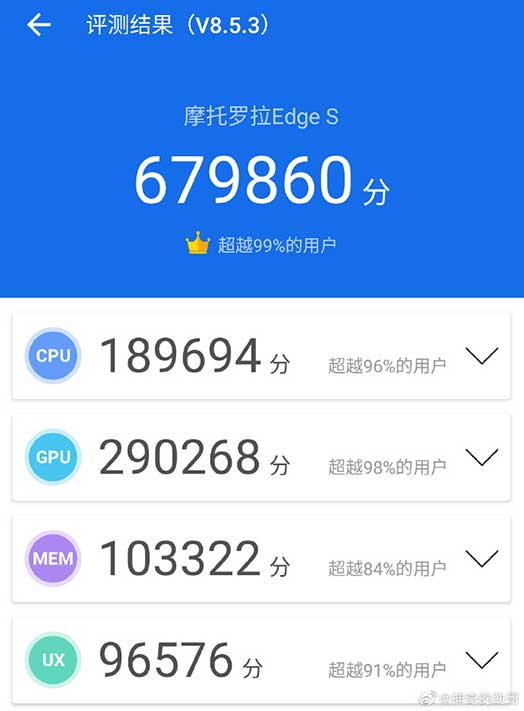 Recently, Lenovo China Mobile general manager Chen Jin shared the Motorola Edge S 5G phone's benchmark score of 679,860 points on the Antutu platform. That's a pretty impressive score, considering it's based on hardware that's already a generation old (two, if you consider the Snapdragon 865 Plus and Snapdragon 865 to be different from one another).
Besides launching with a Snapdragon 870 SoC under the hood, the Motorola Edge S is tipped to offer a 6.7-inch FHD+ screen with a 105Hz refresh rate. It is also expected to sport a 64-megapixel main camera in quad-lens setup, as well as a 5,000mAh battery. Alleged live photos have showcased the device's front panel, matching earlier rumors of a flat display with a dual punch-hole design.
Motorola Edge S first look⠀
Specification:⠀
Snapdragon 870⠀
6.7 inch⠀
LCD screen 2520×1080 ⠀
5000mAh battery. ⠀
priced for about 2,500 yuan (Rp.5.4 Jt) ⠀#motorola #motorolaedgeS pic.twitter.com/ceXBjGW2Ma

— Tech Rander (@techrander) January 24, 2021
Pictures of an alleged Motorola Edge S actual unit plus what's supposedly an official image render
---