A few days after sharing the Chinese market's rankings for December, Antutu Benchmark this time revealed the list of best-performing flagship and midrange Android phones released globally.
Spoiler alert: You'll basically see the same handsets from November here, save for two models for each category. Not surprising, considering that devices powered by new chips like Qualcomm's Snapdragon 888 are not out just yet.
Top 10: Flagship Android smartphones
The Huawei Mate 40 Pro with Kirin 9000 inside remained the highest-scoring Android mobile in December, notching an average benchmark score of 657,784. The chipset it uses is fabricated on a 5nm process and features four Cortex-A77 cores, with one of them clocking in at an industry-leading 3.13GHz. The graphics chip is a Mali-G78 with 24 cores, which is the fastest configuration possible.
The Samsung Galaxy Z Fold 2 5G and OnePlus 8T were not part of the list anymore; they were replaced by the Samsung Galaxy S20 FE 5G and POCO F2 Pro. Now, take a look at the top 10. It shows once again how dominant Qualcomm's flagship chips are. Nine of the 10 best performers last month are powered by either the Snapdragon 865 or Snapdragon 865 Plus.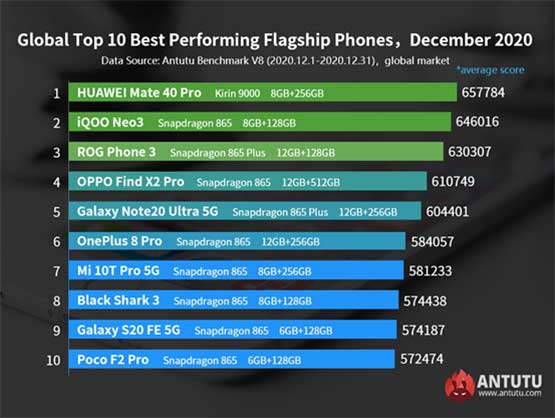 Top 10: Midrange Android smartphones
Just like in the premium category, the midrange's No. 1 spot was still occupied by the same unit from November's first-placer. The Honor 30 with Kirin 985 5G remained the king of Antutu's December 2020 charts with an average benchmark score of 404,970.
The Realme 7 Pro and POCO X3 NFC got dislodged by the Redmi 10X 5G and Xiaomi Mi 10T Lite 5G. MediaTek, the top chipmaker in the third quarter of 2020, had four entries, and Huawei's Kirin and Qualcomm's Snapdragon each had three.
---