Estimated reading time: 2 minutes
Apple led the global smartphone market in the last quarter of 2020 — that much we know by now, as we reported here around three weeks ago. But how about in our region? What was the market like?
A Weibo post by Realme chief marketing officer Chase Xu reveals last quarter's top five smartphone vendors in Southeast Asia based on the Market Pulse report of research firm Canalys. The Philippines is part of the region, as are Cambodia, Indonesia, Laos, Malaysia, Myanmar, Singapore, Thailand, and Vietnam.
The report shows that Realme grew 37% annually, making it the best performer in Southeast Asia and retaining its title as the fastest-growing smartphone manufacturer in the area. Worldwide, Realme is in seventh place.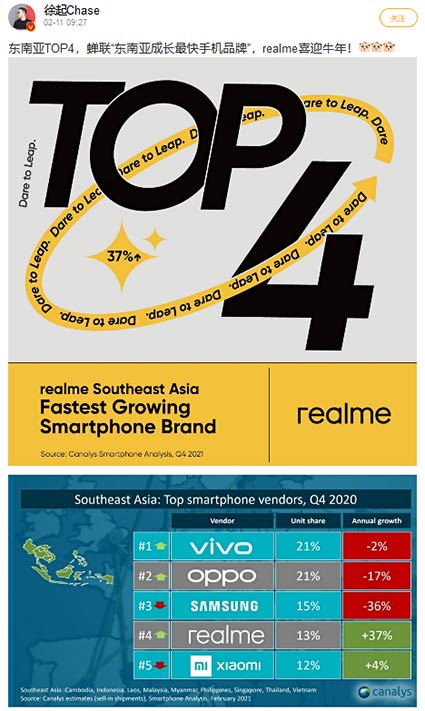 At the top spot lording it over other vendors from October to December 2020 was Vivo despite a slight annual decline of 2%. It took 21% of the market share. OPPO — another brand from conglomerate BBK Electronics, which also owns Vivo, Realme, OnePlus, and most recently, iQOO — landed second place even if it dropped 17% from the same period in 2019.
However, the biggest loser was third-placer Samsung, whose market share in Southeast Asia decreased 36% annually. Globally, though, the South Korean technology giant stood at the second spot.
Rounding out the top 5 was Xiaomi with a market share of 12%, just 1% behind Realme. It is also the only other vendor among the five biggest smartphone companies in the region to have experienced growth from the fourth quarter of 2019.
We would have wanted to see an analysis of the results, but Canalys has not publicly posted a summary of the report that it has shared with firms that are subscribed to its services. We will update this article if and when we get hold of it.
---