Estimated reading time: 12 minutes
The Xiaomi Redmi 9T, Realme C15, and Vivo Y20i are among the most popular value-focused smartphones on the local market that not only look good for the price, but are packed with enough specs and features to make consumers take a pause and reconsider similarly priced alternatives or more expensive midrange options altogether.
On one end, you have the Redmi 9T, one of Xiaomi's latest budget blowers. Its key attractions include an FHD+ LCD screen, quad cameras with a 48-megapixel sensor, and a Qualcomm Snapdragon 600 series processor powered by a long-lasting 6,000mAh battery.
And then there's the Realme C15, whose main selling points are a sizable LCD, a quad-camera setup at the back, and a 6,000mAh cell, whereas the Vivo Y20i is an affordable yet suitably stylish handset built around Qualcomm's Snapdragon 460 chipset. So, which phone gives you the best bang for the money? Read our comparison of the three devices to help you make a decision.
Price
First, let's talk about pricing. In the Philippines, the Xiaomi Redmi 9T has a price tag of P6,990 (around $144 converted) for the 4GB RAM and 64GB storage model; the Realme C15 also retails at P6,990 ($144) for the same amount of memory; while the 4GB/64GB storage variant of the Vivo Y20i is a little bit higher, currently going for P7,499 ($155) at local retail.
Take note that pricing may vary during online and offline sale events and depending on the store. There are electronics retailers that price their items below or above SRP based on demand or other consumer characteristics.
Hardware
All three smartphones share a similar polycarbonate build, and they're about the same size, shape, and weight. In terms of comfort, the Redmi 9T and Vivo 20i are slightly more comfortable to use than the Realme C15, though the ergonomics of the Xiaomi handset plus its textured back cover will probably appeal to more users. The Realme C15 also gets a textured rear panel along with a fancy "trapezium gradient" design, but it's the heaviest of the three at around 209 grams.
One-handed usage is manageable, but don't expect an easy time because none of these phones are slim by modern standards. All three are equipped with physical fingerprint readers for easier unlocking. The C15 has one at the back, while the 9T and Y20i sport side-mounted fingerprint scanners that favor right-handed users. We found all three sensors to be generally accurate. The button layout is pretty much identical across these devices as well, with the volume rocker and power/lock/fingerprint key sitting along the right-hand side.
Design is a subjective matter, we know that. And yet we can say with confidence that we personally prefer the overall look of the Redmi 9T and Vivo Y20i, with Xiaomi getting a slight advantage over the competition, because of its non-slippery finish that doesn't attract too many fingerprints and is less prone to scratches. We also like that the rectangular camera module on the 9T matches the color of its rear cover. While the big Redmi branding at the back won't please everyone, it does have a unique charm to it, especially with the way it has been etched on the panel.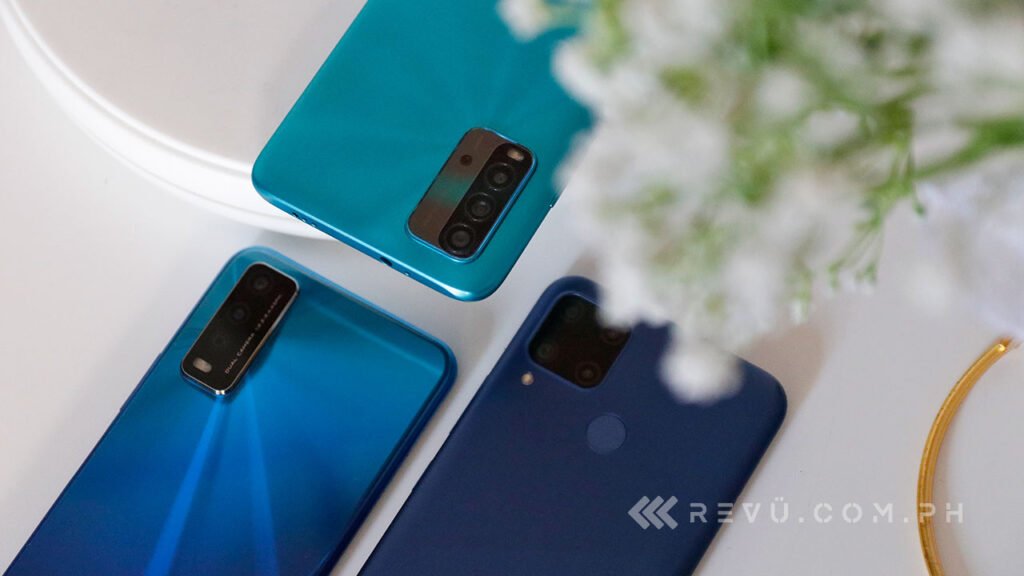 The Xiaomi Redmi 9T is tougher on paper, too, boasting a layer of Corning Gorilla Glass 3 atop for added protection against bumps and drops, in addition to a water-repellent coating that protects the device from rain and splashes. Of the three, the 9T is designed to hold off water ingress to some extent, but that's not to say the hardware itself is water-resistant, much less waterproof.
Camera
Xiaomi has fitted the Redmi 9T with four cameras at the back led by a 48-megapixel sensor, thus making it the sharpest camera phone of the bunch. Both the Realme C15 and Vivo Y20i have 13-megapixel cameras for everyday shooting plus a pair of 2-megapixel sensors for additional photography modes. The 9T and C15 also come with a dedicated ultra-wide-angle shooter sporting an 8-megapixel sensor, which the Y20i lacks.
Portrait mode with beauty filters and Pro mode are available across all three devices, as expected. You get a bunch of filters and portrait effects, too, to make your pictures look better — or different — with minimum fuss. The 9T and C15 support Night mode for brighter pictures in low light; the closest thing the Y20i has to a dedicated night mode is Pub mode, which is automatically enabled when shooting in a dim room. We also noticed that although the C15 has Night mode on its primary camera, focusing can be problematic in dim lighting.
Scene detection is present on all three handsets, and we found the Redmi 9T to be the fastest to recognize a scene and adjust the camera settings accordingly. For video, they can record up to 1080p at 30 frames per second, as well as slo-mo footage.
The image quality is decent across the board, except for ultra-wide-angle shots taken with the Redmi 9T and Realme C15 (again, the Vivo Y20i doesn't include a secondary super-wide-angle shooter) that tend to look fuzzy in low light.
Portrait mode is nice as well, but it would have been better if both the Realme C15 and Vivo Y20i also recognized faces wearing masks and face shields, just like the Xiaomi Redmi 9T. Check out the images below to see how the phones compare in the imaging department.

Pictures captured on the Redmi 9T, Realme C15, and Vivo Y20i, in that order, from HDR and ultra-wide shots to portraits with default Beauty mode settings enabled. Keep in mind that the Y20i does not have a super-wide-angle lens and a Night mode
Screen
The Xiaomi Redmi 9T has the largest display of the group, featuring a 6.53-inch, 2,340 x 1,080 IPS LCD for a pixel density of 395 dots per inch. By contrast, the LCD screens on the Realme C15 and Vivo Y20i are just a tad bit smaller, measuring 6.5 and 6.51 inches, respectively. All sport a similarly sized waterdrop cutout on the front to go along with reasonably slim bezels, except at the bottom where the borders are asymmetrically thicker.
The most notable difference here is that the C15 and Y20i have inferior resolutions at 720p, resulting in a pixel density of around 270ppi. Up close, the screen on the 9T does look sharper compared to the other two, but not necessarily brighter and more vivid. In terms of sunlight legibility, we found the Y20i easiest to use outdoors, but the visibility is not great under bright conditions, so you'll still need to stay under a shade to read text and send messages.
Color accuracy is not a strong suit for most budget handsets, but thankfully, it's not a huge concern here. The viewing angles are good as well, so there's not a lot to complain about if you're getting any of these phones for video streaming, besides the lower-resolution screens on the C15 and Y20i. On a related note, the Redmi 9T and Vivo Y20i ship with Widevine L1 certification to ensure you get HD resolution on Netflix, Amazon Prime Video, and other similar platforms. The Realme, on the other hand, only has Widevine L3, so it can only stream media at an unsatisfactory 480p resolution.
Performance
Powering the Xiaomi Redmi 9T is a Qualcomm Snapdragon 662 chipset with either 4GB or 6GB RAM and up to 128GB of internal storage. For fairness' sake, we've pitted the Realme C15 and Vivo Y20i against the 4GB/64GB variant of the Redmi 9T. Realme and Vivo have opted for MediaTek Helio G35 and Qualcomm Snapdragon 460 chips, respectively. All three run a custom overlay on top of Android 10.
The Helio G35 is a low-cost yet capable SoC that incorporates two clusters of Cortex-A53 cores operating up to 2.3GHz and 1.8GHz. Meanwhile, the Snapdragon 460 features clusters of Cortex-A73 and Cortex-A53 cores that can reach up to 1.8GHz. The Snapdragon 662 likewise packs eight CPUs, but with four 2GHz Cortex-A73 performance cores and four 1.8GHz Cortex-A53 efficiency cores for basic tasks. And as you may have gathered, the Snapdragon 600 series processor in the 9T is, at least on paper, more powerful than the Y20i's Snapdragon 460 and the Helio G35 of the C15.
How that performance prowess translates in synthetic benchmarks can be seen below. The Redmi 9T put up better numbers across the board compared to its rivals in the segment. Not only that, it managed to beat the Helio G35 in the CPU Throttling Test app, showing minimal signs of stuttering and slowing down when stressed.
Antutu Benchmark (v9.0.3)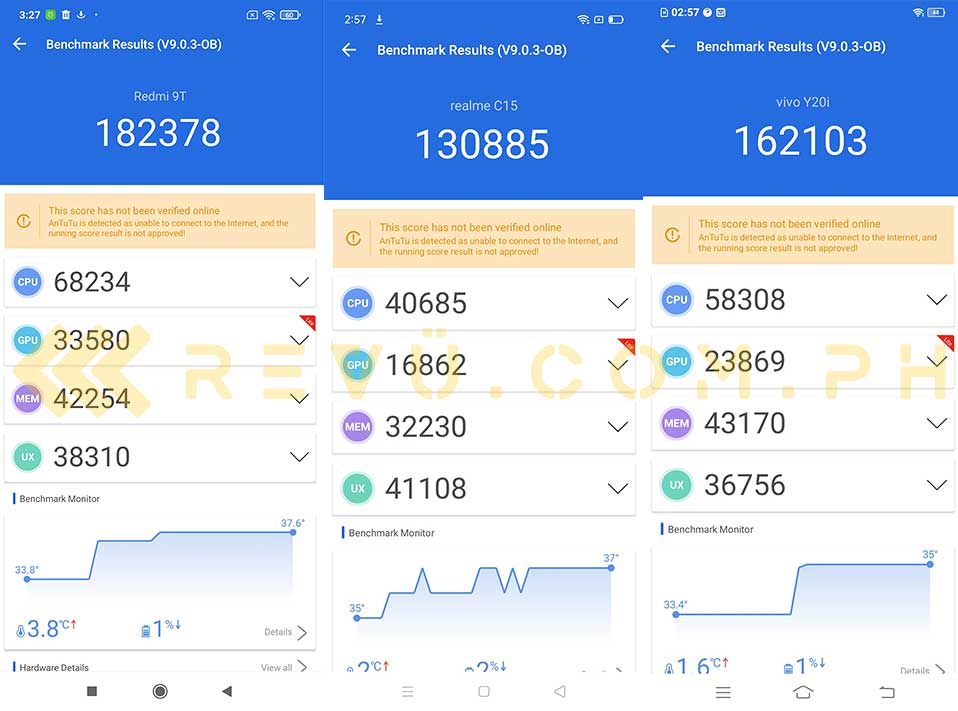 Geekbench 5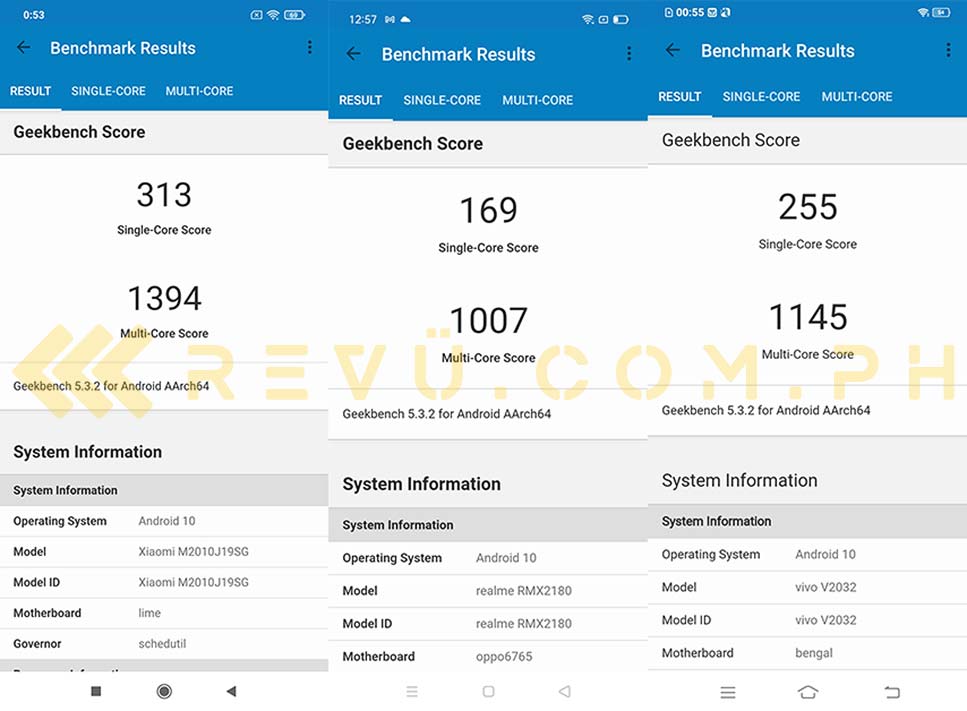 3DMark
CPU Throttling Test
Both the Redmi and Realme pack 6,000mAh cells, whereas the Vivo includes a 5,000mAh battery backup. All three support fast charging up to 18 watts, which is great to hear since bigger batteries take longer to charge. Based on our testing, it normally takes about 2 hours and 40 minutes to recharge the Redmi and Realme phones to full capacity from zero, whereas the Vivo Y20i is a tad faster — about 20 minutes faster — owing to its lower battery capacity.
Notable extras
Finally, let's talk about some features that may add convenience and simplicity to your daily routine, starting with the Redmi 9T's stereo speakers. Unlike most of its competitors, the Xiaomi phone has two speakers — one at the base and another on the top edge next to the infrared blaster. They produce louder sound together, and we're quite impressed with the sound quality of the dual speakers considering the price.
The IR blaster can be used to control infrared devices, such as televisions and air conditioners, acting as a universal remote of sorts. You can configure this feature via the preinstalled Mi Remote application on your smartphone. What's more, the Redmi 9T uses the now-ubiquitous USB-C for charging and file transfer, so you don't have to worry about proprietary ports and carrying around old, outdated microUSB cables.
All three devices have a microSD card slot for storage expansion, but only the Redmi supports SD cards up to 512GB; the C15 and Y20i can only be expanded up to an additional 256GB. More external storage means more space for your photos, videos, and other files, so you don't have to worry about the 64GB of base storage quickly filling up and the need to erase files you might need to recover later.
Final thoughts
Although Realme and Vivo both did fairly well in this round, we think that Xiaomi launched a more attractive product at this price level than its peers did. The Redmi 9T is one of the most popular bargains in the smartphone space now, and that's justified. Just look at everything it has to offer, from the larger 1080p display and faster processor to its camera capabilities and hardware features you'd be hard-pressed to find elsewhere.
The Redmi 9T is a home run as long as most of your expectations are aligned with the segment. It's a genuinely compelling device for those who want the best value for money, but are on a strict budget.
Specs-comparison table for your reference
| | | | |
| --- | --- | --- | --- |
| | REDMI 9T | REALME C15 | VIVO Y20I |
| SCREEN | 6.53-inch LCD, 2,400 x 1,080 resolution, Corning Gorilla Glass 3, 60Hz refresh | 6.5-inch LCD, 1,600 x 720 resolution, Corning Gorilla Glass, 60Hz refresh | 6.51-inch LCD, 1,600 x 720 resolution, no Gorilla Glass, 60Hz refresh rate |
| PROCESSOR | 11nm octa-core Qualcomm Snapdragon 662 | 12nm octa-core MediaTek Helio G35 | 11nm octa-core Qualcomm Snapdragon 460 |
| GPU | Adreno 610 | PowerVR GE8320 | Adreno 610 |
| RAM | 4GB | 3GB/4GB | 4GB |
| STORAGE | 64GB/128GB | 64GB/128GB | 64GB |
| REAR CAMERAS | Quad: 48-megapixel, f/1.8 main; 8-megapixel ultra-wide; 2-megapixel, f/2.4 depth; and 2-megapixel, f/2.4 macro | Quad: 13-megapixel, f/2.2 main, 8-megapixel, f/2.25 ultra-wide; 2-megapixel, f/2.4 depth; and 2-megapixel, f/2.4 mono | Triple: 13-megapixel, f/2.2 main; 2-megapixel, f/2.4 depth; and 2-megapixel, f/2.4 macro |
| FRONT CAMERA | 8-megapixel | 8-megapixel | 8-megapixel |
| FINGERPRINT READER | Side-mounted | Rear-mounted | Side-mounted |
| BATTERY | 6,000mAh battery with 18-watt USB-C charging | 6,000mAh battery with 18-watt microUSB charging | 5,000mAh battery with 18-watt microUSB charging |
| ANDROID OS VERSION | MIUI 12 based on Android 10 | Realme UI based on Android 10 | Funtouch OS 11 based on Android 10 |
| COLOR VARIANTS | Carbon Gray, Twilight Blue, Sunrise Orange, and Ocean Green | Seagull Silver and Marine Blue | Dawn White and Nebula Blue |
---