Estimated reading time: 9 minutes

Some of you might recall that big-battery phones used to be unattractive, unfashionable, and bulky to the point some of them could inadvertently double as bludgeoning weapons. One of the first smartphones we tested that promised days, not hours, of usage on a charge came with a 6,500mAh cell and didn't look like it would fit in anyone's jeans pocket comfortably.
SEE ALSO: Vivo Y20s (G) performance test: Helio G80 + 6GB RAM on a budget
Smartphone makers have obviously been working hard to erase that image with newer models that don't look and feel different from what we're used to, and Vivo's latest attempt fits the bill of a modern handset offering days of mileage at full capacity without the uncomfortable dimensions and weight.
The Vivo Y12s packs a huge 5,000mAh battery that promises days of moderate to heavy usage — but it has other things going for it as well. It is now available in the Philippines with a suggested retail price of P6,499 (around $135 converted) — or P1,000 ($21) cheaper than the Y20i and Y20i 2021. Here's our review of the company's latest budget Android.
Nice to look at, convenient to use
The Vivo Y12s, while wrapped in smooth, glossy plastic, looks surprisingly nice for its price, sporting a mirror-like finish at the back that we rarely see on budget handsets and makes the phone look more expensive than it actually is. The color-matched rounded sides don't have the same sheen on them, but they're nonetheless smooth to the touch and pretty comfortable to grip when using the handset one-handed. It's also worth mentioning that the Y12s is rather slim for a device with a sizable battery backup.
The slightly protruding camera module adds a pleasing visual accent with its chrome finish and markings to indicate there are actually only two rear cameras despite the presence of a third camera hole. Vivo's vertical branding is also in shiny silver to give the Y12s a subtle aesthetic boost at certain angles.
The Vivo Y12s looks surprisingly nice for its price, sporting a mirror-like finish at the back that we rarely see on budget handsets and makes the phone look more expensive than it actually is
This phone comes in two color variants. The Phantom Black unit, as you can see, looks more dark blue than black, especially in person, while the Glacier Blue version will probably appeal to users who prefer fancier gradient designs. Vivo brought different design nuances to these models, so it might be best to see them up close in person before making a decision.
Moving over to the left-hand side, you'll find a card tray that can accommodate two nano SIM cards and a microSD card for additional storage at the same time. Dual-standby function is supported, allowing you to have two mobile numbers — one for personal use and the other for official use perhaps — in the Y12s.
Another convenient hardware feature is the side-mounted fingerprint scanner. We personally find it easier to touch and press — because you can enable Pressure Unlocking instead of the default Touch Unlocking to avoid accidental unlocks — than a rear-facing sensor. You can also use it to prevent others from accessing certain apps, such as Facebook and digital wallets, on your device.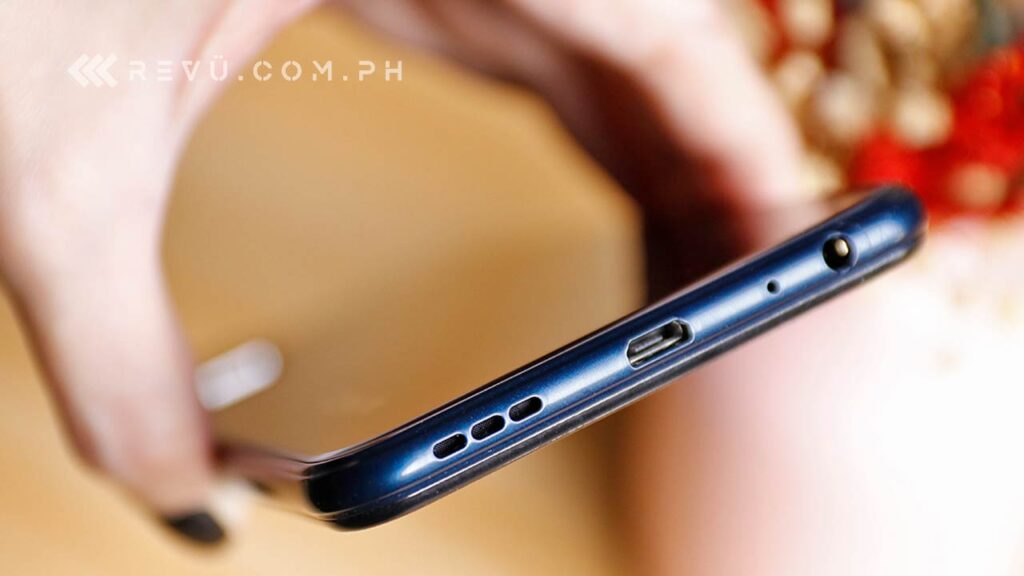 The headphone jack, microUSB charging port, and loudspeaker are all located at the bottom of the Vivo Y12s. And while we didn't expect to get booming, punchy sound from the single speaker, it can still get quite loud for its size. As with most budget phones, however, the bass and lows sound muddy and flat, which is especially evident when you push the volume to higher levels.
A decent-enough performer with Android 11
The company has equipped the Vivo Y12s with an octa-core MediaTek Helio P35 spec backed by 3GB RAM and 32GB of base storage, which you can expand by using a microSD card that fits into a dedicated slot.
For those unfamiliar, the Helio P35 launched in 2018 and features two groups of Cortex-A53s. One design runs at 2.3GHz, while the other, built for less intensive tasks, maxes out at 1.8GHz. The same PowerVR GE8320 graphics bundled with the Helio P22 and Helio A22 can be found here, but it runs at a higher clock speed, making it better suited for gaming, as well as graphics-intensive apps.
However, if you're looking for mid-tier gaming experience — something the Vivo X50 series and other more expensive handsets provide — you won't find it here. The 3GB of RAM, though, ensures that apps open without any annoying delay and having several of them in the background won't cause excessive lag.
Gameplay: Mobile Legends, Dead Cells (4:01 mark), and NBA 2K20 (8:01 mark)
One feature we think is helpful during gameplay is Vivo's Multi-Turbo 3.0 feature and dedicated gaming mode called Ultra Game mode. Multi-Turbo 3.0 optimizes touch control and FPS stability by allocating system resources and bandwidth to specific apps, while Ultra Game mode improves the CPU and GPU performance of your device while blocking notifications and calls.
On the software side, the Vivo Y12s runs Funtouch OS 11 on top of Android 11 right out of the box, making this one of the cheapest Vivo units you can buy with Google's latest operating system on tap. Funtouch OS 11 maintains a predominantly clean design and brings a number of fresh and revamped features, including a revamped iManager, which regularly checks your device's security status and identifies viruses and potentially malicious applications.
Coming in at 6.51 inches, the screen on the Vivo Y12s is serviceable for YouTube and large enough for everyday use without causing eye strain, but its overall picture quality leaves a bit to be desired. Sure, the HD+ resolution is expected at this price level. However, there are a couple of limitations that keep the Y12s from standing out in the category, not the least of which is the lack of Widevine L1 certification, which is required to watch HD content on streaming platforms like Netflix and Amazon Prime Video.
The Vivo Y12s has two cameras on the rear. You get a 13-megapixel shooter with f/2.2 optics as your main option, while the secondary 2-megapixel, f/2.4 camera acts as a depth sensor. The latter is only used for edge detection when taking pictures in the software-based Portrait mode, and the results are mostly satisfactory. The Y12s doesn't have optical zoom, but offers 4x software zoom if you need to get close to your subject.
The front camera pairs an 8-megapixel sensor with an f/1.8 lens. It is capable of capturing great selfies in the right light. Skin tones look accurate enough, and closeups retain a good amount of detail and facial texture when Beauty mode is turned off.
Unfortunately, Vivo's stock camera software here doesn't offer much in the way of extra features and lacks a dedicated low-light mode for indoor and night scenes.
Sample pictures taken with the Vivo Y12s: 1) 1x; 2) 2x zoom; 3) 4x zoom (maximum); 4) 1x; 5) 2x zoom; 6-9) Auto mode; 10) Portrait mode; 11) Auto mode; 12) Portrait mode
Long-lasting
The Vivo Y12s packs a beefy 5,000mAh battery backup that, as expected, lasts two days with moderate use on a single charge based on our testing. Our typical usage involves web surfing, video and podcast streaming, and some gaming in between work, with the latter taxing the battery the most.
For example, playing Mobile Legends at the High preset for 60 minutes straight drained the battery by around 20%, whereas watching a full-length film reduced it to 32% from 40%. The battery hardly runs down while your handset is idle, which is always good to know.
The Y12s should easily last more than a day on a single charge, even if you're a heavy user. In the PCMark battery benchmark, our unit managed 14 hours and 53 minutes, which is a decent score given the phone's internals.
Wired charging is handled by the included 10-watt microUSB wall adapter. The absence of super-fast charging here is completely understandable considering the price point. It takes about three hours to fully recharge the phone from flat, although it's unlikely that you'll ever need a full refill to take on a normal work day.
With Vivo's Funtouch OS 11, you can intelligently control the power consumption of apps according to your usage habits or restrict background activities for better battery mileage. There's also the option to enable Battery Saver mode to stretch the battery life by reducing your device's performance and limiting most background data. Pro tip: You may want to schedule Battery Saver to kick in when the battery reading hits a certain percentage.
Final thoughts
The Vivo Y12s has several things going for it, including a premium mirror-like finish, a well-sized LCD, and long-lasting battery life. And while not a gaming phone per se, it can play demanding games at reasonable frame rates when the graphics are turned down.
Vivo's Multi-Turbo 3.0 and Ultra Game modes also seem to have a positive impact during gameplay and, at the very least, should allow you to stay fully immersed when gaming, thanks to pop-up window optimizations and the ability to enable or disable alerts with the touch of a button.
The Vivo Y12s is primarily for those who consider battery life a top priority
Maybe the only things keeping the Y12s from being genuinely compelling, in our opinion, are its camera system and processor. For the price, you can do better than two rear cameras and the MediaTek Helio P35, which is already showing its age in 2021. But then again, this phone isn't bad for non-power users. Those who consider battery life a top priority should find the Vivo Y12s adequate, but it certainly has more going for it than that.
Vivo Y12s specs
6.51-inch HD+ LCD IPS display, 1,600 x 720 resolution
Octa-core MediaTek Helio P35 processor
3GB RAM
32GB storage
Dual-camera setup: 13MP, f/2.2 main and 2MP, f/2.4 secondary
8-megapixel, f/1.8 front camera
Fingerprint reader (side-mounted)
Face unlock
5,00mAh battery with support for 10-watt fast charging
Funtouch OS 11 based on Android 10
Colors: Phantom Black, Glacier Blue
---