In a virtual gathering with local tech media, Realme revealed that one of its immediate goals on the market is to make 5G accessible to more consumers. To that end, the former OPPO sub-brand announced the Realme 8 5G in the Philippines, its most affordable 5G-capable smartphone yet, at least in the Philippines.
(Update, July 13: A new, cheaper variant of the Realme 8 5G is coming to the Philippines July 15! Details here.)
It has a suggested retail price of P11,990 (around $246 converted) for 8GB of RAM and 128GB of internal storage and is now available at select partner retailers nationwide, including the Realme brand store on Shopee. Besides 5G, the phone has plenty going for it, like a 90Hz display; a gaming-capable chipset with virtual RAM support; and a pretty sizable battery with fast charging over modern USB-C.
But what we like most is that the Realme 8 5G sports a competent camera system for its price segment. Even better than what competing 5G devices on the local market offer. So, is it an excellent purchase? Check out our full review of the Realme 8 5G.
Less flash, more dash
Compared to its stablemates in the lineup, the Realme 8 5G is less flashy and comes in two understated finishes — Supersonic Black and Supersonic Blue. They're both glossy and attract fingerprints rather easily.
The 5G model likewise adopts the rectangular camera module of the series around the back, but the cameras here are not as capable as those on the Realme 8 and Realme 8 Pro. Compromises had to be made to keep this device's price tag low.
The right-hand side is where you'll find the power key that doubles as a fingerprint reader. The side-mounted sensor is reliable, allowing for easy unlocking. It works fast and accurately, and it's positioned right where your thumb rests on the mid-frame. As expected, you can also use it to lock apps and files with your fingerprint.
The USB-C charging port at the bottom is flanked by a 3.5mm headphone jack and a single loudspeaker. While not the best in the category, the speaker produces loud sound of average quality.
On the front, you get a 6.5-inch, punch-hole LCD screen with extended 1080p resolution (2,400 x 1,080 pixels) for a 405 ppi density and, perhaps more importantly, a better-than-average refresh rate of 90Hz.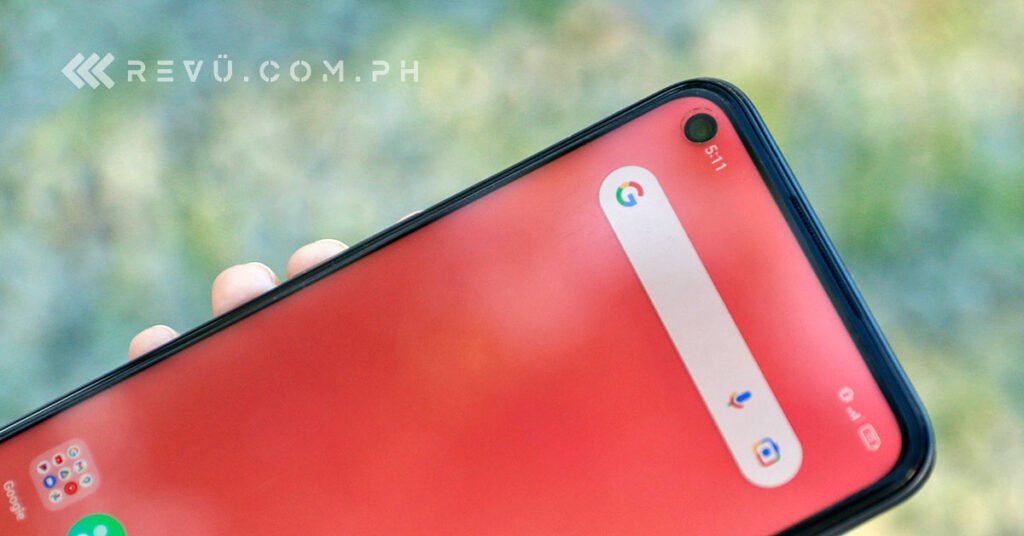 The Realme 8 5G also supports L1 of Google's Widevine DRM solution, meaning it can stream HD videos on apps like Netflix and Amazon Prime Video. There is no HDR10 support here.
The picture quality is nice for its price, delivering accurate colors, satisfying black levels for the display technology used, and generous viewing angles. While it isn't brighter than higher-end displays, it does provide enough brightness at max to make it usable outdoors in sunny conditions.
Dive into the display settings, and you can tweak the color temperature of the panel if you wish, although our unit looks okay out of the box. Color coverage is DCI-P3 and sRGB; you can switch to the latter if you prefer less vibrant colors.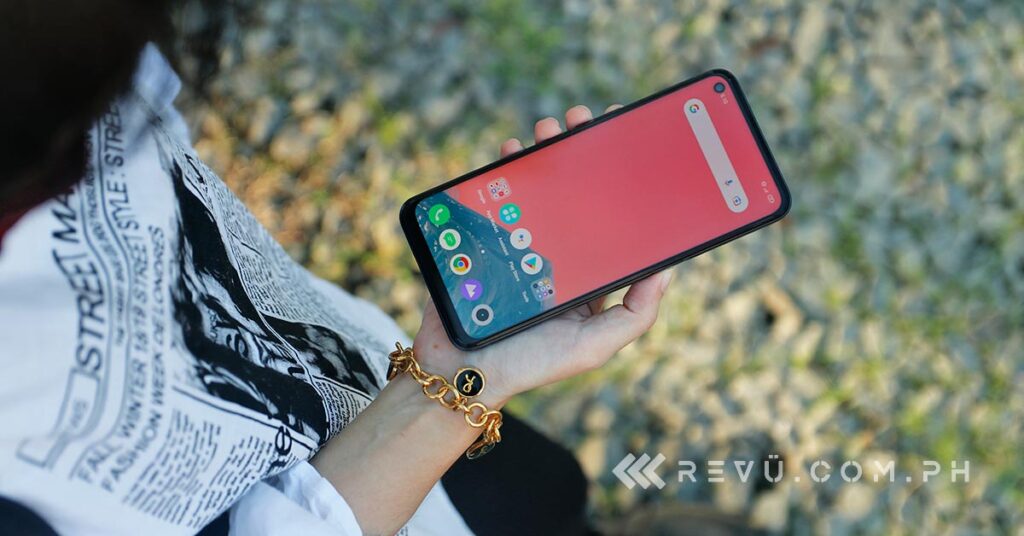 One thing we really like about the Realme 8 5G is its high refresh rate. Upping the number of times the screen gets refreshed every second, from 60Hz on the Realme 8 and Realme 8 Pro to 90Hz on the 5G variant, provides a noticeable bump in responsiveness and smoothness, especially when scrolling menus and playing games. You can choose between Auto, 60Hz, and 90Hz refresh-rate options.
Do note, however, that not every game has a 90 fps or higher setting, and those that can deliver framerates north of 60 fps don't always run particularly well on the Realme 8 5G. The MediaTek Dimensity 700 inside this model isn't a high-end processor, after all.
Good but basic camera setup
The Realme 8 5G packs triple rear cameras. But compared to the Realme 8 and Realme 8 Pro, the setup here is a pretty basic one. You get a 48-megapixel primary camera, coupled with a pair of 2-megapixel sensors — one for macro and the other a monochrome one for depth information. The macro camera comes with f/2.4 aperture, but lacks auto-focus. There is no ultra-wide or telephoto lens on the back.
The smartphone's 48-megapixel unit is a Samsung Isocell Plus S5KGM1 image sensor with pixels. This one is paired with f/1.8 lens and supports phase-detection auto-focus for fast and accurate focus, even in low light. Night and Expert (read: manual) modes are present on the Realme 8 5G, too.
Moving to the front, the selfie camera that is housed under a punch hole on the left-hand corner of the display uses a 16-megapixel Samsung Isocell S5K3P9 sensor with 1.0µm pixels. It gets f/2.1 optics with fixed focus, so it's not really meant for taking group shots.
The main camera saves 12-megapixel images by default. While some appear a bit oversharpened, most of the pictures we took look great within this price bracket, especially when shooting with HDR. The colors are mostly accurate; the level of detail is good; and the dynamic range is wide without being excessive. For the price, we couldn't ask for better results — both in daylight and at night.
Pictures shot on the Realme 8 5G: 1-2) Expert mode, 1x; 3) Expert mode, 2x zoom; 4) Expert mode; 5x zoom; 5) Auto mode, super dim; 6) Night mode, super dim; 7) 1x; 8) 2x zoom; 9) 5x zoom; 10) 10x zoom; 11-13) Auto mode; 14) Macro mode; 15) selfie, Auto mode; 16) selfie; Portrait mode; 17) selfie, Auto mode; and 18) selfie; Portrait mode
And a photo we posted to Instagram
If you're curious about how it stacks up against the Redmi Note 10 5G, we'll share samples shot on Xiaomi's entry-level 5G handset and the Realme 8 5G as soon as our schedule clears. But let us tell you now: The Realme is, hands down, the clear winner in this round.
For videos, the Realme 8 5G captures 1080p at 30 frames per second with its main shooter. You don't get a 4K option; 60 fps shooting is not available either, which is a bummer if you want to slow down motion in post-processing.
Affordable 5G from Realme (at last!)
Powering the Realme 8 5G is MediaTek's Dimensity 700 chip, which is built on an efficient 7-nanometer process and has an integrated 5G modem that supports both SA and NSA networks.
If you're not familiar, the MediaTek Dimensity 700 mixes two Cortex-A76 performance cores operating up to 2.2GHz and six low-power Cortex-A55 cores at up to 2GHz for mundane tasks such as browsing the web. It also integrates a dual-core Mali-G57 GPU, which is the same class of graphics chip found in the Dimensity 800U and Dimensity 820. However, compared to the similar Dimensity 800U, the Dimensity 700 features lower-clocked CPU cores and a slower GPU.
The Realme 8 5G's benchmark scores are slightly below what the Realme 8 and Realme 8 Pro have shown us, but its 90Hz screen makes for a smoother day-to-day and gaming experience in some scenarios. Considering it is the cheapest of the trio, that's an achievement — and one that speaks volumes of the importance of a high-refresh display and how capable MediaTek's Dimensity 700 is despite it being an entry-grade 5G chipset.
It's also worth mentioning that the Realme 8 5G is one of the first devices from the manufacturer that supports virtual RAM expansion. You can get up to 5GB of expanded memory on this model with a single click in the settings. Virtual RAM ensures smoother switching between apps that run simultaneously in the background and reduces frame-rate loss. Of course, it's no substitute for physical RAM, but your device should benefit somewhat from it at least. So yeah, we recommend enabling it.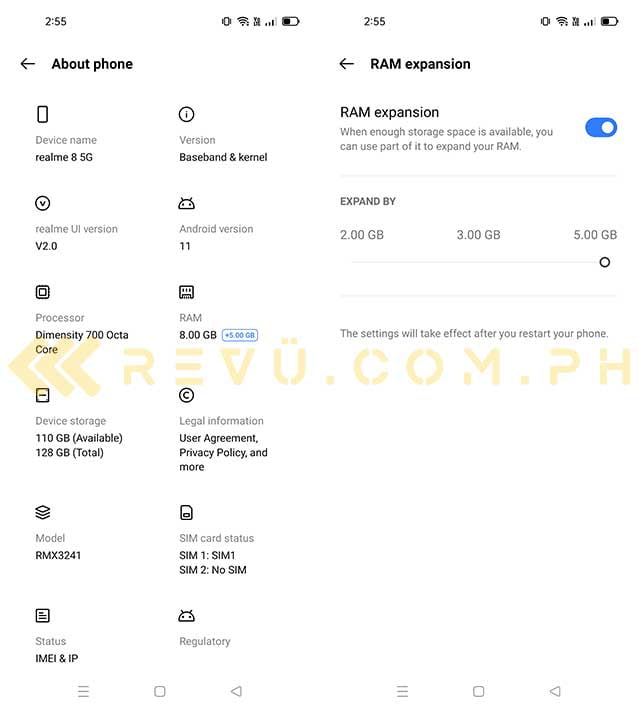 The Realme 8 5G works on both Globe Telecom and Smart Communications 5G networks, capable of reaching faster-than-4G speeds depending on the location. But take note that enabling 5G data will drain the battery quicker than normal. Another caveat is coverage. For some reason, our unit shows weaker signal strength in our area than the Redmi Note 10 5G and POCO M3 Pro 5G, even though all three share the same Dimensity 700 spec.
That affects speed, of course; but even in areas with decent-to-good coverage, our unit pales in comparison to its closest rivals. The disparity in speeds isn't a big deal for casual browsing, though. Still, we're hoping that Realme will address this slight misstep in a future software update.
As it stands, you might be disappointed if you're after super-fast 5G speeds. The Realme 8 5G lacks NFC for contactless payments while you're out shopping, among other things. Depending on how much you use the wireless data-transfer method, this may or may not be a dealbreaker for you.
The Realme 8 5G runs Genshin Impact just fine at frame rates higher than 30 fps, albeit at the lowest graphics settings. Not bad considering the free-to-play online action RPG is easily one of the most demanding games on the Google Play Store today. HFR or High Frame Rate mode in Mobile Legends is supported, and you'll be happy to know that the game runs smoothly most of the time, even when the action reaches a chaotic level.
Gameplay: Mobile Legends: Bang Bang and Dead Cells (4:01 mark)
Keeping the lights on is a sizable 5,000mAh battery that supports rapid charging at 18 watts. Sure, it's a reasonable speed, same as what you get with the Redmi Note 10 Pro 5G and POCO M3 Pro 5G, but it's nowhere near as fast as the Realme 8 and Realme 8 Pro, which can charge up to 30 and 50 watts, respectively.
In our tests, 30 minutes plugged in resulted in the built-in cell reaching 30% capacity. Charging time is about 2 hours and 25 minutes for a full charge. Again, it's not exactly incredible; but a partial charge to, say, around 50% to 60% should still be sufficient for a day of use.
Given the high battery capacity, it doesn't surprise us that the resulting battery life is quite impressive. Our unit lasted more than 14 hours in the PCMark battery-rundown test with the refresh rate set to 90Hz throughout the said run. Standby performance is pretty great as well, and idle power drain can be pretty negligible overnight. The Realme 8 5G easily delivers a day and a half of moderate usage on a full charge.
Final thoughts
Realme's most affordable 5G phone in the Philippines impresses, especially in terms of the display and camera quality. If you want to compare it to the Redmi Note 10 5G, another standout option for those after super-fast cellular connectivity, we should mention that the Realme 8 5G takes better pictures from the front and back and has a brighter screen. Though it's not the cheapest — or the most stylish — budget 5G handset on the local market, it certainly delivers excellent value for money.
Realme 8 5G specs
6.5-inch IPS LCD display, 2,400 x 1,080 (FHD+) resolution, 90Hz refresh rate, 180Hz touch sampling rate, 90.5% screen-body ratio, up to 600 nits brightness
7nm octa-core MediaTek Dimensity 700 processor with 5G
Mali-G57 MC2 GPU
8GB RAM
128GB storage, expandable up to 1TB
Triple rear cameras: 48-megapixel main; 2-megapixel black and white; and 2-megapixel macro
16-megapixel front camera
Fingerprint reader (side-mounted)
5,000mAh battery with 18-watt USB-C charging
Realme UI 2.0 based on Android 11
Color options: Supersonic Blue and Supersonic Black
---