While many industries got hit by the pandemic, the global gaming sector — fueled by mobile adoption — finds itself in a bright spot.
In fact, according to app-store data company App Annie, of the 218 billion apps dowloaded in 2020, around 80 billion of them were games. Data showed that from January to March 2021 alone, "over $32 billion was spent on mobile apps across Google Play and the iOS store, with gaming being the most influential category across the overall app market."
Why is this so?
"The mobile market is the largest segment of the gaming market because of the convenience of
playing on your smartphone anywhere and anytime," Lenovo Asia Pacific gaming lead Ian Tan tells us at Revü.
And there's no stopping mobile gaming's growth. "Mobile gaming will continue to grow given the ongoing advancements in technology, gaming immersion, and the natural growth of gaming as mainstream entertainment," Tan says.
SEE ALSO: So you wanna be an esports caster? Join programs like this one
Agreed. Covering the hardware segment of the technology industry for the most part since 2002, we've seen how companies have pushed the envelope to drive further innovation in consumer electronics.
Today, we're looking at handsets with a high refresh rate for a smoother visual experience; a big battery for an uninterrupted on-the-go gaming experience; extremely fast charging for a shorter wait when there's really a need to top up your device; and even thermal cooling for maximizing a game title's performance. The Lenovo Legion Phone Duel 2 come to mind. Those features are even already being adopted by non-gaming-dedicated units.
"The growth of gaming across all platforms is probably unstoppable, as it has long become a mainstream entertainment activity for most people," says Tan.
Though, again, mobile gaming has already cemented itself as the world's most popular form of gaming, capturing 1.5x of the market compared to all other gaming platforms combined, according to App Annie.
In markets like the Philippines, Malaysia, and Indonesia, games like Moonton's Mobile Legends: Bang Bang and Mihoyo's Genshin Impact usually top the charts. However, players in Korea and Japan often prefer locally published games.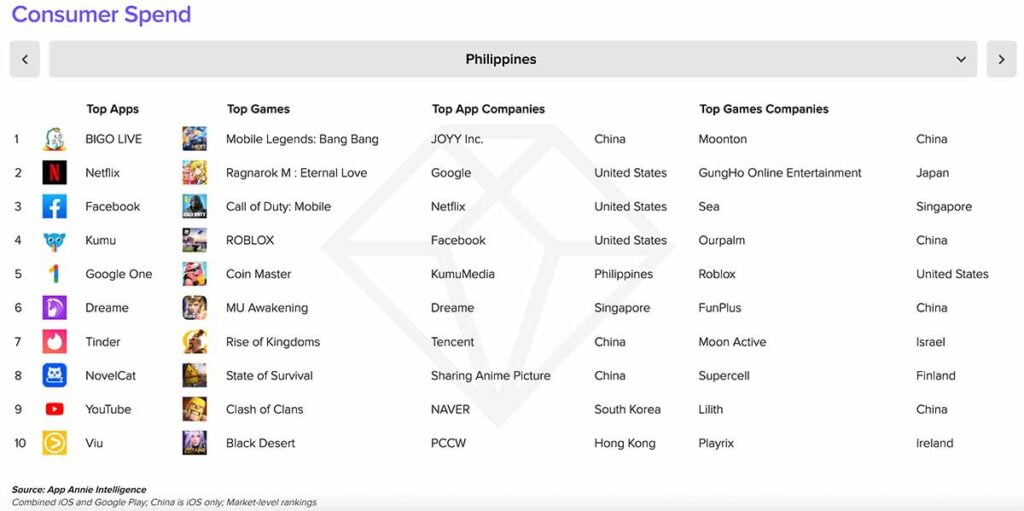 What are the qualities that define Filipino mobile gamers compared to other gamers in other parts of the world?
Lenovo's Ian Tan shares his view: "Personally, I think most gamers are more alike than they are different. Most gamers love to try new experiences and play together, regardless of platform. This explains the huge popularity of battle-royale games like PUBG [PlayerUnknown's Battlegrounds] and Among Us."
He adds: "Gamers are also quick to switch game genres. If you remember the Pokemon Go craze in 2016, gamers went all in with the massive group gatherings in public, but then many of them moved on to other games just as quickly."
Ah, that Pokemon Go craze five years ago. How could we forget that and how happy we were that there were more than one Pokemon Gyms at the mall just across our condo? This made us think of the different game genres that are popular across markets.
"It's a constant toss-up between puzzle, battle-royale, MOBA [multiplayer online battle arena], role-playing, and strategy games," Tan says. "I usually check out YouTube and Twitch to see what gamers are playing now on different platforms — and tastes can really change overnight. Thus, when designing gaming smartphones, our approach [at Lenovo] is to provide the best performing hardware for games regardless of genre."
So what does he think is the next big thing in the industry?
Tan tells us to look at what's happening in movies and music. "Game streaming will be a big thing. Google has been rolling out Stadia, and Microsoft recently made Xbox Cloud Gaming publicly available on mobile and other device platforms via its Xbox Game Pass Ultimate. This means that you can play the same blockbuster game across PC, console, and mobile phones, and play with gamers across the world."
'Game streaming will be a big thing … You can play the same blockbuster game across PC, console, and mobiles phones, and play with gamers across the world'

Ian Tan, Lenovo Asia Pacific
How fast the lines between the different gaming platforms get blurred depends on a lot of factors, of course. We can't stress the importance of a strong Internet connection to enjoy cloud gaming. One of the first instances we really experienced the latter for ourselves was in Barcelona, Spain, around two and a half years ago.
That's why we're glad that leading telecommunications companies Globe Telecom and Smart Communications haven't let up in their respective 5G rollouts. 5G should allow for higher internet speeds, more coverage, and less latency. The latter, particularly, is important when playing online games, where even the slightest delay can mean the difference between winning and losing.
We're glad that device manufacturers are doing their part to push 5G as well. Lenovo, for example, has integrated 5G connectivity and WiFi-6 into the Legion Phone Duel 2 to ensure that gamers are ready for the next wave of streaming.
With the mobile-gaming industry on track to surpass $120 billion in consumer spend in 2021, each mobile gamer — the hardcore set and the casual ones — deserves the best.
---