Realme has seen a meteoric rise in popularity in recent years, having successfully stepped out of its parent company's shadow as a brand to watch for value-for-money smartphones and IoT devices.

Recently, the former OPPO sub-brand has become the world's sixth-largest mobile vendor, in addition to being the Philippines' top smartphone brand in terms of market share. So, what does the company bring to the table with the Realme Book (also known as the Realme Book Slim in India), its first PC offering and one of its boldest products thus far?
Apparently, a lot. Not only is the laptop priced competitively, starting at P37,990 (around $749) for the 11th Gen Core i3 version coupled with 8GB of RAM and 256GB of SSD storage, there's plenty to like about the hardware as well. In case you're wondering, the Core i5 model has a suggested retail price of P47,990 ($946). Read our review of the Realme Book here.
The Realme Book is slim — coming in at only 14.9mm at its thickest point — and portable enough to fit a regular backpack and not pay attention to its presence
On the hardware side, the Realme Book is about as impressive as it gets for a laptop in this price range. This laptop's affordable pricing doesn't mean budget or compromised design. It's available in two color options: Real Blue, which we used in this review, and Real Grey.
The Realme Book uses an aluminum body with plenty of high-end touches all around. It's slim — coming in at only 14.9mm at its thickest point — and portable enough to fit a regular backpack and not pay attention to its presence. And its extra-sharp display with a tall 3:2 aspect ratio is great for productivity and entertainment apps.
SEE ALSO: Realme Pad, TechLife products launched in PH. See prices here and Realme Pad unboxing and first look: A premium tab built for entertainment
While some reviewers have commented that the Realme Book looks like Apple's MacBook, we beg to disagree. Sure, both laptops have a sleek metal build, a big trackpad, and black keyboard keys, but the similarities pretty much end there. If you look around the modern PC landscape, most premium notebooks share the same aesthetic. Not to mention, the current M1-based MacBooks, including the latest MacBook Pro models, are distinguishable from the Realme Book.
The build quality is excellent, better than we had hoped for given the price. The chassis feels durable where it matters, and opening and closing the lid doesn't have us concerned about its long-term use. It feels solid in the hand and quite dense for its size.
Our review unit is the higher-end spec with a quad-core 11th Gen Intel Core i5-1135G7 processor driving Iris Xe graphics and 8GB of LPDDR4x memory and 512GB of PCIe SSD storage under the hood. Realme also offers a lower-specced model with a dual-core 11th Gen Core i3 CPU and 256GB of base storage.
On the display front, you get a 14-inch 2K IPS panel that is said to deliver up to 400 nits of peak brightness, which should be enough for outdoor usage. At max brightness, we were able to browse the web and watch a few short videos comfortably in a moving vehicle under the noon sun.
Picture quality is especially good for media consumption, as well as some light gaming and photo editing, since the Book has an above-average color gamut at 100% coverage of sRGB. The colors look mostly accurate out of the box, although the display will require some tweaking to the settings if you intend to use it heavily for graphics work.
For streaming Netflix, Amazon Prime Video, and other platforms, the 2K resolution and great picture of the Realme Book will more than suffice. However, do note that the extra vertical pixels here will also result in substantial black borders at the top and bottom of the content you're watching.
Otherwise, the 3:2 aspect ratio of the Book will give you more vertical space to work with compared to traditional 16:9 displays. A taller screen means more space for reading or writing text, and you can fit more stuff on the screen at once. We found that it also helps when editing videos with multiple effects and audio and video tracks.
Realme is likewise emphasizing multitasking on the Book's unconventional panel, with the idea that you can split windows in different ways. Oh, and Realme's first laptop has Corning Gorilla Glass on top to guard against dings and bumps.
The bezel area at the top is fairly trim here, even with the 720p webcam positioned above the screen alongside dual-array mics with Realme's Vocplus AI Noise Cancellation Algorithm. We used the Book to make a few video calls and found the built-in camera to be decent, while the mics gave our calls a much-needed polish in noisy environments.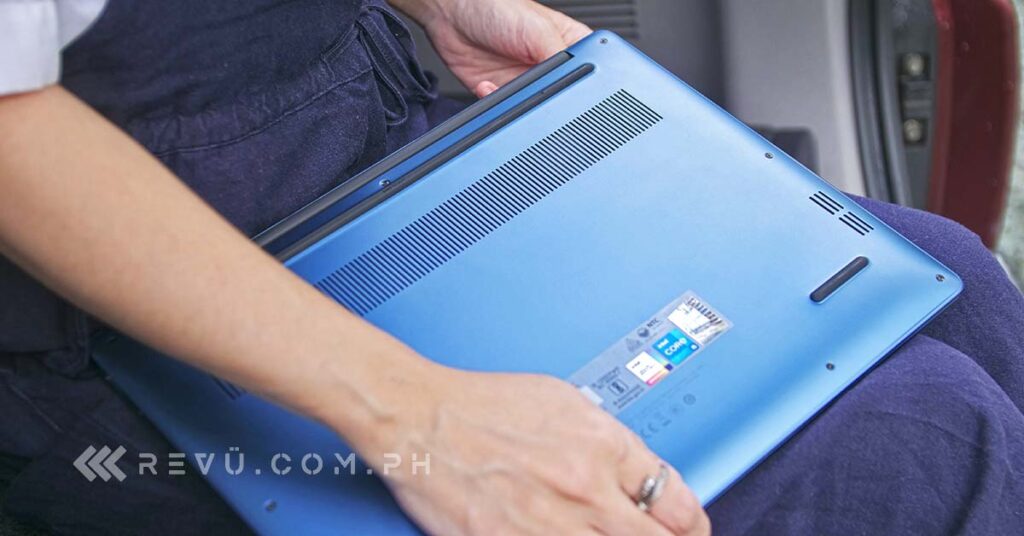 The two Harman Kardon speakers at the bottom of the chassis produce louder sound than regular laptop speakers and also create a better surround-sound effect than their average counterparts do. If you prefer to watch videos on a laptop display than on a TV screen, the combination of a sharp 2K panel and competent but downward-firing speakers here should satisfy most users. Just be careful not to block the speakers with your fingers or stuff on your desk.
The keyboard area of the Realme Book is a compact yet pretty spacious affair that understandably lacks a numpad. As expected, it is accented with an extra column of brightness keys and media control keys for volume up, down, and mute functionality. Key travel is relatively deep at 1.3mm with decent feedback for a rather comfortable typing experience. Notably, the keyboard is backlit and offers three levels of brightness, so you can adjust the backlighting according to your preference.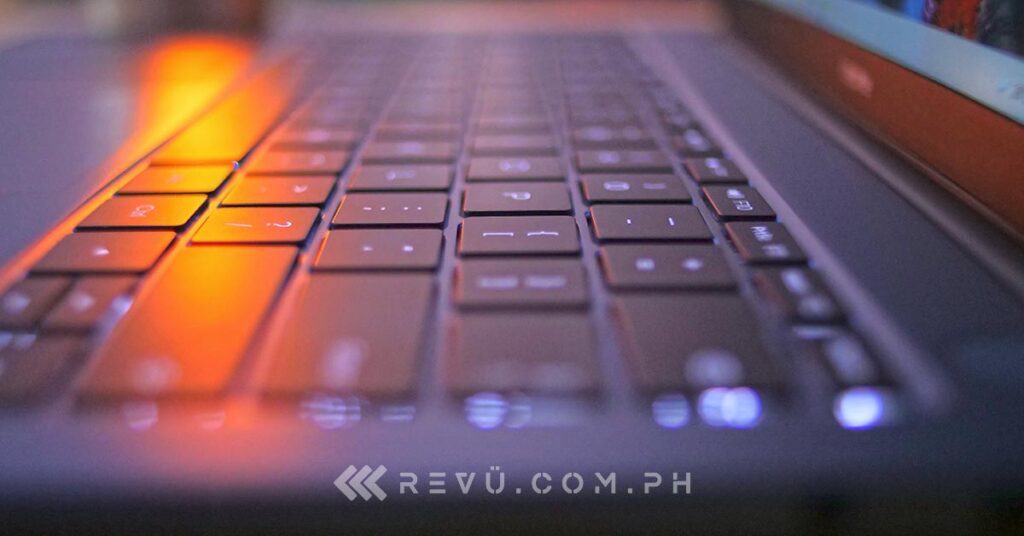 The fingerprint reader is mounted on the power button for convenient access. It works well and doubles as a Windows Hello fingerprint sensor.
When it comes to IO connectivity, the Realme Book sports one USB-A 3.1 Gen 1 port and two USB-C ports, one Thunderbolt 4 while the other is USB 3.2 Gen 2. You won't find an HDMI port or SD card slot here. For networking support, you get Wi-Fi 6 connectivity as well as Bluetooth 5.2 if you opt for the Core i5 variant.
The 11th Gen Intel Core i5-1135G7 CPU inside our review unit features four cores and eight threads and clocks up to 4.2GHz with Turbo Boost. It has a base clock of 2.4GHz. The Core i5 unit is a good performer overall, but, of course, it could be better with more RAM. (Again, the Philippines is limited to the 8GB RAM model regardless of the processor.)
It's also worth mentioning that the RAM is soldered to the motherboard, limiting the laptop's upgradability to the SSD, which can be swapped out for additional and faster storage.
While it isn't the most powerful laptop in the segment, the Realme Book can still handle heavy workloads that involve editing videos at 4K resolution and multiple instances of Chrome open with several tabs. Obviously, your experience will vary when handling 4K footage at higher bit rates, and adding lots of effects in videos will absolutely slow down the laptop. If you're someone who's not into gaming or using professional-grade creative apps, you should be able to get by just fine with the configuration offered locally.
Benchmarks. Click on an image to launch the gallery
And the same goes when it comes to gaming. The Realme Book with a Core i5 chip delivers reasonably decent benchmark scores and frame rates, but it can't compete with laptops that are equipped with dedicated GPUs. Games like Fortnite and Yakuza are playable at respectable settings, resolutions, and frame rates, but this isn't the machine to play AAA blockbusters that can bring high-end gaming PCs to their knees.
Out of the box, the Realme Book boots Windows 10 Home and can be upgraded to Windows 11 if you're eager to try the new OS out. We didn't, in the interest of fairness with other Windows laptops we've tested recently. The software experience is vanilla Windows, and Realme didn't add anything substantial to Microsoft's OS, save for the PC Connect app. PC Connect will let you instantly pair your Realme device with the laptop for easy and seamless file sharing and screen mirroring; unfortunately, it only supports the Realme GT series at the moment.
The Realme Book ships with a 65-watt USB-C charger to charge its 54Wh battery backup. It takes roughly 30 minutes to go from zero to 50% and almost an hour and a half to reach full capacity when coming from a completely drained battery. And yes, the bundled charger can be used to top up your other USB-C devices that support the PD standard.
Realme claims 11 hours of use on a single charge for the Book, although we averaged about 7 hours between charges when browsing social media, writing articles for the site, and watching Netflix shows and NBA games on League Pass. In our video-loop test, our review unit managed 6 hours and 22 minutes at half brightness.
Final thoughts
The Realme Book is a fantastic first effort from a company mostly known for its smartphones and, recently, IoT devices. We like the hardware overall, particularly the high-res screen, while the specs are commendable and should please casual users. This marks a great start for the upstart tech brand as it continues to diversify its portfolio to cater to different needs while also bolstering its existing ecosystem of products with complementary devices.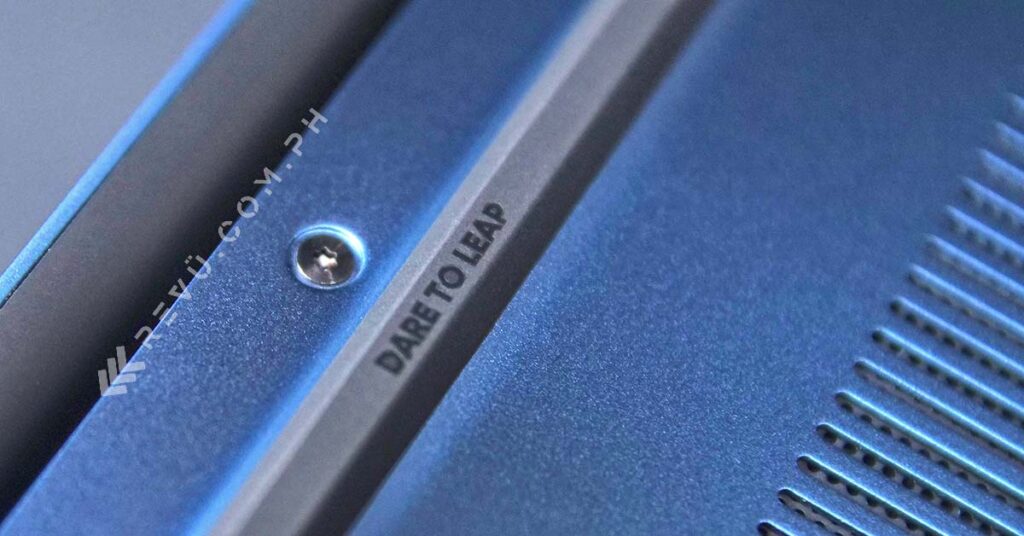 Realme Book specs
14-inch 2K IPS display, 3:2 aspect ratio, 400 nits peak brightness (330 nits typical)
11th Gen Intel Core i3-1115G4 (dual-core, quad-thread) or Core i5-1135G7 (quad-core, octa-thread) CPU
Integrated UHD (Core i3) or Iris Xe (Core i5) GPU
8GB LPDDR4x RAM
256GB/512GB PCIe SSD storage
1x USB-A 3.1 Gen 1; 2x USB-C 3.2 Gen 2; 3.5mm 2-in-1 jack (Core i3)
1x USB-A 3.1 Gen 1; 1x USB-C 3.2 Gen 2; 1x Thunderbolt 4/USB 4; 3.5mm 2-in-1 jack (Core i5)
720p webcam
Fingerprint power button
Backlit keyboard
Dual Harman stereo speakers; dual mics
54Wh battery with 65-watt PD charging (50% in 30 minutes)
Microsoft Windows 10 Home 
Colors: Real Blue, Real Grey
---