Realme's goal last year was to bring 5G connectivity to more consumers. Having met expectations with the 5G-equipped Realme 8 and chart-topping sales, the company has a new objective: design more elegant phones with performance to match.

The Realme 9 Pro 5G is the latest phone in its lineup to embody this plan. Packed with a solid Snapdragon processor with 5G and sleek design language, it could easily be mistaken for a smartphone above its price range.
Aurora Green is in
The model we reviewed came in Aurora Green. While it doesn't have the color-shifting effect of the Sunrise Blue variant, it certainly shines in its own right. Realme's choice of colors certainly turned out well, considering how green may turn into a trendy color for handsets moving forward.
SEE ALSO: Realme 9 Pro Plus review: Pro-grade camera plus more
What makes the Realme 9 Pro's color implementation special is its seamless transition from one part of the plastic body to the other. The Aurora Green blends nicely along the edges and into the camera bump. The only downside in design is the massive camera bump; not even the bundled clear case can fill in the gaps to keep the phone from wobbling on a flat surface.
Fortunately, you don't have to press down on the phone while trying to unlock it. Aside from the usual facial recognition, you can unlock the phone by tapping — not pressing — the side-mounted power button. From our experience, it's more accurate than in-display fingerprint scanners and is reachable even when holding the phone with one's left hand.
Great visuals and audio, with a catch
Moving to the front, the Realme 9 Pro comes with a 6.6-inch 1080p LCD and 120Hz refresh rate, which adapts to your on-screen usage. If you're watching static content, the refresh rate may drop down to 30Hz. While gaming or scrolling through feeds, the phone will decide between 60Hz, 90Hz, and 120Hz. You could force the device to stick to 120Hz, but that would drain the battery much faster.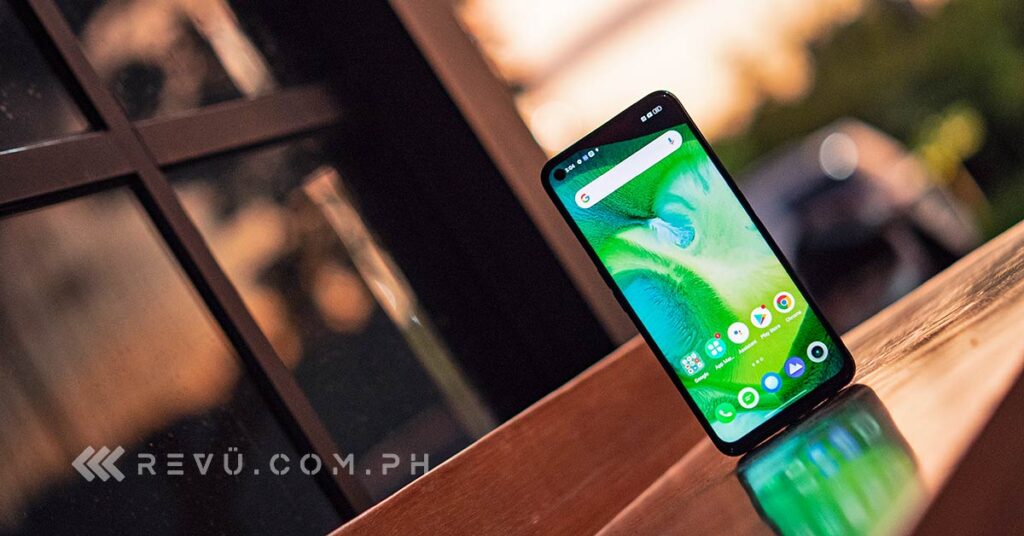 Presumably to keep the price down and refresh rate up, the Realme 9 Pro settles for an LCD panel. Although there's nothing wrong with its crisp visuals and bright colors, it cannot match the deep blacks of an AMOLED panel. You'd have to spend a little more for the Realme 9 Pro Plus if you want that AMOLED advantage — as well as other higher-end features, which we'll get to later.
You'll find a single loudspeaker on its chin. It's good enough for regular usage, but you can hear the quality degrade at the highest volume. To our delight, you get both USB-C and 3.5mm audio ports at the bottom to connect your preferred headphones.
A fast-acting camera
Realme is pushing this handset as a street photography companion. When you double-tap either volume button, you go straight to the phone's Street mode, which provides you with a range of exposure and filter options. It feels like a mix of the camera app's Night and standard Photo modes in one convenient place.
Aside from those modes, we also get Portrait mode to blur a subject's background and 64M mode, which utilizes the 64-megapixel rear camera. The high-resolution photos look great at first glance, but not good enough for large prints. You're better off using the default 12-megapixel output of the main camera and 8-megapixel resolution of the ultrawide shooter, especially if you're simply uploading to social media.
Some sample shots. Click on a thumbnail to launch the gallery
Colors pop in both daytime and nighttime shots; sharpness, on the other hand, drops drastically when there isn't much light. The same can be said for the phone's videos: lose enough sunlight and you'll witness soft subjects. The Realme 9 Pro provides 60fps at 1080p recording for the rear cameras; sadly, there's no 4K recording on the back and no 60fps option on the front.
The 16-megapixel selfie camera is located within the top-left corner of the screen. It doesn't offer an ultra-wide option or accurate blurring, but it does light up the display to brighten up selfies at night. With the correct settings, the Realme 9 Pro's selfies hit the right amounts of contrast and saturation as long as you dial down on the filters.
A truly midrange experience
The Realme 9 Pro has a lot going for it under the hood. For one, its Snapdragon 695 5G handles the 120Hz display and most demanding apps with ease. PCMark's Work 3.0 benchmark awarded the phone a respectable score of 8809, placing it in a comfortable position among other midrange Androids at this price point.
Secondly, the processor's efficiency works wonders with the 5,000mAh battery, delivering over six hours of screen-on time with heavy usage on a single charge. We got a score of 18 hours and 11 minutes on PCMark, significantly higher than the numbers of Xiaomi's recent Redmi models. Charging the battery to full is a pleasure, too. It takes about one hour and 20 minutes to go from zero to 100% with the included 33W Dart Charger.
Benchmarks. Click on a thumbnail to launch the gallery
Yet, despite the promising scores, gaming performance isn't what you'd expect. That's because the processor's Adreno 619 GPU isn't a heavy hitter. It can manage the best graphics settings on lighter games such as Mobile Legends and Apex Legends Mobile, but once you crank it up to medium-high visuals on Genshin Impact, the Realme 9 Pro begins to stutter.
On the bright side, the device's liquid cooling system is reliable. We rarely saw the Realme 9 Pro go above 39 degrees Celsius, even when we pushed the limits of the processor. There's no discomfort while holding the phone during gaming sessions, and the built-in overlay for monitoring FPS and CPU/GPU loads is helpful.
The variant we reviewed came with 8GB of RAM and 128GB of expandable storage with a microSD slot. Realme included a RAM Expansion feature that allows the phone to add up to 5GB of the storage space to the RAM for a total of 13GB, but it never felt necessary. The Realme UI 3.0 skin already runs smoothly on its Android 12 base. Unfortunately, it ships with a lot of bloatware apps, which you may want to uninstall on day one, and certain apps like Netflix don't work at all.
What does the competition look like?
Similar to previous generations, a Realme smartphone's biggest competition is often its own siblings. The closest rival would be the Realme 9 Pro Plus, which offers a richer 90Hz Super AMOLED panel, faster MediaTek Dimensity 920 5G processor, higher-end 50-megapixel Sony camera sensor, and 60W SuperDart Charge — all in a package that's only slightly pricier.
There are other Realme 9 variants with minor differences, including the Realme 9 5G, Realme 9 5G Special Edition, and Realme 9i. Each comes with variations in specs that go below and above the Realme 9 Pro's price range.
In addition, models like the Redmi Note 11 and Redmi Note 11 Pro prove that Xiaomi is always a player when it comes to best bangs for the buck. And we can't forget about POCO phones which are often performance champs at this price bracket.
Priced at P12,990 (around $248) for the 6GB/128GB model and P14,990 ($286) for the 8GB/128GB version we tested, the Realme 9 Pro shines in battery endurance and overall performance, while being at least average everywhere else. It's Realme's safest 5G-powered option in its current lineup.
Realme 9 Pro specs
6.6-inch 1080p LCD, 120Hz refresh rate
Qualcomm Snapdragon 695 5G processor
6GB/8GB RAM
128GB storage
64-megapixel main, 8-megapixel ultrawide, 2-megapixel macro cameras
16-megapixel front camera
5000mAh battery
33-watt Dart Charge
Realme UI 3.0 (Android 12)
Sunrise Blue or Aurora Green
The Realme 9 Pro is available on Lazada and at official stores and partner dealers nationwide.
---