Last year saw Narzo establish itself as an independent brand in the Philippines, moving away from the shadow of its parent company Realme while doubling down on its efforts in the entry-level market.

The landmark announcement came with another surprise — the base variant of the Narzo 50i Prime, the company's most affordable budget phone, would be offered at a steep discount for a limited time, which made it a no-brainer for anyone in the market for a solid smartphone deal.
But suppose you don't own the Narzo 50i Prime yet and are planning to buy one. Is it a good buy in 2023? Scroll down for our review.
Attractive
The Narzo 50i Prime is an attractive-looking model for its price segment, offering a textured finish with a unique vertical-line pattern on the back to distinguish itself from a sea of bland budget slabs. Besides a dash of flair, it adds grip to the casing as well. The large rectangular panel housing the single rear camera plus the Narzo branding, on the other hand, provides a nice contrast to the rest of the body. Visually, the 50i Prime is one of the most striking handsets you'll find in the bargain basement, and it's available in mint-green and blue colorways as well, in case you're not too keen on owning another black phone.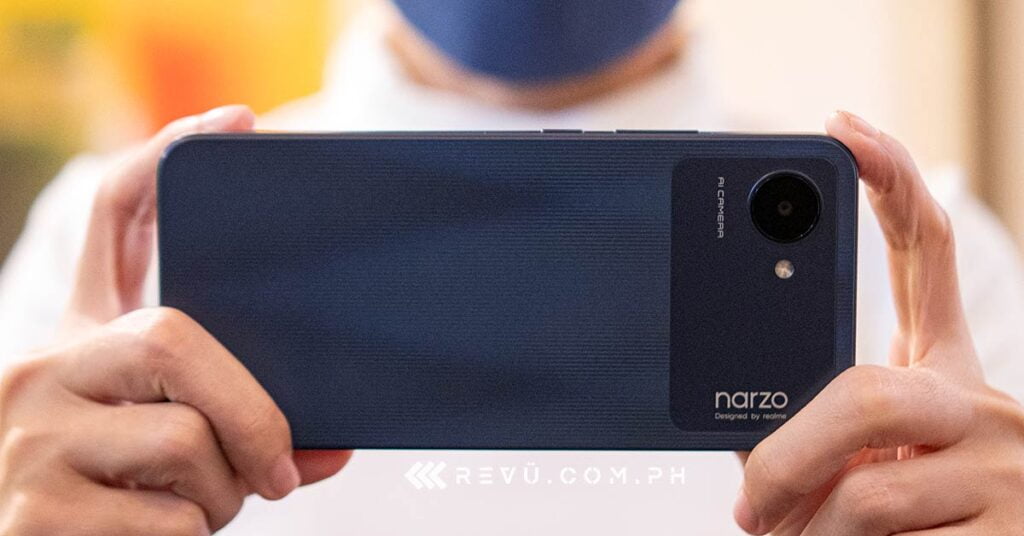 In terms of size, we think the Narzo 50i Prime is just the right fit, owing to its reasonable display size of 6.5 inches and not-so-chunky bezels. The phone's angular design complements the ergonomics, too, and we found it comfortable to use even for long gaming sessions.
Unfortunately, in a bid to save on production costs, the Narzo 50i Prime omits a physical fingerprint reader for easier unlocking as well as a modern USB-C port for charging and file transfer. The latter could be a dealbreaker for some — especially as more and more devices launch with USB-C support. This particular model is limited to face unlock, so unlocking the handset with your fingerprint is out of the question. That's certainly fine if the face-unlock feature works as intended, which is not the case here; too often, it wasn't able to recognize faces in dim or poorly backlit areas.
Decent performer
The Narzo 50i Prime is powered by a Unisoc Tiger T612 4G chipset, which is built on a 12nm process, uses eight CPU cores, and is generally comparable to Qualcomm's Snapdragon 665 chip. It's the same processor inside the more expensive Realme C33 that we reviewed late last year.
The T612 doesn't disappoint when it comes to performing basic low-level tasks such as navigating the user interface, browsing social media, and handling multiple Chrome tabs. Heavy gaming is a different story, though, as the 50i Prime, much like the C33, tends to struggle when playing resource-intensive games even at the lowest settings. Thankfully, the hardware is powerful enough to run taxing games like Diablo Immortal, though there was noticeable lag while rendering the game's gorgeous 3D graphics.
On a more positive note, the Narzo 50i Prime includes a dual-SIM tray plus a microSD card slot that supports up to 1TB cards, if you need more storage for your apps and personal files. The smartphone also boots the Android 11-based Realme UI R Edition overlay, which is designed to draw less power and make use of less bloatware and has added features like chat bubbles, power-menu functions, and many more. Navigating the UI is reasonably fast and fluid, and we didn't encounter any app crashes while running our favorite Android apps.
When it comes to taking pictures, the Narzo 50i Prime is about as basic as it gets. There's a single 8-megapixel camera and a 5-megapixel shooter for selfies. There are no dedicated sensors here for macro and portrait shots. Image quality is passable in bright, well-lit areas, but there's no option to take portrait-style selfies using the front camera.
A few sample shots
Long battery life, outdated charging
Battery life is another high point, as the Narzo 50i Prime delivers days — not hours — of normal usage between charges. We typically got around six to eight hours of screen-on time on a single charge.
With Ultra Saving mode turned on, the battery life can be extended further. It comes with several options in the Settings menu as well to help you conserve power, including options to optimize and restrict apps that drain the battery excessively and select which apps will automatically close after the screen is locked.
Charging, as mentioned earlier, is done over a microUSB port, and it's unfortunate to see a 2022 model top up over the outgoing standard — even if it only costs a fraction of a midrange or flagship phone. There's no fast charging on board either, so getting the phone from zero to 100% takes almost three hours based on our testing. That's a long time to wait, and it will take you longer than that if you use the device while plugged in.
Average display
The Narzo 50i Prime has a 6.5-inch LCD display with HD+ resolution and a 60Hz refresh rate. You're looking at a pretty basic setup that's okay for web browsing and media streaming. It's about as basic as a modern smartphone can get these days, but then again, we're not expecting miracles given its price point.
Moving on, the outdoor visibility is comparable to most other devices in its class, as the screen averages only 400 nits of brightness. For viewing YouTube or Disney Plus on the go, it will probably suffice, unless you're after brighter and bolder colors. And if that's the case, you may as well pay extra for an AMOLED panel.
Price the king
Then there's the price tag. In the Philippines, the base Narzo 50i Prime with 3GB RAM and 32GB of storage is priced at P4,999 (around $89), but you can get it at a much cheaper price during sale events, which happen often. Last year, it was down to P3,799 ($68) after discounts. But even at its regular price, the 50i Prime gives you a lot of value for your money — a visually appealing design and enduring battery life, for starters — and you can save even more by ordering at certain dates.
So, should you buy the Narzo 50i Prime? Well, that depends on your budget and priorities. If you don't have a lot to spend, Narzo's most affordable Android smartphone is a decent but dialed-down cousin of the Realme C33. And while it's a pretty good all-arounder for the money, it doesn't excel at anything performance-wise, and has an accumulation of small annoyances that could cause some potential customers to look elsewhere.
Hopefully, the Narzo 50i Prime's successor this year arrives with a USB-C port along with fast charging and a 90Hz display. A more capable, if not more efficient, processor would be a welcome addition as well. Include those things and you have a budget blower that's way easier to recommend.
To purchase the Narzo 50i Prime, follow the brand's page.
Narzo 50i Prime specs
6.5-inch LCD display, HD+ resolution, 60Hz refresh rate
12nm Unisoc Tiger T612 processor
Mali-G57 GPU
3GB RAM
32GB UFS 2.2 expandable storage, with triple-card slot
8-megapixel rear camera
5-megapixel front camera
5,000mAh battery
Realme UI R Edition based on Android 11
Color option: Dark Blue, Mint Green
---