The Huawei Y9 Prime 2019 recently became official in the Philippines, making it the company's first smartphone locally with a pop-up camera. Preorders go live tomorrow, July 5, and run until July 12.
(Update, July 13: In case you missed these: Watch: Huawei Y9 Prime 2019 is contender for best pop-up camera phone and P200M worth of Huawei Y9 Prime 2019 units sold in 2 hours.)
Priced at just P12,990, or about $254 converted, this Y9 is also the most affordable device of its kind on the local market, beating even the Xiaomi Mi 9T. And the rest of the specs are good enough for almost anyone: Kirin 710F mated to 4GB RAM and a generous 128GB expandable storage; triple rear cameras; and 4,000mAh battery backup with USB-C charging.
READ ALSO: Watch: Huawei Y9 Prime 2019 unboxing and Huawei P30 series, Mate 20 Pro, Y6 Pro 2019 get big price cuts
So, does this mean the Huawei Y9 Prime 2019 is an easy sell to those after a quality, inexpensive handset from one of the top Android vendors around? Read our review to find out.
Design and build
Let's start with the obvious: The Y9 Prime 2019 is quite a looker, and it's easily one of the best-looking phones we've seen at this price point. The pop-up camera allows the device to spread the screen toward the very edges, except at the base.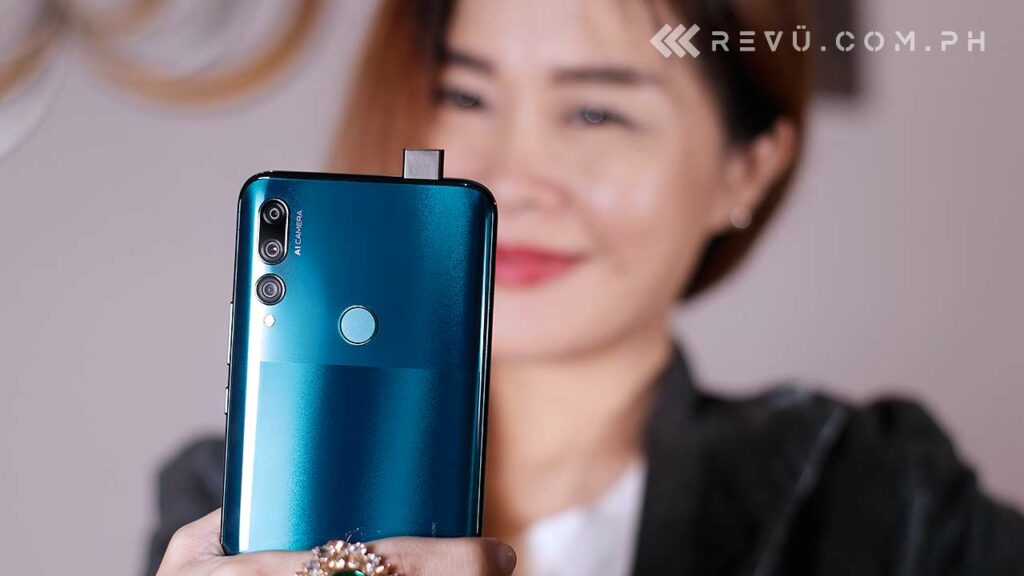 But even so, this is the closest the technology giant has come to a full display, with no need for a notch or awkwardly placed cutout for the selfie camera.
The screen is large at 6.59 inches, but despite the slim side bezels, this is not something that many users will find convenient to use single-handed. We can hardly wrap our fingers around the entire width of the handset for a secure hold.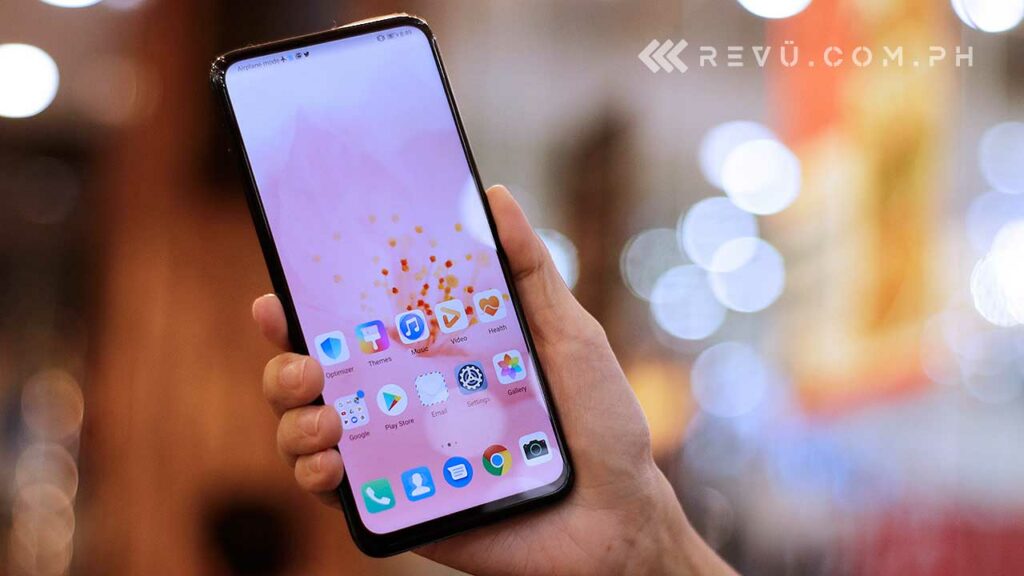 However, the body itself feels great in the hand, made of plastic and curved at the back, with a good amount of heft due to the moving parts required to elevate the selfie camera module when in use.
Huawei says the elevating mechanism can handle up to 15 kilos of pressure and has been tested rigorously for 100,000 uses to ensure that it will remain functional throughout the lifetime of the product. It makes a quiet sound as the camera pops up from inside the chassis.
SEE ALSO: Trump: Huawei allowed to do business with US firms again and PH retailers support Huawei, to refund devices if they can't run Google apps
The rear panel, though, can be scuffed or scarred easily during regular use, so we recommend using the silicone case that ships with the unit the moment you take it out of the box. Elsewhere, the rounded glass on the front makes swiping on the screen feel more natural.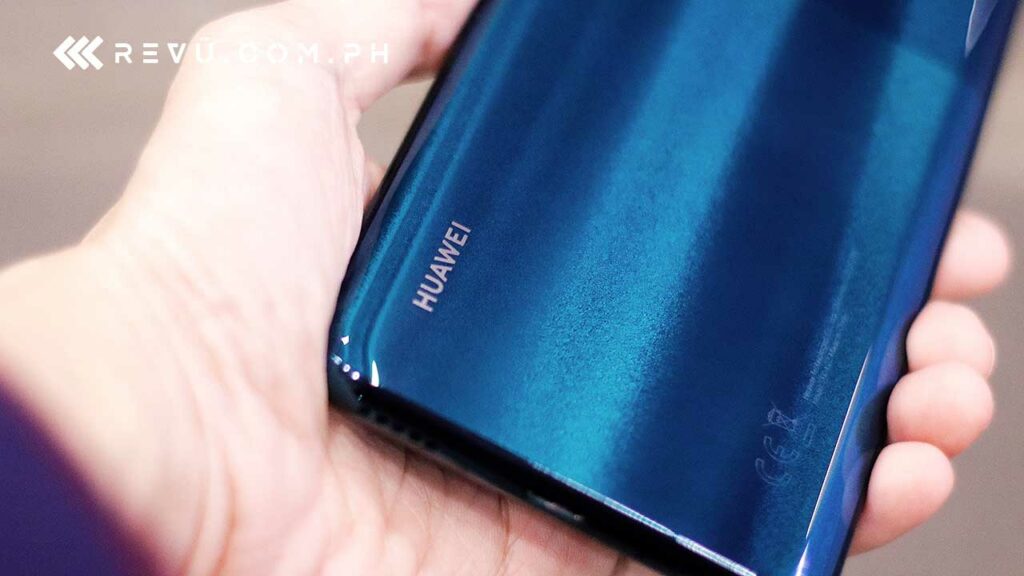 As with the Mate 10 Pro from years before, the Huawei Y9 Prime 2019 features a dual-tone back design with glossy metallic paint that shimmers under the light. The frame of the phone matches the color of the rear — a nice touch that keeps it aesthetically consistent with the rest of the body.
The bottom gets a headphone jack, a USB-C connector for power and peripherals, and a speaker grill for the downward-firing mono speaker. Speaking of, this is the first time we've seen a Y series device with a modern port. Hopefully, all future midrange devices from Huawei going forward will adopt USB-C.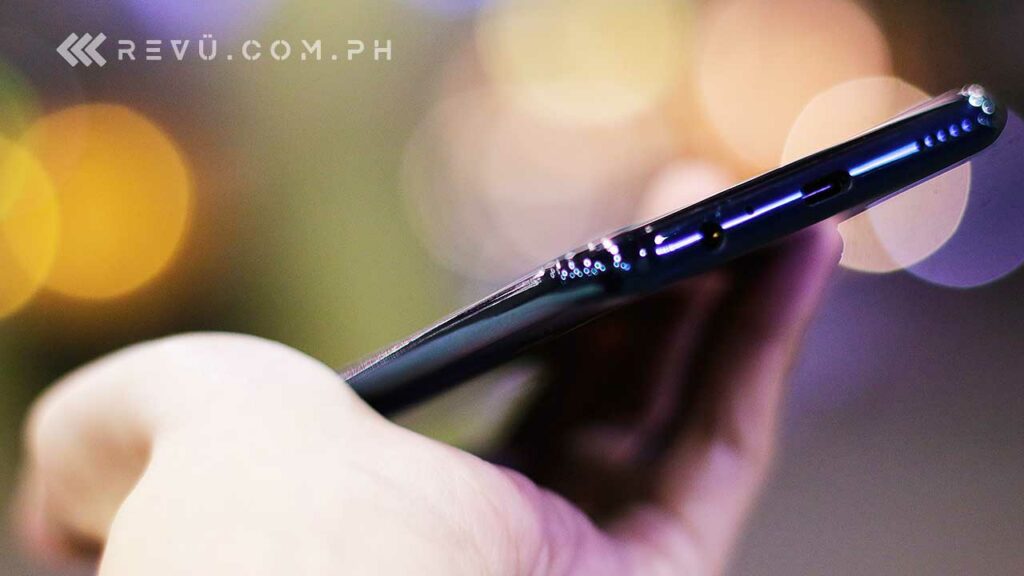 The audio coming from the loudspeaker, while not raucously loud, has decent volume, good enough for media, but you'll probably need an external speaker in noisy environments. Sound quality is average, as you would expect for the price.
Screen
Full-view displays aren't new — especially in 2019 — but the fact that Huawei is able to offer it at a price point that's lower than the competition is something that deserves some measure of admiration. And rightfully so: The Y9 Prime 2019's large, 2,340 x 1080 screen that extends to the sides is one of the key attractions here.
It's an LCD with a good color range and black levels that are deeper than typical LCDs in this segment. Not having a notch or cutout to obstruct your view is obviously also a plus.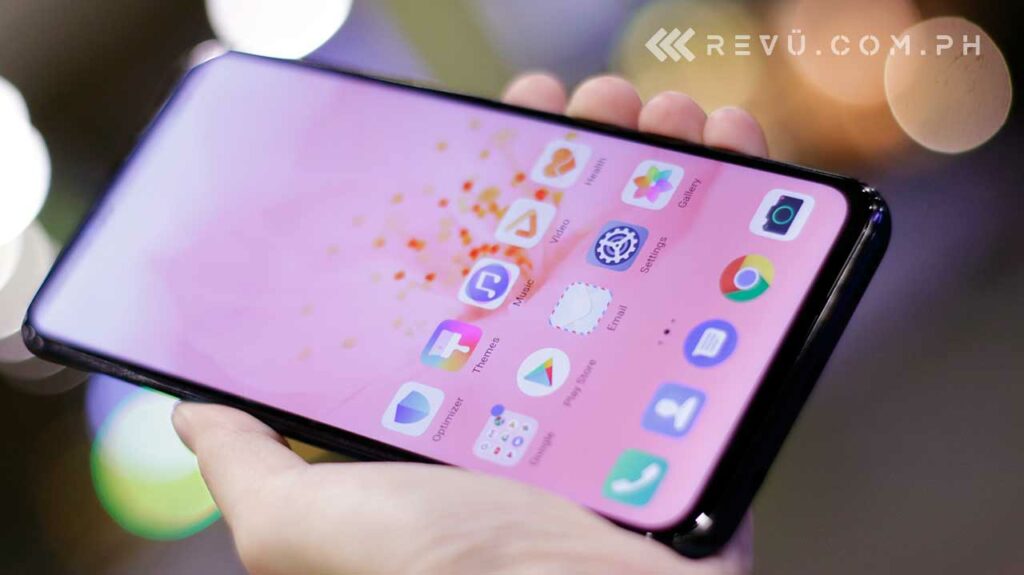 The viewing angles are excellent, too, with colors becoming slightly dimmer when you tip the display forward or back. As on other current Huawei devices, you can adjust the color temperature and vibrancy of the panel to your liking. But by default, the Y9 Prime 2019 offers an enjoyable viewing experience, especially for those who are looking to play a ton of media and games.
On a related note, the phone at the moment only has Widevine L3 certification for SD-quality video streaming. It will still get you up to 1080p resolution on YouTube, though.
Cameras
For optics, the Huawei Y9 Prime 2019 has a three-lens setup featuring a 16-megapixel, f1/.8 primary camera, an 8-megapixel ultra-wide camera, a 2-megapixel depth sensor to assist with background blur in pictures, and AI for intelligent scene detection.
The regular and wide cameras perform well enough in daylight situations, albeit with some detail loss on the latter, whereas portrait-style photos look okay, not overly exaggerated.
Ultra-wide vs 1x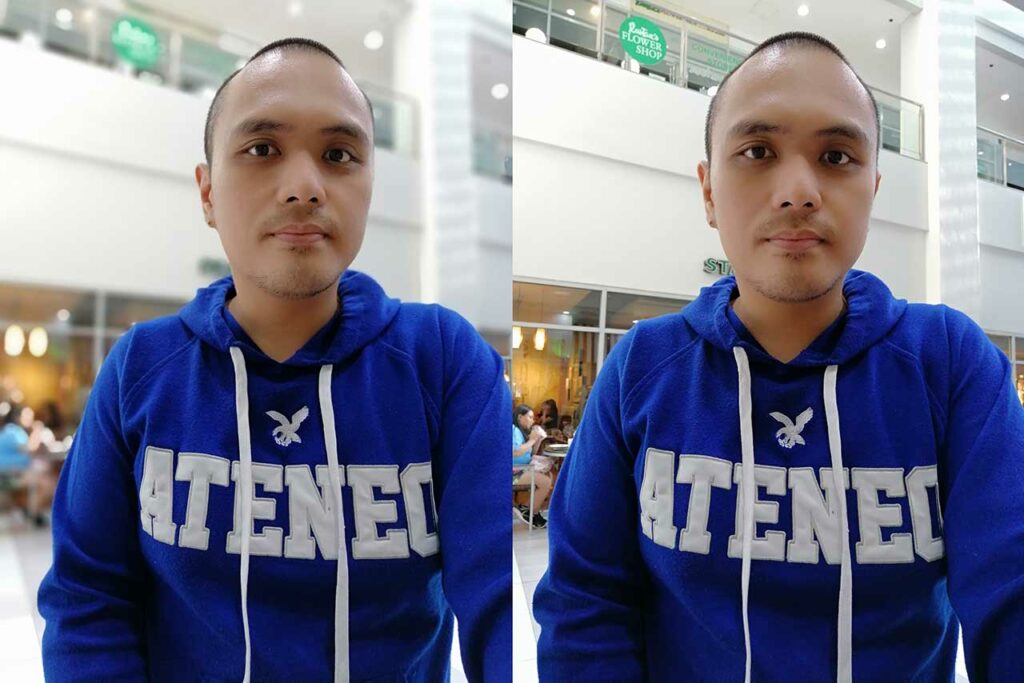 Huawei's superb Night mode is accessible in the camera app natively, as expected, although it should be noted that it's not available when you switch to the wider camera. Night shots look crisp and punchy considering the price.
Night mode vs Auto mode
Other pictures shot on the rear camera system
The pop-up selfie shooter, on the other hand, pairs a 16-megapixel sensor with f/2.0 lens. For the most part, the camera gets the fundamentals right — selfies are clear and well-exposed, with fairly accurate color representation and skin tones.
Selfies captured on the Huawei Y9 Prime 2019, the first two of which have versions taken in both Auto and Portrait modes
More importantly for us is the fact that turning off all beauty filters and AI will result in very natural-looking faces. That's not normally the case with past Huawei handsets, so this development might be of huge importance to those who don't like soft selfies that make a person look like he or she is wearing makeup.
Performance
As we mentioned earlier, the Huawei Y9 Prime 2019 uses a Kirin 710F. It's similar to the Kirin 710 that has been a staple for mid-tier Huawei and Honor devices since last year. We're not exactly sure what the differences are between the two, and it certainly doesn't help that their benchmarks are pretty much identical.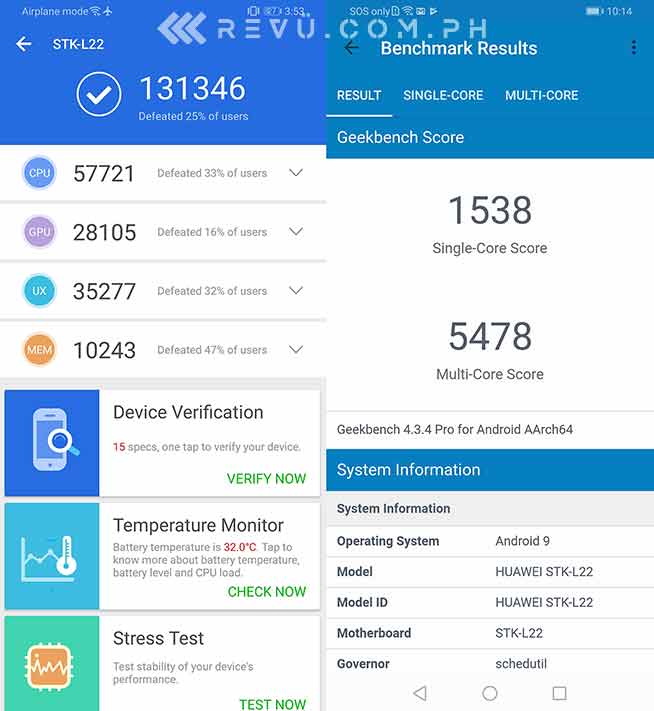 If anything, we reckon the Kirin 710F operates at a slightly different clock speed, though we can't confirm this right now. We do think it runs about the same as any other Kirin 710-based unit we've used in the past.
Which is a good thing, actually. The Kirin 710 is a balanced processor that can run the most demanding games out right now while being power-efficient and offering outstanding battery life at the same time.
Gaming on the Huawei Y9 Prime 2019: Mobile Legends, PUBG Mobile (5:00 mark), and Overhit (10:00 mark. The caption in the video should read 'Overhit' instead of 'Overkill.' Our apologies)
This phone is reasonably fast and responsive to use; most games are playable at medium to high settings; apps open with no annoying delay; and multitasking is fairly smooth. The 4GB of RAM allows the Y9 Prime 2019 to keep several apps open in the background without them having to reload upon launch.
For the price, the smartphone offers solid performance that most users will be happy with.
Battery life and charging
A 4,000mAh battery keeps things humming along nicely, and it supports 10-watt charging. Faster charging isn't in place, so expect the average charging time from zero to fully charged to clock in at around two hours. There's no wireless charging, but then again, considering how much this phone costs, that's hardly surprising.
On the brighter side, the battery life is better than what you'd expect out of a 2019 midranger in spite of its large, high-resolution screen. The Y9 Prime 2019 has exceeded our expectations on the battery front, delivering up to two days of mixed use on a single charge. Our typical usage scenario involves email, social media, YouTube, and some online gaming.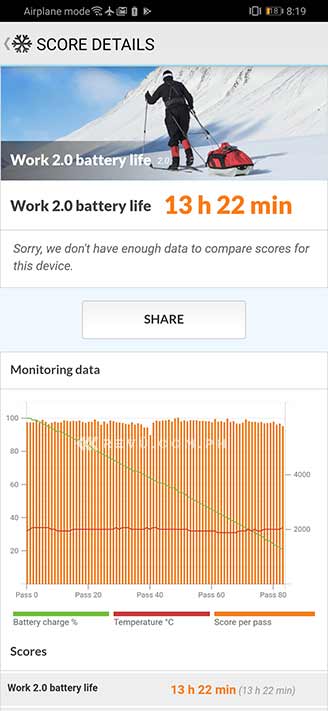 Our unit lasted 13 hours and 22 minutes in the PC Mark battery test, which is a strong indication of longevity. This performance is well above average for a modern smartphone, particularly one that provides plenty of screen real estate to enjoy.
Final thoughts
A full-screen design sans a notch, with dual-tone finish on the back; a decent set of cameras, fronted by a pop-up unit for selfies; a quality chipset in the Kirin 710F; and (unexpectedly) long battery life. These are what make Huawei's latest smartphone a prime contender in the segment.
Yes, there are challengers. But the Huawei Y9 Prime 2019 offers a lot, with almost no downside, and has a really compelling price. The whole package is tough to resist.
Huawei Y9 Prime 2019 specs
6.59-inch LCD display, 2,340 x 1,080 resolution (19.5:9)
Octa-core Kirin 710F processor
4GB RAM
128GB expandable storage (up to 512GB through microSD)
Triple 16MP, 8MP (ultra wide), 2MP (depth) rear cameras
Pop-up 16MP front camera
Fingerprint sensor (rear-mounted)
4,000mAh battery with USB-C charging
EMUI 9 on Android 9.0 Pie
Colors: Emerald Green, Sapphire Blue, and Midnight Black
---