They're as "beastly" as flagships come, with a focus on rethinking possibilities — in design, in performance, in photography and videography, and in interaction. And they're finally official in the Philippines, endorsed no less by Filipino celebrity Jericho Rosales.
Launched in Munich, Germany, September 19, the Huawei Mate 30 and Mate 30 Pro will become available in the local market November 9 for P34,990 (around $684) and P50,990 ($997), respectively. Last year, their predecessors — the Mate 20 and Mate 20 Pro — were initially released with respective price tags of P40,990 ($801) and P49,990 ($977).
SEE ALSO: Huawei Mate 30 Pro review: An ideal mate?
Preorders for the Mate 30 series are scheduled till November 8, with early adopters getting two freebies — a wireless charger and a wireless car charger — worth P5,580 ($109) in total.
The Huawei Mate 30 Pro, being the more premium of the two smartphones, is fitted with more and better cameras, a front-facing shooter with a 3D Time of Flight sensor, a bigger screen, a larger battery, and better security through 3D Face Unlock. You can see a comparison between the devices below.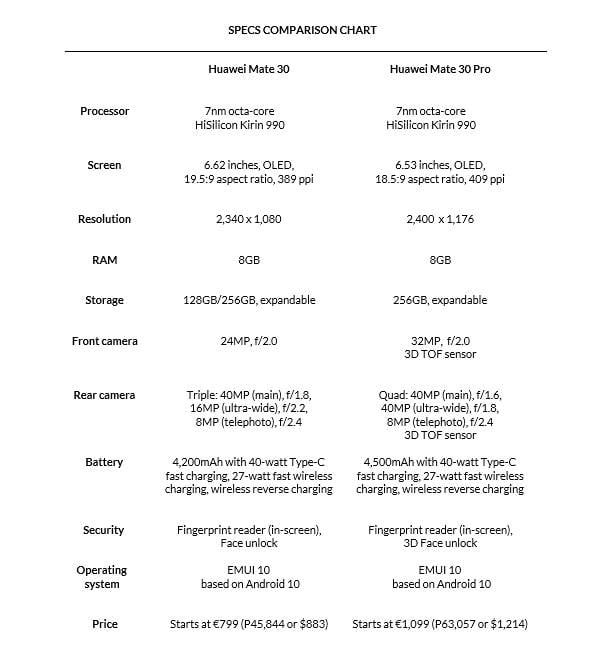 At the local announcement of the Mate 30 series, Huawei also announced its advocacy initiative with Save Philippine Seas. It likewise recognized these seven Shining Star awardees:
BDO
Owto
Paymaya
GCash
Booky
Investagrams
GMA News
The company's Shining Star program is a push for more developers to build apps in Huawei Mobile Services or HMS, its equivalent of Google Mobile Services. Huawei has invested $1 billion (around P52 billion) in it — money that will be used as development, user growth, and marketing fund.
READ ALSO: Huawei Mobile Services as Google Mobile Services replacement
There are currently more than 1.3 million registered developers worldwide, and Huawei expects its partners' revenue to increase by 100% in 2020.
Peter Chen, Huawei Technologies Philippines, Inc's vice president for device marketing and service, said that building a stronger HMS developer community could open a new market for the Philippines.
---