Huawei has done it again. The launch of the Mate 30 Pro proves that the technology giant is still on top of the smartphone game. It has continued to show us what can be done when a company pushes the boundaries of what's possible in mobile innovation.
Because frankly speaking, the Huawei Mate 30 Pro is indeed a technological feat — one that may be the answer to your smartphone needs. How? Let us count the ways.
Best camera ever
Without question, the main attraction of the Huawei Mate 30 Pro is its camera system as a whole, which is composed of the following:
40-megapixel main SuperSensing Camera with f/1.6, 27mm lens; auto-focus; and optical image stabilization;
40-megapixel ultra-wide Cine Camera with f/1.8, 18mm lens and auto-focus;
8-megapixel telephoto camera with f/2.4, 80mm lens; auto-focus; and optical image stabilization;
3D time-of-flight camera;
32-megapixel selfie camera with f/2.0 lens; and
front-facing 3D ToF camera.
But forget the geekspeak. All those camera details translate into one thing: that Huawei has put the best setup in a smartphone in the Mate 30 Pro.
No wonder why it earned the highest score for a mobile camera from top photography-evaluation website DxOMark. Imagine, it gave the device an overall score of 121, four points higher than the Samsung Galaxy Note 10 Plus 5G and Galaxy Note 10 Plus and five points more than the Galaxy S10 5G.
SEE ALSO: Huawei Mate 30 Pro review: An ideal mate?
DxOMark said that the Huawei Mate 30 Pro "sets an impressive new benchmark for smartphone camera performance and is the device to beat in the second half of 2019" and that "it doesn't show any real weaknesses in the camera department."
If you know us, we treat third-party rankings only as guides; we still trust our taste, our eyes, and our experience when we review gadgets. But guess what? Our almost two months' time with Huawei's flagship has also convinced us of the Mate 30 Pro's camera prowess.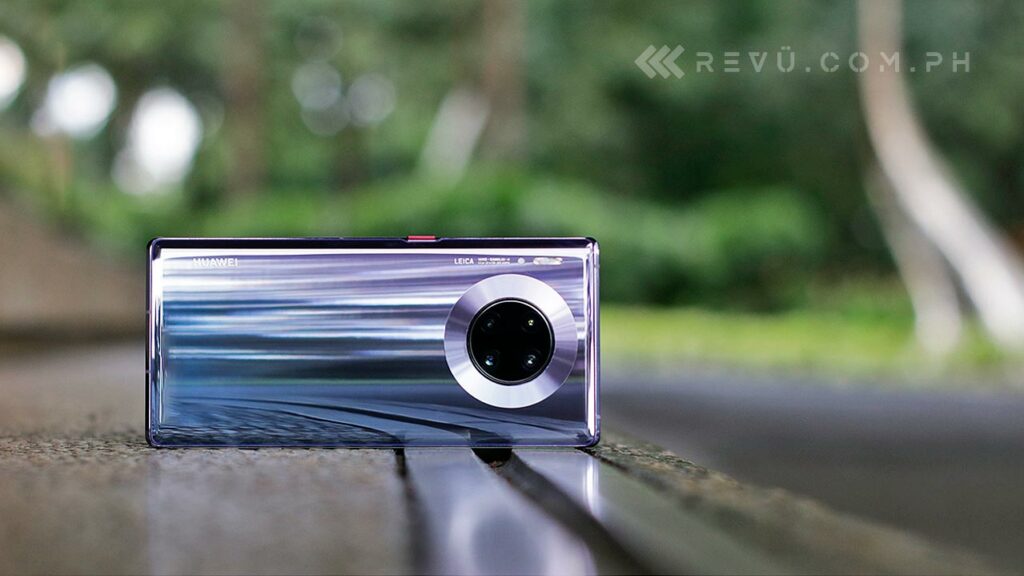 We're just your average photography and videography enthusiast, but we feel a bit more confident shooting when we have a tool like the Huawei Mate 30 Pro.
How is this possible? How does Huawei's flagship achieve the level of quality it produces? We'll get a bit technical here.
The Mate 30 Pro uses a technology called pixel binning to compress four pixels into one to get a higher-quality image and shoots a resolution of 10 megapixels by default, both with the primary and secondary ultra-wide cameras, which is rare to see.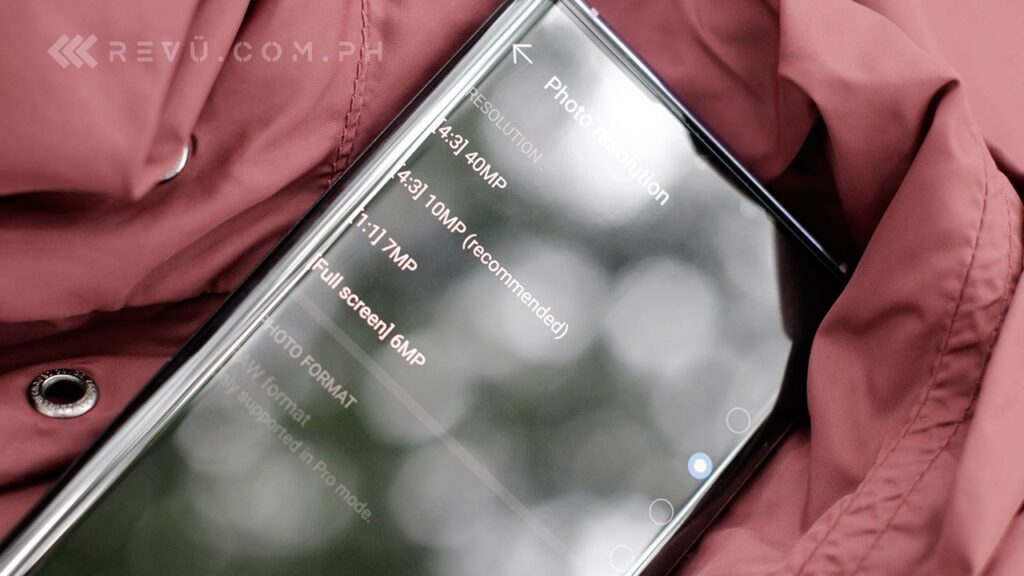 It can still output 40-megapixel photos if you want, but the brightness and color won't be the same and the quality will take a hit in low light. We suggest that you lock the resolution at 10 megapixels to get optimal results in most scenes.
The ultra-wide camera can also take macro shots from as close as 2.5cm, letting you capture the minutest of details in toys, flowers, and other objects.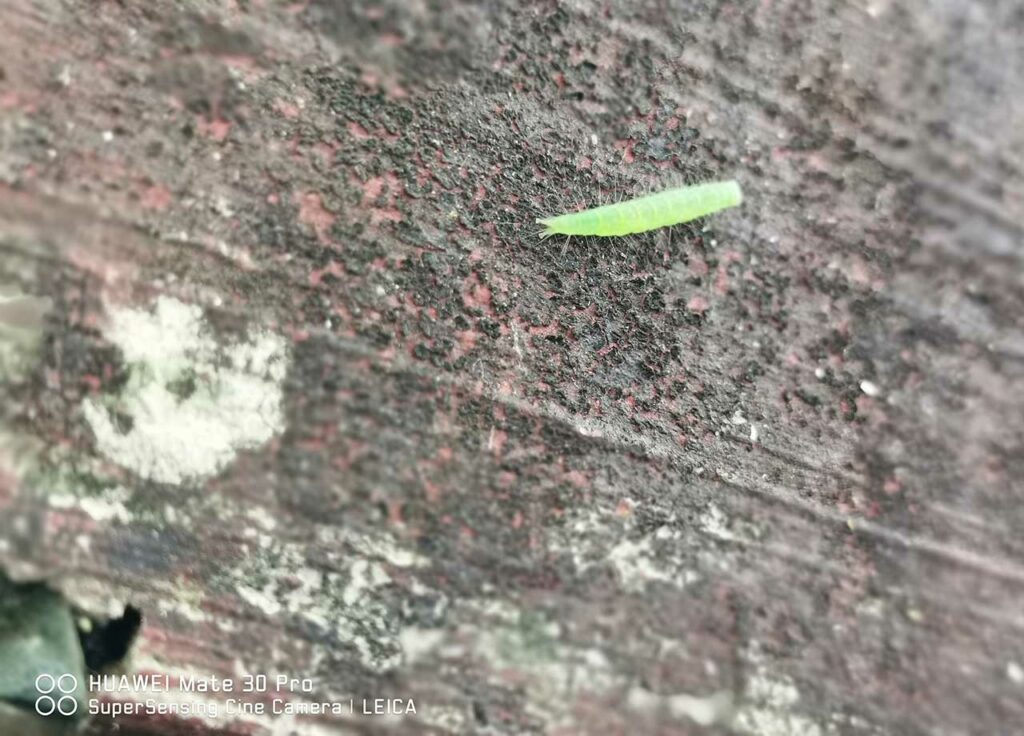 Remember the 8-megapixel telephoto shooter we mentioned in the camera details earlier? It supports 3x optical zoom, 5x hybrid zoom, and up to 30x digital zoom.
So say you're watching U2's concert at the Philippine Arena this December. Don't fret if your seat is not as near the stage as you want it to be; with the Huawei Mate 30 Pro, you can still take shots as though you're in front of Bono, the Edge, Adam Clayton, and Larry Mullen Jr.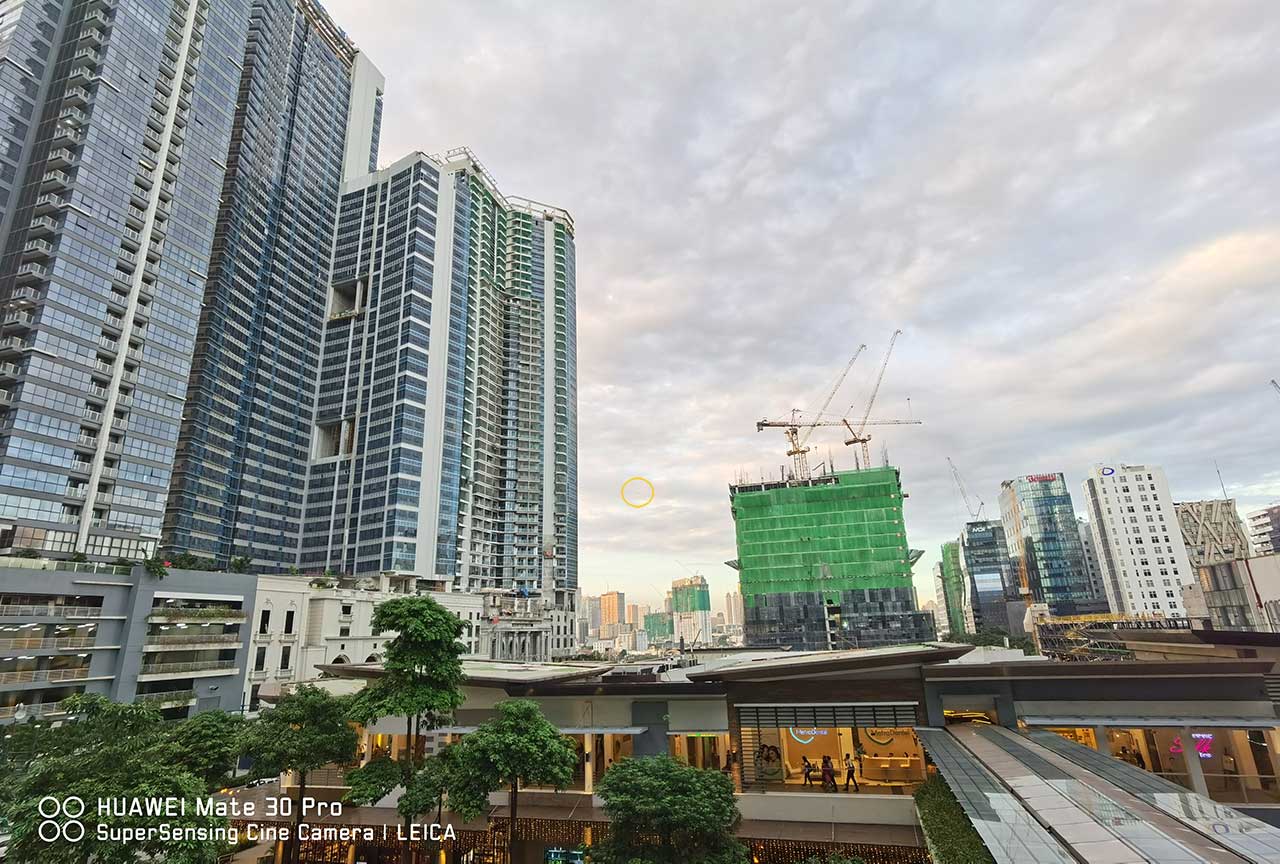 Not photos of a concert, as we haven't gone to one since we got the Huawei Mate 30 Pro in September. But this set of pictures should give you an idea of how well the smartphone can zoom in on objects. Yup, the one we encircled in the first image is Superman a plane!
The 3D depth sensors on the back and in front help produce a natural background-blur effect that is closer to what you would get from a dedicated camera than most phones.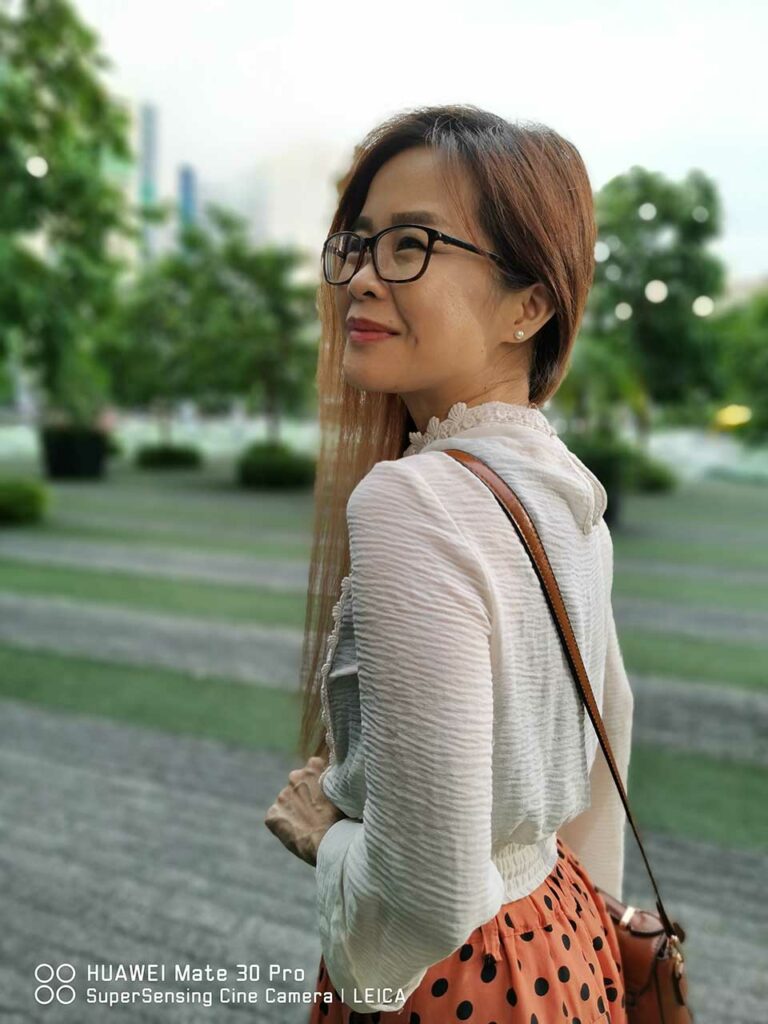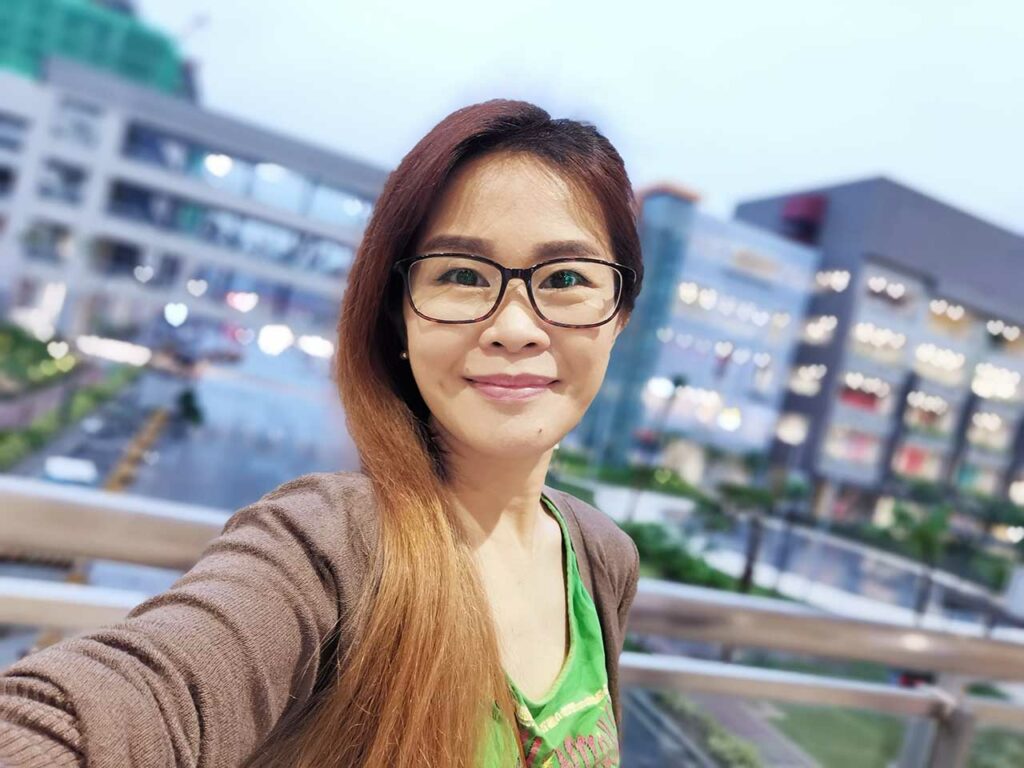 Video is recorded at up to 4K resolution, at a maximum of 60 frames per second, with minimal camera shake even while shooting handheld. So even if you don't have a gimbal, it's possible to record stable videos.
Videos can be captured at up to ISO 51,200 — the highest sensitivity for mobile videography. Understand that the higher the sensitivity level, the more it allows you to shoot in the dark. The 7,680 fps slow-motion capture is also remarkable, virtually suspending time almost entirely.
Let time stand still with the device's 7,680fps slo-mo capture feature
It's an understatement to say how easy it is to get a good picture or video out of the Huawei Mate 30 Pro's system by simply aiming its camera at an object and clicking the shutter button.
In Photo mode (read: automatic mode), stills look good enough to be uploaded directly to Facebook or Instagram, with crisp details, punchy colors, and ample exposure of the subject and background.
What's more, the device's AI-powered scene detection does a solid job of enhancing a photo based on a detected category and will even suggest switching to the 40-megapixel Cine Camera when shooting landscapes and the like.
Designed to impress
Another one of the Huawei Mate 30 Pro's strengths is in its design — clean and minimal yet still eye-catching. The phone features curved front and rear panels made of glass and metal and has a distinct circular camera module reminiscent of a supercar's four-point headlight design.
It certainly looks premium and stylish, and it feels fantastic to hold and use despite its screen size, largely due to the front panel — which the company refers to as Horizon Display — that tapers at 88 degrees into the steel frame.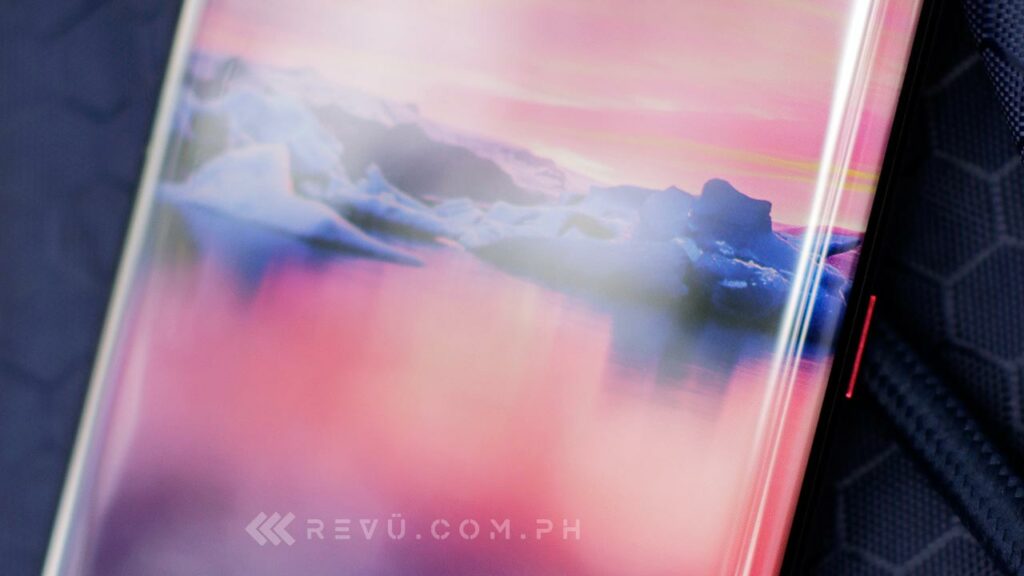 The Mate 30 Pro doesn't have a physical fingerprint sensor on the front, back, or side. Instead, there's an optical sensor under the display that can read fingerprints at a specific location below the center of the panel. It's fast and accurate, just like a normal fingerprint scanner.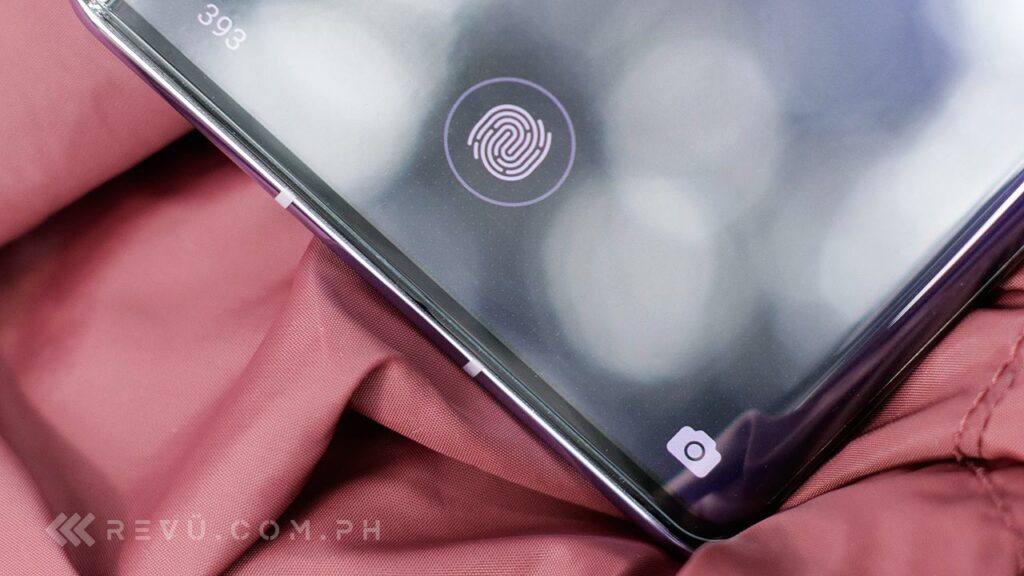 And while there's a red power button along the right edge, you won't find a volume button or volume rocker on either side. To change the volume, you need to double-tap the pressure-sensitive frame of the handset to bring the volume slider up on the screen and adjust it accordingly.
It might take time to get used to for some users, but the biggest benefit of having this new side-touch interaction feature is that it allows two virtual shoulder keys to be added onscreen when gaming in landscape orientation.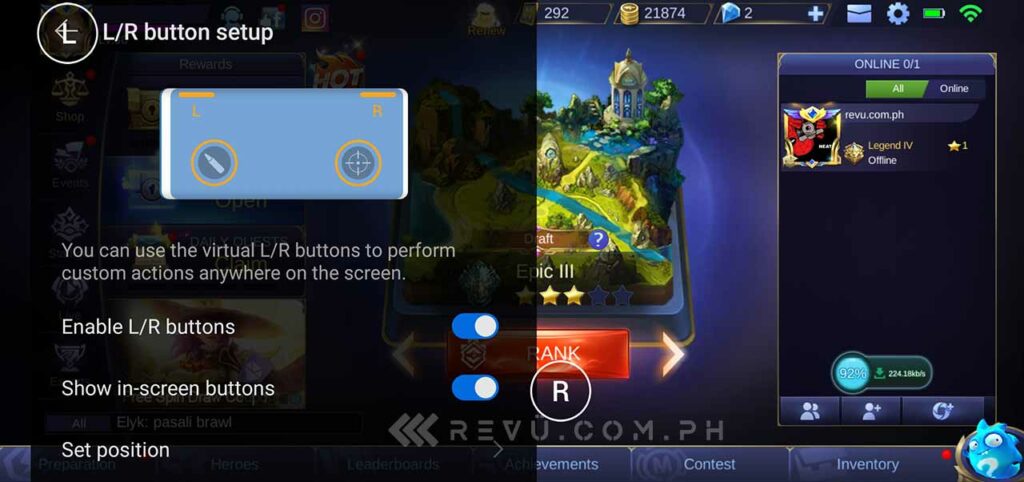 These buttons can be triggered by pressing down on the frame and should prove particularly useful for shooters, but they can definitely come in handy for action RPGs and racing games as well.
Although wider than we would have liked, the notch on the Mate 30 Pro houses a 3D depth-sensing camera that enables AI Gesture Control, which allows you to use the phone without touching the display. You can, for example, navigate the interface by waving your hand in front of the phone.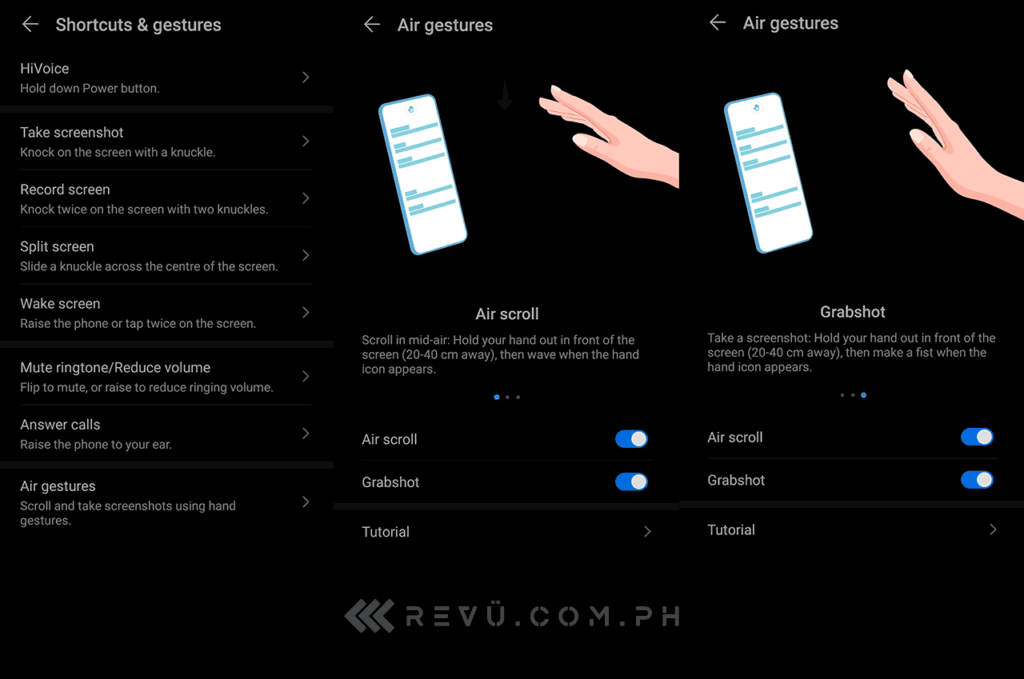 AI Gesture Control will also detect and measure the angle you're looking at the screen and automatically rotate it vertically or horizontally to provide the best viewing experience.
Solid OLED
The OLED screen on the Mate 30 Pro is arguably the best Huawei has produced. It measures 6.53 inches on a diagonal, with a resolution of 2,400 x 1,176 pixels and a tall aspect ratio of 18.5:9. The front makes use of tough Corning Gorilla Glass 6, so it won't easily get scratched during those times that you put the handset in your pocket, forgetting that you have your house keys there, too. Uh-oh.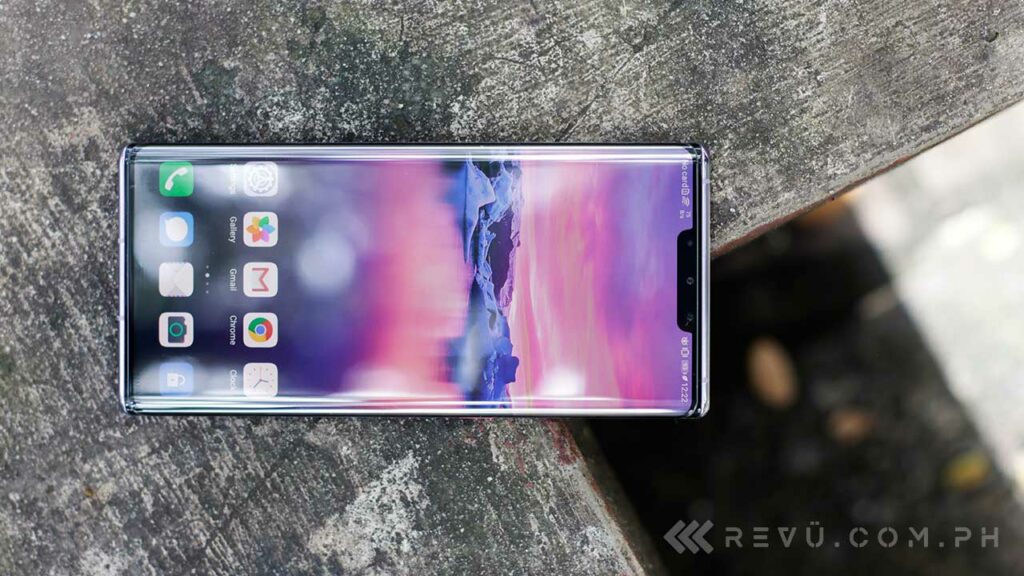 The screen itself is impressively bright, even brighter than the one on the Samsung Galaxy Note 10 Plus, and supports always-on functionality and HDR10 for improved contrast. And its vibrancy and color accuracy are some of the best you'll find in a smartphone.
Kirin for the win
The Huawei Mate 30 Pro is all about performance, too, thanks to Huawei's new Kirin 990 chipset, which is the world's first mobile chip with an integrated 5G modem for super-fast data connectivity, among other firsts.
Cutting-edge 7nm+ process. 10.3 billion transistors. A three-level power-efficiency architecture for the processor. Multiple AI cores. A 16-core Mali-G76 GPU for high-performance computing without compromising on power efficiency.
Top-notch performance even in gaming! Call of Duty, PUBG Mobile (3:01 mark), NBA 2K20 (6:30), and Mobile Legends (9:49)
Still with us? Let's just say all those result in something that takes care of everything in the background, so all you need to worry about is what you need to do on the phone. That's how seamless and fluid the experience you'll get is, regardless of the task on hand. Even in gaming, apps like PUBG Mobile and Call of Duty: Mobile are handled as well as we could hope with the hardware onboard.
Having a Kirin 990 under the hood also means the Mate 30 Pro doesn't get too warm during extended periods of gameplay, which might explain why performance is consistently strong across apps. The 8GB of RAM and fast 256GB UFS 3.0 storage are also a big help.
Long battery life, super-quick charging
The Huawei Mate 30 Pro has a 4,500mAh battery that can last a full day or two between charges. Depending on usage, your mileage may vary, but our unit easily survives a day with moderate to heavy use composed of gaming, watching videos online, browsing social media, and taking lots of pictures. It won't win endurance contests, but most flagship phones don't last as long as the Mate 30 Pro.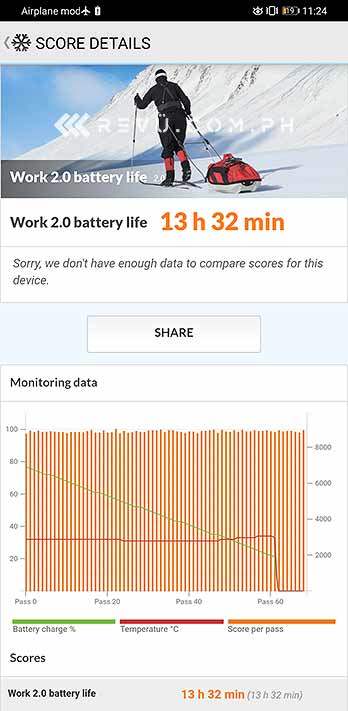 And many don't share the extraordinary charging speeds of the Mate 30 Pro, which comes with Huawei's wired and wireless SuperCharge standards. You get 40 watts over the bundled power brick and USB-C cable and up to 27 watts using a compatible wireless charger.
What does that mean for you? With that kind of wired charging, you can go from zero to 100% in under 75 minutes. That's like watching one movie.
The Mate 30 Pro can likewise top up faster wirelessly than the Apple iPhone 11 Pro using the 18-watt power brick it ships with. Also notably, reverse wireless charging is back, and this time around, it's faster than that of the Mate 20 Pro.
Time to get your Mate?
If you're fine with using Huawei Mobile Services instead of Google Mobile Services? Then it's a big, fat yes.
In the Philippines, the Huawei Mate 30 Pro is priced at P50,990 (around $1,011), P16,000 ($317) more than the regular Mate 30. It's already up for preorder till November 8, with early buyers getting two freebies — a wireless charger and a wireless car charger — worth P5,580 ($109) in total.
So if we were you, book your purchase offline at a Huawei store near you. Like now.
Huawei Mate 30 Pro specs
6.53-inch FHD+ OLED display, 2,400 x 1,176 resolution, 18.4:9 aspect ratio
7nm Octa-core Kirin 990 processor
8GB RAM
256GB expandable storage
Quad: 40MP, f/1.6 main camera (OIS); 40MP, f/1.8 ultra-wide-angle camera; 8MP, f/2.4 telephoto camera (OIS); 3D depth sensor
32-megapixel front camera
3D face unlock
Fingerprint sensor (in-screen)
4,500mAh battery with 40-watt fast wired charging, 27-watt wireless charging
EMUI 10 based on Android 10
4G (available in the Philippines)/5G
Colors: Space Silver (available in the Philippines), Emerald Green, Cosmic Purple, Black (available in the Philippines), Vegan Leather Orange, and Vegan Leather Forest Green
Huawei is a content partner of Revü Philippines.
---