By adding Huawei to its Entity List, the United States may have inadvertently created a wider path to a future where the next Facebook or YouTube could come from Asia.

Huawei has proven resilient thus far, choosing to focus on its own ecosystem instead of buckling under the pressure. It has hosted several developer meetups, including the first-ever APAC Huawei Developer Day we attended in Singapore last week.
The message is clear: While the company is willing to work with its American partners, it can't stand idly by.
Video: Our interview with company executives on the sidelines of the APAC Huawei Developer Day in Singapore
On the sidelines of APAC HDD, Asia Pacific Consumer Business Group president Alex Lin admitted to us that they were initially affected by the Trump administration's move, which prevented the company from using Google Mobile Services. "But things have become better and better," he said.
In fact, third-quarter numbers show that Huawei is still the second-biggest smartphone brand in the world. Of the top 5 manufacturers, it posted the highest annual growth.
The number of smartphones shipped from January to October 2019 already exceeded 200 million units. The shipments of products in other categories also saw a steady year-on-year increase. Wearables rose 272%, while PCs and smart audio devices achieved 214% and 233% growth, respectively.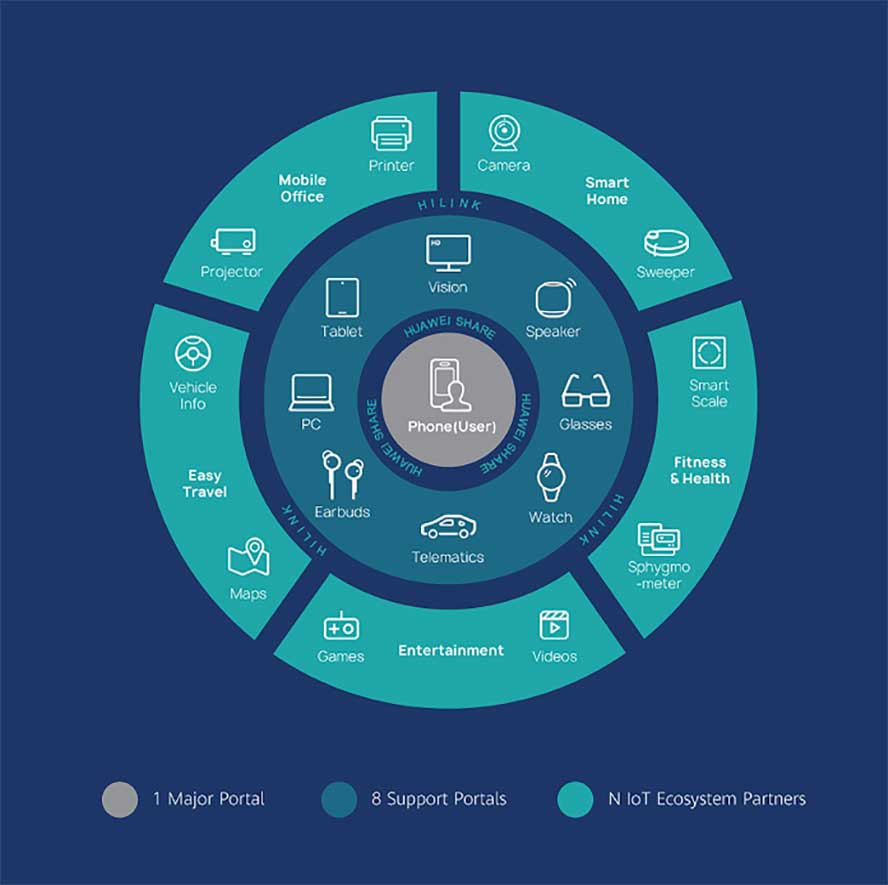 At the center of Huawei's ecosystem — an all-scenario, fully connected smart living that's no doubt an integral part of HarmonyOS — is Huawei Mobile Services. We're referring to AppGallery, Assistant, Browser, Mobile Cloud, Music, Quick App, and Themes, among others.
HMS has been running alongside Google Mobile Services on international versions of Huawei devices for about two years now. However, it was only since the Mate 30 and Mate 30 Pro that it served as the lone system that provides a variety of services to Huawei users.
There are currently more than 570 million global monthly HMS users, nearly 400 million of which actively access AppGallery, Huawei's Play Store counterpart that's at present the third-largest application platform worldwide. As of September 2019, there were more than 180 billion total app downloads within a year since the technology giant started the global service in 2018.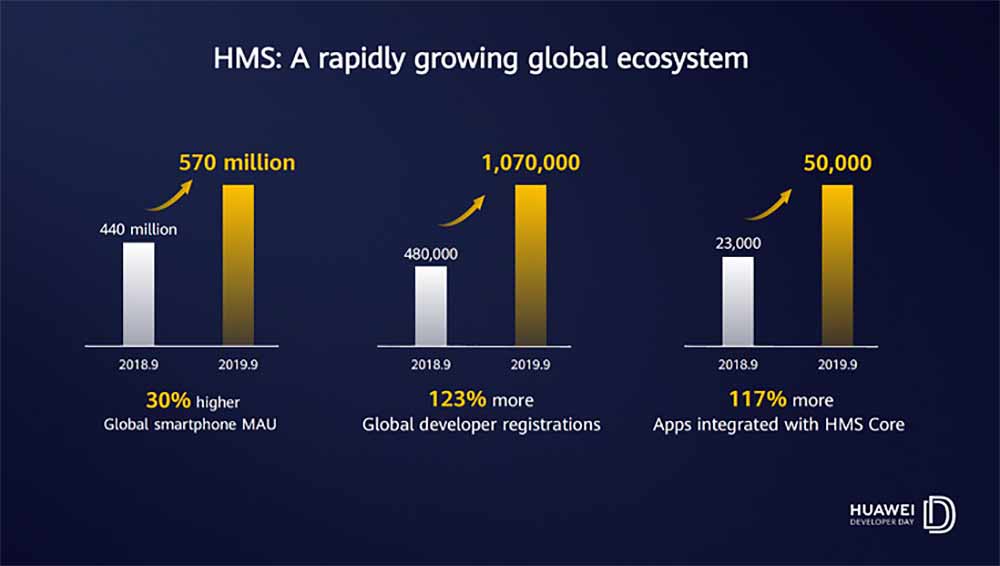 To accelerate the growth of HMS, Huawei has invested $1 billion in a program — called Shining Star — that will provide training, innovation, and marketing resources to developers of apps and services in the following areas: artificial intelligence, augmented reality/virtual reality, and internet of things.
The goal is to onboard high-quality content onto AppGallery. As Lin stressed, the average person installs only a few apps on his or her device.
SEE ALSO: Huawei users in APAC get free cloud storage, other perks
"Of the apps installed, maybe the top 10 or 20 are global ones, such as Facebook and WhatsApp. And absolutely, these two are working well on Huawei phones like the Mate 30 with Huawei Mobile Services," he pointed out. "The rest are local apps."
According to Consumer Cloud Service president Alex Zhang, half of the top apps in the Play Store are already in AppGallery, and by the first quarter of 2020, most of them should be in their app store.
According to Huawei Consumer Cloud Service president Alex Zhang, half of the top apps in the Play Store are already in AppGallery, and by Q1 2020, most of them should be in their app store
But it's not just about the most-downloaded applications; it's about the essential services as well.
"We are now taking a proactive approach to reach out to e-hailing, financial services, education, food and beverage, and entertainment and lifestyle service providers in each country, to enhance our platform's contents progressively," Zhang said.
He added: "Users can also continue to enjoy more exclusive services and rewards to maximize their experience with Huawei."
READ ALSO: Up close with the Huawei FreeBuds 3, eyewear in SG
In the Philippines, local apps like GCash, PayMaya, BDO, Owto, Booky, Investagrams, and GMA News have been onboarded. Regional ones such as Lazada and Shopee can be found in AppGallery as well. But how about popular games such as Mobile Legends?
Lin revealed that we should expect them in their app store by the first quarter of 2020.
How about popular games such as Mobile Legends? APAC Consumer Business Group president AlexLin revealed that we should expect them in AppGallery by Q1 2020
We're not surprised by the quick integration of important services into the HMS Core. The company has, after all, opened up HMS' chipset-device-cloud abilities through its developer website. The software and hardware tools should make it easier for developers "to integrate their app once, then distribute the service across Huawei smart devices and meet the global users."
Who knows, down the road, perhaps the next big app that moves the industry forward might come from Huawei's own ecosystem or its efforts to grow it.
---