So we were organizing our photography equipment when we found the microSD card where we placed the sample pictures taken with Xiaomi's Redmi Note 8 Pro, silly us.
In case you didn't know, this Redmi was launched in the Philippines a few weeks ago as the country's first smartphone with a 64-megapixel camera. Of course, by this time, it's now joined by the Realme XT.
SEE ALSO: Redmi Note 8 with 48MP quad camera: Sample pictures and Xiaomi Mi Note 10 is Mi CC9 Pro's global version?
For the Philippine market, the Redmi Note 8 Pro starts at P11,490 (about $222) for the 6GB/64GB model, while the 6GB/128GB version goes for P12,990 ($252).
So how does the device's 64-megapixel sensor perform? Does packing in as many megapixels as possible into a mobile camera actually makes for a better one? While we don't have a definitive answer yet, we have taken a bunch of photos on the day the handset was launched, and we'll get to them in a bit.
For now, here's an overview of the Redmi Note 8 Pro's camera system:
Quad camera:

64-megapixel, f/1.8 camera (main, 26mm equivalent, 1/1.7-inch, 0.8µm, PDAF)
8-megapixel, f/2.2 camera (ultra-wide, 13mm equivalent)
2-megapixel, f/2.4 depth sensor
2-megapixel, f/2.4 macro sensor
As you can see, the auxiliary cameras of the Redmi Note 8 Pro don't jump out of the page the way the primary camera does. The super-wide option, which takes pictures at 0.6x zoom, and depth sensor come pretty standard in midrange devices, while the dedicated macro shooter should allow for some interesting closeup shots as long as you have sufficient lighting. There is no telephoto camera on the Redmi Note 8 Pro.
The Samsung ISOCELL Bright GW1 image sensor gives the Note 8 Pro the first 64-megapixel camera on the local market and represents a significant upgrade from the 48-megapixel shooter on the Redmi Note 7 Pro. It has a large 1/1.7-inch size that lets more light in, which helps in capturing brighter and more detailed photos, while the f/1.9 aperture lens also brings in more light and creates natural-looking background blur.
Similar to other handsets with high-megapixel sensors, the Note 8 Pro uses pixel binning to combine data from adjacent pixels to reduce noise and increase dynamic range, so the default image output is 16 megapixels.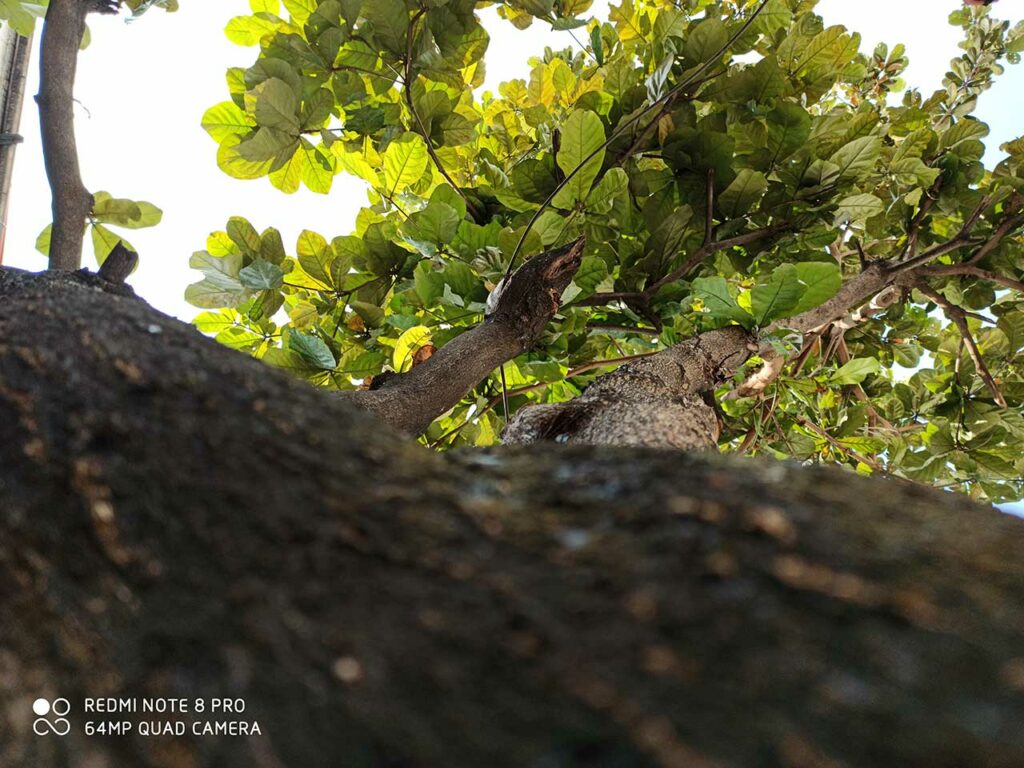 You can still snap 64-megapixel photos if you want to by switching to 64MP mode — and you'll definitely notice a difference in detail at this setting — but the resulting file size will be much larger. Each 64-megapixel snap weighs in at around 18MB. Again, getting full-resolution pictures is optional, and you're probably better off with the standard shooting mode.
The daylight photos shot with the 64-megapixel camera are great, if only a bit oversharpened. Colors also appear to be vibrant without being over the top, while the dynamic range is impressive at this price point. The main camera can shoot 2x zoom images that are cropped from the 64MP sensor, so the results can be pretty good.
On the other hand, the ultra-wide camera is particularly useful for landscapes and group pictures, but is considerably less compelling when shooting indoors or in dimly lit areas. Some of our shots look soft, though, even when there is enough light.
Camera samples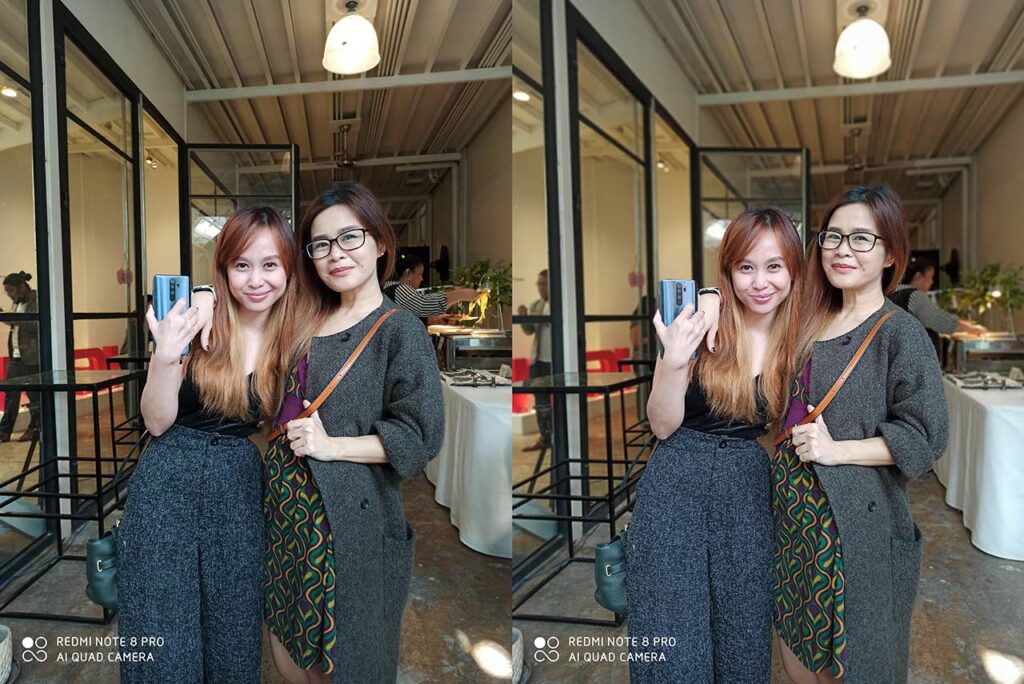 Selfies are taken care of by a 20-megapixel, f/2.0 camera in the notch above the display. The results are sharp and can be pretty good, but it tends to overexpose the background when shooting outdoors.
[sciba leftsrc="https://www.revu.com.ph/wp-content/uploads/2019/11/Redmi-Note-8-Pro-camera-sample-selfie-pictures-auto-mode-vs-portrait-mode-Revu-Philippines-b.jpg" leftlabel="Auto mode" rightsrc="https://www.revu.com.ph/wp-content/uploads/2019/11/Redmi-Note-8-Pro-camera-sample-selfie-pictures-auto-mode-vs-portrait-mode-Revu-Philippines-a.jpg" rightlabel="Portrait mode" mode="horizontal" width=""]

Auto mode vs Portrait mode
We would have loved to take night shots. Unfortunately, as we said earlier, we only spent a short time with the Redmi Note 8 Pro.
Still, we suggest that you check out the phone, because camera aside, it offers great specs and a gorgeous design at a reasonable price. It's already available online and offline, at authorized Xiaomi stores nationwide.
Redmi Note 8 Pro vs Redmi Note 8: Specs comparison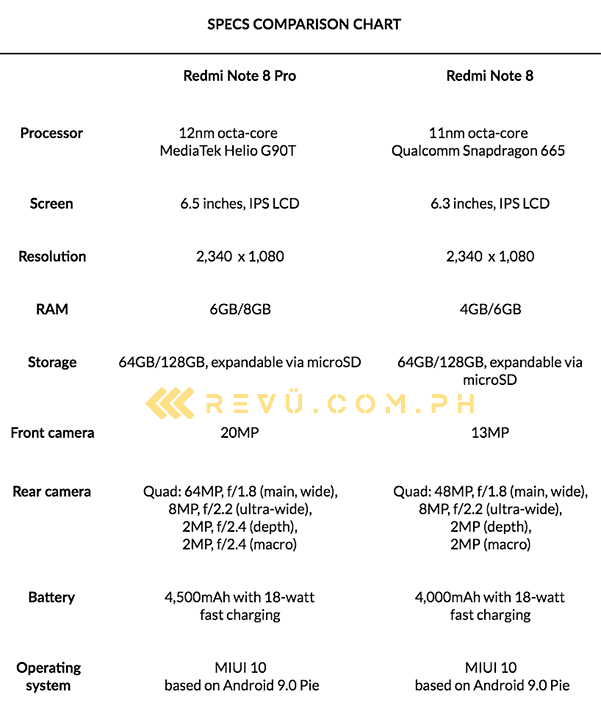 ---