For years, the Huawei Nova series has been the tech giant's best-selling range of mobile devices in the Philippines and other markets, perhaps to the surprise of many who didn't see how a Chinese brand could threaten the dominance of Apple and Samsung right away.
SEE ALSO: Huawei Nova 5T with 5 cams, Kirin 980 only P18,990 in PH
But since the release of 2018's Nova 3 and Nova 3i, many other brands have adopted the same strategy that has worked so well for Huawei: Launch a full-scale assault on the midrange market and bring premium features down to more affordable, more accessible price points.
So, more than a year removed from its last Nova phone, how does Huawei respond? By attempting to set the gold standard for the category once again, of course.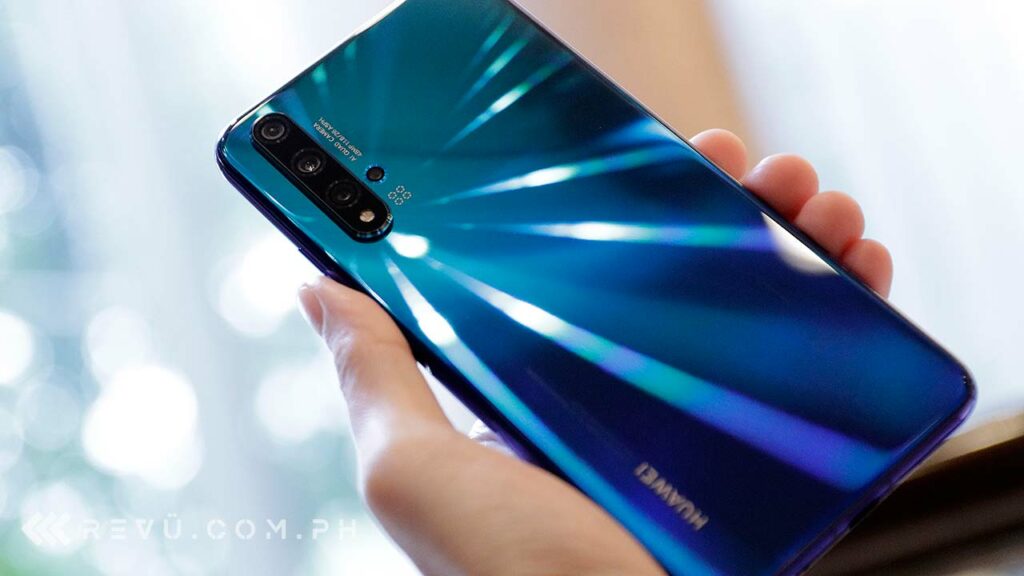 You don't have to spend a lot of money for high-end smartphone features — or at least that is what Huawei has been proving for years now with its Nova lineup. Once again, the Huawei Nova 5T carries on the tradition of providing excellent value for your money.
READ ALSO: Huawei Nova 3i review: Brilliant in almost every way
The price of the Nova 5T in the Philippines has been set at P18,990 or around $364, off-contract. This makes the new Nova a bargain — no, a steal — in the context of the Nova 3 pricing, which was P25,990 ($498) at launch in the Philippines. It's actually closer to the Nova 3i, locally priced at P15,990 ($306) when it arrived last year, and that alone should tell you how good a deal it is.
Hardware
Let's start with the obvious: The Huawei Nova 5T is a lot different from last year's Nova 3 and Nova 3i, although it's still mostly glass and metal on the outside, which makes the phone look and feel every bit as premium as its predecessors — if not more so. The sides are polished aluminum and feel expensive, while the charging port and buttons are standard Huawei fare.
SEE ALSO: Launched: Huawei Nova 5i Pro with 5 cameras, Kirin 810 and Huawei Nova 5 Pro, Nova 5, Nova 5i launched. A comparison here
This time around, the front features a full-screen design with minimal bezels and a hole punch that houses a selfie camera without falling back into the popular industry trend of adopting a notched display. The back is reflective and gives off a 3D holographic effect as light bounces off its surface. It's unlike anything we've seen before, and we think it looks nice on a smartphone.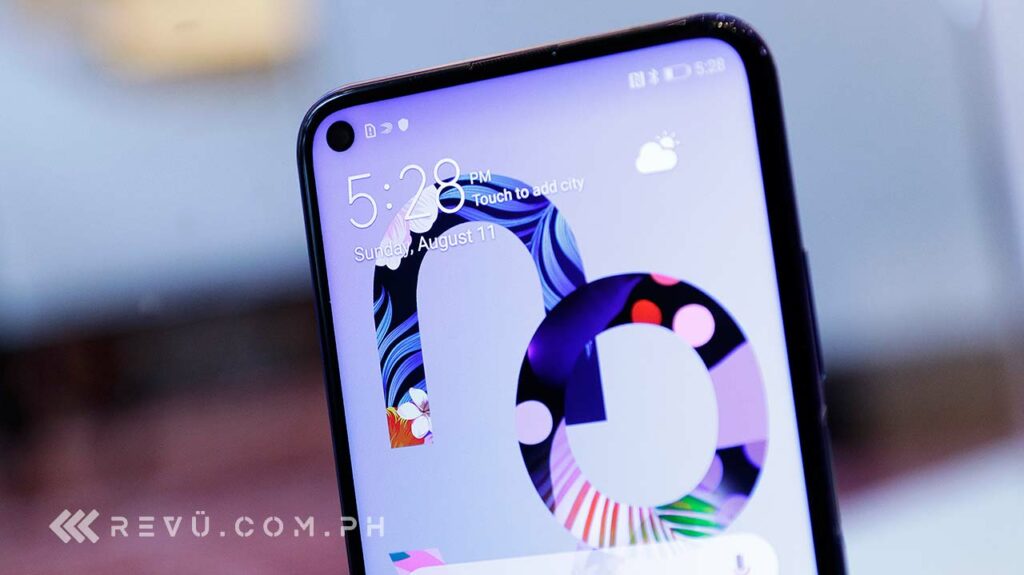 Impressively, there's a quad-camera setup that includes dedicated lenses for ultra-wide, macro, and portrait shots. The primary sensor is a 48-megapixel Sony IMX586 unit behind f/1.8 lens, while the ultra-wide camera is 16 megapixels with f/2.2 lens. The macro shooter and depth sensor are both 2 megapixels.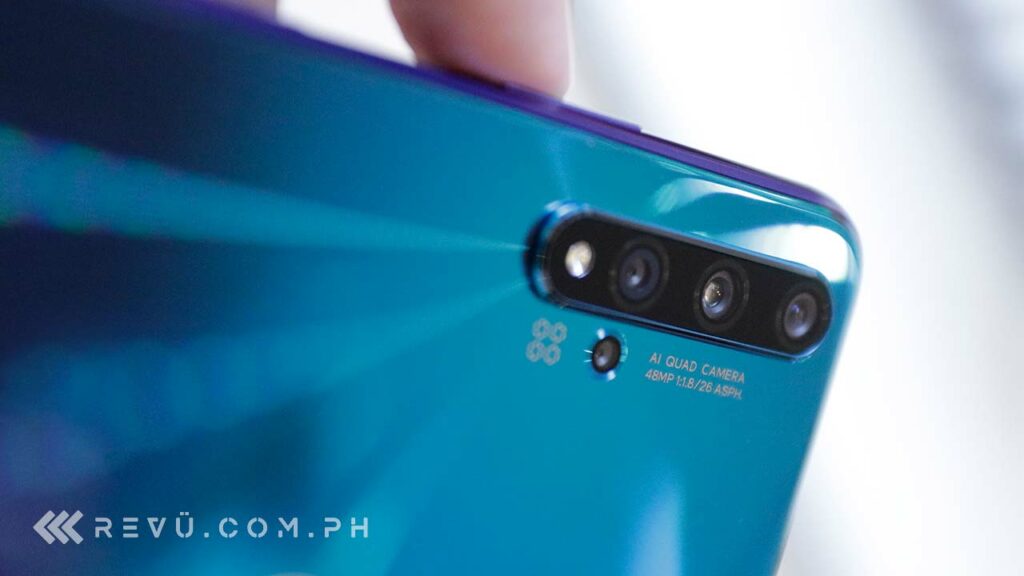 The Huawei Nova 5T doesn't have a headphone jack, but it is equipped with the latest Bluetooth 5.0 for better coverage when pairing up with compatible devices, along with faster data-transfer speeds. Removing the analog headphone jack from the Nova 5T is a bit questionable, but since Bluetooth headphones have become nearly ubiquitous, you might not miss it as much as you think you will. We certainly won't.
The downward-facing solo speaker is nice and loud enough for most environments, while the USB-C port next to it is located where you would traditionally find it. Up top, there's an ambient light and proximity sensor that could be easily mistaken for an IR blaster. Huawei says it has placed the sensor there to increase the screen ratio of the device.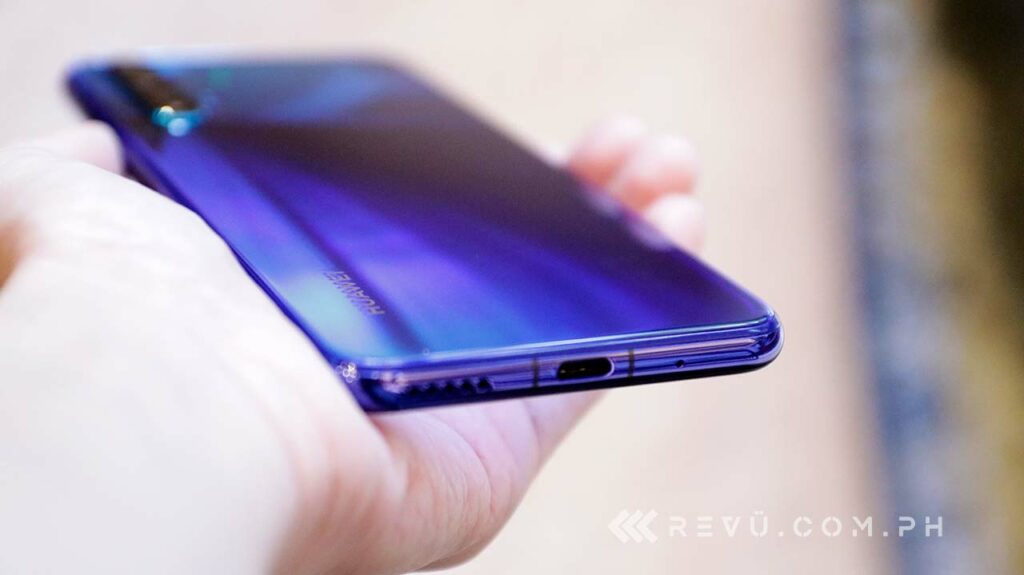 Another thing we really like about the Nova 5T is the fact that it has a side-mounted fingerprint reader that doubles as a power button. It's so quick and accurate despite its shape, and it feels natural for us right-handed users. This is one of the best implementations of a physical fingerprint scanner in a phone we've tested.
Screen
The Huawei Nova 5T boasts a 6.26-inch IPS LCD display with a 2,340 x 1,080 resolution, 19.5:9 aspect ratio, and 91.7% screen-to-body ratio. It looks gorgeous for what it is, and this is probably among the best you'll find at this price point without opting for an AMOLED panel. The hole-punch camera can be hidden, albeit in an obvious way, with an option in the settings.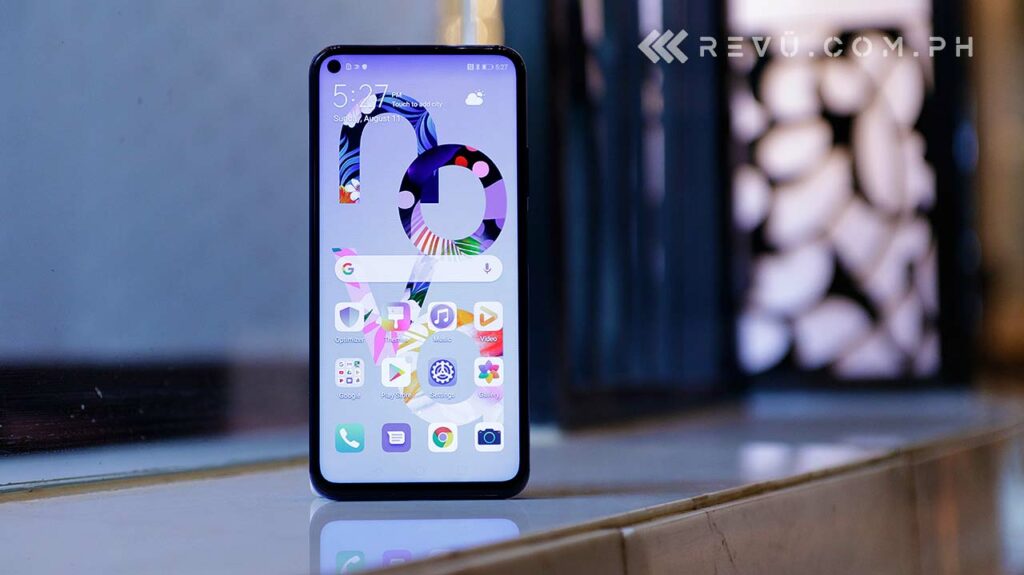 The display is fine for multimedia and gaming. Plus, the narrow bezels on the sides and a small chin can make for a more immersive experience. The colors on the screen are satisfyingly bright and vibrant for an LCD. Sunlight legibility is also good, and viewing angles are wide, as you'd expect from a phone with IPS technology.
Camera
Featuring four cameras around the back and one on the front, in the tiny punch-hole cutout, the Huawei Nova 5T aims to offer a premium camera experience at a price befitting a midrange model.
The main 48-megapixel Sony IMX586 is used in flagship smartphones like the OPPO Reno 10X Zoom Edition and OnePlus 7 Pro, both excellent all-around shooters. It is 1/2-inch in size, bigger than the typical 1/2.3-inch sensor of a compact camera and 25% larger as compared to the Apple iPhone XS Max's.
A larger surface area translates to more light getting into the sensor, which leads to a better picture overall. It can also be utilized to give you higher-resolution photos as Huawei has done with its latest Nova.
READ ALSO: A look at Huawei's refreshed Nova branding
The Nova 5T is set to shoot at 12 megapixels by default, but you can switch to 48 megapixels to capture greater detail. The latter will give you more options for editing, and you can crop into a 48-megapixel image with a resolution of 8,000 x 6,000 pixels without compromising clarity. When snapping pictures in low light, however, you might want to revert back to the default settings to get brighter results.
While the handset doesn't boast optical image stabilization and the RYYB [red, yellow, yellow, blue] Super Spectrum pixel arrangement we saw on the Huawei P30 and P30 Pro, that's not to say it can't perform well if lighting conditions dip. In fact, the primary camera can reach ISO 102,400, which is much higher than the 6,400 ISO of an iPhone XS Max and equal to that of a full-frame camera like the Canon 5D Mark IV.
The Huawei Nova 5T's primary camera can reach ISO 102,400, which is much higher than the 6,400 ISO of an iPhone XS Max and equal to that of a full-frame camera like the Canon 5D Mark IV
While cranking up the ISO generally comes at the expense of added noise, the Nova 5T can actually maintain detail at higher ISO levels. You can adjust the ISO manually when shooting stills in Pro mode.
The 5T omits the telephoto camera from Huawei's more expensive smartphones, replacing it with a 2-megapixel depth sensor that is used for calculating depth and blurring the background in Portrait mode. You still get a 2x zoom button in the camera app, though. But instead of shooting with a dedicated telephoto camera, the 48-megapixel Sony sensor provides the information needed for zoomed-in shots. In other words, the 2x zoom is digital, although you can't tell right away because it looks decent.
The Huawei Nova 5T has a 16-megapixel ultra-wide-angle camera with 13mm-equivalent focal length and a 117-degree field of view for uninterrupted landscape images and large group shots.
Sample pictures taken with the Huawei Nova 5T: Ultra-wide vs 1x
But unlike the wide camera on the P30 series phones, you can't use it for macro photography. Instead, Huawei has equipped the Nova 5T with a 2-megapixel macro camera located to the side of the three-camera array. It is capable of focusing on subjects as close as 4cm away, ideal for those who enjoy shooting flowers and tiny insects. 
We would have preferred to see a zoom lens, but at least closeup shots turn out okay during daylight hours. Our only knock against it is that it has a fixed-focus lens, which limits what kinds of shots you can take.
Photos look sharp and detailed
The pictures we've taken look sharp and detailed, especially in good light. The colors are accurate right out of the box. If you enable it, the behind-the-scenes software is great, too, with AI telling the camera system which settings to use in specific situations depending on the subject.
As with Huawei's recent smartphones, the Nova 5T has a dedicated night mode that ups the detail and leads to brighter photos in low light. It can make a great difference in the right setting.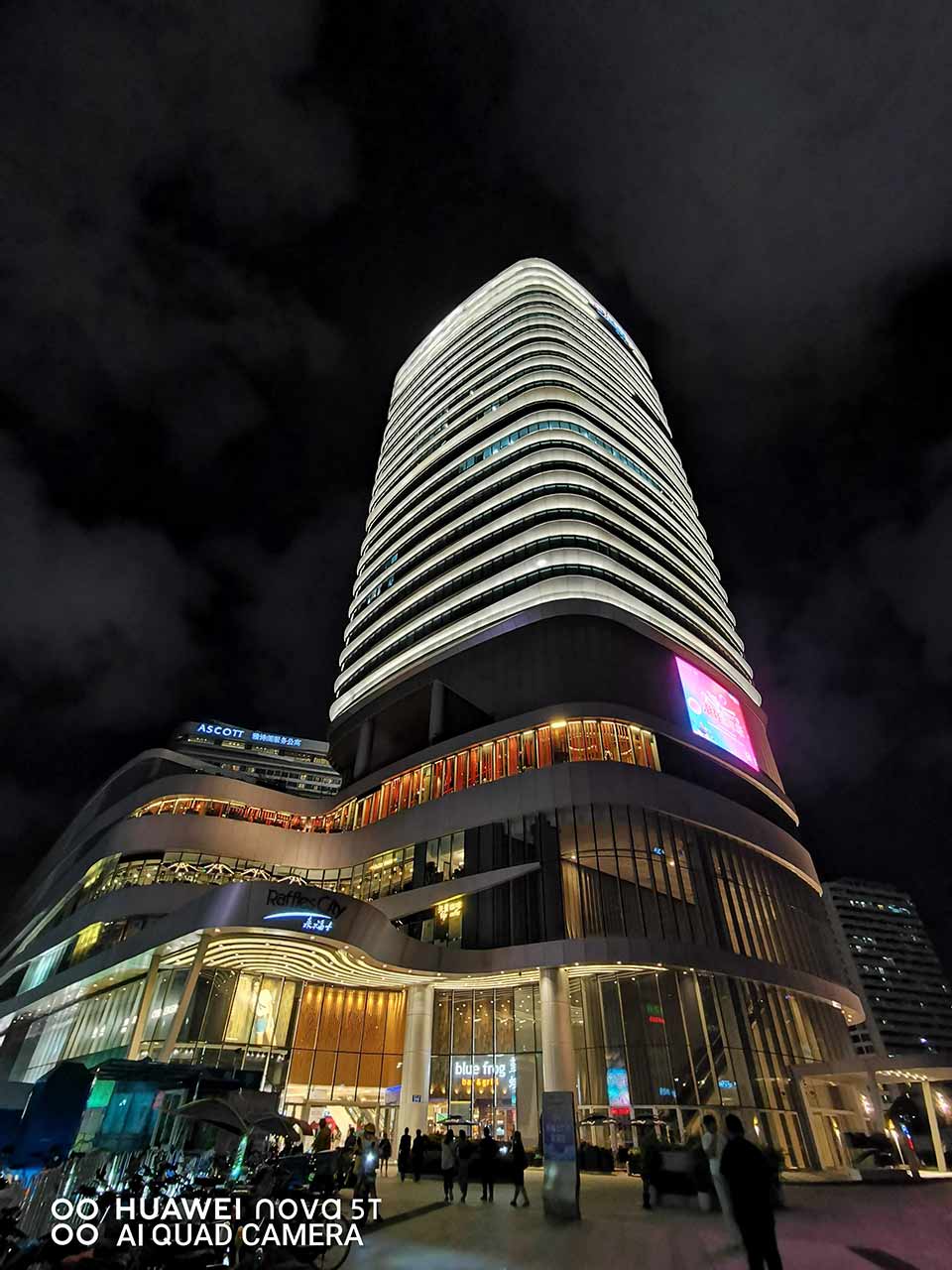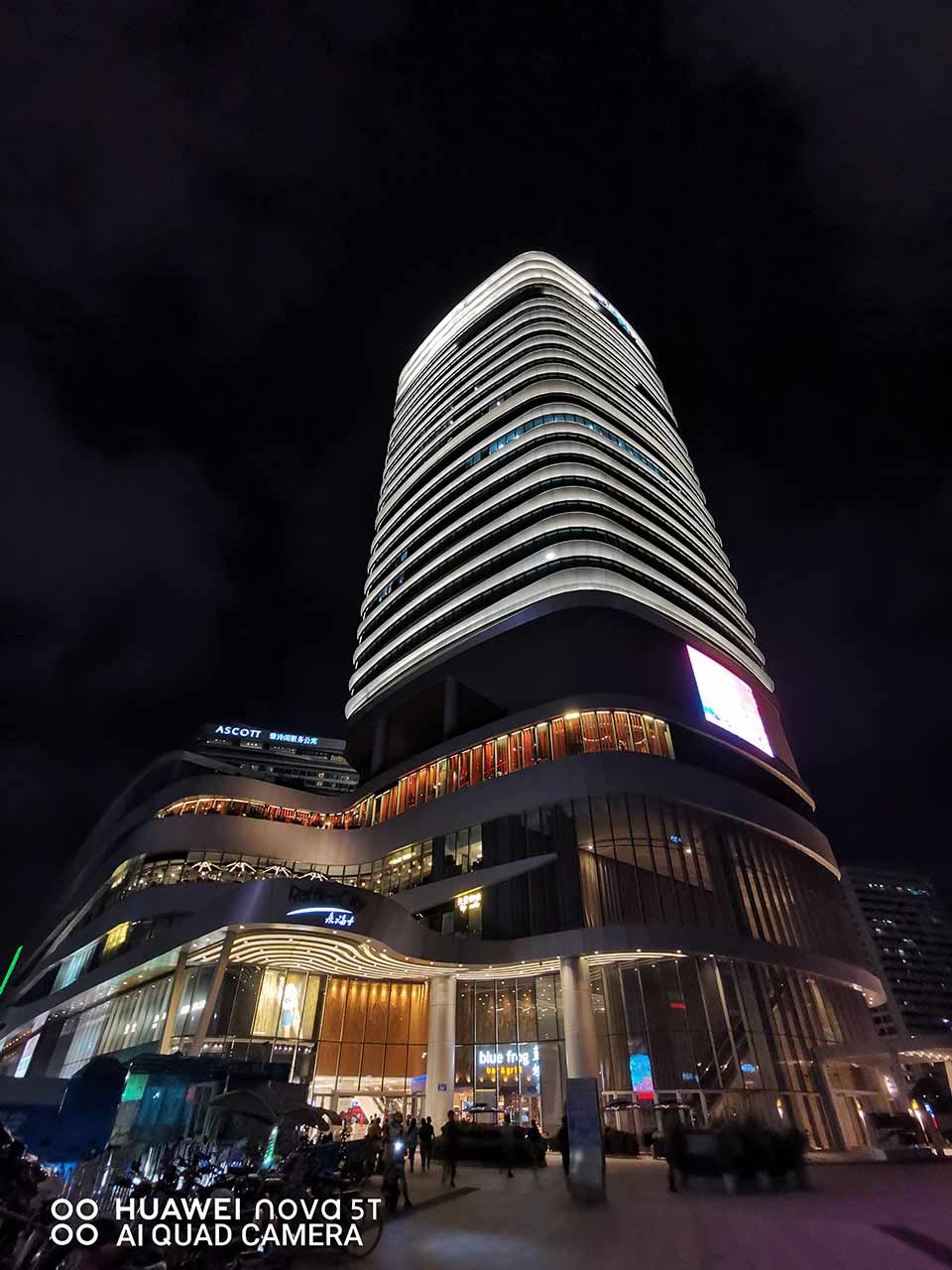 Ultra-wide shots: Night mode vs Auto mode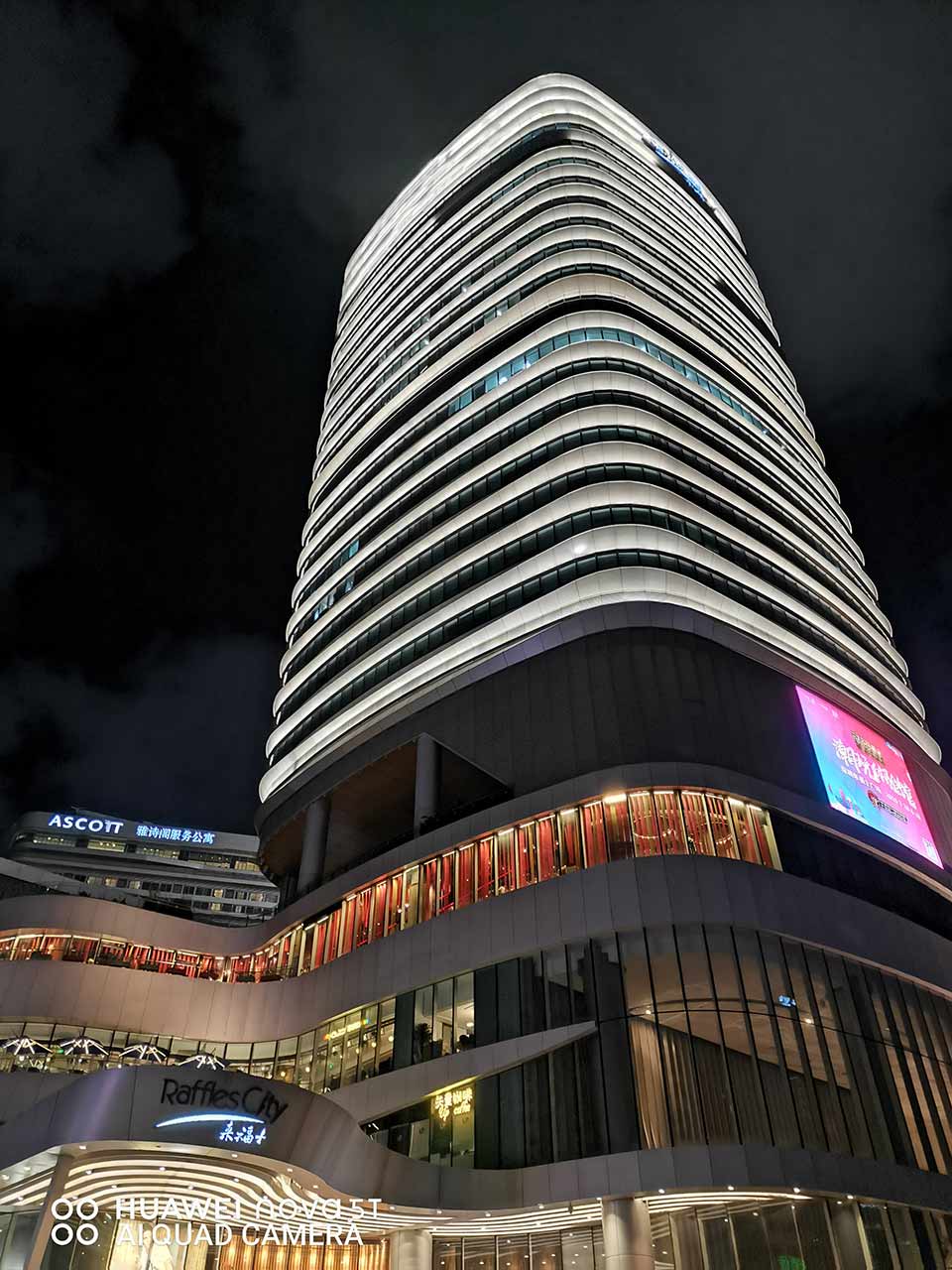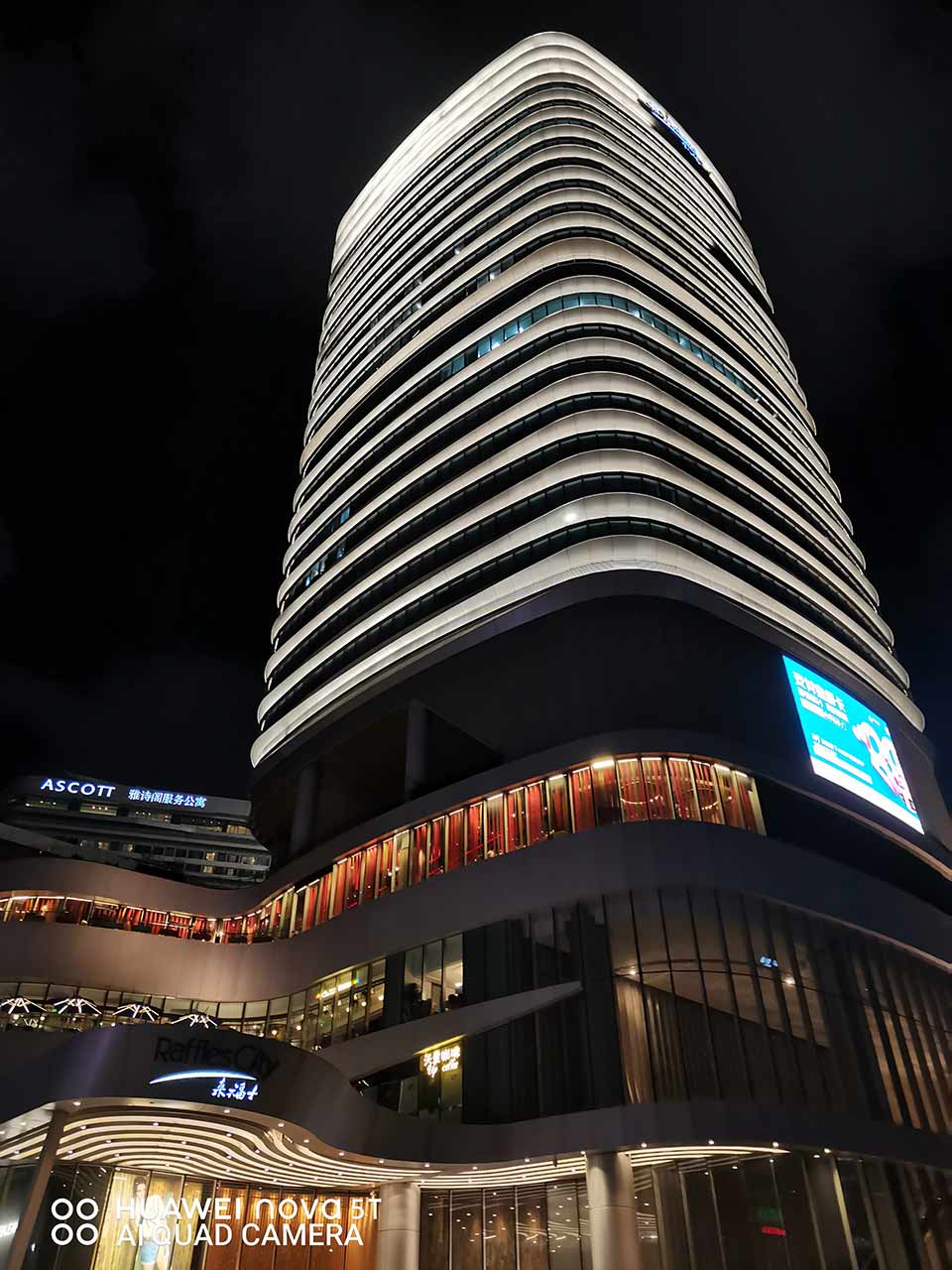 Night mode vs Auto mode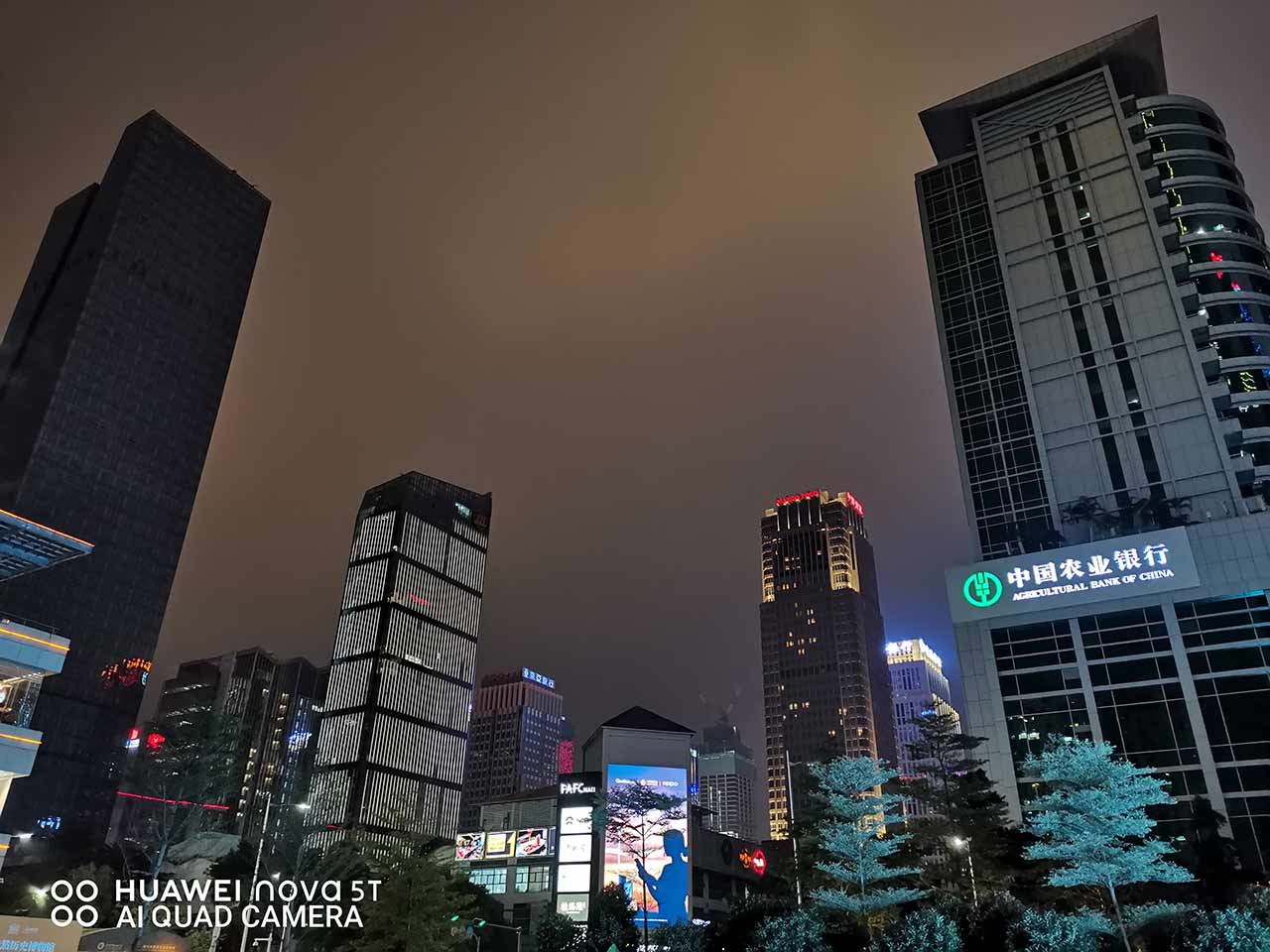 Night mode vs Auto mode
For selfies, the Huawei Nova 5T has a 32-megapixel hole-punch camera, one of the sharpest the company has ever put in one of its devices. But does it make a difference? You bet. Selfies look great overall — clean and clear, with nice colors and realistic skin tones that don't look washed out. The bokeh mode isn't perfect, but then again, the software of the phone we used for this review isn't final.
Sample selfies. The last two has versions taken in Portrait mode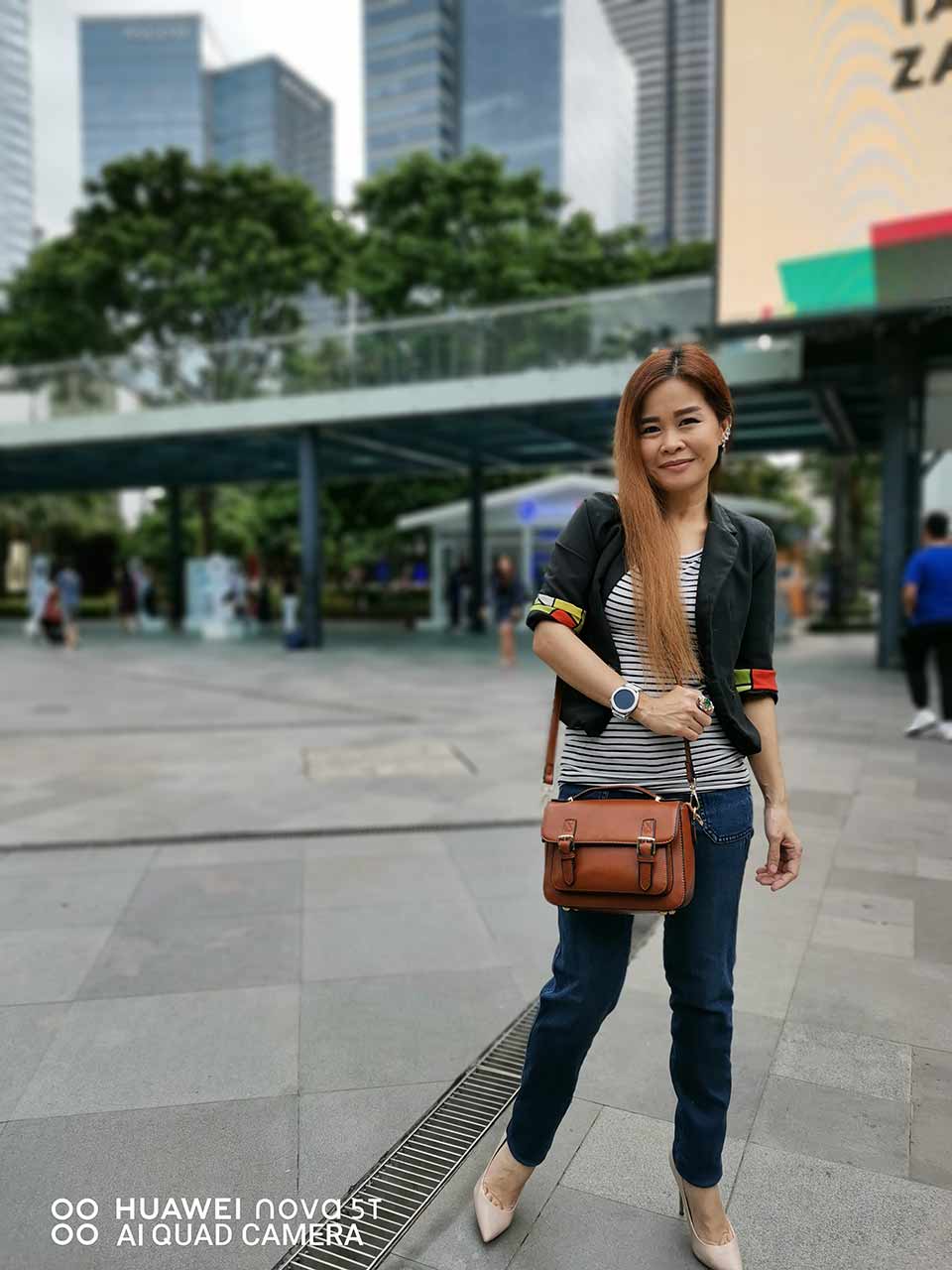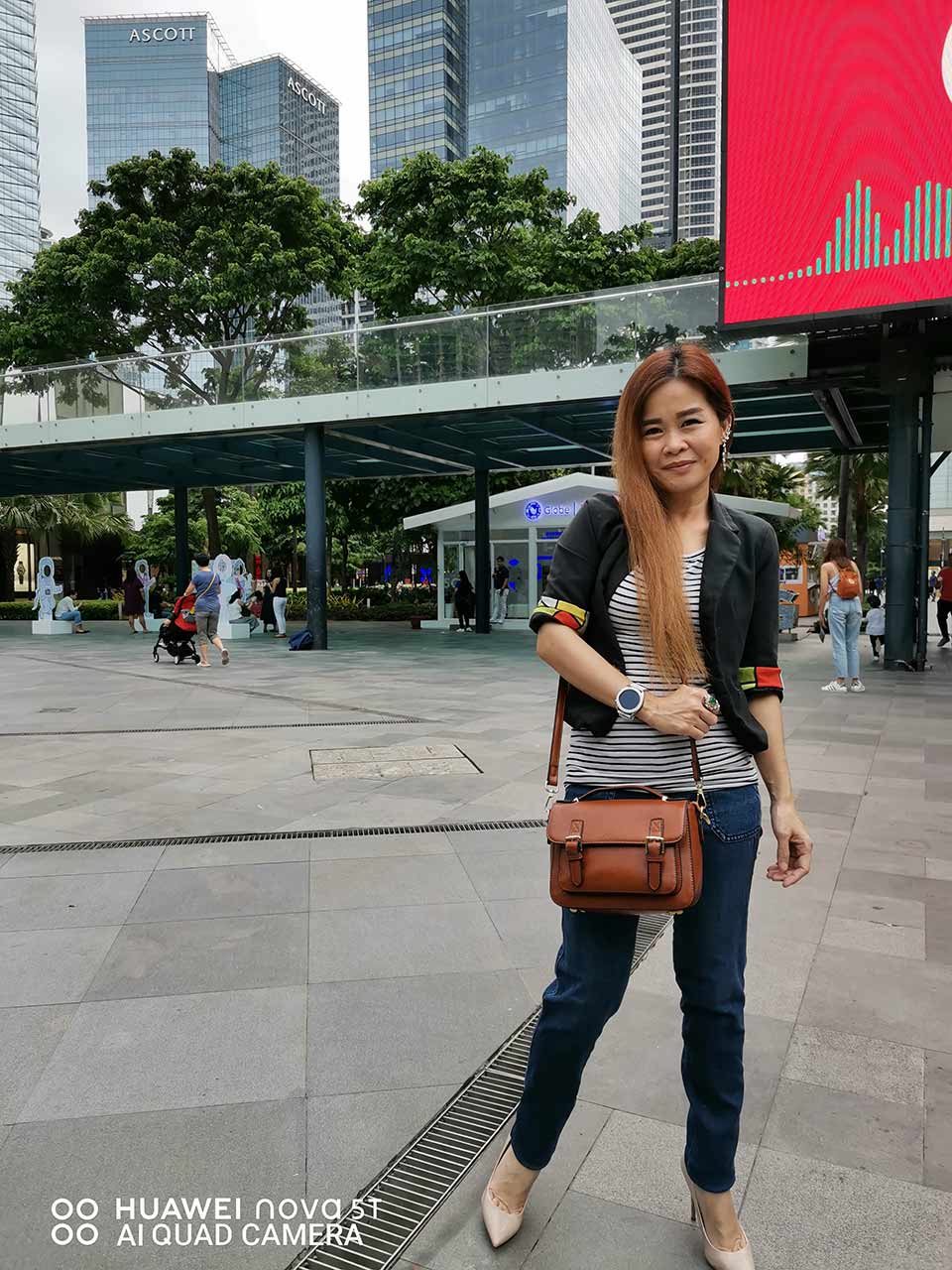 Portrait mode vs Auto mode
Performance
The processor inside the Nova 5T is a HiSilicon Kirin 980 from Huawei's semiconductor division. It's the same chip used in the Huawei P30 and P30 Pro flagship handsets, paired with 8GB RAM and 128GB UFS 2.1 storage. The Kirin 980 remains one of the fastest smartphone processors available in 2019, so you'll never be lacking for power.
Huawei Nova 5T gaming test: Vagary, PUBG Mobile (5:10 mark), NBA 2K19 (9:55 mark)
Performance across the games we tested was impressive, and even those that are graphics-intensive, such as PUBG Mobile and NBA 2K19, didn't give us any problems whatsoever.
Meanwhile, everyday tasks, such swiping and scrolling through menus, web browsing, and jumping in and out of apps, feel lightweight and intuitive in all the right ways. There's virtually no slowdowns or lag during regular usage in our time with the phone so far — which is impressive.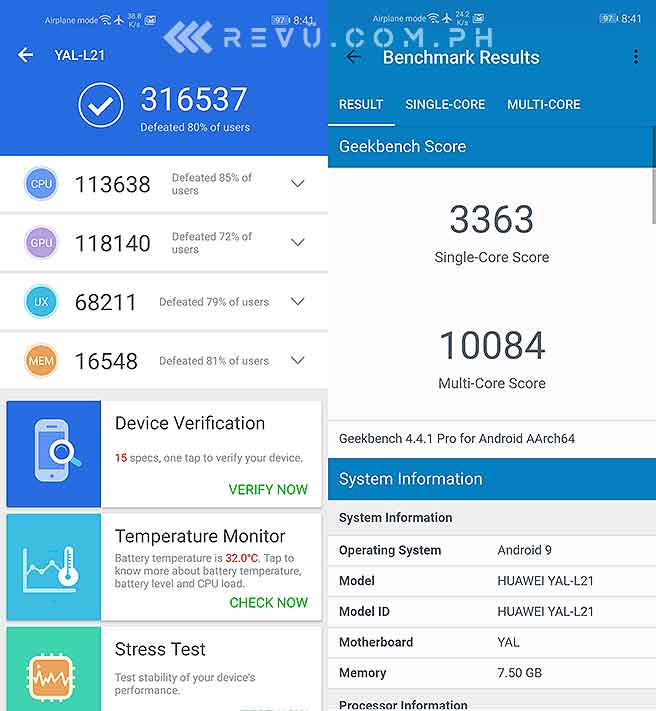 The Antutu Benchmark score of our unit is 316,537, which crushes most other phones in its class. It scored 3,363 in the Geekbench 4 single-core test and 10,084 in the multi-core benchmark.
Battery life and charging
The Kirin 980 is among the most efficient chips out there, so the battery life out of the 3,750mAh cell is good enough to see you through a full day of normal use without issue.
Naturally, your real-world mileage may vary; it will depend on how you use the handset day in and day out. The Nova 5T can last well past the one-day mark if you're not a heavy user like us.
SEE ALSO: Huawei's Kirin 990 flagship chip to debut Sept 6 and Huawei Mate 30, Mate 30 Pro launching Sept 19, report claims
Importantly, the phone can be charged quickly, as fast charging is onboard courtesy of Huawei's 22.5-watt SuperCharge feature. It takes about an hour and a half for the Nova 5T's battery to reach full charge from zero, half an hour to get from nil to 50%. There's no wireless charging here, unfortunately, and no wireless power sharing either.
Final thoughts
The Huawei Nova 5T comes close to being the complete package. It has a modern design that uses premium materials and delivers a full-screen experience with just a tiny hole for the front-facing camera, a versatile set of quad cameras on the back, a powerful processor that holds its ground against the fastest in the business, and solid battery life coupled with the ability to charge quickly. Best of all, it does all this for only P18,990 ($364).
If you haven't been genuinely excited about a Huawei smartphone in a long time, now would be a time to watch
If you haven't been genuinely excited about a Huawei smartphone in a long time, now would be a time to watch. With the Nova 5T, the company will surely be looking to turn the market on its head and clear out the competition. And it might just succeed on both accounts.
Huawei Nova 5T specs
6.26-inch IPS LCD display, 2,340 x 1,080 resolution, 19.5:9 aspect ratio
7nm octa-core Kirin 980 processor
8GB RAM
128GB storage
Quad 48MP, f/1.8 main camera, 16MP, f/2.2 ultra-wide camera, 2MP macro sensor, 2MP depth sensor
32-megapixel, f/2.0 front camera
Fingerprint reader (side-mounted)
3,750mAh battery with 22.5-watt fast wired charging
EMUI 9.1 on Android 9.0 Pie
---