The Realme 6 is the middle child of the Realme 6 series. And while it isn't the most powerful or affordable device in the lineup, the Realme 6 packs in enough enticing features to make it stand out and hold its own. We're here to do a deep dive into what makes it great and what its weaknesses are.
(Update, June 4: We've posted a closer scrutiny of the phone's gaming performance, focusing on overall experience, frame rates, and thermals during gameplay. See Realme 6 gaming test: 90Hz phone built for high-end performance?)
Price and availability
The Realme 6 is available in the Philippines in two configurations: the 4GB RAM + 128GB storage and 8GB RAM + 128GB storage. The 4GB variant costs P11,990 (around $236), while the 8GB model costs P13,990 ($275). It comes in Comet Blue and Comet White.
SEE ALSO: Realme 6 Pro: PH price, specs, availability
At its official launch on May 27, Lazada is holding a special sale, starting at 1 p.m. Buyers get P500 ($9) off their purchase, and the first 200 get a free Realme Band. For those who want a free limited edition squad bag worth P1,499 ($29), Realme is giving it to in-store buyers on May 30 and 31 as well as on June 6 and 7.
If you want to pay for the handset via installment, Home Credit is offering six months at 0% for the Realme 6.
Hardware
The Realme 6 Pro has the most impactful design in the lineup. But that doesn't mean the Realme 6 isn't eye-catching either. With a design inspired by comets, the Realme 6's design is made with what the company calls "optical plating technology," resulting in the brightness and saturation of the color increased by 60% and 50%, respectively.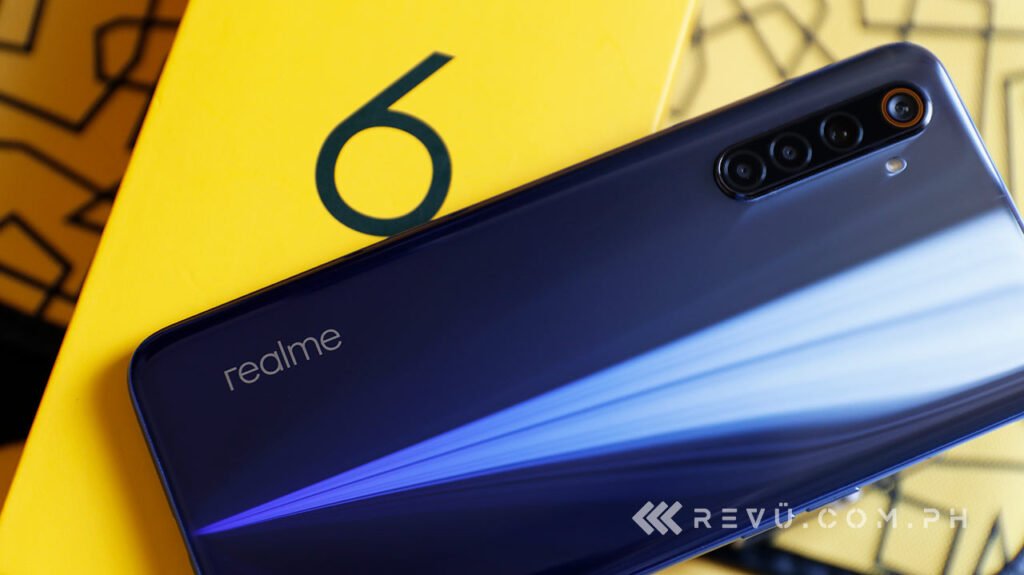 Our Comet Blue test unit has a nice sheen, with the comet-like effect on the device's rear panel. It looks premium, but it's still made out of polycarbonate. It's also a bit of a fingerprint magnet. The back of the device is slightly curved to make it easier to handle. Its quad cameras protrude enough that it'll wobble when laid flat. The remedy to that is using the included jelly case. It's comfortable to hold but usually requires two-handed use.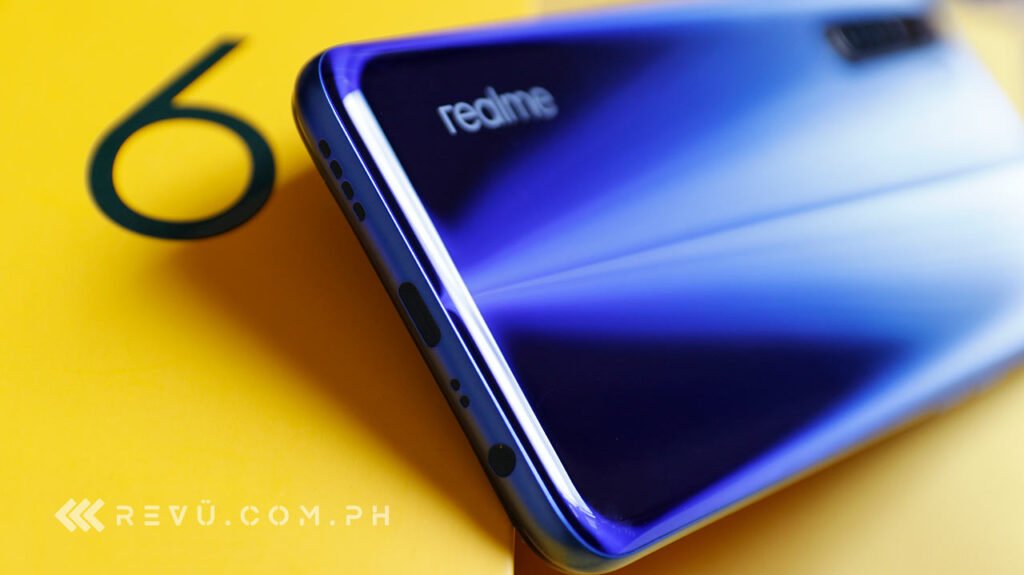 The right side of the Realme 6 houses the power button/fingerprint sensor, while the left side has the SIM tray on top of the volume rocker. This device can support two nano SIMs and a microSD card up to 256GB, adding extra storage to the ample 128GB it comes with. At the bottom of the phone, you get a 3.5mm audio jack, USB-C port, and speaker grille.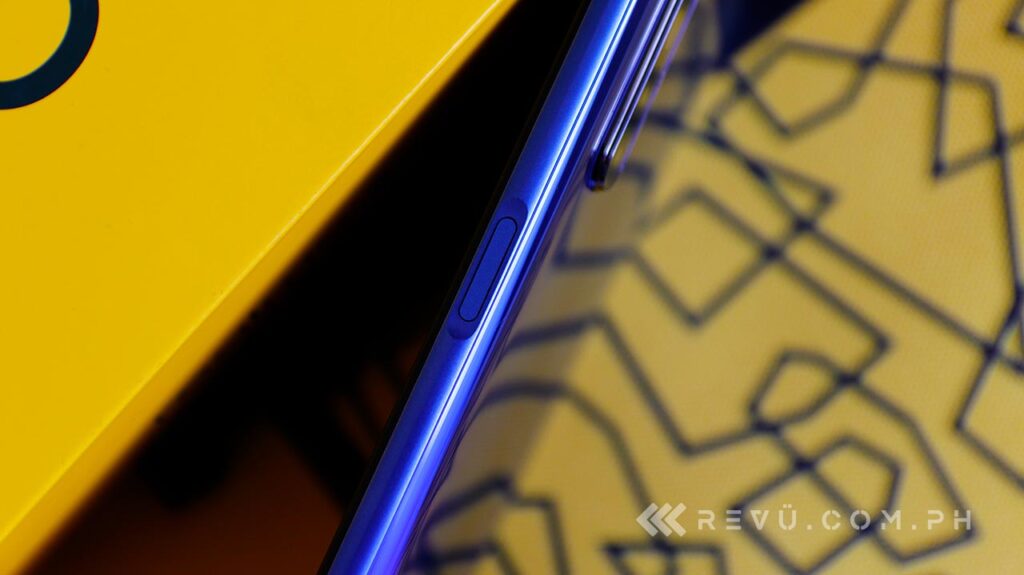 We like that the fingerprint sensor is on the side and easily reachable. The scanner itself is highly responsive and didn't cause us any trouble when we used it.
Realme claims the smartphone can withstand splashes. It has no IP certification, so don't think you can take it swimming. It can at least handle a bit of rain if you find yourself using it outdoors.
Screen
Looking at the upgrades introduced to the Realme 6, you can think of it more as an improved Realme 5 Pro than a direct successor to the Realme 5, particularly when it comes to improvements to its display.
Realme pulls off a fast one by putting in a higher refresh rate screen on a more affordable device. The Realme 6 has a 6.5-inch IPS LCD 90Hz Ultra Smooth Display. It is the cheapest phone on the local market with a 90Hz refresh rate. Capable of producing 90 frames per second, the screen has a 50 percent higher refresh rate than the conventional 60Hz display most smartphones have.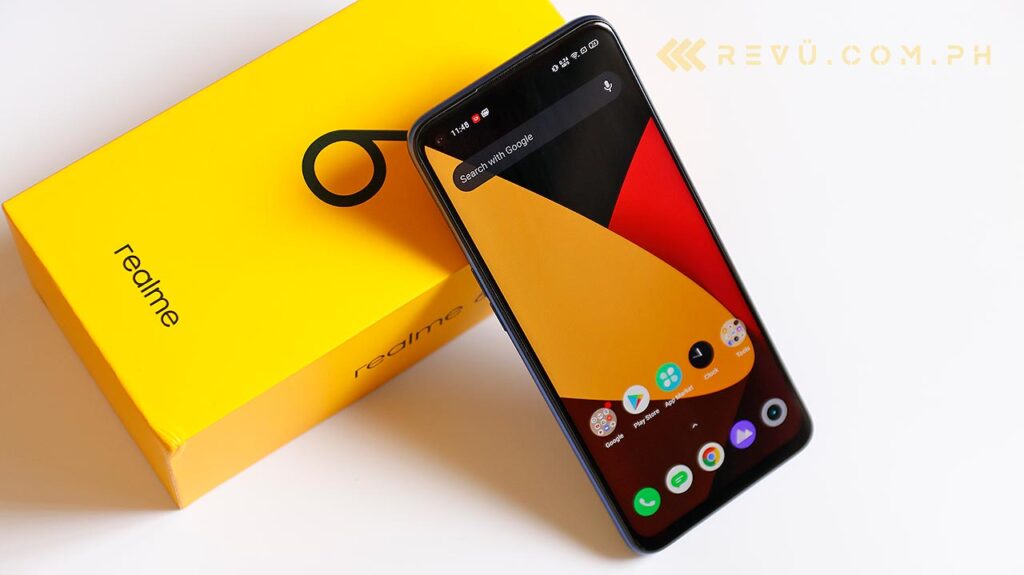 A higher refresh rate means moving elements within the menus and apps that support it will look much smoother. In our experience, it really does feel more buttery smooth to navigate through its interface. It's a coup in the Realme 6's price bracket, and us consumers are benefiting from it, particularly those who love playing games on their mobile device.
Speaking of, some games like Vainglory and Pokémon Go support 90Hz or faster screens, and we do suggest checking them out to get the best experience on the Realme 6.
It's not the brightest, especially when you take it outdoors, but it is a decent screen with a 1080p resolution. Color reproduction and contrast are good, too. It has a 20:9 aspect ratio and 90.5% screen-to-body ratio, which means you have a lot of screen real estate to play around with and appreciate.
Realme opted to use a punch-hole for its front-facing camera. Placing it at the top left corner of the screen means it's relatively out of the way and won't distract you much when you use it.
Realme 6's display also offers features like Eye Comfort, which adjusts the color temperature to help prevent eye strain; Dark Mode; and OSIE Vision Effect, which boosts visual quality for supported apps.
Camera
The Realme 6 has a quad-camera setup on the back with a 64-megapixel, f/1.8 primary shooter; an 8-megapixel, f/2.3 ultra-wide lens with a 119-degree field of view; a 2-megapixel, f/2.4 macro camera; and a black-and-white depth sensor. The front-facing camera is a 16-megapixel, f/2.0 shooter.
The main 1/1.72-inch Samsung GW1 64MP sensor of the Realme 6 produces 16-megapixel pictures. It uses Quad Bayer's 4-in-1 intelligent pixel-binning mechanism that combines four adjacent pixels into a single 1.6μm-large pixel. The expected result is better resolution and quality of images, even in low-light settings. You can still shoot 64-megapixel photos, but these take up more space. If you do take 64-megapixel images, we found those can be useful if you want to crop into a shot.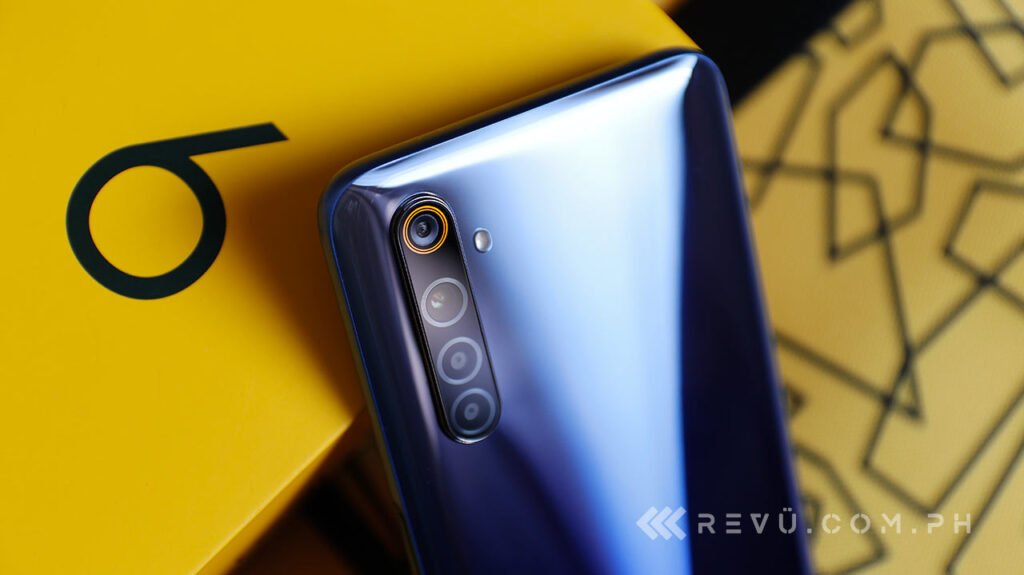 The pictures you get out of the main camera are quite good, featuring accurate colors and low noise, particularly in well-lit areas. You get a fair amount of detail, but it will sometimes wash out the highlights. Auto-focus generally works well, if you're within the camera's ideal focal range. If you need an extra boost of color and don't want to do any editing, the camera also has Realme's Chroma Boost. You can also opt to use the built-in camera filters.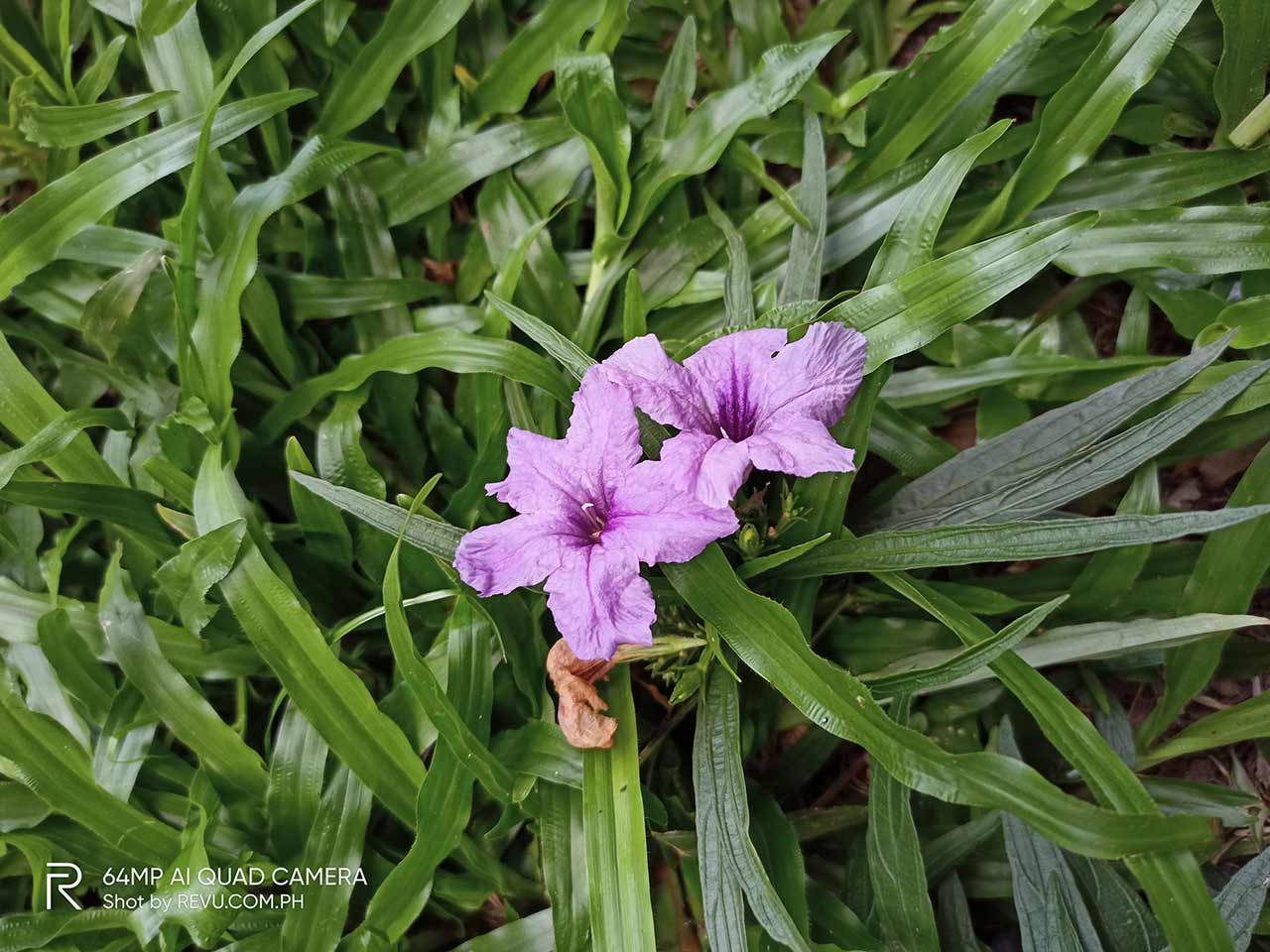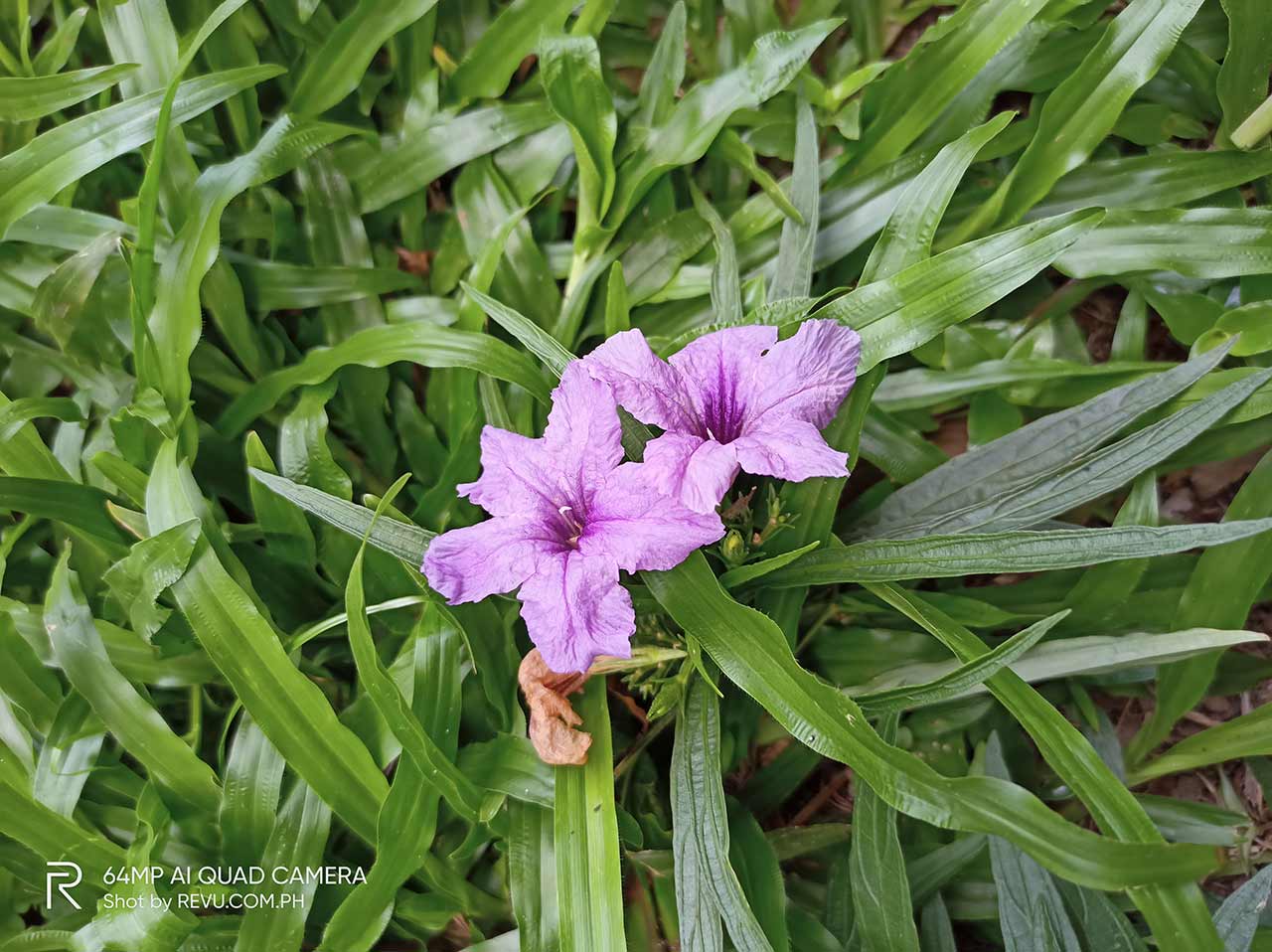 Portraits use the primary sensor, too, with the help of the monochrome depth sensor. Since you can adjust the amount of bokeh you want a photo to have, you can achieve a convincing background blur. It does have trouble with small hairs and some edges still.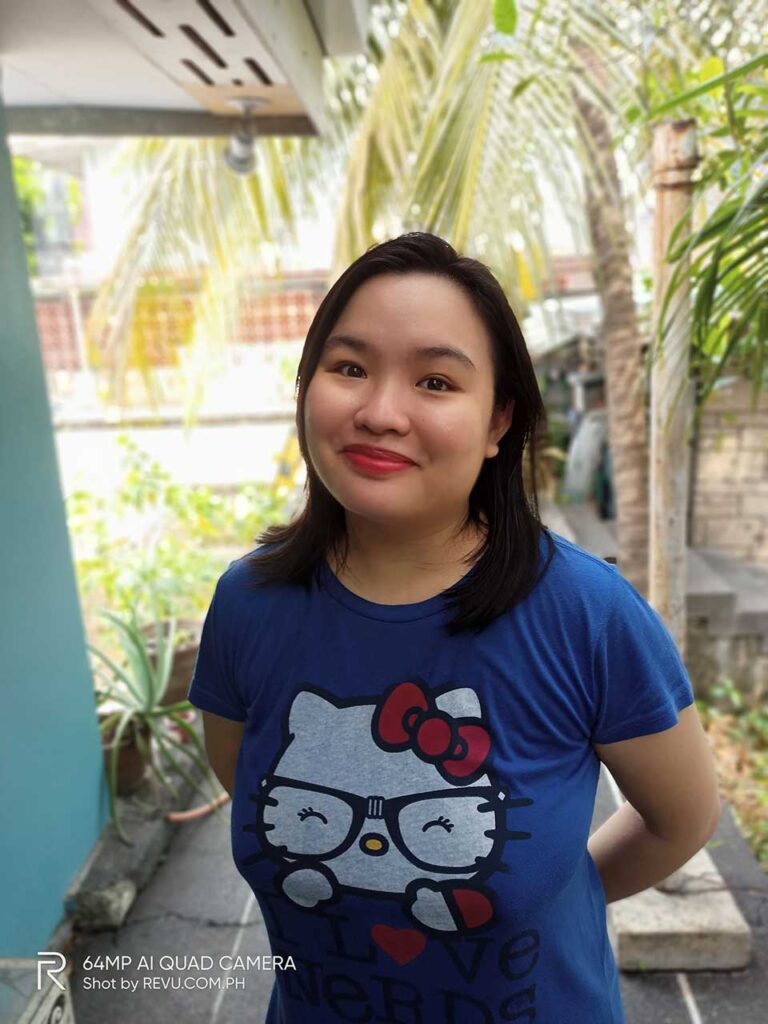 The ultra-wide shots the Realme 6 can produce come out the way you'd expect from a phone in its price point. It washes out some details, but not to the degree that it won't be usable.
Macro is a fun feature to play around with, allowing you to take closeups of up to a 4cm shooting distance. You will need to take photos of those in well-lit areas because the images darken considerably.
Night mode helps produce better-quality photos in less-than-ideal lighting conditions. The pictures come out brighter, but aren't entirely devoid of noise. It's something worth experimenting with, though, to get interesting shots. But it might not be worth using an ultra-wide lens at night.
If you want more control over your photography, the phone has an Expert mode, where you can tweak the exposure, white balance, focus, and exposure compensation of the camera.
Other pictures taken with the Realme 6: 1x, 2x, 5x, ultra-wide, ultra-wide with Chroma Boost, auto, ultra-wide, Portrait, Ultra Macro, night shots (last 4)
You can shoot videos up to 4K at 30 frames per second with the Realme 6. The colors appear to be as accurate as possible, and it can lock in on changing lighting. If you want steadier, handheld videos, this handset offers UIS Video Stabilization, but this only works on 1080P/30fps. According to Realme, UIS Max Video Stabilization will be available in an upcoming OTA update.
The ultra-wide lens can also be used to shoot videos, but again, you only get 1080P/30fps videos. The Realme 6 also offers Slo-Mo video recording at either 1080P/120fps or 720p/240fps. The front-facing shooter has 1080P/120fps, too, but like the rear camera, you'll need to shoot in bright environments to produce better videos.
Selfies taken with the Realme 6's 16-megapixel front camera come out as well as expected. If you opt out of using the Smart Beauty mode, you get as natural a selfie as possible — skin imperfections and all). If you are into tweaking and enhancing your features, then you can use the highly customizable Smart Beauty mode. Selfie Portrait mode gets edges wrong; it's not a feature we recommend you use.
Selfies: Auto, Smart Beauty mode, auto, Portrait mode
Performance
The Realme 6 is set up to punch above its weight. The same can be said for the processor packed into it: a MediaTek Helio G90T chipset with Cortex-A76 cores and a quad-core Mali-G76 GPU that some flagships have. It's the same processor on the Redmi Note 8 Pro, and the same chip that made headlines when it thoroughly outclassed the Exynos 990 in the Samsung Galaxy S20 Plus in a gaming test. It proves its worth, allowing us to play games like Asphalt 9, Marvel Super War, and Call of Duty Mobile at their highest settings without causing any issues.
Watch us play Fortnite, Call of Duty: Mobile (5:00 mark), and Black Desert Mobile (10:00 mark) on the Realme 6
It's also one of the new Realme devices that get Realme UI based on Android 10, making it look like stock Android. The interface is kept clean and straightforward, which we appreciate. Besides a few multimedia and management apps by Realme, the rest are Google apps. We like that there's a Smart Sidebar on this phone, which reminded us of what you'd see on Samsung Galaxy phones. It's a convenient space to store frequently used apps and shortcuts.
And since it can handle gaming, you can expect to breeze through other tasks on this phone, whether you use it for work, browsing and posting on social media, or watching and listening to tons of content. It didn't give us any trouble during our testing. App switching is easy, and the phone hardly heated up. We're not the biggest fan of the audio coming out of the speaker, but thankfully, you can opt to use the headphone jack.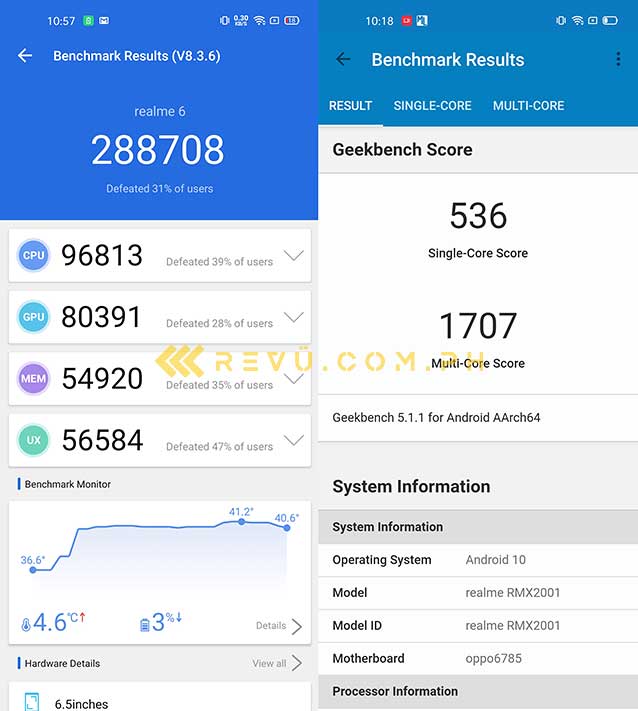 Battery
If we directly compare it to its predecessor, the Realme 6 has a smaller battery at 4,300mAh (the Realme 5 has 5,000mAh battery). But what the Realme 6 loses in terms of battery capacity, it makes up for in charging power. It comes with a 30-watt VOOC flash charger and USB-C charging that goes from 0% to 70% in just 30 minutes. We've tried it out ourselves, and it works as advertised.
Realme also promises to get this unit fully charged in an hour. And we've managed to do it around that time; the longest was around an hour and 10 minutes, which is still pretty quick. According to the company, the Realme 6 also supports a 15-watt PD charge.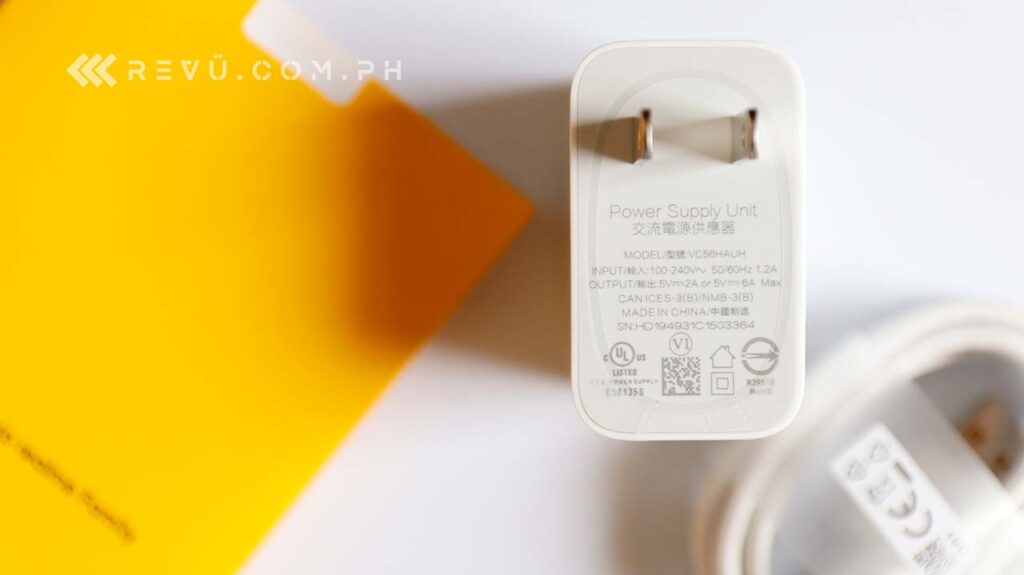 We did a PCMark benchmark test on this handset and got a result of eight hours and 17 minutes. Even with the 90Hz refresh rate activated, we got more out of the battery; we got a decent nine-hour and 36-minute use on a single charge, switching between light gaming, emails, web surfing, and tons of video and music streaming.
We played Asphalt 9 in its High-Quality visual setting with the 90Hz refresh rate on, and we got from 15% to 0% in around 48 minutes. As expected, more graphically demanding apps plus the higher refresh rate will drain the battery, but, thankfully, you can top up pretty quickly, too.
Final thoughts
Realme pulled off an impressive feat with the Realme 6. It brings so much value — from its 6.5-inch 90Hz display, MediaTek Helio G90T processor, quad-camera setup, to a fast-charging battery. You wouldn't feel shortchanged if the Realme 6 Pro isn't something you can afford.
As we said at the start of this review, the Realme 6 can hold its own, making the middle child just as appealing as its more powerful big brother. You aren't precisely settling with the Realme 6; you are getting more than your money's worth.
The Realme 6 can hold its own, making it just as appealing as the Pro model. You aren't precisely settling with the Realme 6; you are getting more than your money's worth
Realme 6 specs
6.5-inch 90Hz Ultra Smooth display with a punch-hole notch, 2,400 x 1,080 resolution
Octa-core MediaTek Helio G90T processor
4GB/8GB RAM
128GB expandable storage
Quad: 64-megapixel main, 8-megapixel ultra-wide, 2-megapixel portrait, and 2-megapixel macro rear cameras
16-megapixel front camera
Fingerprint reader (rear-mounted)
4,300mAh battery, 30W flash charge
Realme UI based on Android 10
Colors: Comet White, Comet Blue
---