The Realme 6 is now available in the Philippines, and it's currently the most affordable smartphone on the local market with a 90Hz screen, among other great specs.
The 4GB RAM and 128GB storage variant of the phone is priced at P11,990 (roughly $240 converted), while upgrading the RAM to 8GB will set you back P13,990 ($280). And if you're one of the first 50 people buy the Cosmic Blue top-end model from Realme's flagship store on Lazada on June 5, you will receive six months of Starlight membership for Mobile Legends for free. The premium subscription service normally costs P550 ($11) per month.
The Realme 6 is powered by a MediaTek Helio G90T chipset, which is one of the best-performing chips in the midrange. The G90T is also perfect for gaming on a budget, allowing for high graphics settings without spending a small fortune for flagship-grade hardware.
SEE ALSO: Realme 6 Pro review: Gaming and camera beast for less and Realme 6i review: A budget phone you should not miss
We already published our review of the Realme 6, but this time around, we're doing a closer scrutiny of the phone's gaming performance, particularly when it comes to running PUBG Mobile, Call of Duty: Mobile, NBA 2K20, and Mobile Legends: Bang Bang.
We'll focus on the overall experience, as well as the frame rates and thermals during gameplay. We used a software called GameBench to record the frame rates and temperatures as we played. GameBench is a PC and mobile app for developers and journalists to measure the fluidity, power consumption, and memory usage of games. It likewise lets you see the real-time fps of a game as you play.
Let's start with some synthetic benchmarks, in case you haven't seen them yet.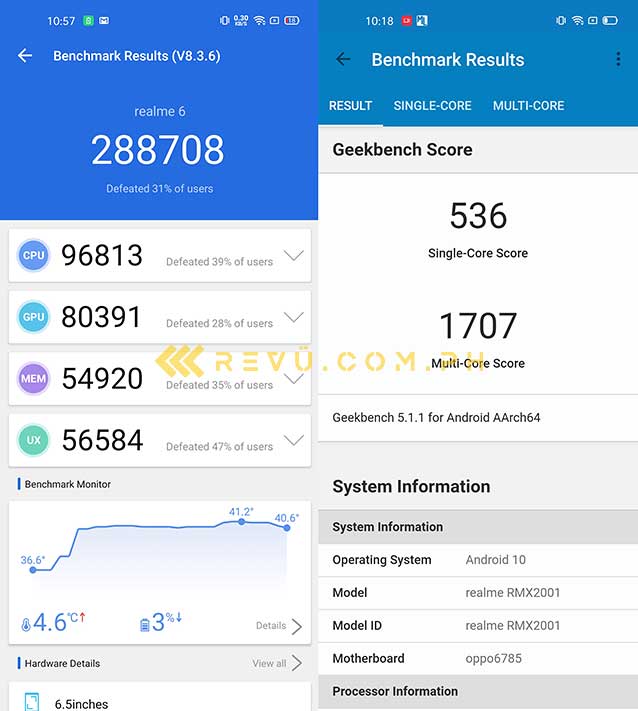 Watch us play PUBG Mobile, Call of Duty: Mobile (5:00 mark), NBA 2K20 (10:00 mark), and Mobile Legends: Bang Bang (12:30 mark)
PUBG Mobile
We first set the graphics to HDR and the frame rate to High just to see if the phone can handle the game without stuttering. Our initial gameplay recording yielded an average of 36 fps, which is fine, but doesn't really give you perfectly fluid gameplay if you're after that. Dialing down the graphics settings to Low not only allowed the game to run under the Extreme frame rate preset, but also delivered a much more fluid experience, with the game hitting 55 fps consistently.
With regard to thermals, we recorded the highest temperature on our unit while playing PUBG Mobile. Our unit hit 48 degrees Celsius at the 16:00 mark of gameplay, which made the phone a little uncomfortable to hold and operate the touchscreen with two hands. High temperatures are expected, though, as PUBG Mobile really puts a huge load on the CPU and GPU.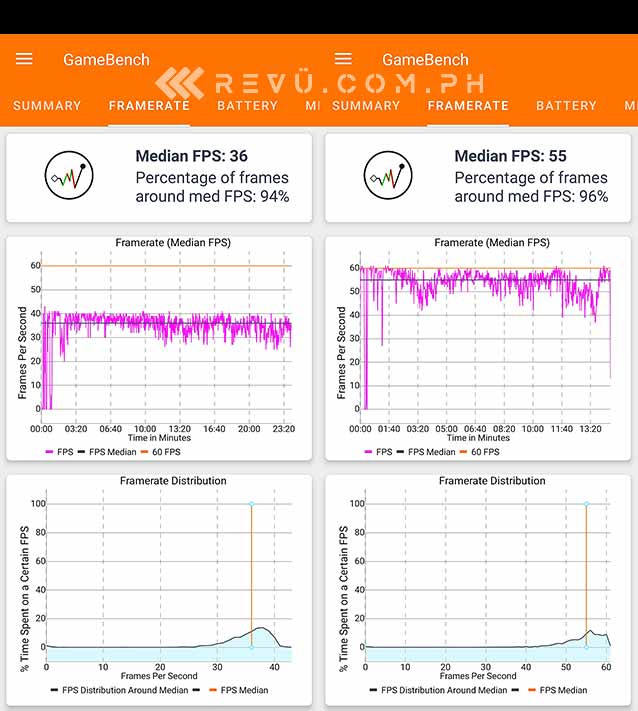 Call of Duty: Mobile
Call of Duty ran pretty well using the Very High preset, with our unit averaging 28 fps. When set to Low, the median fps was 43. Take note that the game still looks good at the lowest graphics settings, so that's something to consider if you're after a smooth experience. The highest temperature we recorded was 42.8 degrees Celsius.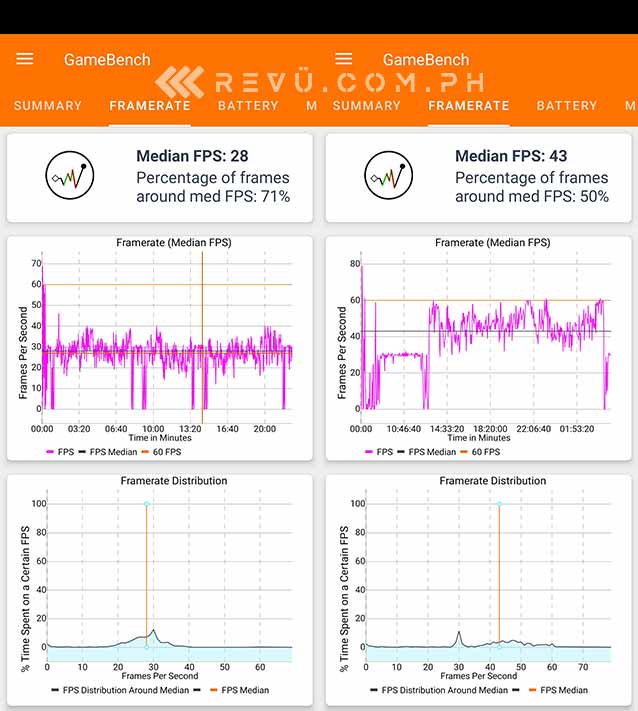 NBA 2K20
Easily the most authentic and accurate basketball franchise for mobile devices, NBA 2K20 is a must-own title if you like playing sports games. It is one of the most demanding you can download from the Google Play Store, too, with the game requiring a fair amount of hardware power for fluid gameplay at high detail.
Our unit saw an average of 21 fps with the settings all maxed out. We were able to bring the average up to 62 fps — the highest in this round of tests — but only after setting everything to the lowest possible preset. The game running above 60 fps also confirms that it supports the Realme 6's 90Hz display.
The highest temperature we recorded was 41.6 degrees Celsius when the game was running at maximum settings.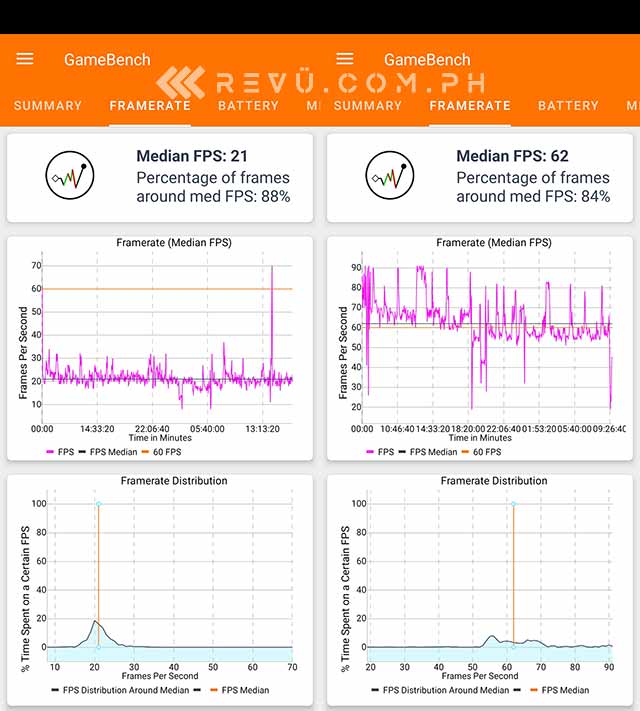 Mobile Legends: Bang Bang
Surprisingly — and unfortunately — Mobile Legends doesn't seem optimized for the MediaTek Helio G90T inside the Realme 6, at least for now. For one, the phone doesn't support the Ultra graphics preset, but devices powered by the Qualcomm Snapdragon 720G, a slightly less powerful chip, do.
Our median fps was 29 when the graphics was set to High. Lowering it to Smooth, which is the lowest setting available in-game, we were able to get the average fps to 42, which is still not as high as we expected given the capabilities of the MediaTek Helio G90T.
Hopefully, Realme can release a software update in the future to improve the performance of the Helio G90T when playing Mobile Legends and unlock the Ultra preset.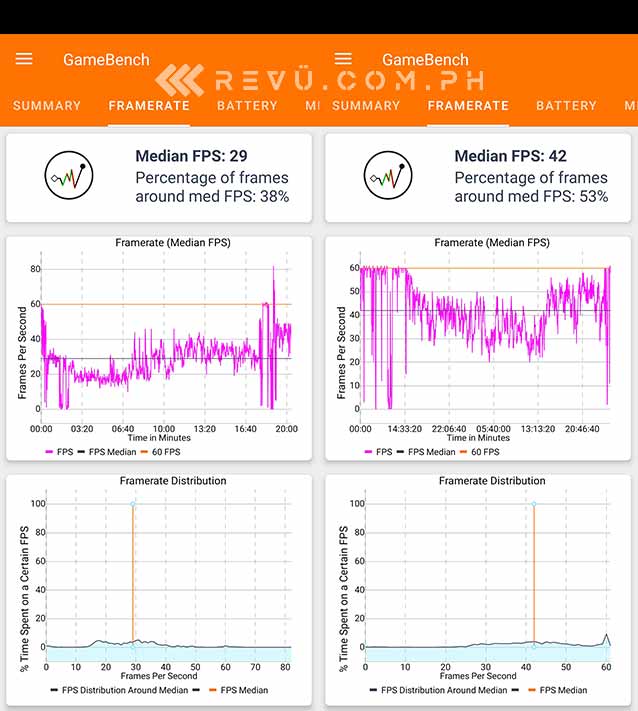 Realme 6 gaming test results
PUBG Mobile, HDR, High frame rate: 36 fps, 48 degrees Celsius
PUBG Mobile, Low, Extreme frame rate: 55 fps, 46 degrees Celsius
Call of Duty: Mobile, Very High: 28 fps, 42.8 degrees Celsius
Call of Duty: Mobile, Low: 43 fps, 42 degrees Celsius
NBA 2K20, Ultra High/High: 21 fps, 41.6 degrees Celsius
NBA 2K20, Very Low/Low: 62 fps, 42.5 degrees Celsius
Mobile Legends, High: 29 fps, 44 degrees Celsuius
Mobile Legends, Smooth: 42 fps, 40.8 degrees Celsius
Final thoughts
It's not perfect, but the Realme 6 is a genuinely compelling phone for gaming with the screen to match and a price that is hard to beat. It can play the most demanding games with the settings cranked up at around 30 fps, which is more than we can say for most of its competitors in the price segment. And that alone is something to rave about. As always, if you want a more fluid experience, though, you may need to considerably lower the graphics.
---