Not everyone can afford pricey smartphones. Not everyone needs them either. And that's where the budget handsets come in. The Huawei Y5p is positioned as both a budget- and user-friendly device. Is it worth the investment? We reviewed it for you to help you decide.

(Update, July 8: Want a summary? Read Huawei Y5p: Top reasons it's perfect for first-time smartphone owners.)
Price and availability
The Huawei Y5p is now available in the country for an affordable price of P4,490 (around $90). It comes in one configuration with 2GB of RAM and 32GB of expandable storage. The handset comes in Mint Green, Midnight Black, and Phantom Blue colors.
Hardware
When you hold the Huawei Y5p in hand, there's no mistaking it for a budget device. It's light and made of plastic. By today's standards, it's a small smartphone, allowing for easy one-handed use. For some users, it might be a bit tough to type on this smaller display. It wasn't much of an issue for us, but some users with bigger or thicker fingers might struggle with this.
The front is a bit of a throwback with a thicker top and bottom bezels, but the back is more in line with the current design style Huawei favors. It has a squircle-camera look we've seen in the midrange Huawei Nova 7i.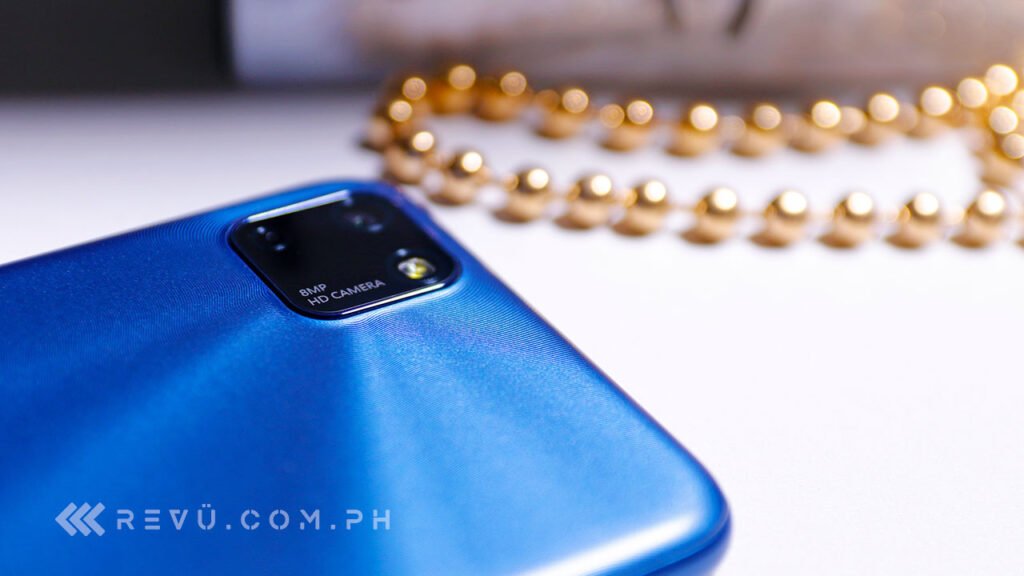 The Phantom Blue color our test unit comes in is more of a monochromatic shade. However, there seems to be rays coming out from the camera module, which adds a bit more character to the design. It also has a texture that reminds us of fingerprints. It's matte, which means it doesn't really attract fingerprint smudges.
There is no fingerprint sensor here. But it offers an extra security option with face unlock. You're better off using a password, especially since it's not the most reliable in dark rooms. Still, the choice is there if you want it.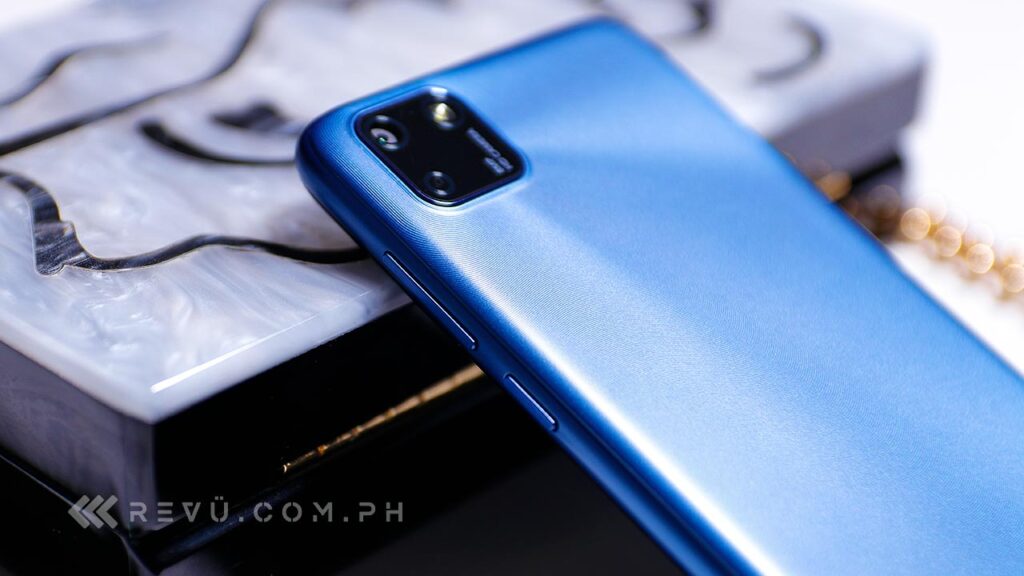 The Huawei Y5p has the volume rocker and power button on the right side, the dual SIM card and dedicated microSD slot on the left, the 3.5mm audio jack at the top, and the microUSB port at the bottom.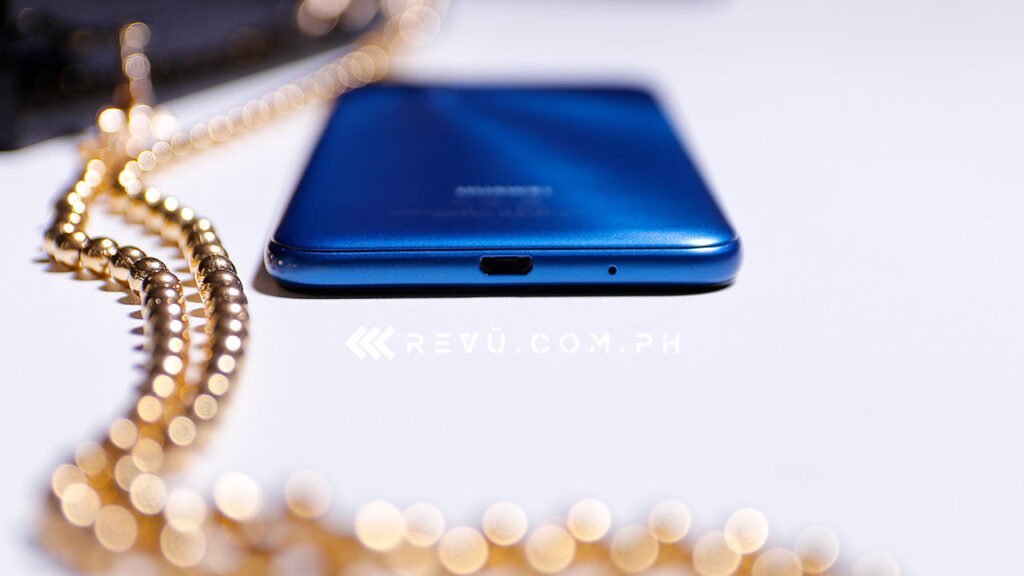 The speaker grille is located by the earpiece, which we think is a convenient position. You are less likely to cover the sound coming out of there than when you have it at the bottom. It's not a particularly loud speaker, but its sound is decent for its price range. You can use earphones, though you're going to have to use your own, since it doesn't come with a pair in the box.
What's inside the box
Huawei Y5p unit
Power brick
MicroUSB cable
SIM-eject tool
User guide
Warranty card
Screen
The Huawei Y5p has a 5.45-inch LCD display with 1,440 x 720 resolution, 18:9 aspect ratio, and 73.8% screen-to-body ratio. By 2020 standard, it's not the most representative of what we see now. But then we go back to how cheap, how budget-friendly the phone is. Of course, we wish it had smaller bezels. Then again, we also appreciate the lack of a notch that interrupts the screen.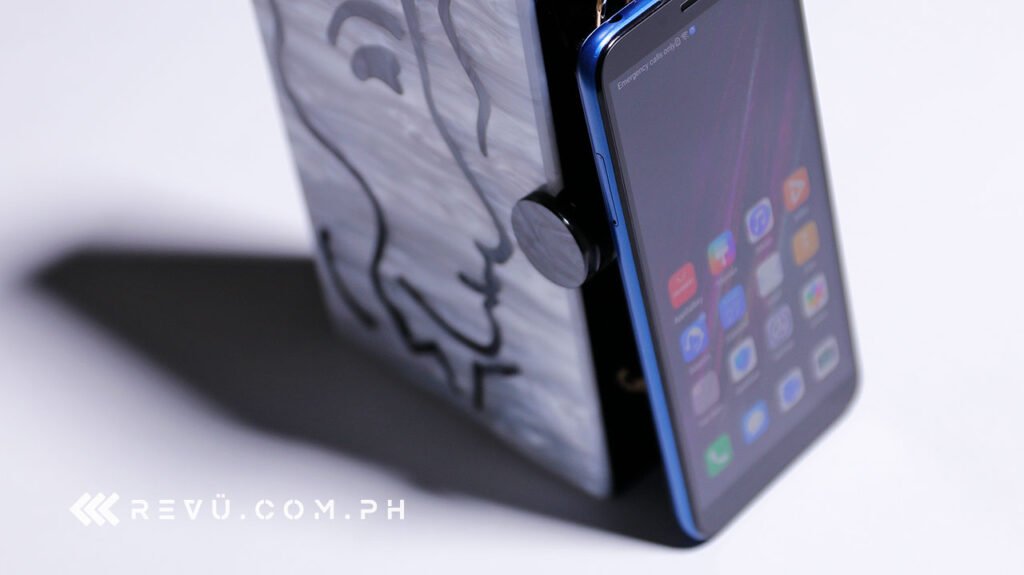 It might need you to squint a bit, but it's still usable when you're outside on a sunny day. The Y5p also offers features like Dark mode, eBook mode, and Eye Comfort to help take care of you when you use the device. You can adjust the color temperature to suit your needs, too.
Camera
As with other starter phones, the Huawei Y5p offers single front and rear cameras. It has an 8-megapixel shooter with flash on the back and a 5-megapixel lens in front. You get the camera performance you'd expect from a budget phone like this. It works best in great lighting.
It's a bit hit or miss, though. Sometimes it gets as much detail and color as accurately as possible. Sometimes you get pictures with colors that are washed out or highlights blown out if it's too bright. It's really a matter of taking as many pictures as you can to get what you want (expanding the internal storage will come in handy here). The photo quality dips when you take it indoors and when you zoom in. You have the option for digital zoom up to 4x. HDR doesn't seem to do much.
Pictures taken with the Huawei Y5p. 1-5: Auto mode (daytime), 6: Auto mode (nighttime/low light, 1x), 7: Auto mode (nighttime/low light, 4x zoom), 8: Pro mode (nighttime/low light, 1x), 9: Pro mode (nighttime/low light, 4x zoom)
Selfies can be social media-ready if you take them in decent lighting. There is a Beauty mode with a slider you can swipe through to help smoothen out your imperfections and blemishes.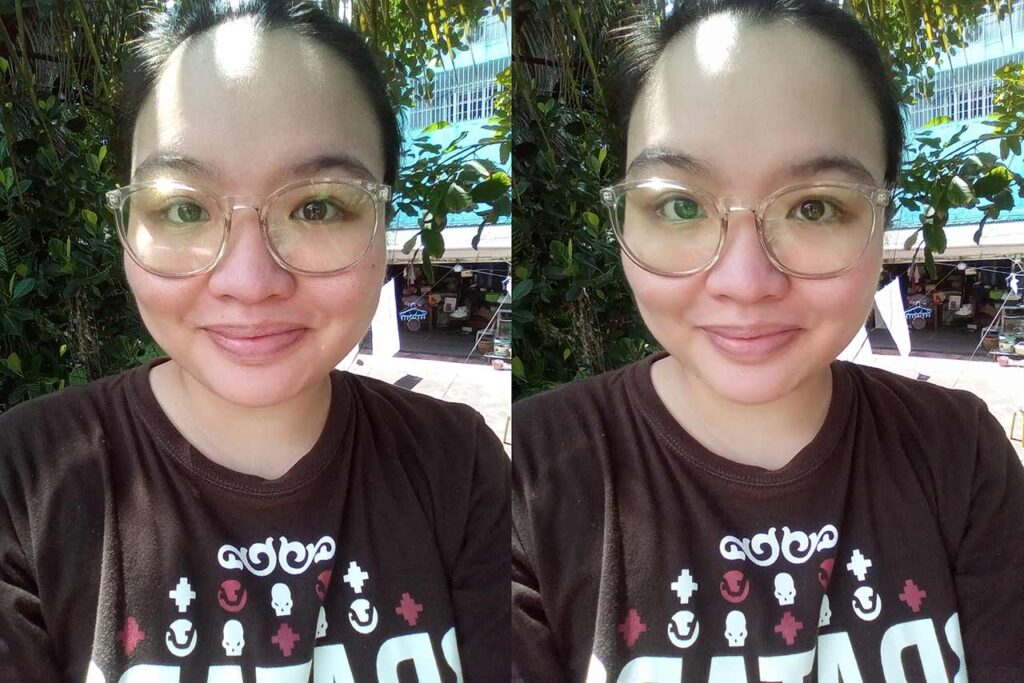 Beauty mode is also available on the rear-facing camera along with Video, Pro, Panorama, and HDR. It's not a full suite of tools, but there's a suitable amount of features here for a starter phone.
You can shoot up to 1080p videos. Prepare for these to be shaky if you move around while you shoot. It focuses quickly, though.
Performance
The Huawei Y5p shares the same MediaTek Helio P22 processor as the slightly more expensive Huawei Y6p. It's also shipping with the latest EMUI 10.1 operating system based on Android 10. It's impressive on the Y6p, and it's more impressive here. But this unit is slightly underpowered with 2GB of RAM and 32GB of storage, which you can expand to 512GB via microSD.
SEE ALSO: Huawei phones released in the Philippines that can be updated to EMUI 10.1
That doesn't mean you can't get a lot of use out of this handset. It's not the fastest device, but it is plenty responsive. Switching between apps isn't an issue. The lag is minimal. It doesn't even really heat up, even with extended use. It didn't crash the entire time we used it during our test. We managed to play Asphalt 9 in High Visual mode without any issues.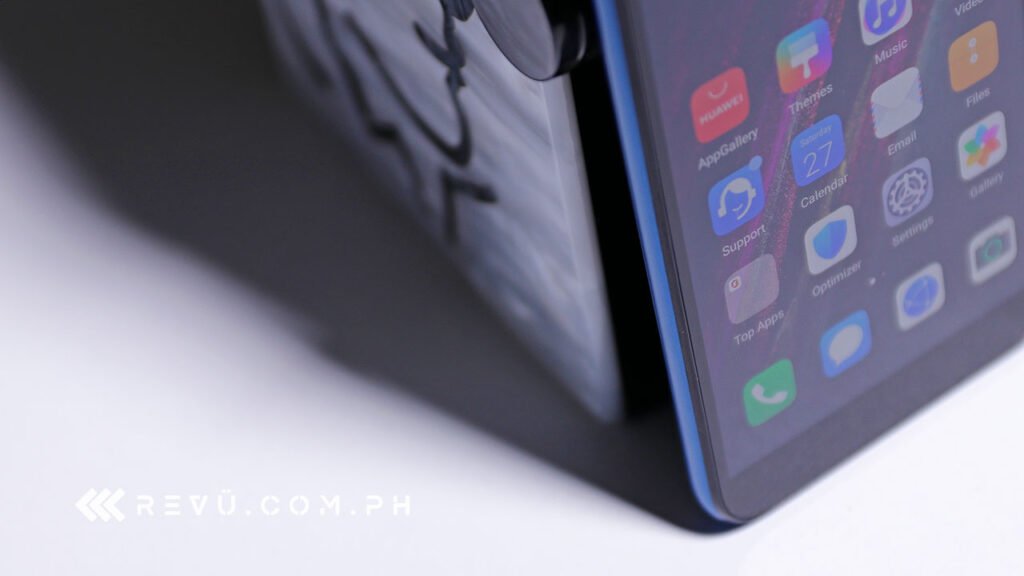 Like all the other new Huawei devices, the Y5p doesn't ship with Google Mobile Services or Google apps. The Y5p relies on Huawei Mobile Services and its app-distribution platform, AppGallery, which is now the third-biggest app store globally. It might not have all the apps you need yet, but you can use third-party app stores or download APKs from official sources. You can also use services like Huawei's Phone Clone to copy compatible apps from your old devices into the Huawei Y5p.
If you're curious about benchmark scores, you can check those out below. Take note that we've only been able to run Geekbench 4 instead of version 5 on our test unit.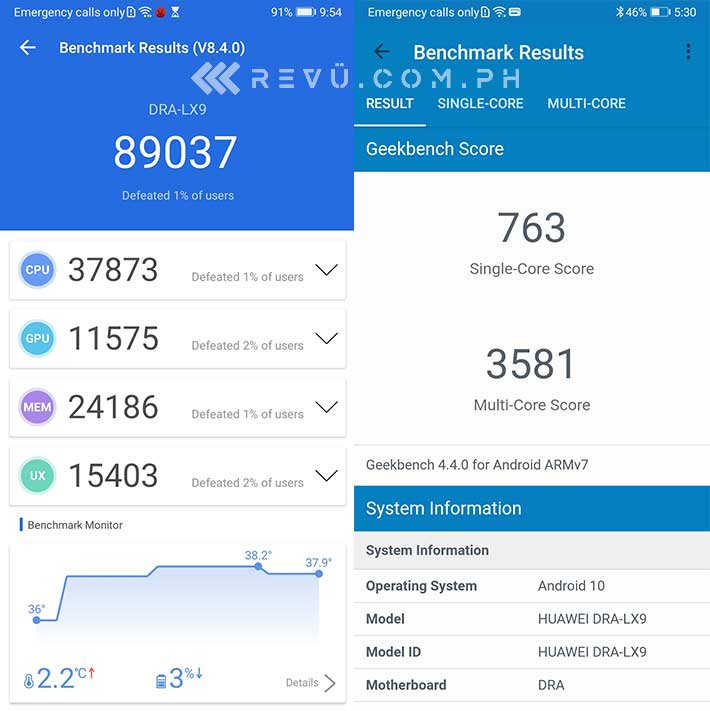 Battery
With what might be considered a meager 3,020mAh battery, you get a lot out of the Huawei Y5p. Having a smaller, less powerful display and processor means it uses less battery. A single-use with the screen on for most of the time can eke out seven to eight hours. If you use your phone less, we're sure you can get a bit more. We tried playing Asphalt 9 with High-Quality Visuals enabled, and it used around 8% of the battery, which is typical to what we've gotten with other devices.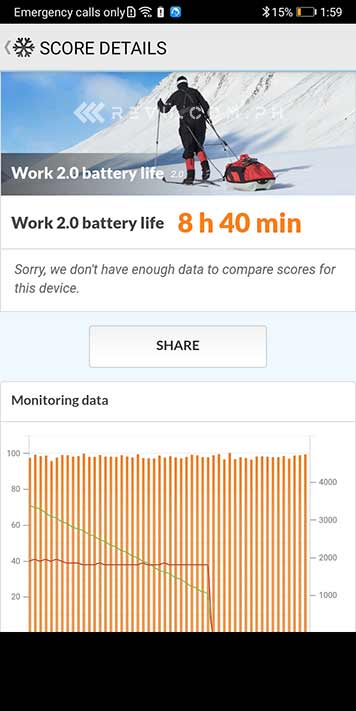 The Huawei Y5p's battery life lines up with the PCMark scores we got, which was around eight hours and 40 minutes. Without USB-C charging, though, expect to take some time to charge this handset. It takes approximately two hours and a half to fully charge the Huawei Y5p. We got up to 24% in 30 minutes and 52% in around an hour and 18 minutes.
Final thoughts
The Huawei Y5p makes the most of the hardware and software it comes with. It will be more than adequate for those needing a starter smartphone or a gadget without too many bells and whistles. It helps that it's affordable, too.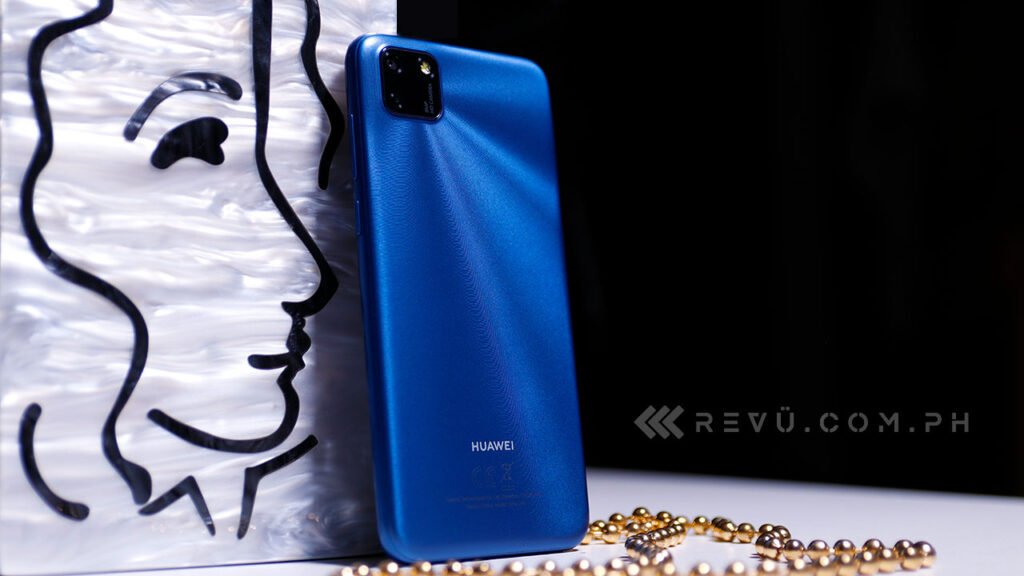 Huawei Y5p specs
5.45-inch LCD display, 1,440 x 720 resolution, 18:9 aspect ratio, 73.8% screen-to-body ratio
Octa-core MediaTek Helio P22 processor
2GB RAM
32GB expandable storage (microSD, up to 512GB)
8-megapixel camera with flash
5-megapixel front camera
3.5mm headphone jack
3,020mAh battery
EMUI 10.1 based on Android 10, Huawei Mobile Services
Colors: Mint Green, Midnight Black, Phantom Blue
---