Smartphones need not be expensive, and not all bargain-basement devices are painfully slow, outdated, and unreliable. Take the all-new Huawei Y5p, for example. It's the most affordable Huawei phone released in the Philippines in 2020, with a suggested retail price of only P4,490 or around $89 after conversion.
Yes, it's cheaper than the latest pair of basketball sneakers, but boasts plenty of features for the money, including a capable octa-core processor and a notchless screen with a nice screen-to-body ratio.
READ ALSO: Huawei Y6p review: Ticks the right budget boxes
The Y5p is really a great budget handset designed for the youth, the student community, and those who are looking to upgrade from a dumb phone and don't want to be overwhelmed by hardware and software features you may not need or use. Because let's face it: Migrating to something new can be both intimidating and overwhelming sometimes.
Don't fret, though. We're here to help. If you're facing the decision on what to do about your ageing — and very limiting — feature phone and still undecided about which budget smartphone to upgrade to, here are a few reasons why the latest Huawei Y5p should be your choice.
Attractive, sophisticated design
Unlike most other smartphones in the bargain segment, the Huawei Y5p flaunts an attractive design that has rounded edges and an ever-so-slightly textured back. The latter is combined with a unique finish, making it look like there are sun rays shining from the top, where the squarish camera module is located, toward the bottom of the rear panel.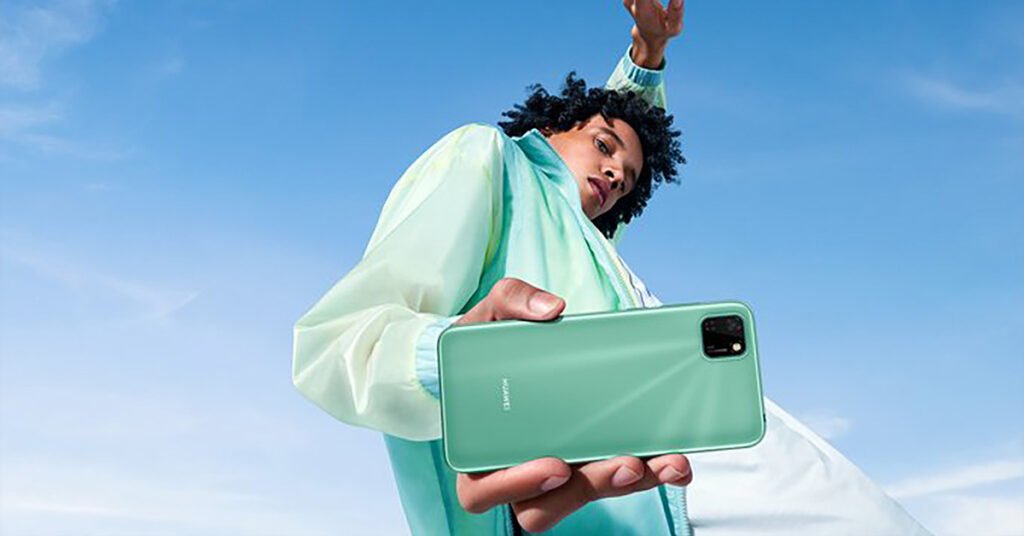 What's more, the Y5p arrives in three refreshing color options — Mint Green, Phantom Blue, and Midnight Black — to elevate its aesthetic. The green and blue variants are particularly eye-catching and go a long way in making the handset stand out.
When we think of affordable smartphones, most of us picture a chunky, rectangular slab that doesn't look appealing to use or hold at all. Clearly, Huawei went with a different direction, and it shows with the Y5p, which is anything but predictable and uninspired. As a first-time smartphone owner, you're probably looking for something fresh without being too out there. And the Huawei Y5p totally fits the bill.
FullView display at the right size
Screen size and quality is important when it comes to smartphones, and Huawei knows that very well. The Y5p packs a 5.45-inch FullView LCD Display with HD+ resolution coming in at 1,440 x 720 pixels.
The bezels around the screen are not too thick, resulting in a 73.8% screen-to-body ratio that makes the phone more manageable to hold compared to others. The handy screen size strikes a balance between usability and performance; it fits nicely in our hands without being too small to read text on screen or play games with a virtual joystick.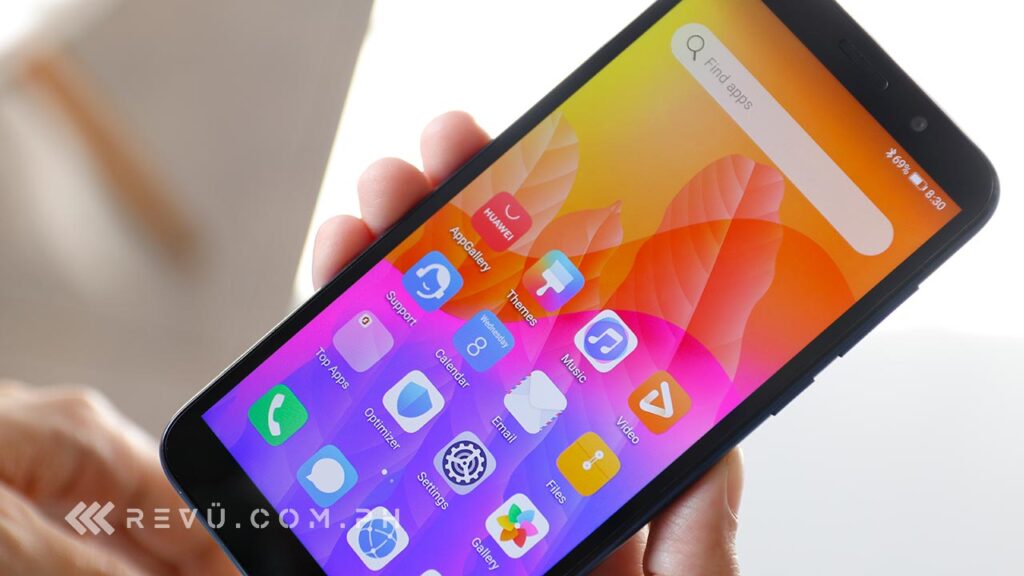 And though it's not the biggest in the category, the 5.45-inch touchscreen is a huge upgrade from a feature-phone display and should translate to a better experience when typing and browsing web pages.
Perhaps more importantly, it is ideal for watching videos while holding the phone with one hand. The top and bottom bezels even give you enough space for your fingers to rest on without blocking anything on the display.
Powerful octa-core performance for gaming and other tasks
Powering the Huawei Y5p is the MediaTek Helio P22 paired with eight CPU cores, 2GB of RAM, and 32GB of internal storage, which can be expanded further up to 512GB using a microSD card. Despite its incredibly low price tag, the Y5p can play some demanding 3D games like Asphalt 9 and Mobile Legends. Impressively, the latter even supports high frame rates, allowing for smooth gameplay as you team up with up to four other players to take on your opponents in intense 5v5 matches.
Watch us play Mobile Legends: Bang Bang on this P4,490 ($89) phone!
And when it comes to basic tasks such as web browsing, video streaming, and social media, the Y5p provides a satisfying experience that feature-phone owners should look for a starter smartphone. Multitasking is also a delight, as the phone can handle multiple apps in the background without waiting for them to load and open.
First-time smartphone owners like you will surely be happy with how the Y5p performs, which is night and day from what most feature phones offer. Even for us who use flagship devices as our daily drivers, it's amazing how this phone can do so much, so well while costing under P5,000 ($99).
Android 10-based EMUI 10.1 with AppGallery
Similar to the latest Huawei devices on the market, including the flagship P40 series, the Y5p runs the latest Android 10-based EMUI 10.1 software, with Huawei Mobile Services and the company's own AppGallery app-distribution platform baked in. Google apps are not preinstalled, but there are workarounds available if you are happy to do some research.
We already wrote about AppGallery quite a lot in the past, and the bottom line is that you can actually have a smartphone life without the Play Store and other Google apps by downloading software from a third-party source or finding alternatives wherever possible.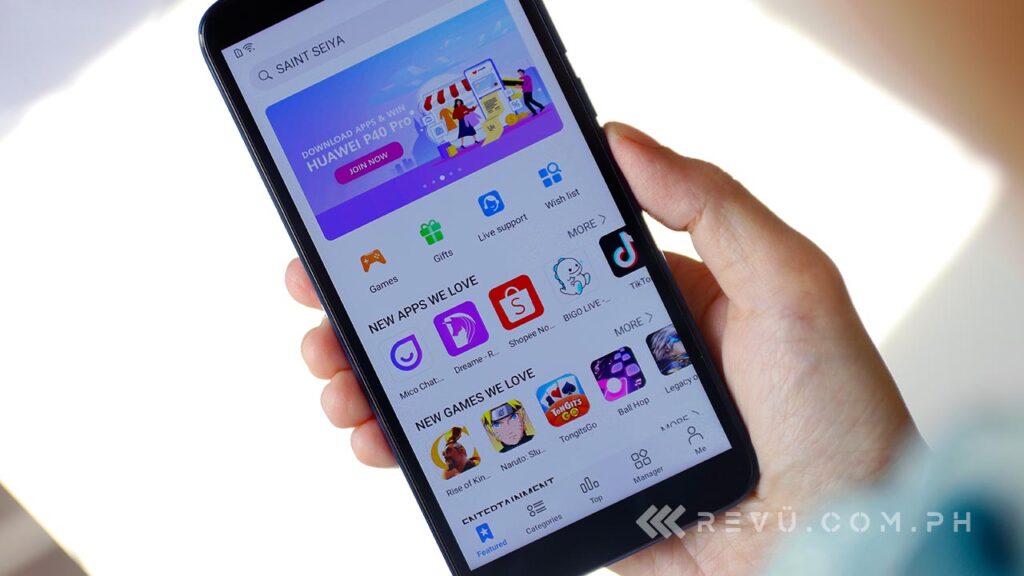 You can still install apps like Facebook, Messenger, Instagram, Twitter, and Netflix, among others, on the Huawei Y5p, so you don't miss out on the full smartphone experience. Some of the most popular games for mobile devices will run perfectly fine on the handset, too.
There are many localized apps and content on the AppGallery, and more will be available soon as Huawei continues to onboard more developers. In fact, the AppGallery is now the third-largest app-distribution platform on the market, with over 1.3 million developers and more than 400 million monthly active users around the world.
If you need help installing your favorite apps, there's an application on the AppGallery called AppGo that's essentially a search engine for Android software with download links from third-party sources. This will allow you to quickly and easily download the apps you want on your device without combing through the web and wasting time trying to figure out how to get past complicated websites that bury links on their pages for ad money.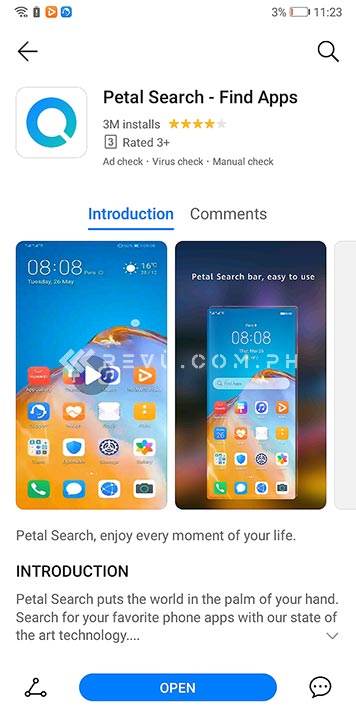 However, as we found, the easiest way users can get access to apps that are outside of the AppGallery is through an app called Huawei Petal Search Widget — Your Gateway to Million Apps. This application can be downloaded from the AppGallery and provides a search bar widget you can put on the homescreen to make looking for applications faster and more convenient. Huawei Petal Search Widget — Your Gateway to Million Apps also includes a newsfeed tab displaying national and international news culled from local sources.
SEE ALSO: Huawei phones released in the Philippines that can be updated to EMUI 10.1
With EMUI 10.1, the Huawei Y5p also shares many software features found in the latest Huawei devices with the exception of MeeTime. There's Dark mode, eBook mode, and Digital Balance, which allows you to monitor how long you use your phone each day and set up usage limits for children, as well as enable filters for what apps they can access.
Our personal favorite is Personal Hotspot. It allows the Y5p to act as a portable Wi-Fi range extender for up to four other devices.
Surprisingly capable cameras
For taking pictures and video, the Huawei Y5p comes with an 8-megapixel camera with f/2.0 aperture lens on the back and a 5-megapixel camera with f/2.2 lens at the top of the display. The rear camera is capable of capturing decent images under good lighting conditions, while the video resolution can be as high as 1080p.
While it doesn't have a dedicated Night mode, the Y5p surprisingly has Pro mode, where you can adjust the ISO, shutter speed, and exposure level to help you take the best photo in less-than-ideal situations. The HDR setting can likewise improve the results you get.
Sharing with you this new set of pictures shot on the smartphone. All 1x except for the last (4x zoom). You can see more photos in our review of the Huawei Y5p
The 5-megapixel front camera, on the other hand, has Beauty mode and supports up to 1080p resolution for video chat and more. It's important now to have a smartphone that can deliver clear image quality in video calls, and the Y5p doesn't disappoint in this regard.
Another useful feature made possible by the Y5p's selfie camera is face unlock, which we found to be fast and accurate when there's a sufficient amount of light.
---