As quarantine restrictions continue to create uncertainty for the Philippines and the education system in general, schools are adapting to the new normal while trying to keep students and teaching staff safe during the pandemic.
Distance learning or online courses have been adopted to make face-to-face classes unnecessary, but for that, you need a portable device that suits your needs.
Laptops seem like a good choice and some are cost-effective yet can still get the job done. However, portable PCs can also be bulky and most of them offer short battery life while the display is being used. If you're going to be staring at a laptop screen for hours, this could be a problem.
SEE ALSO: Huawei MateBook D 14: Top features and Huawei MateBook D 15 review: A value-priced aluminum laptop
Meanwhile, desktops rely on a power cord and need an external monitor to connect to, so it's a lot of work just to get them running. They're not as portable as notebooks either.
Although desktops generally offer greater processing power than laptops, the higher performance comes with higher electricity consumption as well — which nobody wants especially when the task at hand can be handled by a much more efficient device like a tablet.
Tablets are great devices for online learning, as they often combine reasonable computing power and efficiency in a small, lightweight package you can bring with you anywhere. Android tablets, in particular, are suited for leisure, too, especially with the entertainment apps and games available on the market.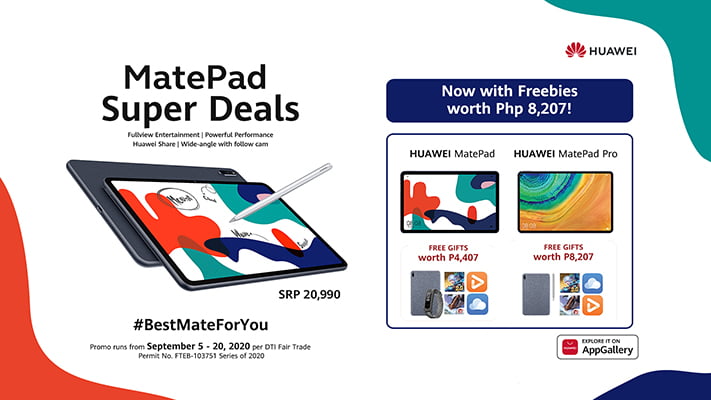 And when it comes to Android tablets, very few out there can match the value, versatility, and performance of Huawei's latest MatePad series, which includes the regular MatePad and the flagship MatePad Pro. Both slates are available in the Philippines, with the Huawei MatePad priced at P20,990 (around $433) and the Huawei MatePad Pro retailing at P32,990 ($681) locally.
Those are solid prices for what they offer, but even better, Huawei Philippines has the #BestMateForYou promotion ongoing where customers in participating stores can get freebies worth as much as P8,207 ($169) if they purchase a MatePad Pro. The promo runs until September 20. Here's the full list of freebies you'll find on offer:
Huawei MatePad (freebies worth P4,407 or $91)
Huawei Band 4e
Huawei MatePad flip cover
15GB Huawei Cloud storage for one year
Huawei Video TVB for three months
Huawei Video Mango TV for one month
Mobile Legends digital coupon
Garena: Free Fire digital coupon
Huawei MatePad Pro (freebies worth P8,207 or $169)
Huawei M-Pencil stylus
Huawei MatePad Pro flip cover
50GB Huawei Cloud storage for one year
Huawei Video TVB for three months
Huawei Video Mango TV for one month
Mobile Legends digital coupon
Garena: Free Fire digital coupon
So, what makes the Huawei MatePad and MatePad Pro the ideal alternatives to a laptop or desktop for e-learning and leisure? Read on to find out.
Maximized view, portable and lightweight designs
Both the Huawei MatePad and MatePad Pro are equipped with massive IPS screens larger than 10 inches. This provides a considerable size advantage over smartphones, and the screen real estate here comes close to what mainstream laptops offer.
What's more, the panels are touch-enabled, which lends itself to fluid and responsive interactions when using apps and creating or editing media. Think about how easier it is to edit a picture or video when using a touchscreen as opposed to making edits with a touch pad or a mouse and keyboard.
Of course, if you prefer using traditional input devices to get the job done, you can easily connect a mouse and/or a physical keyboard to your MatePad tablet via Bluetooth.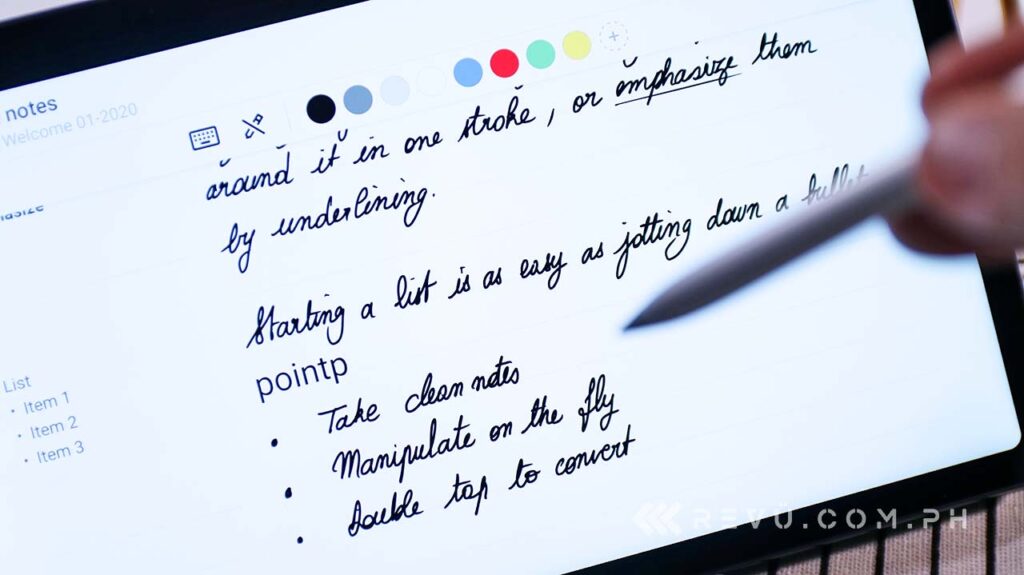 Additionally, both the MatePad and MatePad Pro support Huawei's fantastic M-Pencil, which you can use to take notes and annotations and sketch ideas for schoolwork. The stylus also boasts heavy, long usage on a single charge and houses a built-in battery that charges quickly.
The portability of the Huawei MatePad and MatePad Pro is another main selling point. The regular MatePad weighs in at 450 grams, while the Pro variant is slightly heavier at 460 grams; both are relatively slim compared to other tablets, with the MatePad coming in at 7.4mm at its thickest point and the MatePad Pro (surprisingly) being thinner than that.
Huawei's tablets are slim and pretty lightweight for their specs, and this allows students to work practically anywhere, anytime if they're not wedded to one specific desk in the house.
Multimedia powerhouses
As two of the brand's most premium multimedia devices, the Huawei MatePad and MatePad Pro are equipped with large, high-resolution touch displays. The MatePad is 10.4 inches, with a resolution of 2,000 x 1,200 pixels, while the MatePad Pro has a 10.8-inch, 2,560 x 1,600 screen with a wide 16:10 ratio.
The MatePad also covers 70.8% of the NTSC color gamut for better color reproduction and visuals. As a bonus, both panels are certified by TÜV Rheinland for low blue-light emission, making them comfortable for all-day viewing.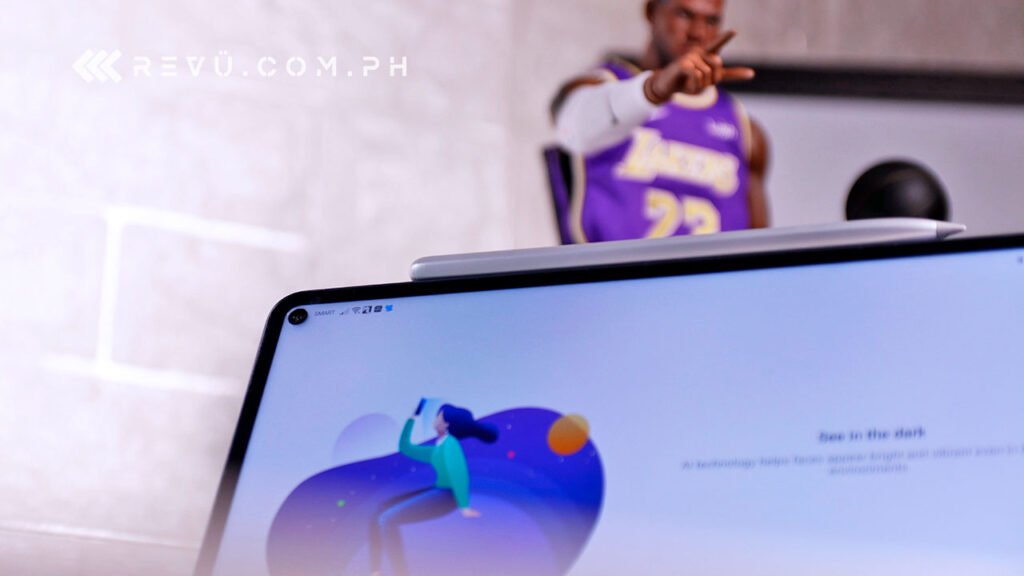 Perhaps more importantly, these touchscreens have small bezels surrounding them, resulting in an 84% screen-to-body ratio that is excellent for any kind of content creation or consumption. Narrower bezels also make for an immersive viewing experience, which, again, perfectly tie into the concept of the latest MatePads being desirable all-in-one multimedia machines.
So, regardless of whether you're participating in a virtual lecture or playing a graphics-intensive 3D game, Huawei's MatePad displays will bring any content to life and deliver a stunning viewing experience.
Expanding on their multimedia capabilities, both the Huawei MatePad and MatePad Pro are equipped with four speakers — tuned by audio company Harman Kardon, no less — that deliver good bass for their size and pleasingly loud volume. The extra set of speakers is a particular boon to users who play mobile games and stream a lot of video on their device's screen.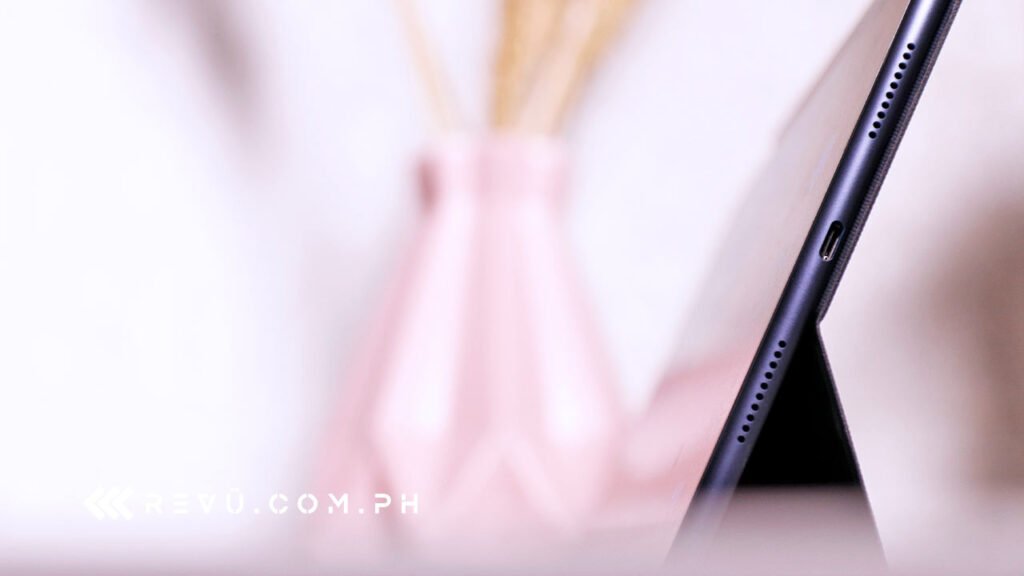 There's also a quad-mic system for improved audio recording and pickup when using video-chat apps. This provides some degree of noise cancellation to help students attend online classes and lectures and allow them to follow conversations in noisy environments.
With the MatePad and MatePad Pro, connecting to an external microphone or speaker won't be always necessary. But in case you absolutely need to, the onboard Bluetooth can easily pair the tablet with a wireless headset.
Built for distance learning and leisure
For smoother multitasking and a better experience when using productivity apps, such as Microsoft Office, Huawei has fitted the MatePad and MatePad Pro with a Kirin 810 and flagship-grade Kirin 990 processor under the hood with up to 6GB of RAM, respectively.
This makes both devices run fluidly when navigating the home screen and scrolling through menus, while games and other resource-intensive apps should offer a satisfying experience most of the time.
Consider that the Kirin 990 is the same chipset the company introduced on its Mate 30 series of handsets, while its 5G version is the same chip used in the P40 series.
READ ALSO: Huawei Store Online Philippines to open Sept 23. Flash deals? See these amazing promos here
Serious gamers will want to play high-end games on the Kirin 990-based MatePad Pro, and for the most part, the tablet won't disappoint, even with the graphics turned up as high as they would go on certain games. And with the increasing number of quality original games and console ports available on Android, MatePad owners will definitely not run out of apps to enjoy and sink their teeth into anytime soon.
The processing capabilities of the latest MatePad likewise let heavy multitaskers take advantage of Huawei's App Multiplier and Multi-Window functionalities baked into EMUI for seamless split-screen multitasking on supported apps.
Battery life is another important aspect when deciding on a device for school work and play. As we mentioned earlier, laptops tend to have limited mileage, while desktop PCs are not standalone and need to be plugged in all the time.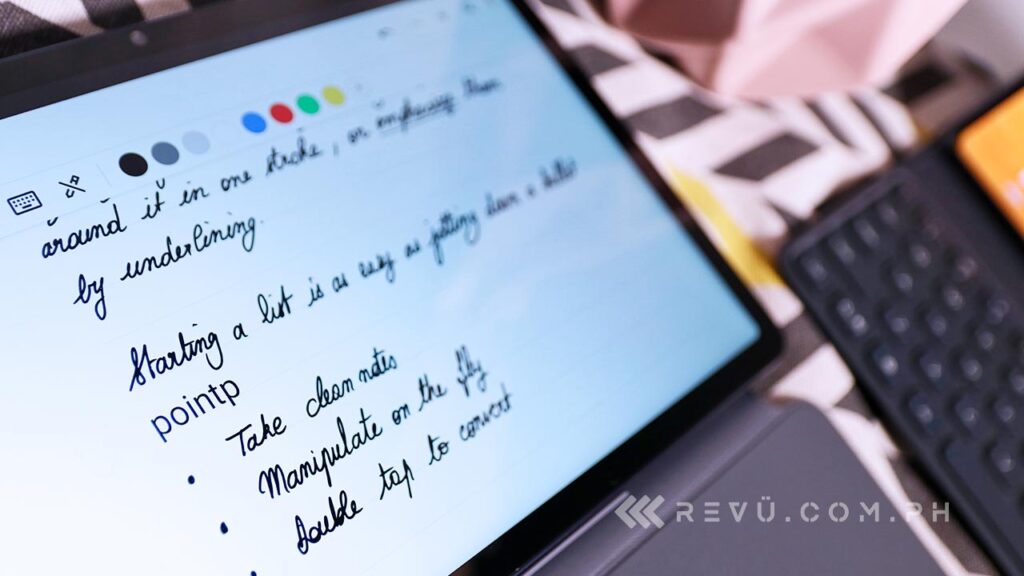 The MatePad series, on the other hand, don't need to stay tethered to a socket. It promises all-day battery life on a single charge, ensuring enough battery backup to meet the needs of students throughout the day.
What's more, the 7,250mAh battery in the Huawei MatePad and MatePad Pro support quick charging up to 20 watts on a USB-C port, meaning you won't always have to leave the device plugged in for a while, which can be particularly troublesome for users who have been spoiled by similar fast-charging tech on their smartphones.
With USB-C quick charging, you'll be able to use the bundled power brick to quickly top up when you're in a hurry, as opposed to waiting agonizing hours for the slate to fully charge.
Smart software
For conveniently sending and receiving big files, say, a PowerPoint presentation or a 1080p video for editing, MatePad owners can use Huawei Share, which lets them control their tablet from a Huawei MateBook laptop. It likewise lets you quickly share files to nearby Huawei devices via a mix of Wi-Fi and Bluetooth connections without the need for manual pairing.
This will prove especially useful for students who also own a MateBook and will make real-time collaboration and working across multiple screens possible wirelessly.
The MatePad and MatePad Pro ship with Huawei's MeeTime native chat app, supporting up to 1080p video resolution for crisp picture quality. MeeTime brings real-time screen sharing between two Huawei devices, even while the M-Pencil stylus is active for easier annotations.
Here's a video of how Huawei's MeeTime works! Related article: Huawei MeeTime in action & how to access it for after-sales support
In order to make video-conferencing calls easier, Huawei has introduced an exclusive FollowCam feature to the regular MatePad, too. With FollowCam enabled, you will always be at the center of the frame during video calls, while Smart View and Spotlight mode can help facilitate more engaging and efficient group communications.
As ideal e-learning companions, the latest MatePad tablets come with eBook mode, which mimics eInk to make text more readable and easier to see at a glance under direct sunlight.
Meanwhile, to make the display easier to read in the dark and minimize flickering, Eye Comfort mode is included in the software package, and Huawei has baked in some brightness-adjustment algorithms as well to further reduce eye strain.
SEE ALSO: Watch: EMUI 11 first look on our Huawei phone. What's new?
Finally, there's AppGallery, which is now the third-largest app marketplace globally. Huawei's native storefront for Android apps boasts more than 1.4 million registered app developers around the world and leverages on the company's full suite of Huawei Mobile Services or HMS to provide an all-in-one solution for finding apps, downloading and updating them when necessary, and making in-app purchases.
Students can download essential productivity apps, such as Microsoft Office, WPS Office, and CamScanner, from the AppGallery. But popular games and entertainment apps, including Mobile Legends, iFlix, and Viu, can also be installed on the MatePad to help users cope with the stress and transitions related to distance learning.
Accessing emails, meanwhile, can be done via the native Huawei Email app, which supports Gmail, Yahoo, and Outlook accounts.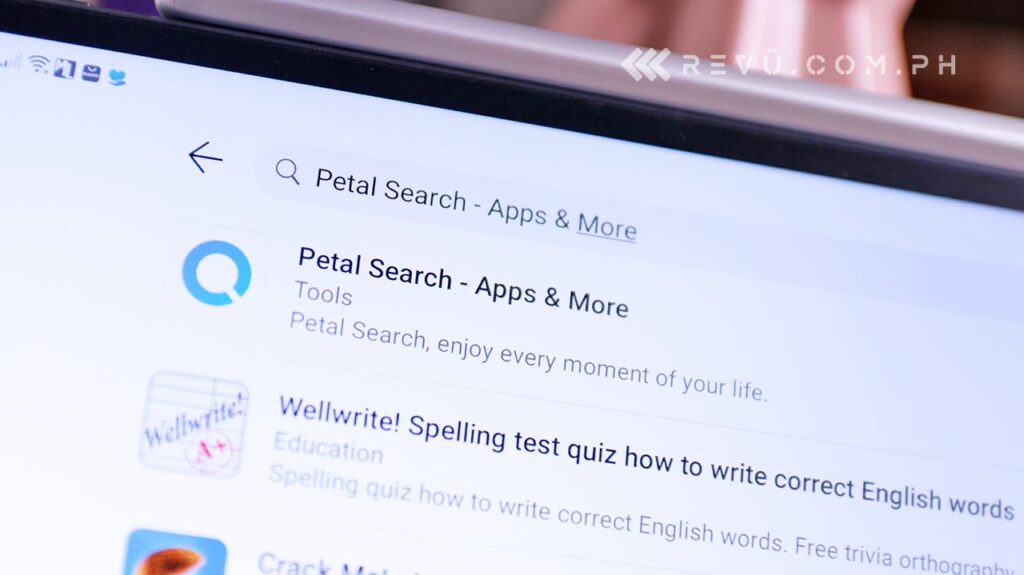 There are many more apps usable on the MatePad and MatePad Pro. If the app you are looking for isn't on the AppGallery yet, you might find it by using the preloaded Petal Search tool. We think it is, by far, the easiest method of getting a bunch of apps installed on your device without combing through the web for installation files. All Huawei phones and tablets have it by default.
Best mates for students
Both the Huawei MatePad and MatePad Pro offer an attractive mix of portability and versatility without compromising too much on performance and efficiency. They are capable of handling everyday schoolwork and can pair with a mouse, keyboard, and Huawei's own M-Pencil stylus for better productivity.
When it comes to video conferencing and online lectures, their quad speakers and noise-cancelling microphones should help make students have an easier time learning.
Powered by capable Kirin processors, the MatePad and MatePad Pro also pack plenty of power for intensive games and graphics-heavy apps. Meanwhile, the battery life on both slates boasts impressive endurance and should last a full day.
And with Huawei's #BestMateForYou deals, consumers can save a lot more money, which they can spend on other school requirements and daily essentials.
---