The upside of a competitive smartphone market is the increased number of choices we get. At this point, brands offer slight variations at slightly different price points, giving you a different experience with just a few hundred or thousands of pesos. It's a matter of knowing what it is you can afford and what it is you need. We're rife with options, and we welcome that dilemma.

Xiaomi's Redmi 9C sits in the middle of the Redmi 9A and the Redmi 9. It shares some similarities and some glaring differences that would make you pick one over the other. They don't even look like each other. So, where does the middle child, Redmi 9C, find itself? That's what we're here to find out. Read on for our full review.
Price and availability
The Redmi 9C is available in two variants in the Philippines: the P5,290 (around $109) model with 2GB of RAM and 32GB of built-in storage and the P5,990 ($124) model with 3GB of RAM and 64GB storage. It comes in Sunrise Orange, Midnight Grey, and Twilight Blue, and it's available at official Xiaomi stores offline and online.
Hardware
The Redmi 9C might be a basic smartphone, but you can't accuse it of being boring. Our Sunrise Orange unit is eye-catching. Its bold shade might not be for everyone, though. Xiaomi offers more subdued Midnight Grey and Twilight Blue variants. Nevertheless, the textured back is pleasant to touch. With a matte finish, it isn't greedy for fingerprints, which made our lives easier when it came to taking photos of the phone.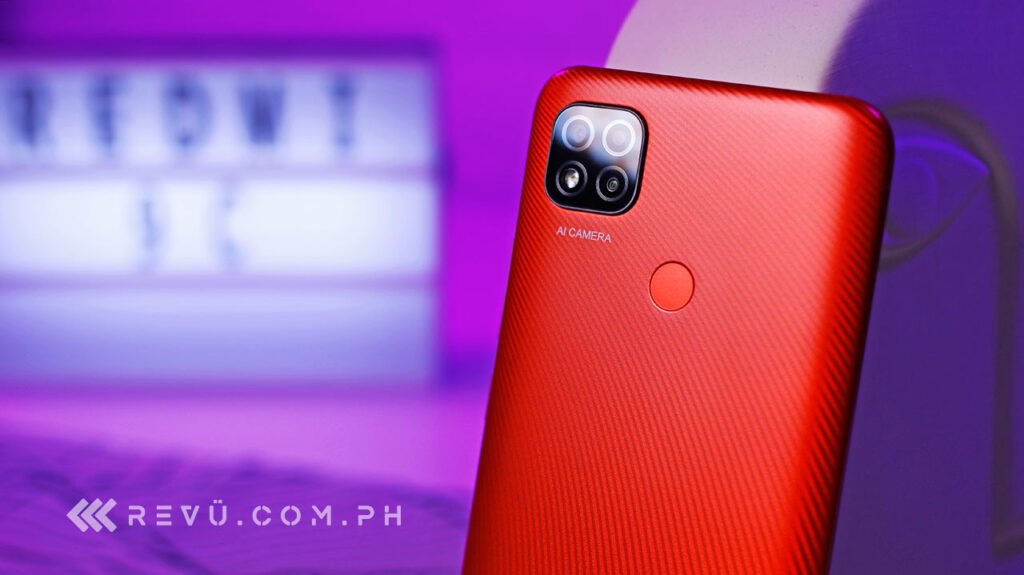 The artificial intelligence-enhanced triple-rear camera sensors are housed in the top-left corner of the handset with a design similar to the look popularized by the Apple iPhone 11 series. Slightly below that is the fingerprint sensor, which we appreciate seeing in a budget handset. And then, at the bottom center, there is the Redmi logo.
The fingerprint sensor works well most of the time. Xiaomi also gives you the choice to use face unlock on the Redmi 9C, a great second option if you can't reach the fingerprint reader. As expected, it works better in well-lit areas.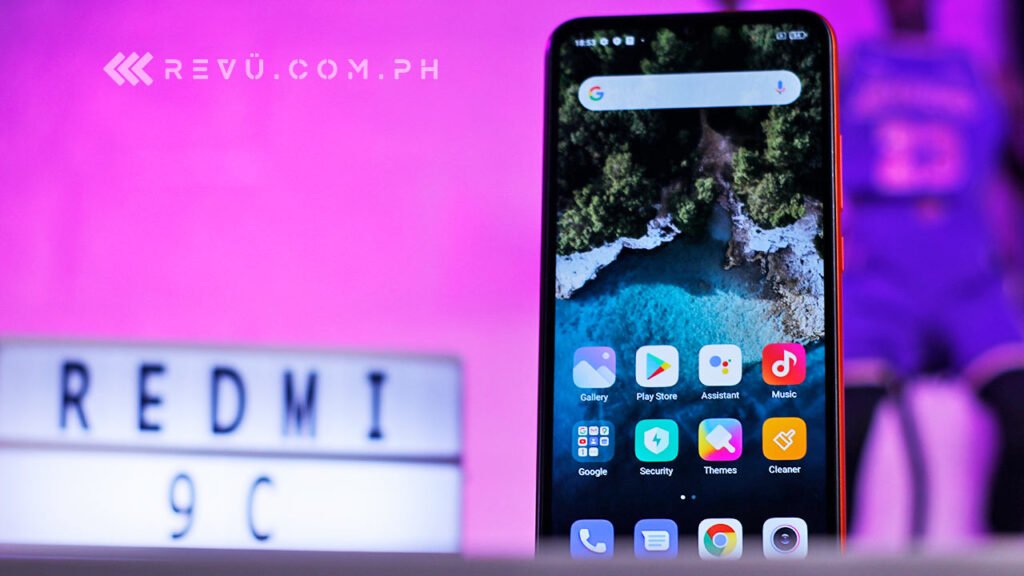 The display is surrounded by slightly thicker bezels, with the bottom bearing the most of it. But it's what we expected a smartphone in its price range to have. A DotDrop or waterdrop notch is located at the device's top center to house the solitary selfie camera. Above that is a thin strip for the earpiece.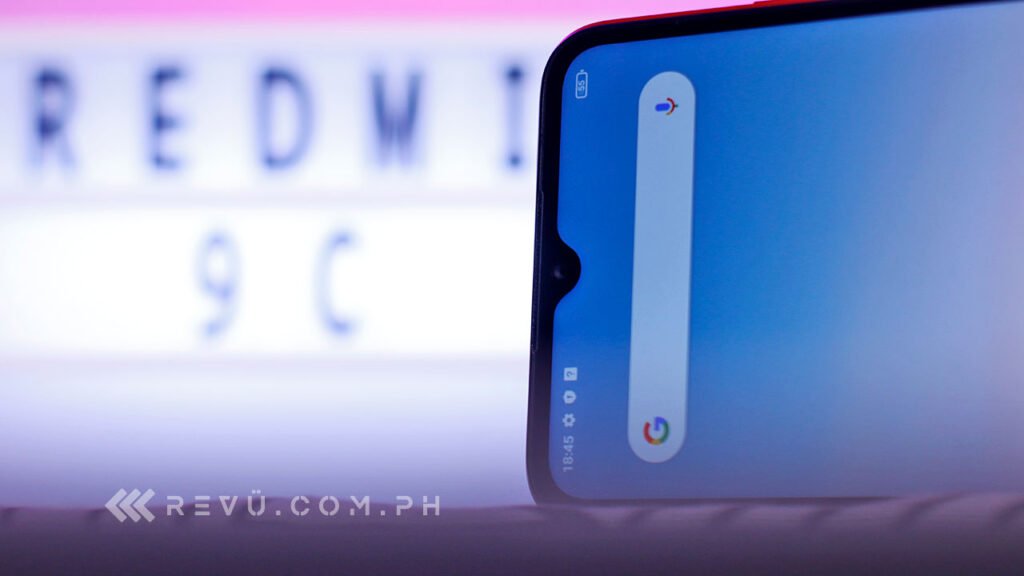 The left side of the Redmi 9C houses the triple card slot (two for nano SIMs and one for a microSD card). The right side has the volume rocker and power button. The top portion has the 3.5mm audio jack, while the bottom has the mic port, microUSB port, and speaker grille.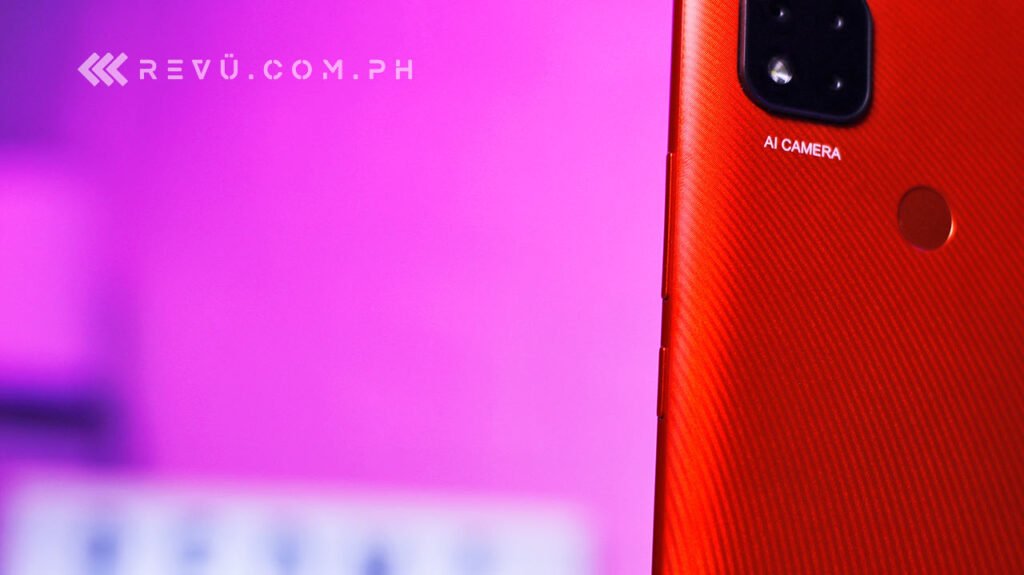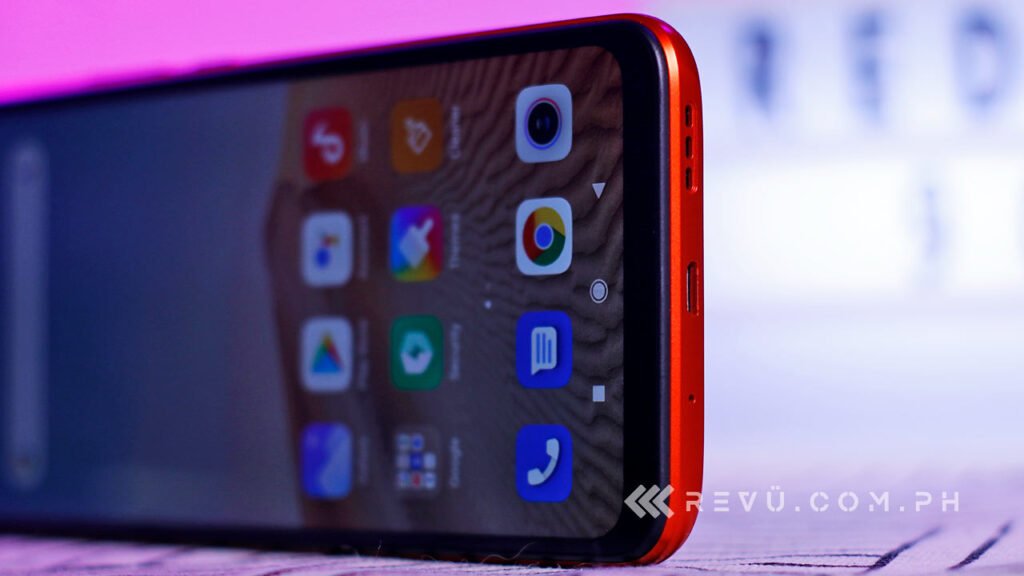 Like the other Redmi 9 series handsets, the 9C is a large smartphone. It's not too thick, but it's tall and wide enough to usually require two hands to operate. Its textured back makes it easy to hold.
The sound coming out of the single speaker is decently loud in a small room. It's not going to hold up if you try to use it in noisier environments, even when you max out the volume. It's better to use earphones at that point. With a built-in equalizer, using earphones and headphones do provide a better listening experience.
You'll need to get a pair or use the ones you already have since Xiaomi doesn't include earphones in the box. The Redmi 9C doesn't come with a silicone case either, so you'll have to buy a case if you want one.
What's in the box
Redmi 9C
MicroUSB cable
10-watt wall charger
SIM-eject tool
User guide
Warranty card
Screen
Screen resolution is one area where the Redmi 9C and Redmi 9A are similar and unlike the slightly more expensive Redmi 9 with its 1080p display. The 9C has a 6.53-inch HD+ panel with a 1,600 x 720 resolution. It's adequately bright indoors but struggles outside on a sunny day. The screen won't be as crisp as more expensive handsets. The blacks aren't as deep. But overall, display quality will be adequate for a lot of users.
The screen has blue-light protection certification for a more comfortable viewing experience even after spending long hours on the handset. Xiaomi includes options like Reading mode, Dark mode, and Sunlight mode to make it easier to use when it's nighttime or when you're reading on the device for long periods.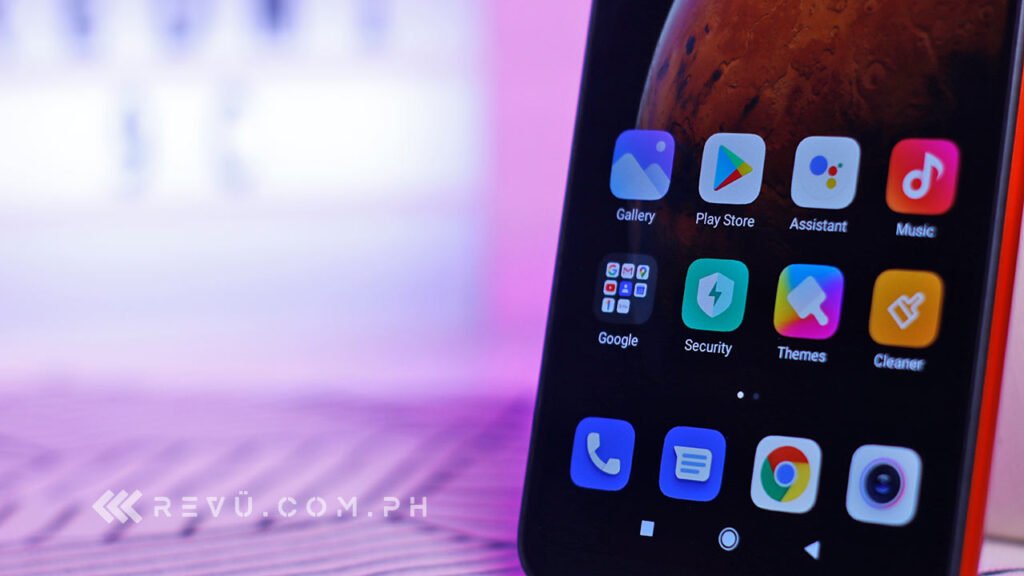 The notch goes pretty unnoticeable to us most of the time, but you have the option to hide it if you want.
With Widevine L3 compatibility, the Redmi 9C can only handle SD playback on apps like Netflix. If getting a better streaming resolution is essential to you, you better check out the Redmi 9.
Camera
The Redmi 9 series all have a different number of cameras on them. The Redmi 9C comes with three rear cameras composed of a 13-megapixel, f/2.2 main sensor; a 2-megapixel, f/2.4 macro lens; and a 2-megapixel, f/2.4 portrait sensor. In front, there's a 5-megapixel, f2/2.2 selfie camera. We like this trend of budget smartphones getting more lenses, as it offers more chances to play around with pictures, especially since you usually get lesser choices of camera modes.
READ ALSO: Xiaomi Mi 10T series launching Sept 30. Leaked prices, specs here and Xiaomi Philippines' Sept-Oct 2020 product brochure with prices
The Redmi 9C has corresponding modes for each sensor with Auto/Photo, Portrait, Video, Pro, and Macro modes. Macro is strangely buried within the burger menu for Photo mode. There's also a shortcut to Google Lens from within the camera app. The selfie camera has all the modes, except for Macro, of course.
Auto mode works relatively well in bright areas. It does tend to boost the highlights a bit. If you want a bit more control over how the images look, the Redmi 9C has a Pro mode, which we like seeing in a handset in this price range. It's particularly useful once the sun goes down because it is tough to get decent pictures in low light.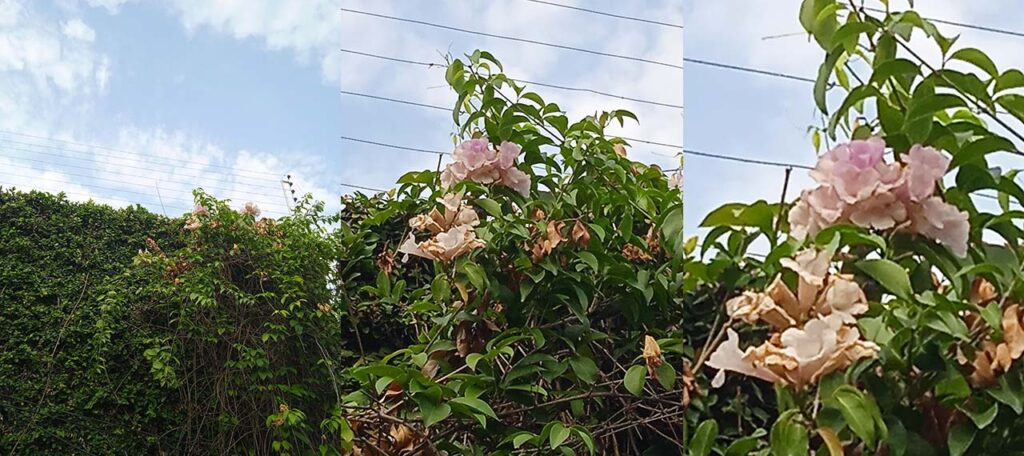 There's no optical zoom here, but you can get up to 10x digitally. And on a sunny day, you can see what you're taking a photo of even when you zoom in. Of course, the image loses its sharpness when you zoom in.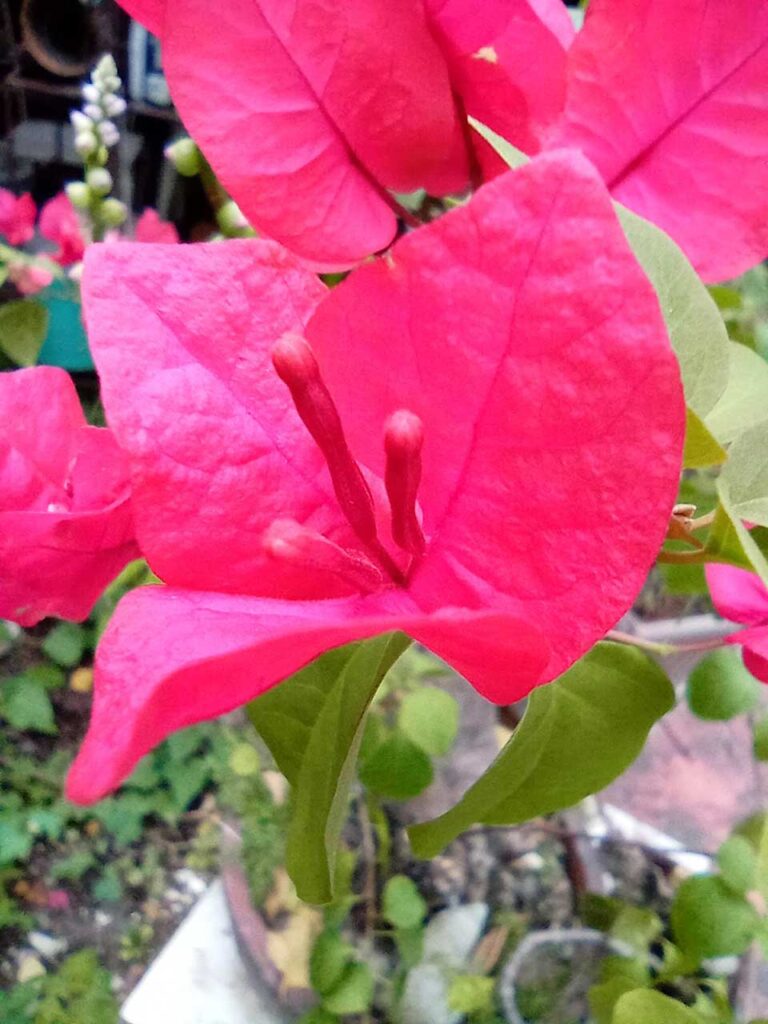 We have a bit of trouble focusing in Macro mode. You need an incredibly steady hand when shooting in this mode or use a tripod. We would've preferred an ultra-wide lens on this device.
Other pictures captured on the Redmi 9C's rear cameras
You can record up to 1080p at 30 frames per second with the 9C. Move around too much, and the video will be shaky. But if you move slowly or try to keep still, you can get some decent videos. The handset can even record Macro videos at 720p at 30fps if you're looking for this feature.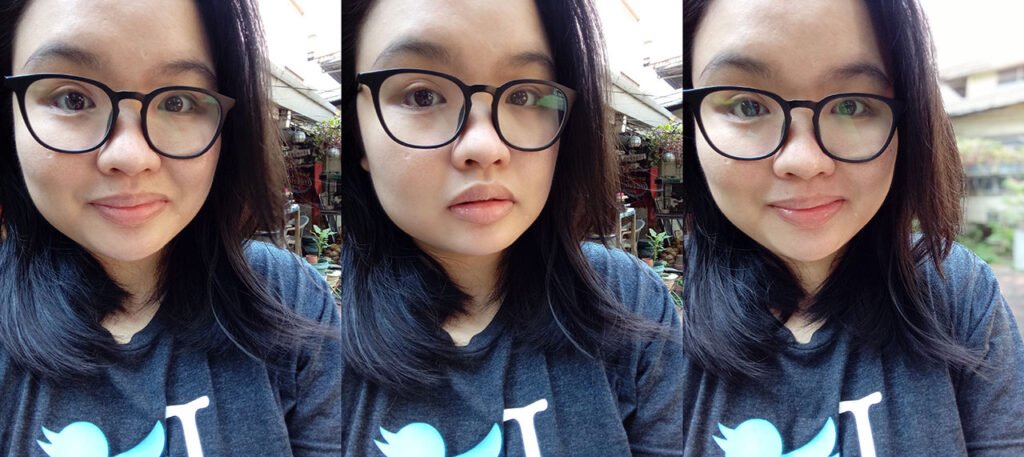 We're pleased with the selfie-taking capabilities of the Redmi 9C. It gets a lot of detail in well-lit areas to produce some flattering selfies. There's a Beauty mode included, but it's not as specific as those on other devices. We're pretty impressed with how the front camera separates the subject from the background, too.
Performance
The Redmi 9C is one of the first phones to use the MediaTek Helio G35 chip, which features a 12nm design with eight Cortex-A53 cores and IMG PowerVR GE8320 graphics. The Realme C11 is a phone it competes with that features the same processor and roughly the same specs. The Redmi 9C has the advantage of offering two memory and storage configurations compared with the single variant the Realme C11 is available in.
SEE ALSO: Realme C11 review: Another leap forward
We were testing the more affordable 2GB/32GB model, which performed as we expected it to. It works decently enough as a daily driver. But there will be times when its entry-level hardware struggles with offering a smooth experience while navigating the user interface. There will be pauses between switching apps or changing the orientation of the screen.
Gaming performance is adequate for those who play more casual games. But somehow, it still allows us to play Asphalt 9 in its highest graphics settings. We had no trouble with Alto's Odyssey or Cooking Battle either. But if you play for hours on end, prepare for the phone to heat up a bit. It won't be uncomfortable to hold, but you will feel it.
We do appreciate that this budget device runs on the latest version of the Android 10-based MIUI 12. You get features like swipe gestures, new icons, fonts, and animations, a new iOS-like Control Center, and an option to have an app drawer, among other things. You'll need to do a bit of digging in the Settings, but it'll help you customize the phone to your liking.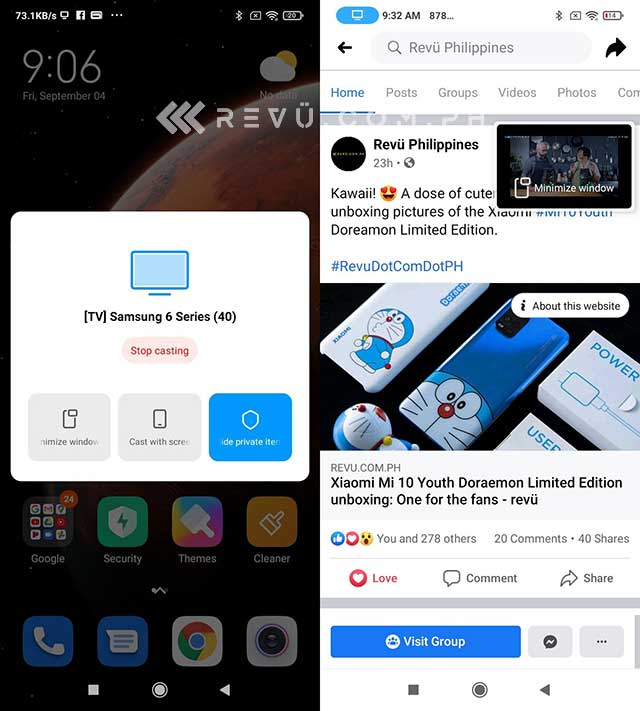 One feature we liked about the Redmi 9C is casting capabilities. It had additional options we haven't really seen often on other smartphones, like being able to minimize the window you're casting so you can use the phone, turn the 9C's screen off while you cast your display on another device, and hide things like floating notifications and incoming calls on the external monitor or TV.
These features worked well and did as advertised. We could stream a video to our TV while browsing social media on the phone or turn off its display to conserve a bit of battery. If you like to use your handset's casting feature, the extras on the Redmi 9C will be much appreciated.
Battery
There's a possibility that you can push the Redmi 9C to run on a single charge for two days. Xiaomi offers Battery Saver and Ultra Battery Saver modes, pushing the 5,000mAh battery to 66 hours and 40 minutes with the former and an impressive 400 hours on the latter. Of course, that will restrict a lot of the functions and features of the smartphone. But it's good to know the handset can last that long.
Reaching two days wouldn't even need to use these two modes. With casual use, it's possible to achieve that result. And if you're always on the Redmi 9C, you still get a good full day or so. When we ran the PCMark Benchmark test, we got an impressive 19 hours and 23 minutes out of it, which beats both the Redmi 9 and Redmi 9A.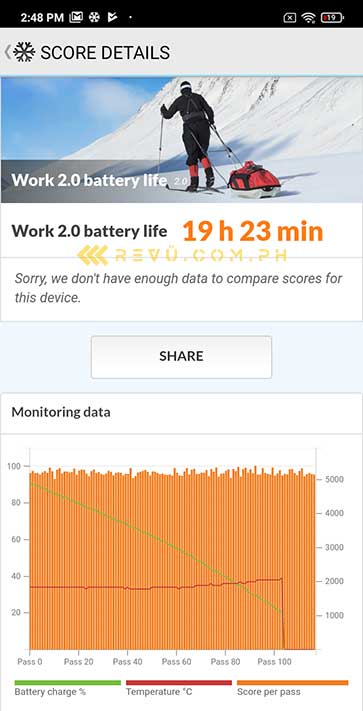 Out of the three Redmi 9 series phones, you can say the Redmi 9C can squeeze the most out of its battery. Don't get us wrong, the other two can last you long, too. But the Redmi 9C is poised to go that extra mile.
According to Xiaomi, it can last 27 days on standby and can do 167 hours of music playback, 32 hours of calls, 10 hours of gaming, or 21 hours of video playback.
As expected, it takes a bit of time to fully charge this handset. The Redmi 9C goes from 0% to 100% in around two hours and 40 minutes. We reached 50% at around an hour and 12 minutes, even with the 10-watt charger it comes with.
Final thoughts
The Redmi 9C is a compelling starter phone designed to burn the midnight oil with you if you need it to. It can last through your binge-watching sessions, casual gaming, or anything else that doesn't require you to push the limit.
It is power-efficient, but it cannot handle more graphics-hungry apps as well as you'd want it to. And for a lot of users, that's okay. You're the target market of this budget device. Don't push it too hard, and you'll be plenty satisfied with your purchase.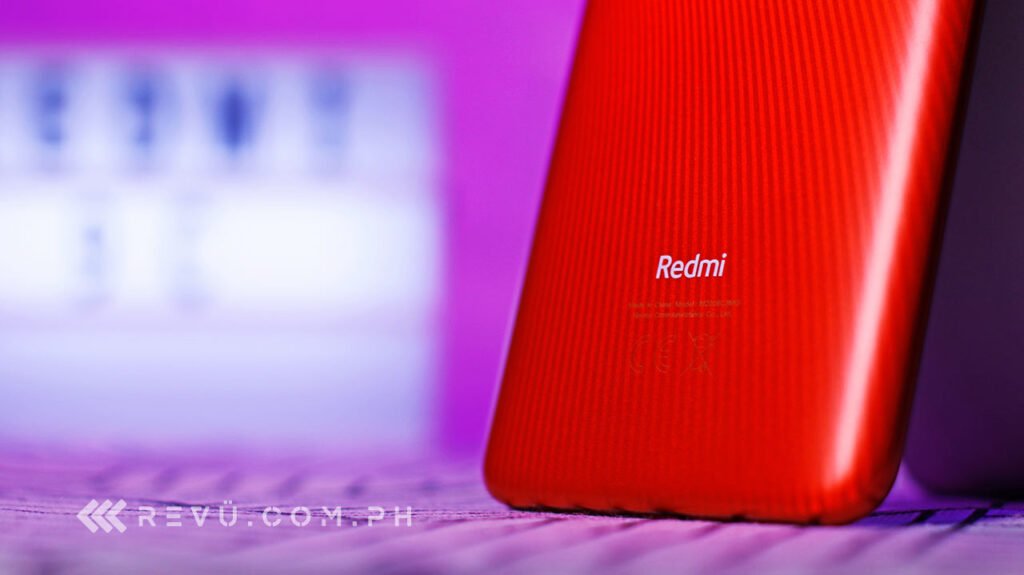 Xiaomi Redmi 9C specs
6.53-inch waterdrop HD+ LCD display
MediaTek Helio G35 processor
2GB/3GB RAM
32GB/64GB storage
13-megapixel, f/2.2 main camera; 2-megapixel, f/2.4 macro camera; 2-megapixel, f/2.4 portrait camera
5-megapixel, f/2.2 front camera
5,000mAh battery with 10-watt charging
Fingerprint sensor (rear-mounted)
MIUI 12 based on Android 10
Colors: Sunrise Orange, Twilight Blue, Midnight Grey
(Editor's note: Who just remembered that this review was already ready for publishing three weeks ago? Us! *Faceplam* — AUG)
---