Xiaomi Philippines has announced the Redmi 9A for the local market following the release of the Redmi 9 and Redmi Note 9 series before that.

In the Philippines, the Redmi 9A is officially priced at P4,690, which translates to roughly $95 in U.S. currency, for the 2GB RAM and 32GB storage variant. It's available in blue, green, and gray colors. Interested? You've come to the right place. We've reviewed the Redmi 9A just recently, and here are our thoughts.
Hardware
If you're familiar with last year's Redmi 8A, the most notable change to the Redmi 9A is its size. This phone has a much larger footprint courtesy of its bigger 6.53-inch display size. While some users will welcome the upgrade, there are those like us who might find the 9A too big to use single-handed. Unless you are blessed (or cursed?) with outstandingly large extremities, you'll need two hands for this device.
It's also worth mentioning here that the Redmi 9A is taller than your average phone because of its 20:9 screen aspect ratio, compared to the previous model's 19:9 ratio. The phone weighs a reasonable 194 grams despite its size and battery capacity due to its all-plastic housing.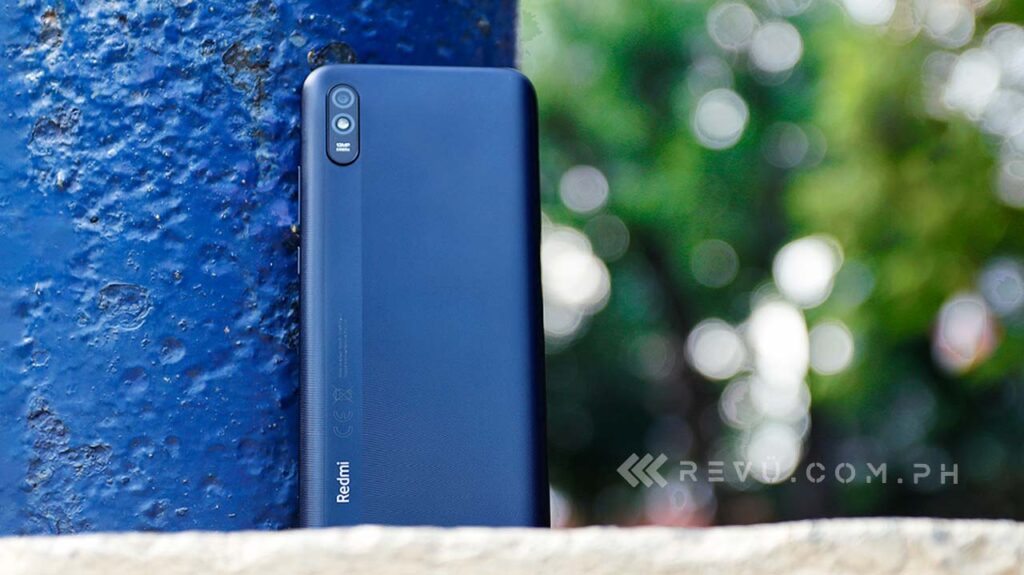 Speaking of which, the cheapest Redmi introduces a new design for its rear panel, sporting a micro-textured casing with a thick matte band that runs from the camera module down to the vertical Redmi branding at the bottom. It looks refreshingly different. But we can't say we like it better than what Xiaomi introduced on the Redmi 8A (the vertical line drops from the center of its textured panel).
Smartphone makers seem to like it a lot, though. The Realme C11, which was launched July 23 in the Philippines, flaunts a similar look for its back. More importantly, this means the rear camera sits at the upper-left corner instead of being on the middle of the top edge of the Redmi 9A.
SEE ALSO: Redmi 9 review: Does it meet, exceed, or betray expectations? and Redmi Note 9 Pro review: Living up to the legend
Besides providing a decent grip, the grippy surface on the back lends well to making sure fingerprints and smudges are not too visible. The physical buttons on the side don't feel cheap, too, and the 9A has a standard headphone jack for wired audio. You don't get a headset in the retail box, though; there's no silicone case either.
And if you're looking for a fingerprint sensor, you won't find one here. Hardly a surprise given the bargain-basement price point. Face unlock makes up for the lack of a fingerprint reader, but it isn't exactly a more desirable solution especially in low light.
The Redmi 9A also doesn't have a built-in FM antenna, so you'll need a pair of wired earphones if you want to listen to some free music using the preinstalled FM radio app. The Redmi 8A as well as the Redmi 9 we reviewed recently have an antenna built in for picking up FM signals.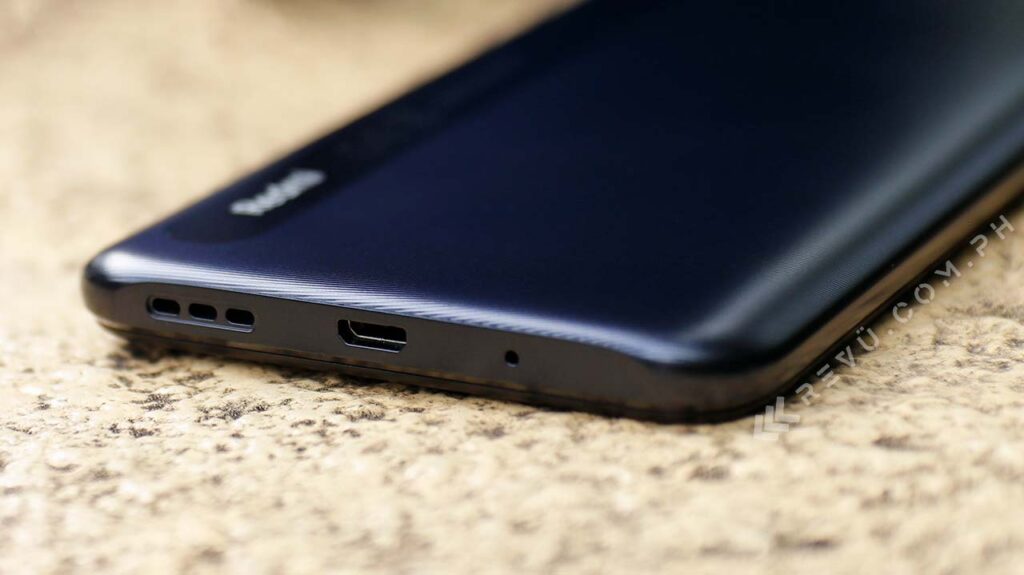 The single downward-firing speaker isn't loud or clear at high volume levels, but it will do a decent enough job as a loudspeaker for voice and video calls. The microUSB port at the bottom is a downgrade from the 8A's USB-C interface and doesn't support fast charging at higher than 10 watts. And though this may not seem like a big deal on paper, bear in mind that the 9A has a pretty huge 5,000mAh battery that takes a while to charge.
What's in the box
Redmi 9A (no screen protector film installed)
MicroUSB cable
10-watt wall charger
SIM-eject tool
User guide
Warranty card
Screen
Literally, one of the main attractions of the Redmi 9A is its display. It's 6.53 inches across and takes up most of the real estate on the front. The reasonably small bezels and waterdrop notch at the top make for a decent viewing experience in apps like Netflix and YouTube, and the 1,600 x 720 resolution of the panel is okay for the price tag.
For watching DRM-protected content, you get Widevine L3 security certification out of the box, meaning the 9A won't be able to stream HD content on Netflix and other similar apps.
That's quite unfortunate, because the panel itself has pretty good colors and wide viewing angles. We'd even argue that, at least in terms of color accuracy, saturation, and contrast, it beats most of its competitors, as well as some phones sitting in higher price brackets.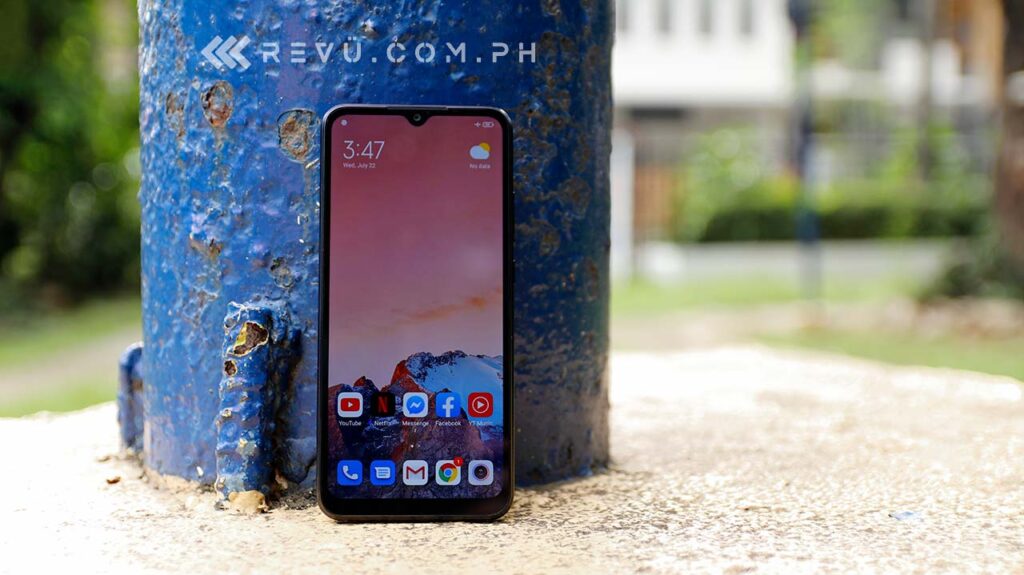 You can adjust the color temperature of the display in the settings menu to suit your environment. Similarly, there's Reading mode built into Xiaomi's MIUI 12 overlay that gives the screen a paper-like quality to make it easier on the eyes. It should help if you read often on your device.
MIUI 12's Dark Mode 2.0 is available on the Redmi 9A, allowing users to switch the typically white elements of a user interface to a darker color palette. This feature also introduces wallpaper dimming to simulate a day-night cycle and adds font weight adjustment, which reduces the boldness of text for more comfortable viewing.
For faster unlocking, the screen supports Raise to Wake and Double-tap to wake or turn off screen. We recommend enabling at least one of these options to make the phone easier to use.
Camera
Just like the Redmi 8A, the Redmi 9A has two cameras — one at the back and another on the front. The front-facing sensor for selfies is 5 megapixels, while the main camera has a 13-megapixel sensor and LED flash. With no additional camera on either side, your shooting options are limited. In fairness to Xiaomi, though, the 9A's native camera app still comes with a dedicated mode for portraits and timelapses.
Compilation of raw videos shot on the Xiaomi Redmi 9A
If you fancy shooting a quick video for social media, you can do that too. Kaleidoscope mode is likewise available under the Short Video setting and makes for interesting footage. The phone can shoot up to 1080p resolution at 30 fps using the rear and front cameras.
Taken with the Redmi 9A
The primary camera supports Google Lens, which is useful if you need to translate something in real time, as well as AI for automatic scene recognition. This will allow you to take brighter, punchier pictures of popular camera subjects such as food, although getting it to work as advertised can be a bit of a hit-or-miss affair.
The highlight for us is Pro mode, which is surprisingly available on the Redmi 9A despite its low cost. This lets users toggle settings, such as ISO and shutter speed, to help take better photos even in dim environments. We were able to take these shots with the smartphone mounted to a handheld gimbal. Now, compare them with pictures shot using the default Photo mode.
Pro vs Auto (nighttime)
Here's another set of images taken with the 9A's manual option. If you didn't know better, you might think they were shot using a much more expensive smartphone.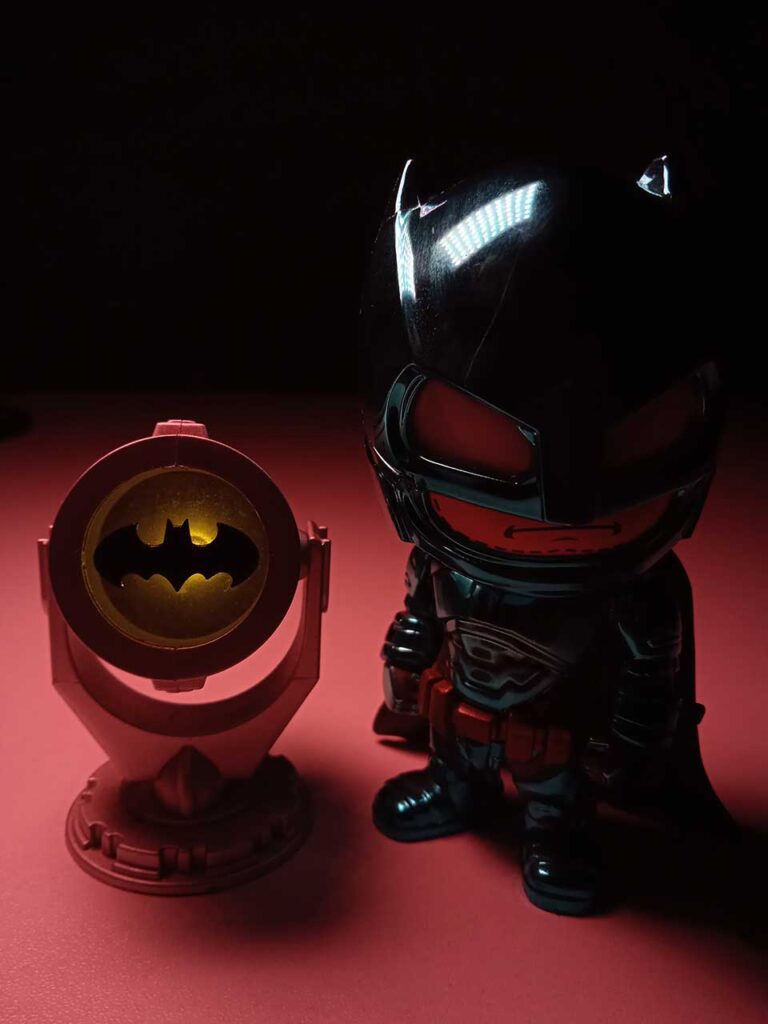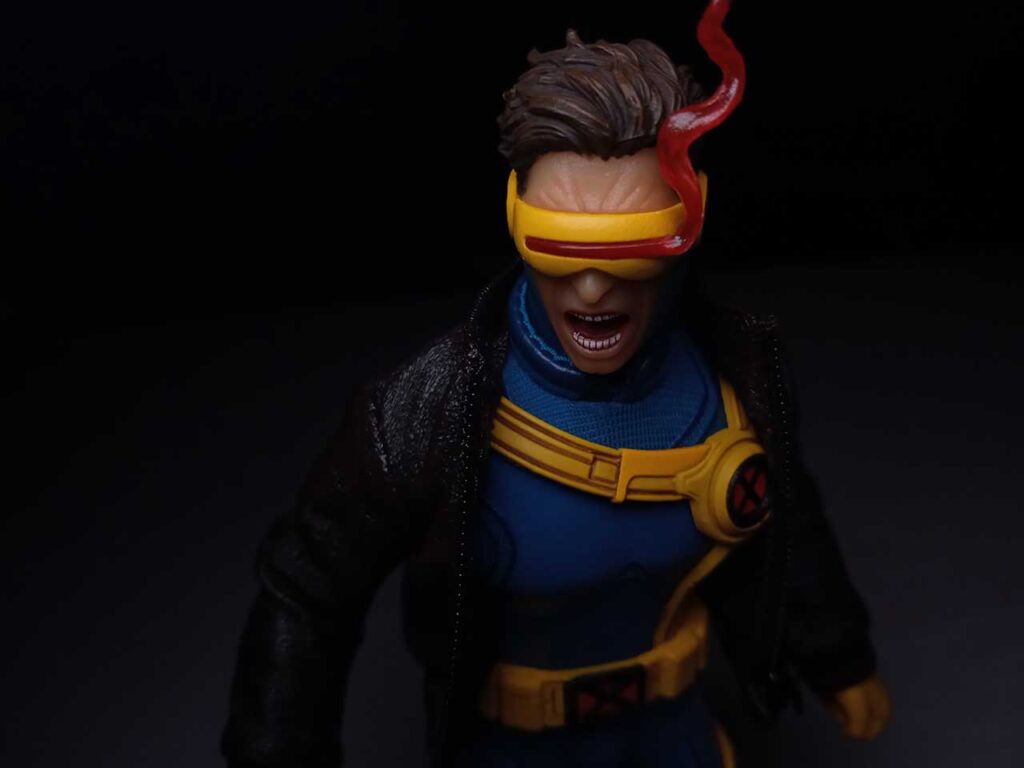 Finally, here are some selfies shot on the 5-megapixel camera, including those taken with the in-built filters and beauty settings.
Selfies captured on the Redmi 9A
Performance
The Redmi 9A is the world's first smartphone with a MediaTek Helio G25 chipset inside, though that might not be something that gets most people's attention since we're talking about an affordable SoC in an affordable phone. Regardless, the Helio G25 is a solid entry-level chip that pairs eight Cortex-A53 cores with IMG PowerVR GE8320 graphics and performs on a par with Qualcomm's Snapdragon 439.
Our unit has 2GB RAM and 32GB of expandable storage. It also comes with dual-SIM 4G LTE and Bluetooth 5 for better wireless internet and peripheral support. Crucially, the G25 is said to provide smooth performance "in games with demanding action."
Gameplay: Mobile Legends: Bang Bang and PUBG Mobile (5:00 mark)
Based on our testing, it can play multiplayer online games like Mobile Legends and PUBG Mobile at almost 30 frames per second with rock-solid consistency. In case you're wondering, High Frame Rate (HFR) mode and High (not Ultra) visual settings are supported on Mobile Legends.
In terms of benchmarks, our unit achieved close to 90,000 points in Antutu tests, whereas the Geekbench scores for single-core and multi-core workloads are 122 and 452, respectively.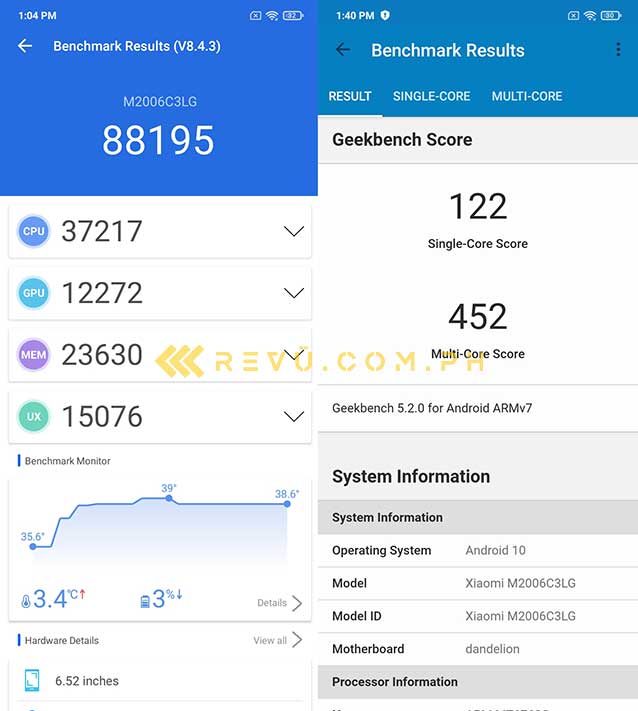 The Redmi 9A ships with Android 10-based MIUI 12. Xiaomi's latest custom overlay looks better than ever and offers a ton of features if you don't mind drilling down the settings to find them. Performance is another story, though, as the 9A's low-end hardware sometimes struggles to deliver a smooth experience across the user interface.
Understandable given the price point, but it's still worth mentioning here especially if you're deciding between this handset and something with faster specs and also a higher price tag.
Battery life and charging
Keeping the lights on is a massive 5,000mAh battery backup that charges over microUSB up to 10 watts using the included charger and cable.
The high capacity coupled with the 10-watt charging means it takes around three hours to fully recharge the battery from zero. Thankfully, the phone lasts a very long time — we get about two days with normal use (though your mileage may vary) — and there is nothing on the specs sheet that consumes a lot of power.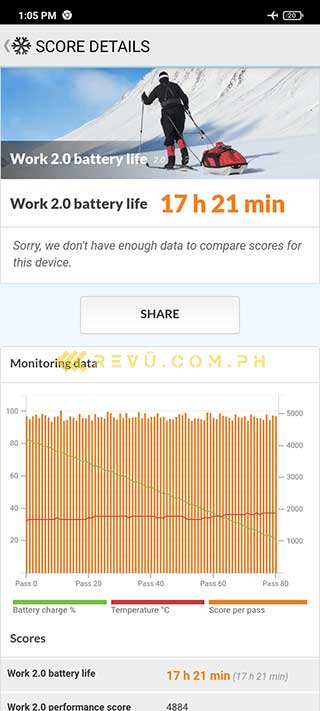 In the PCMark battery test, which simulates common use cases, our unit lasted over 17 hours. That's quite a feat. And it shows how power-efficient MediaTek's new chipset is. We played Mobile Legends for a couple of hours and saw the battery level drop by about () percent. That said, if you're a heavy gamer, this phone won't disappoint in the battery department. The Redmi 9A is one of the longest-lasting phones you'll find in the bargain segment.
Final thoughts
Boasting a generous touchscreen, a battery perfectly capable of giving you two days of use on a single charge, and reliable performance courtesy of the new MediaTek Helio G25 chipset, the Redmi 9A's got the basics covered well. And though there are a few notable differences between this handset and the Redmi 8A that launched last year, Xiaomi's latest budget blower is much more affordable while offering a taller and wider screen real estate at a similar HD+ resolution.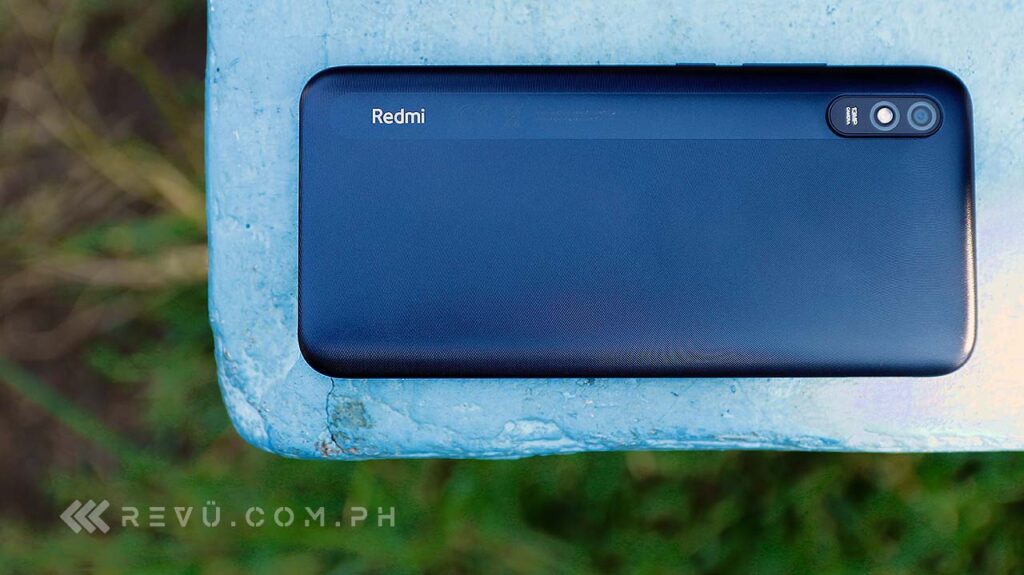 Looking at the specs and international pricing, it seems that the Redmi 9C, which debuted alongside the Redmi 9A, is the real direct successor to Xiaomi's former entry-level champ. This leaves the 9A at the bottom of the current Redmi hierarchy — though there's nothing wrong with that — especially given its price.
If you're looking for a super-affordable feature-phone upgrade with a large touch display and extra-long battery life, plus the latest Android software to boot, the Redmi 9A is certainly worthy of consideration, even with its shortcomings. But if you can afford to spend more on better specs, the Redmi 9C, which will likely be announced in the Philippines sooner rather than later, should be on your radar as well.
Xiaomi Redmi 9A specs
6.53-inch waterdrop HD+ LCD display
MediaTek Helio G25 processor
2GB RAM
32GB storage
13-megapixel AI rear camera
5-megapixel front camera
5,000mAh battery
Android 10
Colors: Midnight Gray, Twilight Blue, Peacock Green
---