The Realme 7i is a little bit of an outlier of the new Realme 7 series — even how the company markets it is slightly different. The Realme 7 gets the "Capture sharper. Charge faster" tagline, while the 7 Pro gets the "Capture sharper. Charge fastest." The 7i? It gets "Capture sharper. Play smoother."
The tagline references the 90Hz refresh rate on the handset, which we aren't surprised they're heavily promoting. While the smartphone might not have its siblings' charging speeds, it does bring a higher refresh rate to its price point, which is generally uncommon.
SEE ALSO: Realme 7 Pro review: Need for (fast-charging) speed and Realme 7 camera test: Is Sony's 64MP sensor better?
We aren't sure we can still call the Realme 7i an entry-level handset, though. In terms of price and specs, it leans a bit more into the lower mid-range, which we know is a very tricky segment to define anyway. What's certain is it's pricier than we're used to when it comes to Realme "i" series phones. It does get a specs boost to justify the price, but it might make you think a bit more before deciding to purchase one.
However, the previous generation users aren't the target consumers, especially since it's unwise to swap out a phone that was just released earlier in the year. Buyers of the Realme 7i will be those curious to try out a 90Hz refresh rate, but don't want to splurge on a new device. Will this new Realme handset meet expectations? What else does it have to offer? That's what we hope to answer with this review.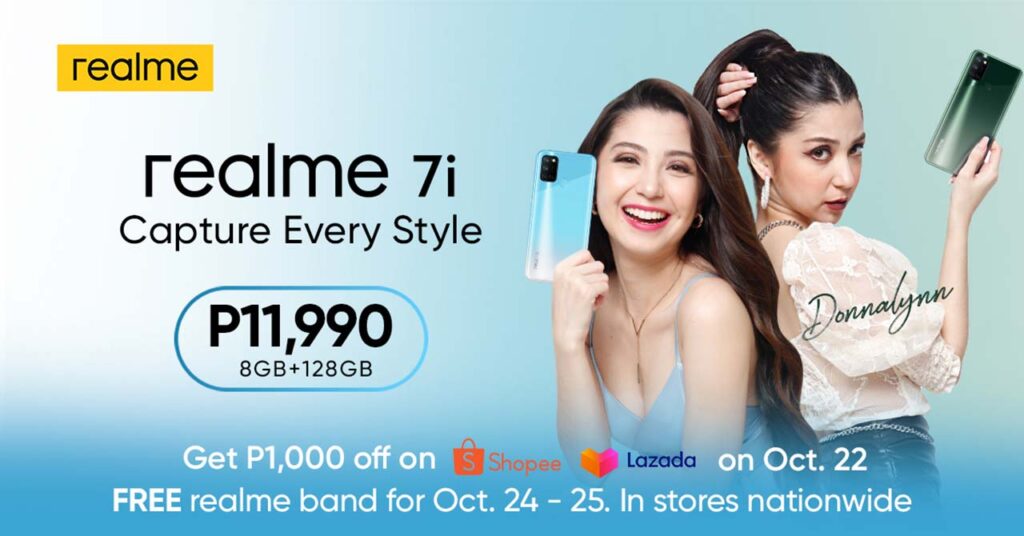 Price and availability
Realme 7i is available in one configuration locally: 8GB RAM + 128GB of storage. It costs P11,990 (around US$247), and it comes in Aurora Green and Polar Blue.
It is available online first on both Shopee and Lazada starting today, October 22, and it comes to brick-and-mortar stores beginning October 24. Those who purchase the handset in stores on October 24 and 25 can get a free Realme Band worth P1,390 ($29).
If you want to pay for it by installment, Home Credit offers six- and nine-month plans at 0% interest. Major credit cards also provide a six-month installment plan at 0%.
Hardware
The Realme 7i doesn't have the Realme 6i's Rimowa-like texture for its plastic back, nor does it have the AG Split Design of the Realme 7 and Realme 7 Pro. It treads its own path in colors that are said to be inspired by the "fantasy scenes in the Arctic region."
The Polar Blue we're testing is said to be reminiscent of the blue Arctic Ocean combined with the Arctic Snow. The colors are expressed in a gradient pattern from the blues up top to the hints of white at the bottom of the handset. There's also a thin line cutting diagonally right in the middle of the fingerprint sensor at the back that creates a less apparent two-tone effect we see on the Realme 7 and 7 Pro's AG Split Design.
The Realme 7i's camera module is rectangular instead of linear, keeping up with a trend we've seen on handsets from Samsung and other manufacturers. It houses the four cameras in an L shape along with the flash. Just a bit beside its lower portion is the fingerprint sensor, which we find a bit high for our hands to reach sometimes.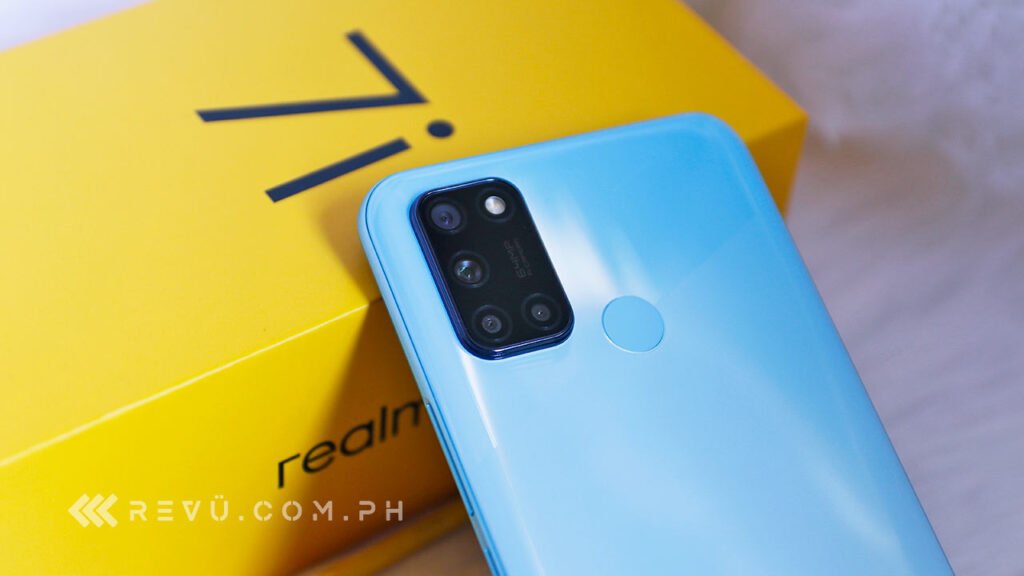 The sensor works great, though. It doesn't have trouble registering our fingerprint. Face unlock is pretty speedy, too. But in the age when we're masked up when we go outdoors, the presence of a fingerprint sensor is more important than face unlock.
The 7i's plastic back straddles this line between glossy and matte. Fingerprints and smudges seem to come off quickly, and they aren't that visible in the first place. The texture doesn't make the phone too slippery in our hands. For extra protection and grip, the Realme 7i also comes with a silicone case. Like its more expensive siblings, the camera module on this handset sticks out quite a bit. The case levels off the device's rear to allow you to place the phone flat on a desk.
Realme boasts that the 7i comes with a splash-resistant design, which is extra protection we're glad the phone offers. Like other Realme devices, it promises to have passed rigorous quality tests for durability and sturdiness.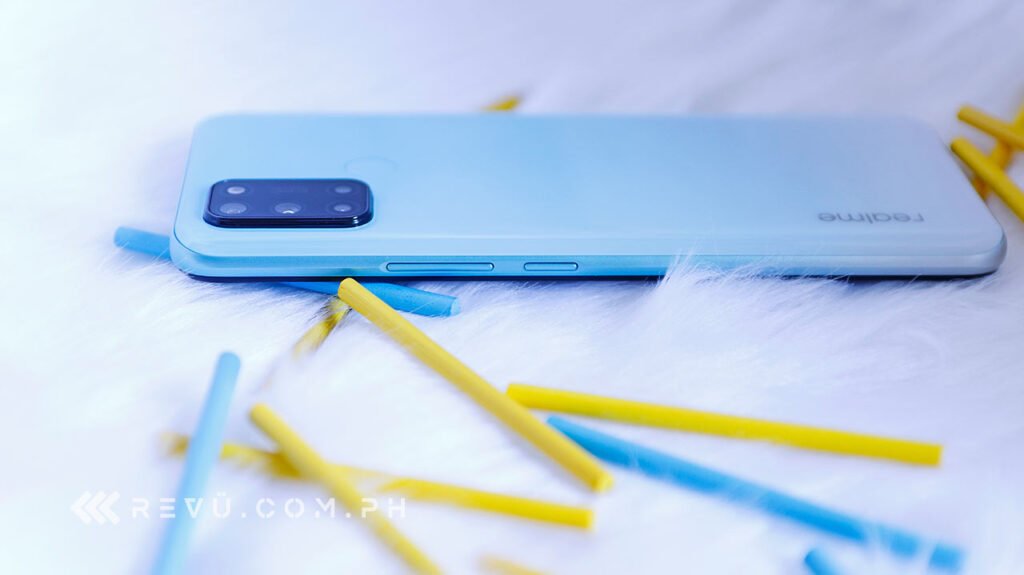 Besides a different look, the Realme 7i strays from the Realme 7's and 7 Pro's button placement. The volume rocker and power button are both on the right side; the left side houses the triple-card tray for two SIMs and a microSD card; and the bottom has the 3.5mm audio jack, USB-C port, and speaker grille.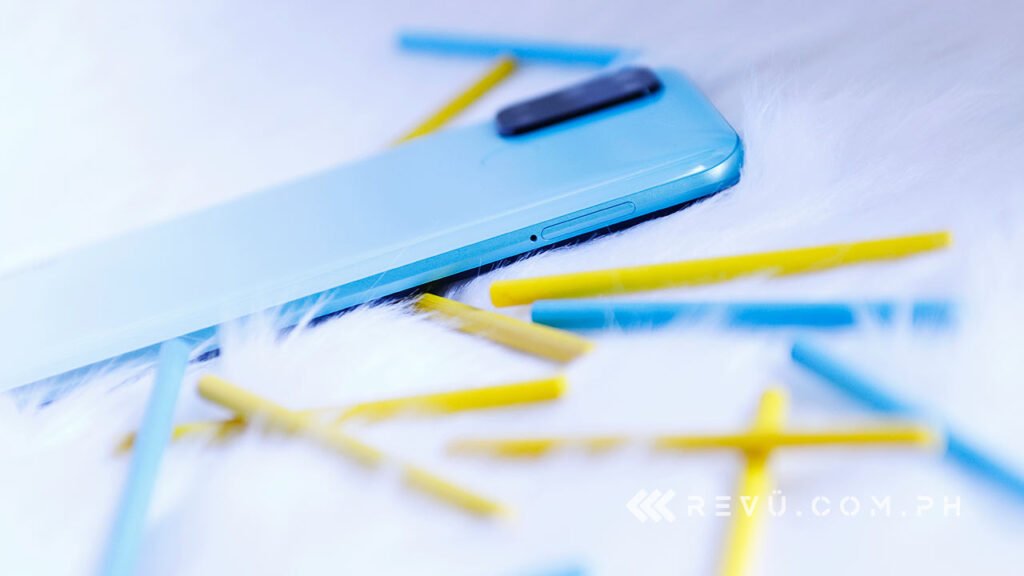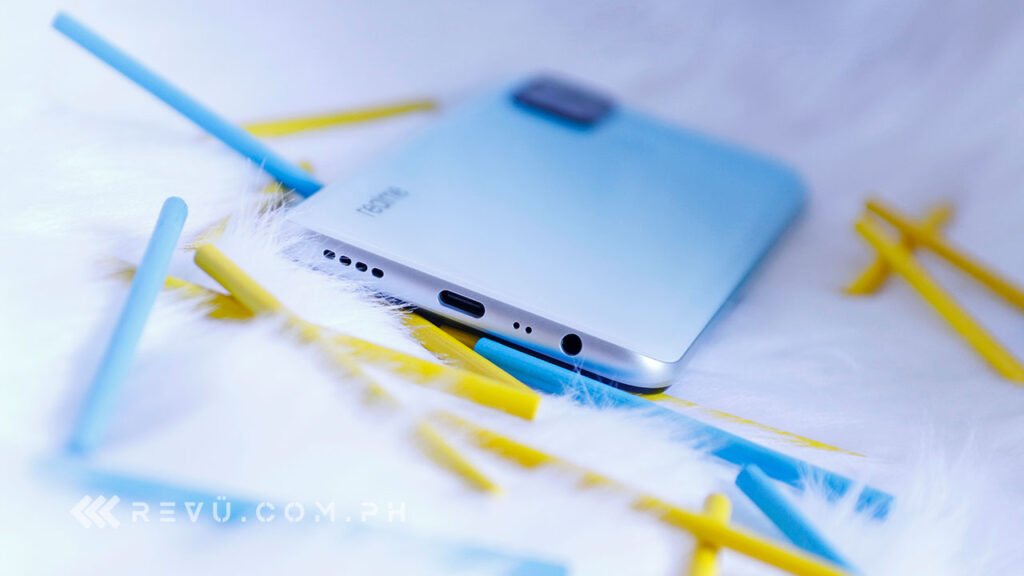 There's a flat display in front with a slightly big punch hole on the top left for the camera and a thin strip for the earpiece. The cutout size is similar to the one on the Realme 7, which we also think could do with a smaller hole. But its position means we tend to forget it's there, especially when the background of an app is darker. The phone has a bit of a thicker chin, but that's something we've seen on a lot of phones in its price range.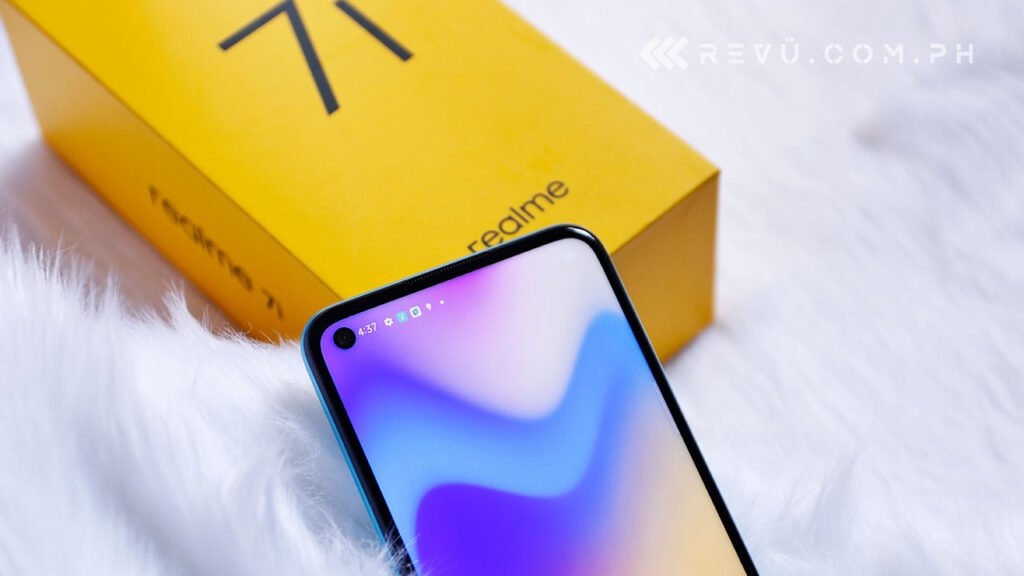 We aren't surprised the Realme 7i doesn't offer stereo sound. The audio quality is as we've expected at its price point. It sounds a bit tinny when you max out the volume. You get the best sound between 70% and 80%. Like other Realme devices, the Realme 7i also supports Dual-Mode Audio, allowing you to connect a pair of Bluetooth earbuds or earphones and a pair of earphones at the same time for dual audio. It's a nice experimental feature accessible through the Realme Lab menu in the Settings.
Oh, and we're not sure we have to keep repeating ourselves, but the Realme 7i doesn't come with earphones in the box. You're going to have to use what you already have, or you'll need to get a new pair.
What's in the box
Realme 7i
Documentation
Type-C to USB Cable
USB Power Adapter
SIM Ejector
Protective Case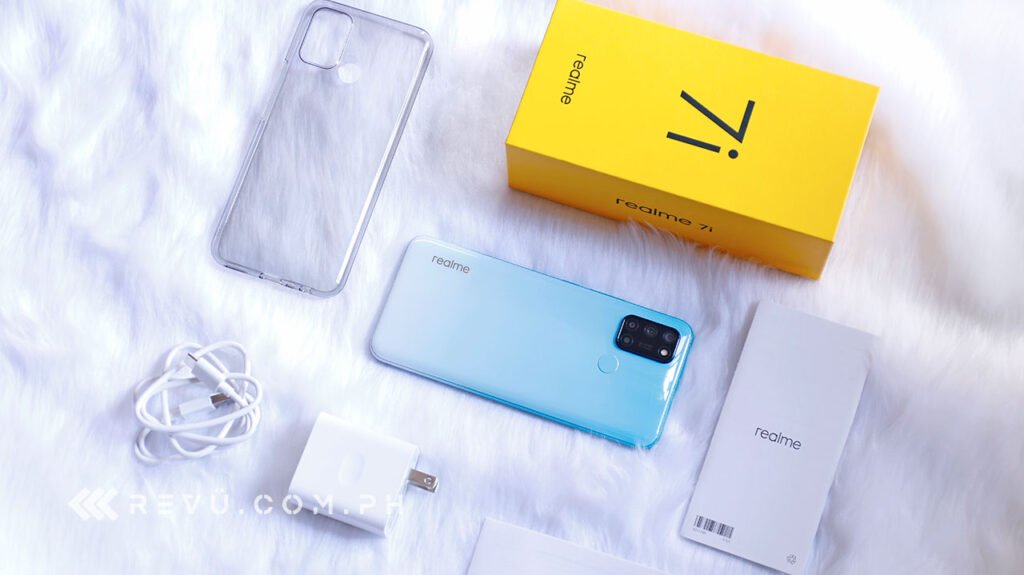 Screen
We love this growing trend of more affordable handsets getting higher refresh-rate screens. The Realme 7i's 6.5-inch LCD gets a 90Hz Ultra Smooth Display, which the company claims a 50% increase in the number of images displayed per second compared to a standard 60Hz screen.
The screen is by no means the fastest in its price range, but using the phone and scrolling through menus is a notably smooth experience nonetheless.
The Realme 7i comes with a 1,600 x 720 resolution and 90% screen-to-body ratio. It doesn't get full-HD playback on services like Netflix. If getting a better resolution on streaming services is important to you, you might need to consider the Realme 7 over the 7i.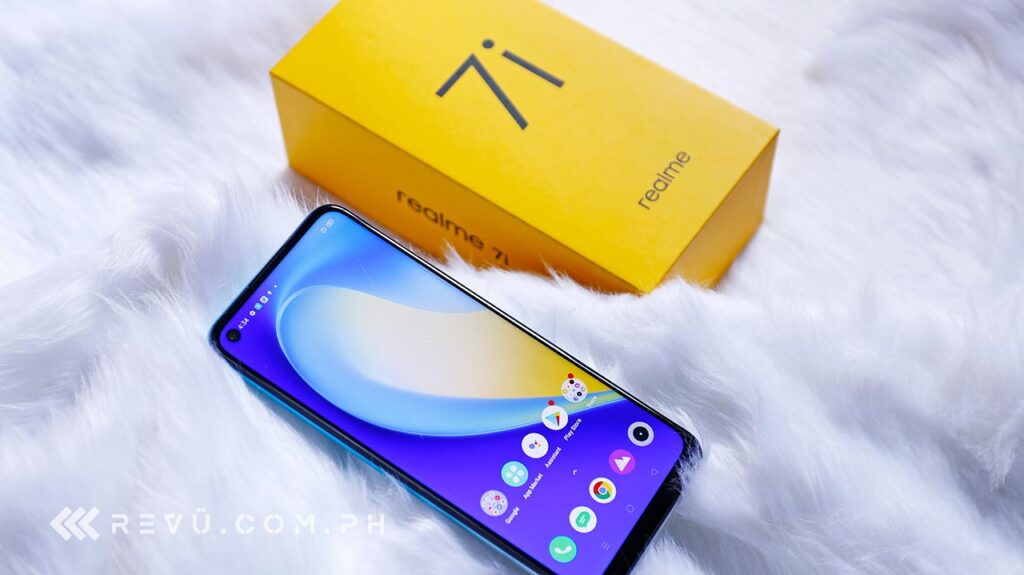 It's still usable when we're outside on a sunny day. But, of course, you have to deal with glare. We knew the blacks aren't as deep with an LCD panel as we want them, too. And that's the case here. It is as decent as any other screen at its price point.
To help take care of your eyes and preserve a bit of the battery life, the Realme 7i comes with Dark and Eye Comfort modes, as well as an adjustable screen color temperature setting. You can also choose what refresh rate to use, or you can let the phone automatically select for you.
Camera
We aren't sure if the Realme 7i comes with the same 64-megapixel primary sensor as the Realme 7. Since the company doesn't mention it on the product's webpage, we're assuming it doesn't. But we aren't saying it's a bad sensor. We commend Realme for bringing a 64-megapixel sensor to its price bracket. The primary lens is paired with an 8-megapixel, 119-degree ultra-wide sensor, and 2-megapixel monochrome and macro cameras.
We find the photos come out with a fair amount of details and decent color reproduction, especially when using the main lens. If your images need a color or saturation boost instantaneously, the Realme 7i offers AI Dazzle Color here, too.
1x, 1x with AI Color Dazzle, ultra-wide, ultra-wide with AI Color Dazzle
By default, it produces 16-megapixel resolution images, but you can take full advantage of the 64-megapixel sensor to get even better-quality shots. It will come in handy if you want to crop into a picture and retain more detail. And if you know your way around the camera's Expert/Pro mode, you can produce even better shots since you can adjust the settings to your liking.
Pictures shot in Expert mode
While it doesn't come with a telephoto lens, you can zoom in up to 10x digitally. We find the best results between the 2x and 5x zoom, with the photos maintaining as much detail and quality as possible. Even with a dedicated macro sensor and Ultra Macro mode, we get better results zooming in.
1x, 2x zoom, and 5x zoom. You can zoom in up to 10x digitally, but we find the best results between the 2x and 5x zoom
Taken in Ultra Macro mode
The ultra-wide lens is always useful to get more of a scene into a photo. But with a lower quality sensor, expect the pictures to be less detailed and sharp as those produced by the primary lens. It does its best to fix any distortion the lens might cause.
On top of the usual filters, Realme added Flamingo, Modern Gold, and Cyberpunk for creative artificial coloring. 1st set: 1x, 2nd set: ultra-wide. Auto, Flamingo, Modern Gold, and Cyberpunk
Other modes the Realme 7i's camera app includes are Portrait, Pano, Slo-Mo, Time-Lapse, Text Scanner, and Google Lens. The app updated while we were testing to include a Movie mode on top of the Video mode, offering more adjustable settings for those looking to create better videos. There's no 4K video recording here. It only records up to 1080p.
Auto vs Night mode
We always appreciate a dedicated Night mode to help us shoot better pictures in low-light without tweaking the settings. And Realme has improved on its Night mode over the years. While it wasn't available yet when we tested the handset, we found on the Realme 7i's product pages from other countries that it will come with Super Nightscape.
Selfies captured on the Realme 7i: Auto, with beautification, auto (HDR), portrait (HDR)
The front-facing camera is a 16-megapixel Sony IMX471 sensor with a 5P lens. It can produce sharp and flattering selfies, with beautification features to help enhance your looks, if you want. But like we mentioned in the first impressions, HDR performance still needs some work, especially outdoors.
Performance
The Realme 7i runs on the midrange Qualcomm Snapdragon 662 chipset launched earlier in the year, which also powers the OPPO F17. It gets its speeds and performance from a Kryo 260 CPU, and it's paired with an Adreno 610 GPU, 8GB of RAM, and 128GB of storage.
As expected, the 7i performed well throughout our test. It will warm a bit after you game on it for an extended time or use the camera for a while. But it's not alarming enough or uncomfortable to hold. Apps won't crash even as we switch between them. It even lets us play games freely while casting to a smart TV. It stuttered a bit when we were playing Cooking Battle, but that happened only once.
It might not score high when it comes to benchmarks, but what matters is that it works well in real-life situations. The handset handles even graphics-intensive games with ease. And so, it's easy to breeze through day-to-day tasks, messaging, calls, and browsing.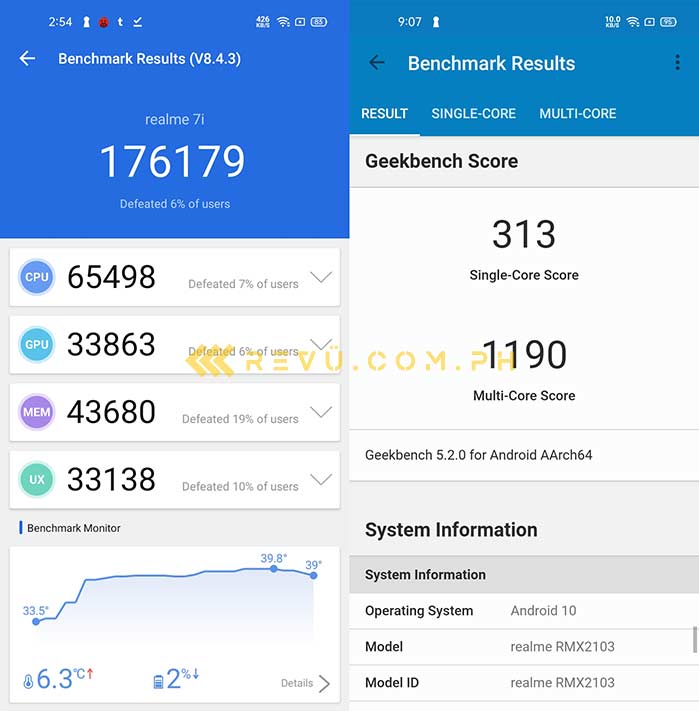 The Realme 7i offers smart services like Smart Driving and Riding Mode, smart gestures, and different navigation options, and some Realme exclusive features, too. It has what you'll typically need from a modern smartphone. The other Realme Lab features that come with the 7i include Smooth Scrolling, which does as its name suggests, making scrolling even smoother, and Super Nighttime Standby, which lessens power consumption when the phone is idle at night.
It runs on ColorOS 7 based on Android 10, which is a generally clean and easy-to-use interface. And we might sound like a broken record, but we still wish that the brand lessens the amount of bloatware it comes with.
Battery
With a 5,000mAh battery, you can expect over a full day's use from the Realme 7i, even if you're always glued to the handset. We can achieve a respectable nine hours or more screen-on time on a single charge, with our display on 90Hz by default.
We've had a similar experience with the pricier 7 series phones. The battery is something you don't have to worry about on the 7i, especially with power-saving modes that help you eke more out of the phone. It has a Super Power Saving mode that lets you use around six apps at a time to help preserve battery life (of course, if you select power-hungry apps, it'll still eat up your battery just as fast). It turns the screen in Dark mode by default to help stretch your battery.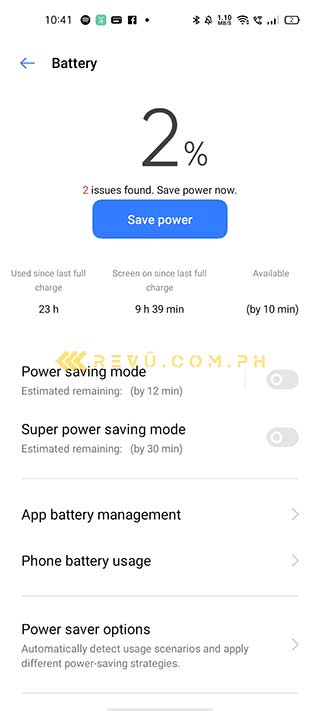 And if you want to charge your other devices, It even supports reverse charging — but you'll need to get your own adapter for this.
When we compare PCMark scores, the Realme 7i falls in the middle. The Realme 7 Pro is king at 18 hours and 56 minutes, followed by the 7i's 17 hours and 20 minutes, and the 7's 14 hours and 30 minutes. The Realme 7i and 7 might seem more comparable, though, since both have 5,000mAh batteries.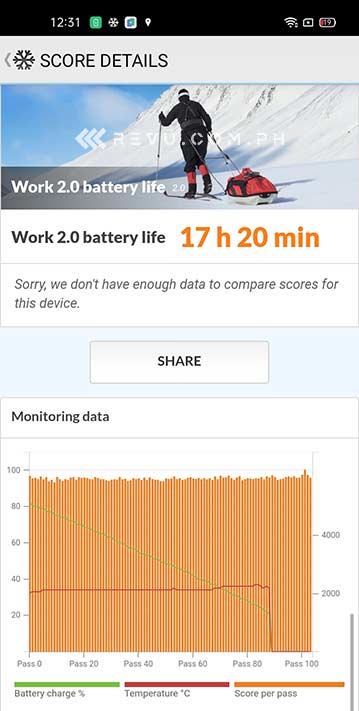 Where the Realme 7 has the 7i beat is when it comes to charging time. You will need an extra hour and 20 minutes to top up the 7i fully. Using the supplied 18-watt charger takes a full two hours and 35 minutes to charge the phone, which is a bit over the company's claims that you can fully charge the phone in under two hours. You get around 35% at the 30-minute mark, so if you only have time for a quick charge, it gives you some extra battery to work with.
Final thoughts
Like its more powerful and pricier siblings, the Realme 7i is a capable handset — whether we use it for gaming, streaming, working, or photography. It hardly buckles under the pressure we put it on. We can't get enough of that 90Hz refresh rate. It just makes the phone that much more pleasurable to use.
If a faster screen is something you want from your smartphone, the 7i is positioned to give you that experience without leaving a significant dent in your budget.
Now, if we zoom out a bit, we're curious about where this phone will be positioned if/when Realme also launches the C17 locally. (The C series is the company's best-selling lineup locally, so we're assuming it'll arrive here, too.) That phone is expected to be cheaper than the 7i while also sporting a 90Hz display. The 7i can make a case for better specs overall. But this will be worth a revisit if/when the C17 arrives.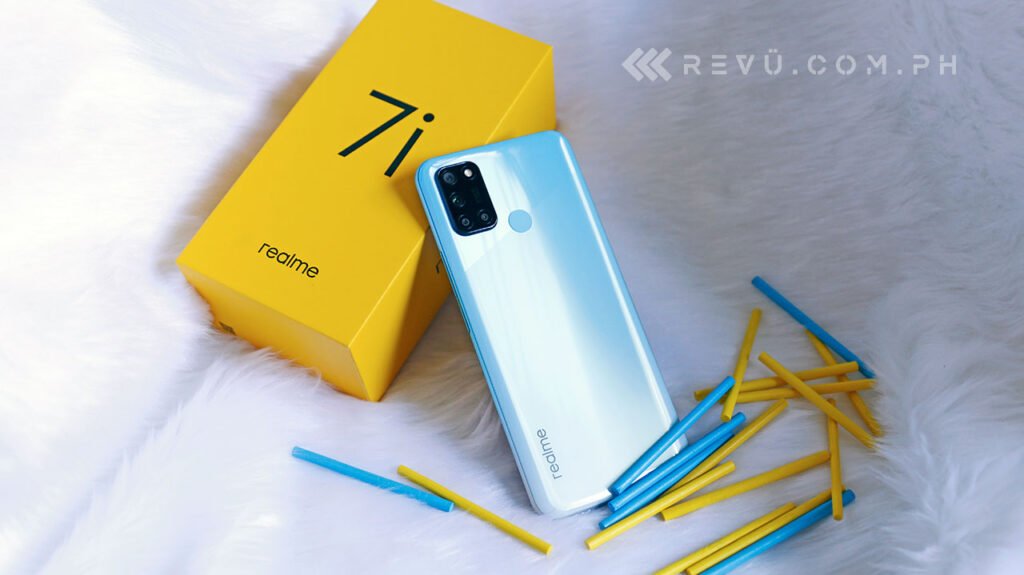 There's also the POCO X3 NFC from rival Chinese brand Xiaomi that the Realme 7i has to compete with. Not only does the X3 have a smoother, higher-resolution screen, it also packs faster internals courtesy of its Qualcomm Snapdragon 732G chip.
But then again, specs aren't everything, and the 7i's shortcomings don't really bother us. All things considered, it's a solid phone for the price and offers better value compared to most other phones in the segment.
Realme 7i specs
6.5-inch LCD display, punch hole, 1,600 x 720 resolution, 90Hz refresh rate
Octa-core 11nm Qualcomm Snapdragon 662 processor
Adreno 610 GPU
8GB RAM
128GB storage
Quad 64-megapixel main, 8-megapixel ultra-wide (119 degrees), 2-megapixel monochrome, 2-megapixel macro rear cameras
16-megapixel, f/2.0 front camera
Fingerprint reader (rear-mounted)
5,000mAh battery with 18-watt USB-C charging
3.5mm headphone jack
Realme UI based on Android 10
Color options: Polar Blue, Aurora Green
---