Just like at the top, the competition at the bargain basement of the Philippine smartphone space is also fierce. The POCO X3 NFC is a strong contender for the crown in the P10,000 (around $206 converted) range, boasting some impressive specs and a couple of surprising ones that most other phones at this price segment lack.
SEE ALSO: In Q3 2020, Xiaomi enters top 3 for 1st time in phone rankings
Impressively, it offers a 120Hz FHD+ LCD powered by a Qualcomm Snapdragon 732G chipset and a rather beefy battery that supports wired fast charging out of the box. It also has a quad-camera system with a 64-megapixel Sony sensor and dedicated lenses for ultra wide, macro, and portrait. The design is not bad either. That's not to say it's particularly attractive or comfortable to hold, as the heft and size of the X3 NFC might be a problem for those who want to use the phone one-handed.
Still, the specs sheet looks very promising, and more importantly, POCO's latest handset is priced lower than most of the competition from big-name brands. So, does the X3 NFC live up to the hype? We put the phone to the test in our full review. Spoiler alert: Yes, for the most part.
Price and availability
In the Philippines, the POCO X3 NFC has a suggested retail price of P10,990 ($228) for the base version with 6GB RAM and 64GB of storage, while the variant with 128GB storage costs P12,990 ($269). It really comes down to whether you need more native storage for your apps and files, because there's always the option to upgrade via a microSD card or cloud service — or both.
Hardware
The design of the POCO X3 NFC is surprisingly original. After a couple of recycled looks and finishes from Xiaomi's stable of Redmi devices, the company has opted for something that's entirely unique and interesting. The rails are made of plastic, like the back, and there's a glossy finish to the X3 to make it look more expensive than its price tag.
The horizontal POCO branding is on the lower-middle portion of the rear panel, where a thick racing strip runs across the top and bottom of the handset. It has a reflective rainbow finish that can catch your eye at certain angles. However, the effect looks more prominent on the blue color variant than on the black unit we have.
Another thing that will certainly get your attention: POCO's new back-facing camera module, which is located in the upper portion of the panel. It's fairly large and flaunts a rectangular shape with rounded corners and the main camera right at the center, surrounded by three secondary cameras and a flash.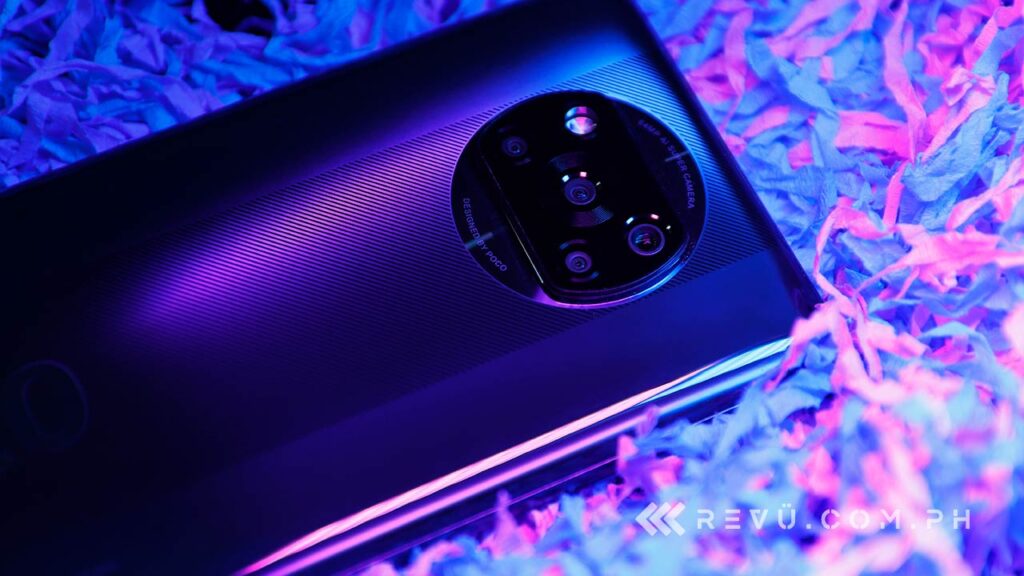 We think the design looks pretty nice, but we would have wanted to see a smaller camera hump, too. On a related note, the included anti-bacterial case adds just a little elevation to the camera module, so you should be cautious on how you hold the phone to avoid dropping it. The X3 has an IP53 rating, protecting it from splashes, but not making it fully waterproof or resistant.
One-handed usage is difficult enough without the case and almost impossible for us with the added protection. At about 9.4mm thick, the POCO X3 NFC isn't slim by modern standards, and its weight of 215 grams feels substantial in the hand.
The dimensions and heft aren't too bad, and they're expected considering the 5,160mAh battery inside the handset and the many components it has, including an NFC module, a 3.5mm headphone jack, and an IR blaster for controlling appliances like TVs and air conditioners.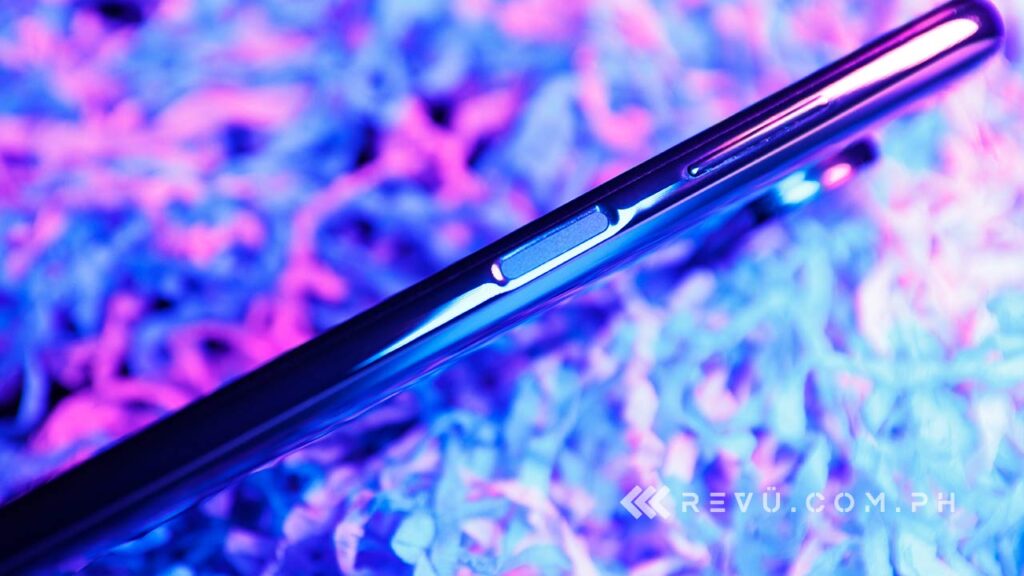 All the physical buttons are on the right, with the power/sleep key and volume rocker above it. The power/sleep button also integrates a fingerprint reader for biometric authentication. It works well — fast and accurate most of the time. On top of that, it's located where your thumb would normally be on the right-hand side.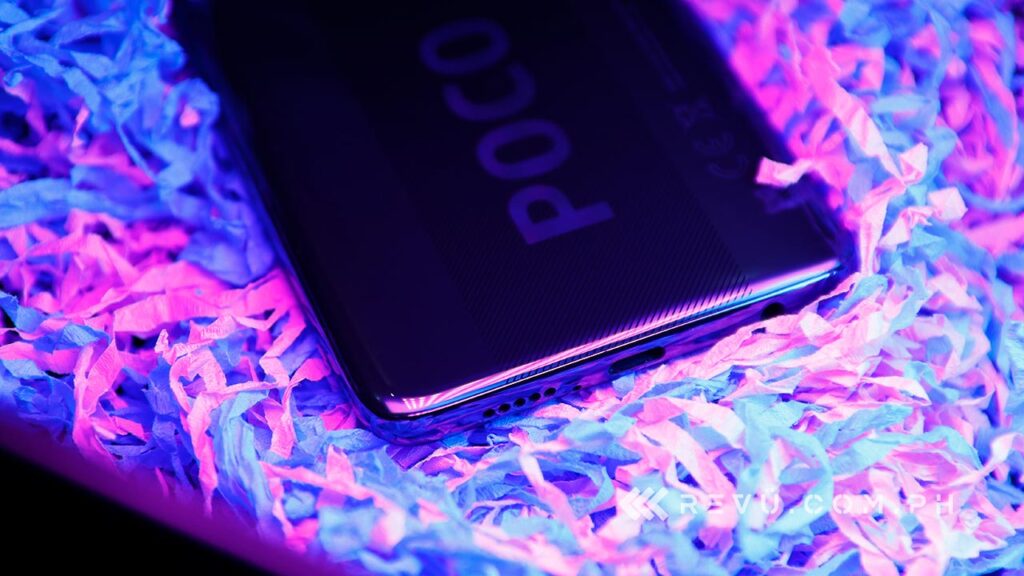 At the bottom, you'll find a standard headphone jack, a USB-C port for charging and file transfer, and a speaker grill. However, that's not to say the POCO X3 NFC offers mono sound; instead, you're treated to what is one of the loudest speaker systems at the price point, courtesy of the phone's stereo setup, in which the earpiece acts as a secondary speaker. While not as clear as others, the X3 NFC's stereo speakers do make a difference when playing games and music.
Screen
One of the main attractions here is the 6.67-inch LCD screen with FHD+ resolution and a 120Hz refresh rate for a smooth experience when navigating the interface. Notably, the POCO X3 NFC also comes with a 240Hz touch-sampling rate, which is the gold standard in the industry — and not just in its class. There's also a layer of Corning Gorilla Glass 5 on top of the panel for added damage resistance.
The X3 gets Widevine L1 certification as well, meaning it won't have any trouble streaming HD videos on platforms like Netflix and Amazon Prime Video. Unfortunately, this still isn't a given among smartphones in 2020.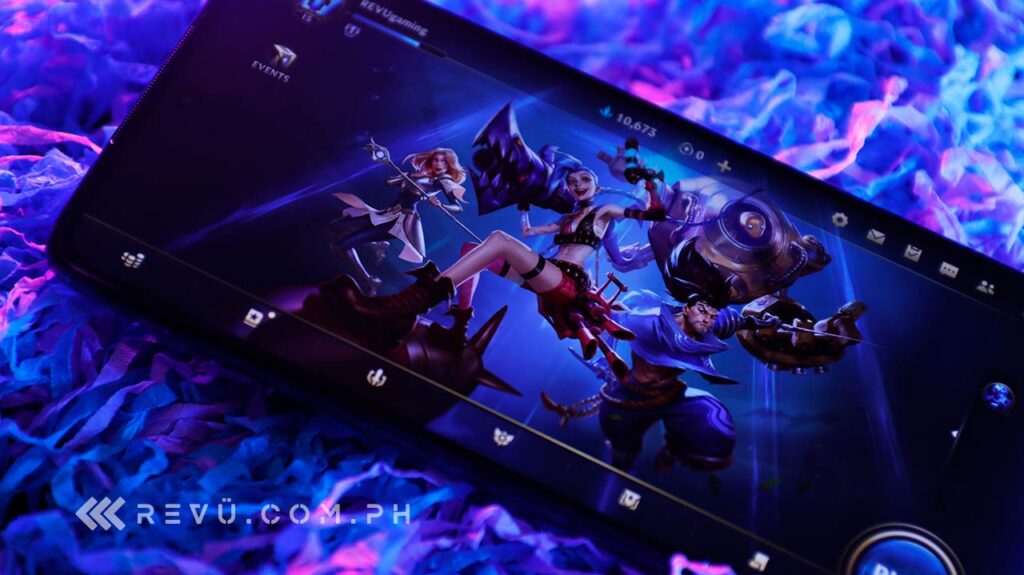 On paper, POCO's display does seem hard to beat when compared with LCDs of similarly priced phones. But there's a catch (because there's always a catch): The LCD is limited to a dynamic refresh rate between 60Hz and 120Hz, at least out of the box, and it automatically adjusts its speed depending on the content being viewed.
While that sounds genuinely helpful for preserving battery life, it also means you won't always get the high refresh you expect out of the phone, even when you're doing something as simple as browsing the web. Crucially, our frame rates never went above 60fps in the games we played.
There is a way to disable the dynamic refresh setting, but it requires an unlocked bootloader and installing third-party software that isn't supported by POCO
There is a way to disable the dynamic refresh setting, but it requires an unlocked bootloader and installing third-party software that isn't supported by POCO, so do so at your own risk. Another thing to remember is that forcing the display to run at 120Hz will significantly reduce usage times.
When POCO announced the X3 NFC last month, it drew a lot of interest from mobile gamers who were hoping to get a taste of a fast display without spending a premium. That's very much possible with the X3, especially in the home-screen area. However, it should also be mentioned that the refresh rate can't be set to 120Hz at all times. Plus, none of the games we tried ran at a frame rate higher than 60fps.
Camera
The POCO X3 NFC boasts a quad-sensor setup consisting of a 64-megapixel Sony IMX 682 Quad-Bayer sensor with f/1.89 lens, 0.8µm pixels, and phase-detection auto-focus or PDAF. It's the only camera in the unit that supports POCO's handheld Night mode, which captures multiple images at different exposure levels and stitches them together to create a clearer, brighter picture. The only caveat is that you'll need to hold the phone steady for three to four seconds to take a shot in Night mode.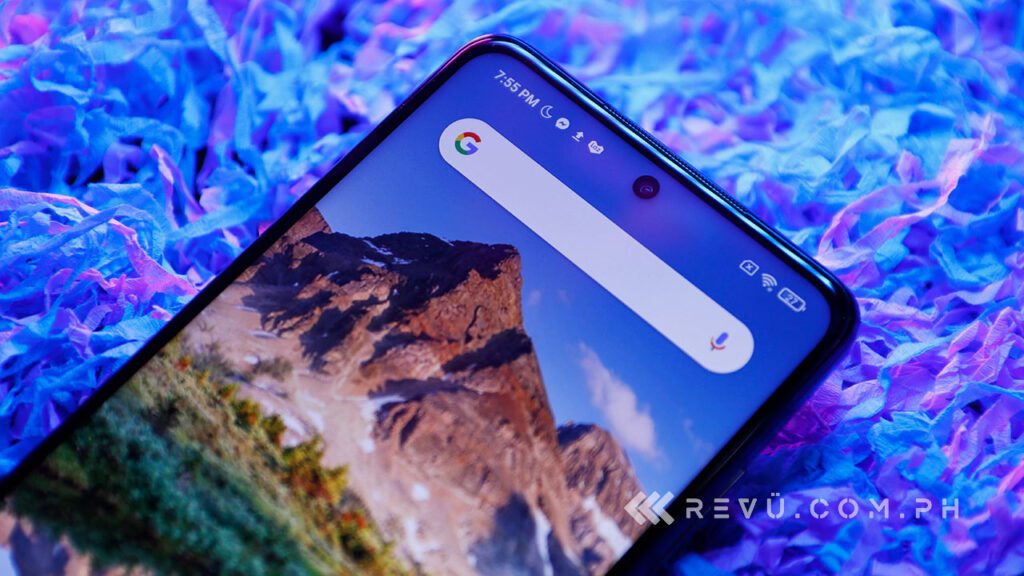 The secondary cameras include a 13-megapixel ultra-wide camera that offers a 119-degree field of view, as well as a pair of 2-megapixel sensors for depth sensing and close-up shots. On the front, you're looking at a 20-megapixel selfie shooter capable of producing sharp selfies and portraits with variable depth of field in the background, though a bit pale.
Playing around with the selfie camera
As a whole, the local camera app is straightforward and easy to use, and you get a good amount of filters, too. It supports Google Lens to help you search what you see while the app is open. According to Google, the visual-search tool can now recognize 15 billion things, including plants, animals, artwork, and so many more.
Pictures taken in Tilt Shift mode, which increases the background blur around your subject, making it ideal for toy photography
Taken in Portrait mode with Studio Lighting effect
There are quick toggles for flash, HDR, and a settings tab that lets you show gridlines, change the aspect ratio you are shooting in, set a timer, enable tilt shift, and switch to macro shooting.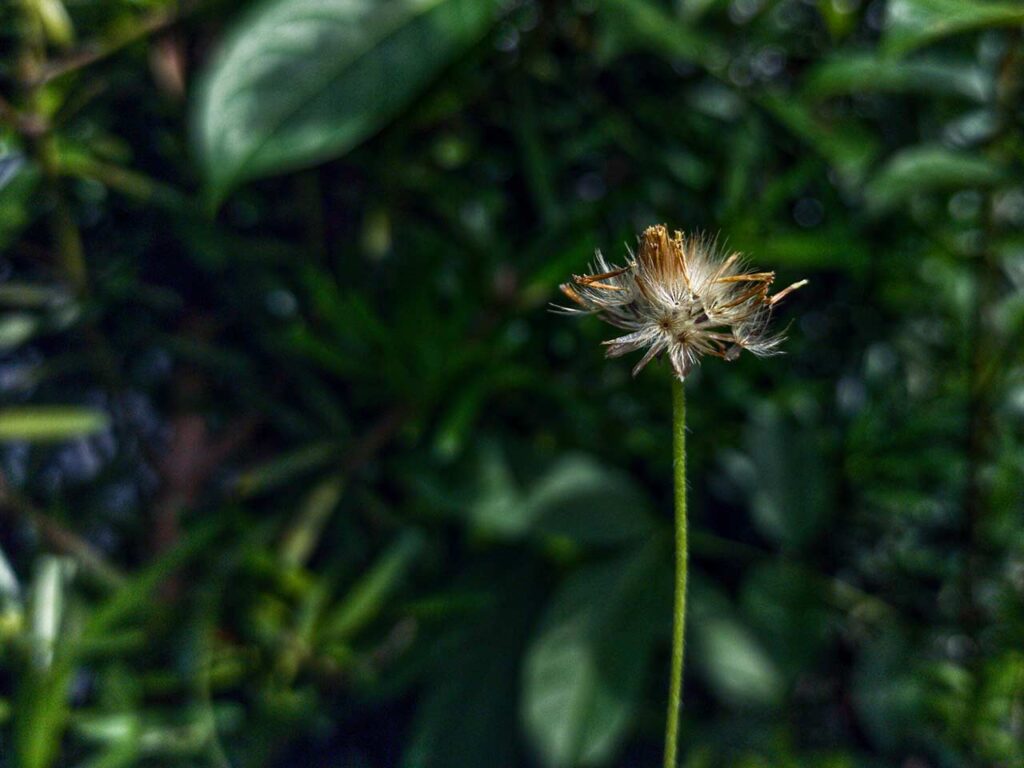 More notably, the POCO X3 NFC has a Vlog mode that adds background music and video effects while you're shooting and combines shots together to create a short yet stylized video. It's a fantastic feature for content creators who regularly upload on social media, especially since they can simply replace the background music with any song of their choice using a video-editing app.
There's a Vlog mode that adds background music and video effects while you're shooting and combines shots together to create a short yet stylized video
The 64-megapixel camera produces 16-megapixel pictures by default to deliver better low-light performance at the expense of resolution, but shooting in 64MP mode is also possible, so you can zoom in more without losing details in the image.
More sample pictures
In our testing, it performed well in daylight conditions; our shots were sharp and a had a good amount of detail, except in the shadows. Switching to the wide-angle camera resulted in a slightly different color tone and, as expected, affected sharpness across the frame.
Well, this photo was actually captured on the POCO X3 NFC
The edge detection in portraits was decent, and the POCO X3 NFC allowed us to adjust the level of blur before shooting. Our macro shots were limited to a 2-megapixel resolution, and we found them to be average at best.
Performance
The POCO X3 NFC packs a Qualcomm Snapdragon 732G chipset inside — the first smartphone to do so. The Snapdragon 732G, which is fabricated on Samsung's 8nm LPP process, provides an incremental upgrade over the Snapdragon 730G in the POCO X2, the X3 NFC's predecessor, and Xiaomi Mi Note 10 Lite, to name a few. Naturally, it's faster than the Snapdragon 720G as well, which many mid-tier devices in the Philippines use, with the most recent being the Vivo V20.
The Snapdragon 732G brings two key improvements over what launched before: Its Kryo 470 prime core based on the Cortex-A76 design is clocked at 2.3GHz, which is 100MHz higher than the fastest Kryo 470 core in the Snapdragon 730G, and its Adreno 618 GPU operates at a faster 950MHz frequency as well.
Our review unit plays League of Legends: Wild Rift at 60fps with the settings set to Medium (because High is not supported on the device). Wild Rift doesn't support fast displays at the moment, but then again, the popular MOBA for mobile is still in its beta form.
Gameplay: League of Legends: Wild Rift, Genshin Impact (4:00 mark), and NBA 2K20 (7:00 mark)
NBA 2K20, on the other hand, supports frame rates above 60fps. While the gameplay was smooth at high graphics, the frame rates we saw weren't out of the ordinary. Lowering the detail level didn't push the frame rate beyond the 60fps mark. Genshin Impact runs at about 30fps, but the action feels much slower in some areas and certain cut scenes.
Unfortunately, despite sporting a high-refresh display, the smartphone doesn't pull off the frame-rate wins needed to impress hardcore mobile gamers. You'll need a flagship-grade processor for that. Needless to say, the X3 lacks such hardware, regardless of what the marketing says.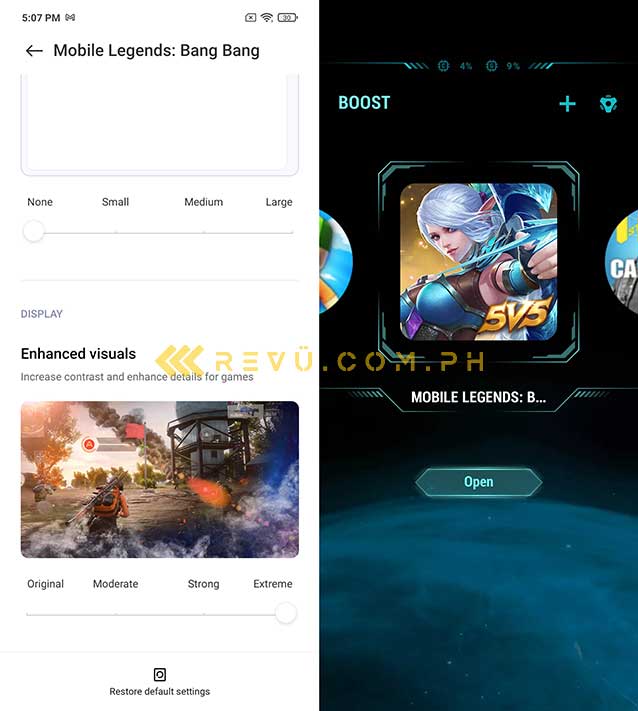 Meanwhile, the Game Turbo system app on the POCO X3 NFC can help games to run smoother (at 60fps or less) with a higher-quality picture. It also allows you to open other apps without leaving the game you're currently playing, useful for reading short emails and messages as you wait for your character to respawn.
Outside of gaming, the phone performs smoothly, especially with high refresh enabled. Multitasking is a pleasant experience, and that's largely thanks to the ample 6GB of RAM that helps improve overall performance. Most users will find that the X3 NFC can handle just about any task they throw at it.
Battery life
The POCO X3 NFC has a 5,160mAh battery that can be charged up to 33 watts using the included power brick. It takes about 30 minutes to get the battery capacity to around 50% and another 50 minutes to fast charge it to full, bringing our usual charging time from 0% to 100% to 80 minutes. It's quite fast for a non-flagship and convenient, because you can basically charge the phone for a full day of extensive use in the time it takes for you to take a shower, get dressed, and drink a cup of coffee.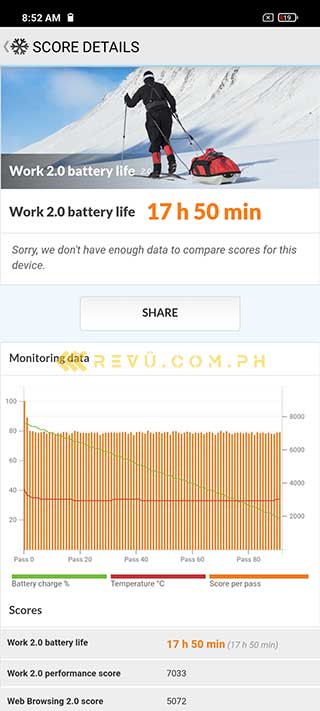 Of course, draining the handset is an entirely different story. The battery life is great, easily lasting more than 36 hours between charges with normal use. In the PCMark battery-rundown test, our unit managed 17 hours and 50 minutes at half brightness and with 120Hz active. That's a commendable result and just goes to show how efficient the 8nm Snapdragon 732G and dynamic-refresh screen on the POCO X3 NFC are.
Final thoughts
The POCO X3 NFC ticks a lot of boxes — including a few surprising ones (the stereo speakers, while not fantastic, are a nice touch) — and does pretty much everything you want a $200 (P9,670), give or take a few bucks, phone to do well without asking for a huge sum in return.
Although we wish the screen offered the option to turn off dynamic refresh, you can't deny the battery-life gains achieved by the latest POCO. Not to mention, the Snapdragon 732G inside would probably struggle to run most games at frame rates higher than 60fps, anyway. The cameras perform great, too, and the included video modes and filters are interesting enough to explore further.
The POCO X3 NFC marks a late but much-welcomed return to form for the former Xiaomi sub-brand. And if it's any indication of what's to come, the future will be bright and at the same time scary for the competition.
If the POCO X3 NFC is any indication of what's to come, the future will be bright and at the same time scary for the competition
POCO X3 NFC specs
6.67-inch LCD display, 2,400 x 1,080 resolution, 120Hz refresh rate; 240Hz touch-sampling rate, Corning Gorilla Glass 5
8nm octa-core Qualcomm Snapdragon 732G processor
6GB LPDDR4X RAM
64GB/128GB UFS 2.1 storage
Quad 64-megapixel, f/1.89 (main), 13-megapixel, f/2.2 (ultra-wide), 2-megapixel (macro), 2-megapixel (depth) rear cameras
20-megapixel, f/2.2 /front camera
Fingerprint reader (side-mounted)
5,160mAh battery with 33-watt USB-C fast charging (0 to 100% in 65 minutes)
MIUI 12 based on Android 10
Colors: Shadow Gray, Cobalt Blue
---