Reports say Samsung's next Galaxy S flagship series is coming earlier than usual. It's supposedly launching this January instead of the usual February time frame, so Samsung Galaxy S21-related leaks popping up everywhere is not a surprise anymore.
(Update, January 14: And the Samsung Galaxy S21, S21 Plus, and S21 Ultra 5G phones have been launched! See their prices, specs, preorder info, and availability — including for the Philippine market — here!)

(Update, January 4: The Samsung Galaxy S21 series' launch date is confirmed!)

(December 10: Here's an interesting update: Samsung Galaxy S21 series videos, preorder info in India surface.)
One of the latest, more interesting reports we've come across is on this video render of the smartphone based on leaked specs and CAD models of the cases. Watch the clip below, and let us know what you think.
Render of the Samsung Galaxy S21. Take note that the camera bump is supposedly way larger than what's shown here
Is it just us, or does watching the video remind us of the Apple iPhone 12 series all the more, especially when the upper and bottom parts of the alleged Samsung Galaxy S21 were shown?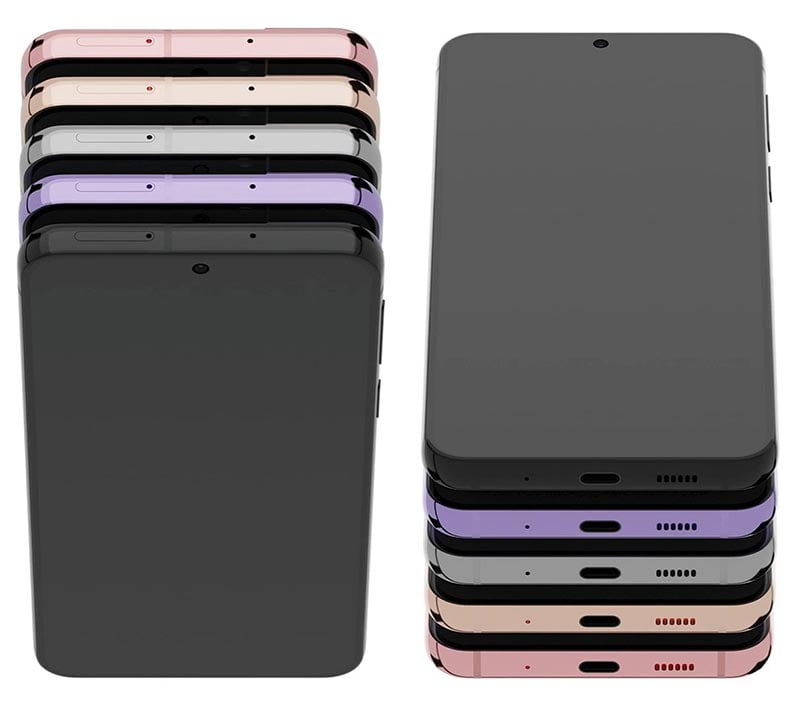 Not that it's a bad thing; we're part of that group that's partial to the said design. We particularly like the unit with the white-and-gold combo and the violet and pink color variants. However, we're hoping that the camera bump is not significantly bigger than the one shown in the render. If it's anything like the bump on the Samsung Galaxy S20 Ultra, then the upper side of the unit will be a lot heavier than it should be.
Rumors say the lineup is composed of the Samsung Galaxy S21, Galaxy S21 Plus, and Galaxy S21 Ultra. The latter supposedly has a curved display panel while the other two get a flat one.
SEE ALSO: Samsung Galaxy A12 coming to PH, site shows and Top 5 smartphone brands in PH in Q3 2020
The Ultra is tipped to come with a 6.8-inch WQHD+ LTPO adaptive AMOLED screen with a 120Hz refresh rate; a 108-megapixel main camera on the back; and a 5,000mAh battery. The S21 Plus is reportedly equipped with a 6.7-inch, 120Hz FHD+ LTPS display; a 12-megapixel primary shooter matched with 12-megapixel ultra-wide and 64-megapixel telephoto lenses; and a 4,800mAh battery. The regular S21, on the other hand, is said to feature the same set of cameras as the Plus version, but sports a 6.2-inch FHD+ LTPS, 120hz screen and a battery rated at 4,000mAh.
All three 5G-ready models are expected to have either Qualcomm Snapdragon 875 or Exynos 2100 inside, depending on the region. The Philippines always gets the Exynos variant.
Via MSPowerUser
---