Redmi's official account on Chinese social platform Weibo has shared a market-research firm's report on the bestselling smartphones in the first half of 2020. This, as it announced earlier that worldwide sales of the Redmi Note series exceeded 1.4 billion units, seemingly a buildup to the Redmi Note 9 lineup's upcoming launch in China.

And because we weren't able to share the report in September, we'd like to post it here now as a throwback, especially for those who weren't able to come across the said ranking.
According to Omdia, four of Redmi's models made it to the top 10 list. The Redmi Note 8, Redmi Note 8 Pro, Redmi 8A, and Redmi 8 landed third, fourth, eighth, and ninth, respectively. Recall that at this year's 11.11 sale on Shopee Philippines, the Redmi Note 8 Pro was Xiaomi's third bestseller on the ecommerce site.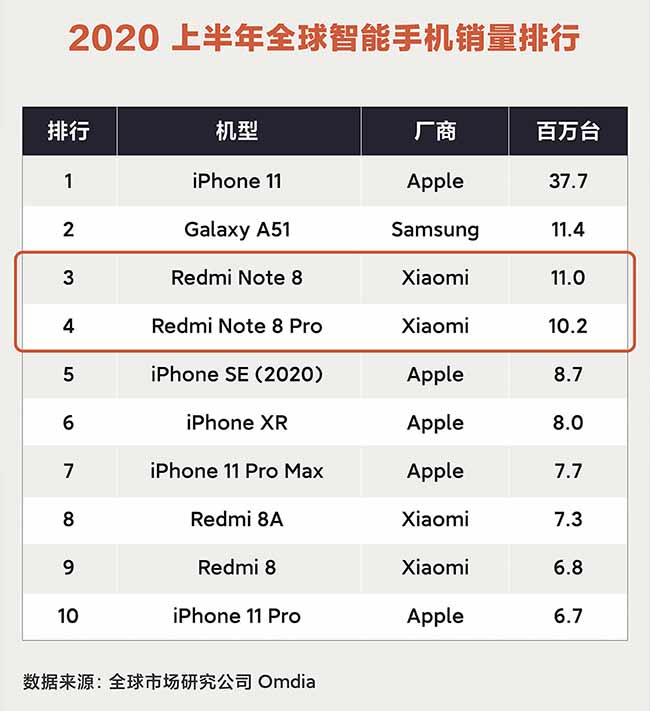 As for the rest? We're impressed that the Apple iPhone 11 was at the top of the charts from January to June this year. The handset is not cheap, after all, even though it's the most affordable in the iPhone 11 series. At the Apple Online Store in the Philippines, it's currently priced from P37,990 (around $787). The most expensive variant, which has 256GB of RAM, is still selling at P46,990 ($973).
There are four other iPhones that got into the top 10, making it the line with the most models on the list. The "affordable" 2020 Apple iPhone SE was fifth with 8.7 million units sold worldwide. The iPhone XR, iPhone 11 Pro Max, and iPhone 11 Pro, on the other hand, were sixth, seventh, and 10th, respectively.
In second place was the Samsung Galaxy A51, the Korean technology giant's only smartphone — the only unit that wasn't from companies named Apple and Xiaomi, actually — that was part of the ranking.
---