At least now we know there's an OPPO Reno 5 Pro Plus 5G model — coming December 24, actually — something we weren't sure of when we wrote about the launch date of the Reno 4 series' successor a few days ago. And it's confirmed to have Qualcomm Snapdragon 865 and support for 65-watt fast charging.

(Update, February 11: The 5G phone is mainly for creating videos. Interested in it? Read our OPPO Reno 5 5G review first!)

(Update, January 29: Check out our unboxing of the OPPO Reno 5 5G!)

(Update, January 21: The OPPO Reno 5 5G and 4G models are launching in the Philippines!)

(Update, December 24: And the Plus is official! Read OPPO Reno 5 Pro Plus 5G debuts with 50MP Sony IMX766 sensor.)

(Update, December 21: Now, let's talk about the Plus model! Read OPPO Reno 5 Pro Plus: What we know ahead of its Dec 24 debut.)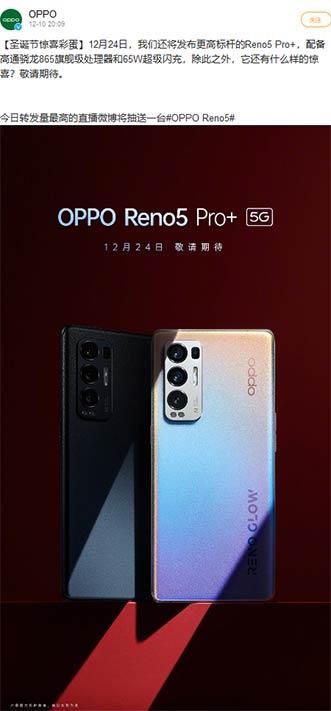 But the stars of OPPO's recent event in China were the Reno 5 5G and Reno 5 Pro 5G. Thanks to the company's posts on Chinese social media platform Weibo, we already knew how they look ahead of the announcement. Their design doesn't deviate much from that of their predecessors.
The two smartphones share many specifications, too — from the 64-megapixel quad camera and 32-megapixel selfie shooter to the under-screen fingerprint sensor and Android 11-based ColorOS 11 version they ship with. However, the OPPO Reno 5 Pro 5G has a bigger 90Hz OLED display, as expected; it's sporting a curved one that measures 6.55 inches. The panel on the OPPO Reno 5 5G, on the other hand, is flat and is sized at 6.43 inches diagonally.
SEE ALSO: OPPO Reno 4 Z 5G review: 5G and so much more
The Pro gets a 4,350mAh battery with 65-watt USB-C charging and a MediaTek Dimensity 1000 Plus 5G chip. The other features a slightly smaller battery rated at 4,3000mAh, a Qualcomm Snapdragon 765G 5G processor, and a 3.5mm headphone jack.
Both handsets will become available in China December 18 at the following prices:
OPPO Reno 5 5G

8GB/128GB: ¥2,699 (roughly P19,843 or $412)
12GB/256GB: ¥2,999 (P22,048 or $458)

OPPO Reno 5 Pro 5G

8GB/128GB: ¥3,399 (P24,989 or $519)
12GB/256GB: ¥3,799 (P27,930 or $580)
OPPO hasn't revealed when the Reno 5 series will get an international release, but if it does arrive in the Philippines, we're guessing the local launch will be scheduled for the first quarter of 2021.
OPPO Reno 5 5G specs
6.43-inch OLED display, 2,400 x 1,080 resolution, 90Hz refresh rate, punch hole
Octa-core Qualcomm Snapdragon 765G processor with 5G
Adreno 620 GPU
8GB/12GB RAM
128GB/256GB storage
Quad 64-megapixel, f/1.7 (main); 8-megapixel, f/2.4 (ultra wide); 2-megapixel (macro); 2-megapixel (mono) rear cameras
32-megapixel, f/2.4 front camera
Fingerprint reader (under display)
4,300mAh battery with 65-watt USB-C charging
ColorOS 11 based on Android 11
Colors: Gradient, blue, black
OPPO Reno 5 Pro 5G specs
6.55-inch OLED display, 2,400 x 1,080 resolution, 90Hz refresh rate, punch hole
Octa-core MediaTek Dimensity 1000 Plus processor with 5G
Mali-G77 GPU
8GB/12GB RAM
128GB/256GB storage
Quad 64-megapixel, f/1.7 (main); 8-megapixel, f/2.4 (ultra wide), 2-megapixel (macro); 2-megapixel (mono) rear cameras
32-megapixel, f/2.4 front camera
Fingerprint reader (under display)
4,350mAh battery with 65-watt USB-C charging
ColorOS 11 based on Android 11
Colors: Gradient, blue, black, red
---