Estimated reading time: 14 minutes
OPPO has refreshed its Reno lineup in the Philippines, with the local announcement of the Reno 5 4G and 5G variants.
Like the OPPO Reno 4 — which came out not too long ago — the Reno 5 5G is a premium-midrange offering that's not too keen on the pricing war among value brands like Realme and Xiaomi.
SEE ALSO: More OPPO Find X3 Pro specs spotted on testing platform
But that's not to say the latest Reno doesn't put up a fight. It packs a much more powerful processor and faster charging than the Reno 5 4G, but it also costs a few thousand pesos more than its 4G-only sibling.
Locally, the OPPO Reno 5 5G is priced at P23,999 (around $500 converted) for the lone 8GB/128GB storage configuration available in the Philippines. Available in Galactic Silver or Starry Black color variants, the phone is being offered by Globe Telecom and Smart Communications, too. If you're on the fence about the phone, give our review of the OPPO Reno 5 5G a read to help you decide if it's worth the cost.
Hardware
Let's start with the most obvious: The OPPO Reno 5 5G shares a lot of similarities with the Reno 4 that came before. Visually, they're roughly the same size. Both devices have slightly curved rear panels, flat displays, and three big camera lenses protruding from a rectangular camera module.
The new Reno sticks with the same button-and-port layout, too, as well as the metallic-green power/wake key on the righthand side. There is no physical fingerprint reader anywhere on the frame and on the back.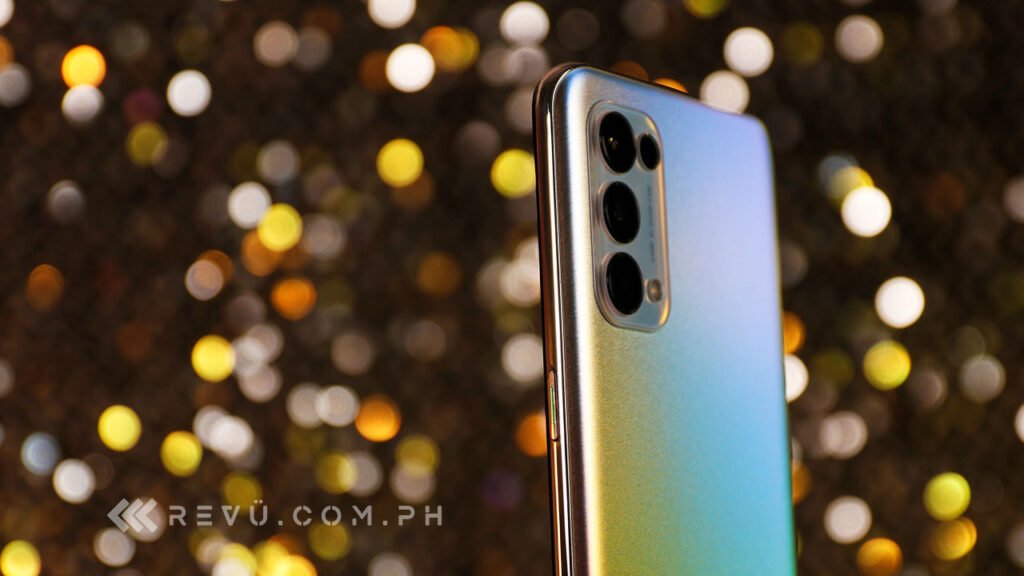 Coming in at around 180 grams, the Reno 5 5G is a tad heavier than we'd anticipated, perhaps owing to its 5G internals and larger dual-cell battery. The body is mostly made of plastic, as evidenced by the absence of antenna lines, but doesn't feel hollow.
Talking about the styling, our Galactic Silver unit is particularly eye-catching and distinctive. The overall build quality is good, while the matte paintwork does a decent job of repelling fingerprints and smudges. This device doesn't have a water-resistance rating, so you'll want to avoid using it in the rain.
Not too awkward for most users and generally pleasant, one-handed usage feels practical with this one, but isn't as easy as it's on a smaller handset like the Apple iPhone 12 Pro. The Reno 5 5G is quite a tall phone, though, so you might need to fumble and stretch to reach the top of the screen with one hand.
The down-firing single speaker, while certainly not the loudest we've heard in the category, can get loud enough for its size, its peak volume able to fill a small room without getting buzzy. As expected, you also get a USB-C port at the bottom, alongside a standard headphone jack.
In terms of hardware, our biggest complaint is the lack of an SD-card slot for additional storage. The 128GB storage our unit comes with is less than ideal if you're planning on shooting a lot of high-res video or installing gigs of game data on your device.
Screen
The display on the OPPO Reno 5 5G is another key attraction. It's a 6.43-inch OLED affair, with 2,400 x 1,080 resolution, 410 pixels per inch, a 20:9 aspect ratio, and HDR compatibility. It's a decent size for us, and we can wrap our fingers around the entire width of the front. You'll probably need to do a bit of hand juggling to reach the upper parts of the screen, however.
To protect it from minor bumps and other accidents, this Reno has also been layered with Corning Gorilla Glass 5, but we still recommend putting the included silicone case on the device for added peace of mind. There's no harm in keeping the preinstalled screen protector applied to the panel as well — at least until it starts to peel.
The Reno 5 5G can be very bright as compared with its contemporaries and the last-gen release. OPPO says it has a peak brightness of 750 nits in auto-brightness mode. It achieves a typical level of 600 nits, same as the Apple iPhone 12. On sunny days outdoors, the phone's display can indeed get sufficiently bright, upping the brightness, so you're never left looking at reflections.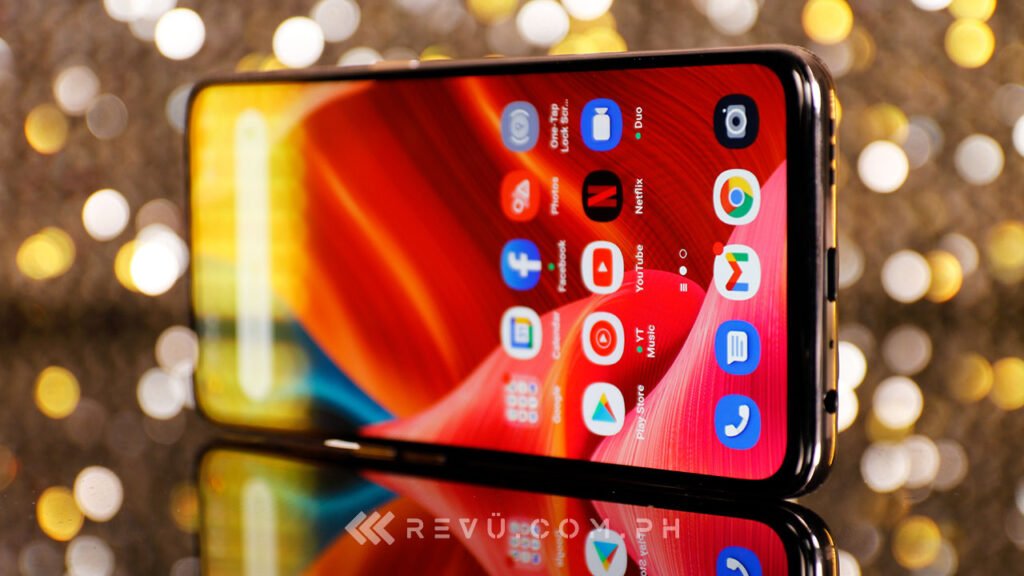 The screen-to-body ratio isn't particularly high for the segment, but the bezels are slim enough to get out of your way and wide enough to provide a good viewing experience. More importantly, the OLED on the OPPO Reno 5 5G is pleasingly vibrant and rich, and the colors stay true even as you tilt the handset. Widevine L1 certification is here, too, so you can stream high-definition content on Netflix and similar platforms.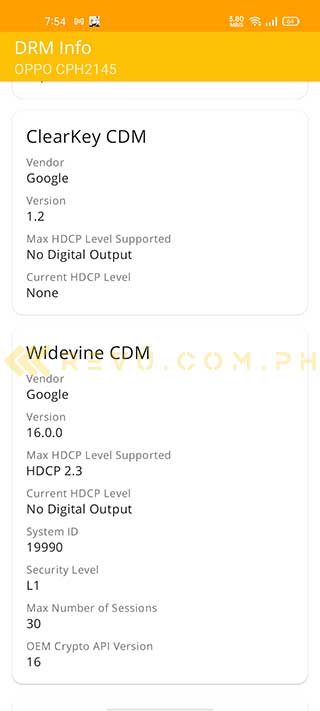 OPPO made the jump to higher refresh rates with last year's slew of devices, including the P8,990 ($187) A53, which launched in the Philippines as one of the most affordable devices on the market with a fast screen.
The Reno 5 5G can run at 90Hz for a smoother experience, with the option to downgrade to 60Hz to save a bit of battery power. You can switch between 90Hz and 60Hz modes in the display menu, but no auto setting. Even when the screen is set to 90Hz, some apps will still run at 60Hz due to compatibility issues.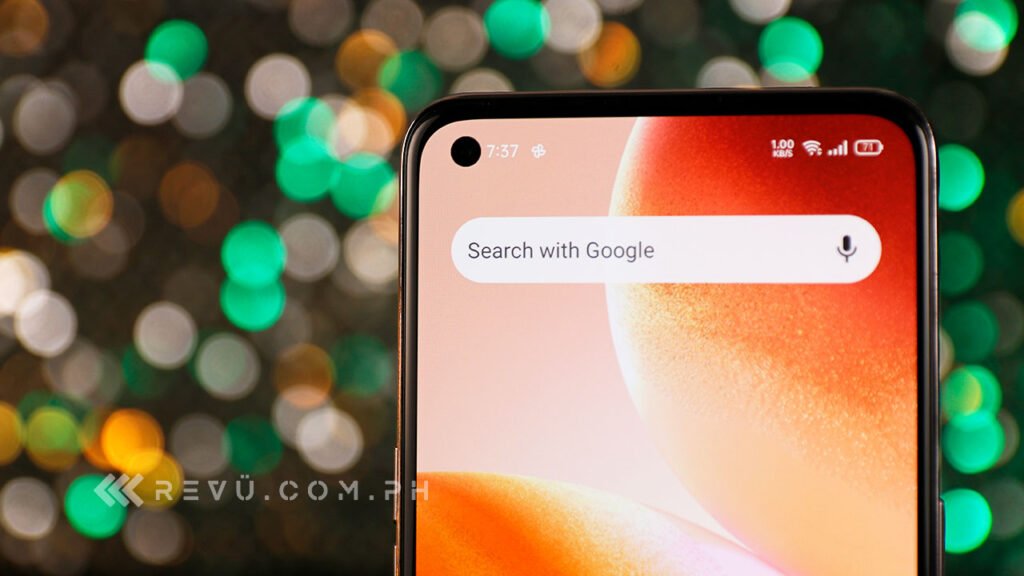 While there aren't lots of games that support faster screens at the moment, the benefits of a higher refresh rate are undeniable in everyday use. The screen rotates faster; system animations are noticeably more fluid; scrolling is smoother; and some games are not only nicer to look at, but also feel more responsive. Any form of movement or action on the panel just looks better, thanks to the 90Hz refresh rate.
You also get an optical fingerprint reader integrated into the panel for easier and faster unlocking. Consider using it; it's one of the fastest and most consistent out there, and you probably wouldn't miss using a physical scanner after spending time familiarizing yourself with the OPPO Reno 5 5G's fingerprint-detection area. We never bothered to set up face unlock on our unit, which says a lot about how great the fingerprint sensor is.
Always-on functionality is supported as well, letting you check the time and alerts without unlocking the handset. As a bonus, OPPO has added the ability to customize the lock screen with text and images on the Reno 5 5G.
Camera
On the back, the quad-lens camera array features a 64-megapixel primary sensor, with f/1.7 aperture lens and phase-detection auto-focus.
For the secondary cameras, you get an 8-megapixel ultra-wide-angle sensor and 2-megapixel units for monochrome and macro images. There is no telephoto or zoom camera here. However, you do have a 32-megapixel camera on the front, so selfies come out generally stunning, bright, and highly detailed in well-lit indoor environments and outdoors during the daytime.
With Fill Light turned on
You won't find a depth sensor here to shoot portraits with, but you can still take selfies with a blurred background using the Camera app's Portrait mode. Night mode helps you capture brighter and more saturated pictures at night or in a dark, indoor scene. There is also a dedicated low-light setting for the front camera, in addition to Fill Light, which uses the Reno 5 5G's OLED screen to brighten up your face while taking a selfie.
Ultra Dark mode, a more intense version of Night mode, if you will, is turned on automatically when the phone detects very low ambient light in a scene. This makes the smartphone extremely effective in low-light environments, though usually at the expense of added noise and artifacts. Otherwise, photos shot in Night mode are pleasing to look at.
Shot on the OPPO Reno 5 5G: 1) Auto (extremely low ambient light); 2) Ultra Night mode; 3) Auto (low light); 4) Night mode; 5) Auto (with faint red light); 6) 5x zoom (with faint red light); 7) Macro; 8) HDR; 9) Portrait; 10) Ultra-wide; 11) 1x; 12) 2x zoom; 13) 5x zoom; 14) 20x zoom; 15) Ultra-wide; 16-17) 1x; and 18) 2x zoom
OPPO's improved Camera app under ColorOS 7.2 offers various shooting modes for all kinds of scenarios. Macro lets you snap photos of objects up close with sufficient detail from 4cm away, making it ideal for flowers and small toys. Switching to Expert mode gives you control of ISO, shutter speed, white balance, auto-focus, and exposure compensation values, but doesn't let you save RAW files.
When shooting video with the 64-megapixel camera, the OPPO Reno 5 5G supports up to 4K resolution at 30 frames per second and 1080p slo-mo footage. The selfie camera maxes out at 1080p as well.
Shot on the OPPO Reno 5 5G: We #PictureLifeTogether with one of our baby Pomeranians :p
Video is a huge selling point for the Reno 5 5G (and OPPO moving forward), although the emphasis is more on the software features of the native Camera app, as opposed to what the hardware itself is capable of. OPPO has gone all in with AI technology and software to bolster the Reno 5 5G's imaging performance, and the results are mostly positive.
AI Highlight Video is perhaps the most useful feature here. It automatically detects the available light in a scene and improves overall video quality by applying OPPO's Ultra Night Video and Live HDR algorithms. Ultra Night Video brightens underexposed areas, whereas the latter can make a huge difference to overexposed shots. The Reno 5 5G likewise introduces Dual-View mode, which takes video with the front and rear cameras at the same time, providing two perspectives in one frame.
Performance
Powering the latest Reno is an upper-midrange Qualcomm Snapdragon 765G chipset, which was released last year under Samsung's 7nm process technology. It pairs four Cortex-A76 cores with four Cortex-A55 cores and Adreno 620 graphics, which the higher-clocked Snapdragon 768G also uses. It is said to deliver 10% graphics rendering compared to the regular, non-G variant of the Snapdragon 765. The local variant bundles the processor with 8GB LPDDR4 RAM and 128GB of UFS 2.1 storage.
For 5G connectivity, the Snapdragon 765G incorporates a Snapdragon X52 modem that supports mmWave and sub-6GHz specs. We found our unit's 5G performance to be consistently good for the price point, and we constantly saw around 300Mbps download speeds during testing. Of course, your mileage will vary depending on your location, but this Reno is compatible with both Globe Telecom and Smart Communications' 5G networks.
We're sharing the results of our 5G speed tests on the #OPPOReno5 ahead of the posting of our review of the phone.#PictureLifeTogether #RevuDotComDotPH pic.twitter.com/5EpZBuUNGx

— Revü Philippines (@RevuPhilippines) February 11, 2021
While the metrics aren't off the charts by modern standards, the OPPO Reno 5 5G provides a satisfying gaming experience at higher settings. If supported, the 90Hz spec will obviously give you smoother visuals, but even at 60Hz, most games should run well on the device, in large part thanks to its processor and RAM combination.
The device had no issues playing League of Legends: Wild Rift, Genshin Impact, and Call of Duty: Mobile, among others, at medium to high detail. After an hour of gameplay, we didn't notice any signs of excessive heating, and the frame drops were mostly negligible.
READ ALSO: Here is OPPO's updated ColorOS 11 global rollout timeline
The Reno 5 5G runs OPPO's ColorOS 7.2 user interface on top of Android 11 at launch. It's not ColorOS 11, as we expected, but a software update to the latest ColorOS version is likely coming sooner than later. So, not a biggie for most people, especially since day-to-day performance is not an issue on this handset. Nothing we did in our usual test protocol slowed our unit down much.
Battery and charging
The new Reno is equipped with a 4,300mAh dual-cell battery that generally lasts up to a day on a single charge based on mixed use involving web browsing; streaming on YouTube, Netflix, and Spotify; and gaming, with 90Hz refresh enabled all the time and Always on Display scheduled for certain hours.
Pegging the screen to 60Hz won't yield much of a difference, so we really don't recommend it unless you absolutely need to squeeze every bit of juice out of your phone. Turning off AOD can help you save battery significantly, however. Limiting 5G data also helps.
But ultimately, if you're looking for something that can provide days of usage, or long gameplay hours, the OPPO Reno 5 5G might not be the best option for you. In PCMark's battery-rundown test, which simulates real-world usage by testing the phone's system, including the CPU, GPU, and memory, our review sample lasted 10 hours and 47 minutes. Still not bad, though, considering we left the 90Hz setting on throughout the benchmark run.
What about wired charging? Glad you asked, because this is where the OPPO Reno 5 5G truly takes off. OPPO's new SuperVOOC 2.0 standard gives the phone the ability to charge at a rate of up to 65 watts when connected to the supplied charger, resulting in a sensationally short charging time of only 30 minutes from zero to fully charged, based on our tests.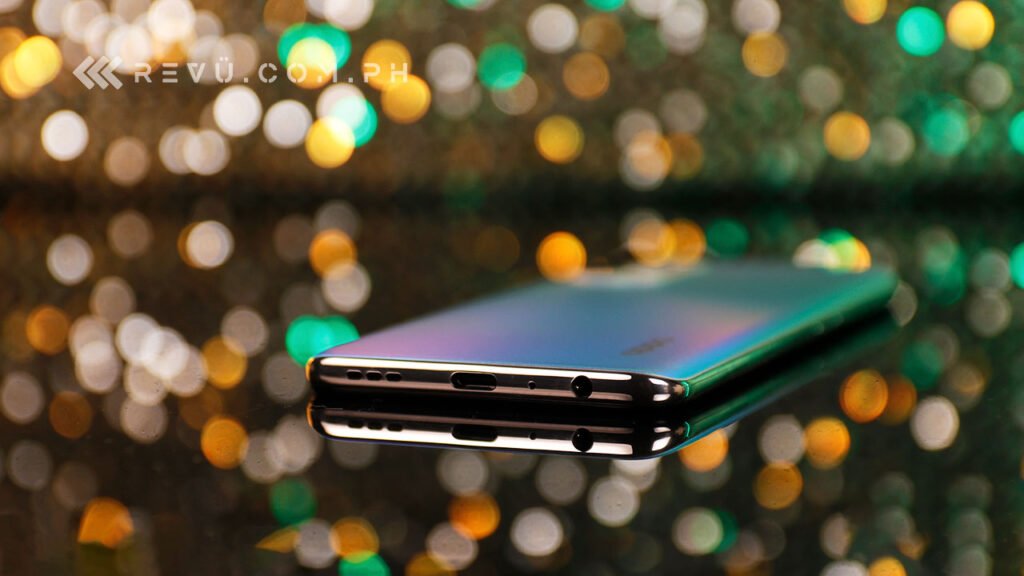 Interestingly enough, the SuperVOOC 2.0 charger that ships with the OPPO Reno 5 5G is perfectly compatible with the Realme X50 Pro 5G, which also supports power delivery up to 65 watts. And the power brick of the latest Realme flagship can optimally charge the Reno 5 5G as well. This isn't surprising, as the companies responsible for both devices share the same tech conglomerate, BBK Electronics.
Obviously, very few people will benefit from the charger compatibility between OPPO and Realme smartphones at the top, but it's there if you need it — for now at least. Like most handsets in this price range, wireless charging isn't an option.
Final thoughts
We've waited a while for OPPO to bring another premium 5G phone to the local market. Now that it's here and we've put it through its paces, we can say with confidence that the Reno 5 5G is really good. It combines the capabilities of Qualcomm's Snapdragon 765G with a fast OLED screen, superb photography and videography features, and 65 watts of fast charging in a sleek and stylish package. On top of that, this particular variant can connect to 5G networks as well, depending on your location.
The OPPO Reno 5 5G is everything its predecessor — the Reno 4 (for global markets) — should have been, and much more. Though its price-per-performance ratio isn't as great as some of the competing devices out there, there's still plenty of value to be found here.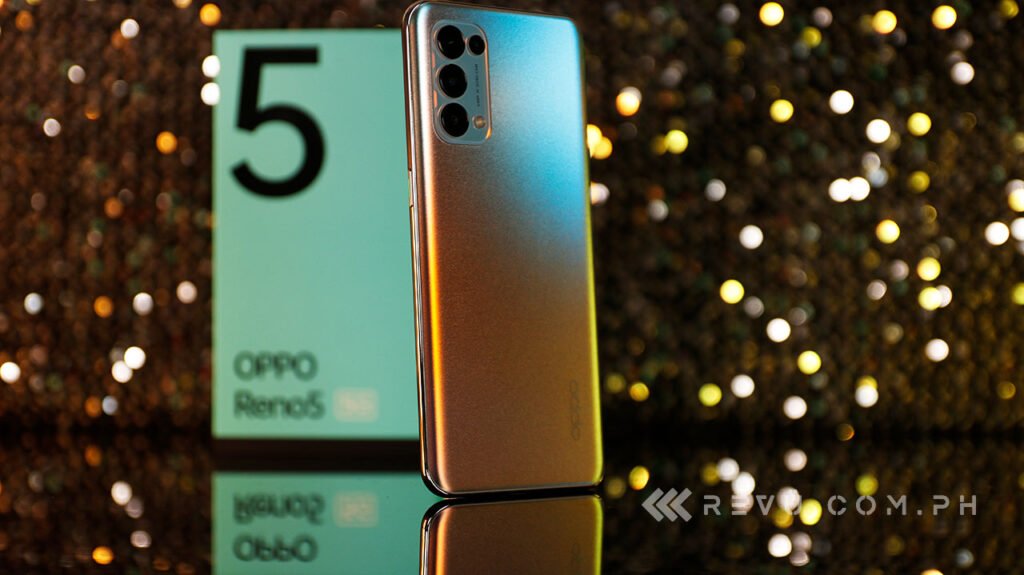 OPPO Reno 5 5G specs
6.43-inch OLED display, 2,400 x 1,080 resolution, 90Hz refresh rate, punch hole
Octa-core Qualcomm Snapdragon 765G processor with 5G
Adreno 620 GPU
8GB/12GB RAM
128GB/256GB storage
Quad 64-megapixel, f/1.7 (main); 8-megapixel, f/2.4 (ultra wide); 2-megapixel (macro); 2-megapixel (mono) rear cameras
32-megapixel, f/2.4 front camera
Fingerprint reader (under display)
4,300mAh battery with 65-watt USB-C charging
ColorOS 11 based on Android 11
Colors: Galactic Silver, Starry Black
---