Realme has launched tens of value-for-money devices since its inception, and through the years, continually climbed the smartphone rankings each quarter while offering higher-priced phones with better specs along the way. Two years and countless product announcements later, we have the ultimate Realme phone with us — the Realme X50 Pro 5G, which is being endorsed by Filipina cosplayer Alodia Gosiengfiao.

It's one of the most affordable Qualcomm Snapdragon 865-based options on the global market where there have been many standouts. But in the Philippines, it's only one among a handful. Realme has been synonymous with value for years, but what does that mean for the brand's first true — and long-awaited — flagship in the country? Read our Realme X50 Pro 5G review to find out.
Price and availability
Locally, the X50 Pro 5G is offered through Smart Communications' Signature data plans. One of the subscriptions is Signature Plan 1499 (or Signature Plan M), where the phone comes with a one-time device payment of P6,900 and a P400 monthly amortization over a 24-month contract. Plan 1499 provides a 10GB monthly data allocation, unlimited texts and calls to all networks, plus 100 minutes of calls to PLDT landline numbers. Your color options are Moss Green and Rust Red.
Hardware
It's commonplace for manufacturers to design their flagship phones differently, a lot of times with a curved screen and chunky camera system, to really distinguish them from midrange — and even bargain — offerings. That's not the case here, which is both somewhat unfortunate but also good to know, because a large camera housing, like the one Samsung has on the Galaxy S20 Ultra and Galaxy Note 20 Ultra, isn't desirable in any shape or form.
The Realme X50 Pro 5G will probably look and feel familiar to anyone who has used a Realme smartphone recently. It fits well in the hand and sports a vertical quad-camera array on a subtly curved rear panel that makes holding the phone a better experience. The camera bump is negligible, so the handset won't wobble on one side on a table. Moreover, the glass back is pleasingly wrapped in Corning Gorilla Glass 5, making it more resistant to damage.
But the kicker here is the matte finish on the panel that not only repels fingerprints — which we greatly appreciate — but is pleasing to the eyes as well. The frosted texture at the back also extends to all sides, and this makes the X50 Pro 5G feel nicer to hold and use, especially when gaming or watching movies.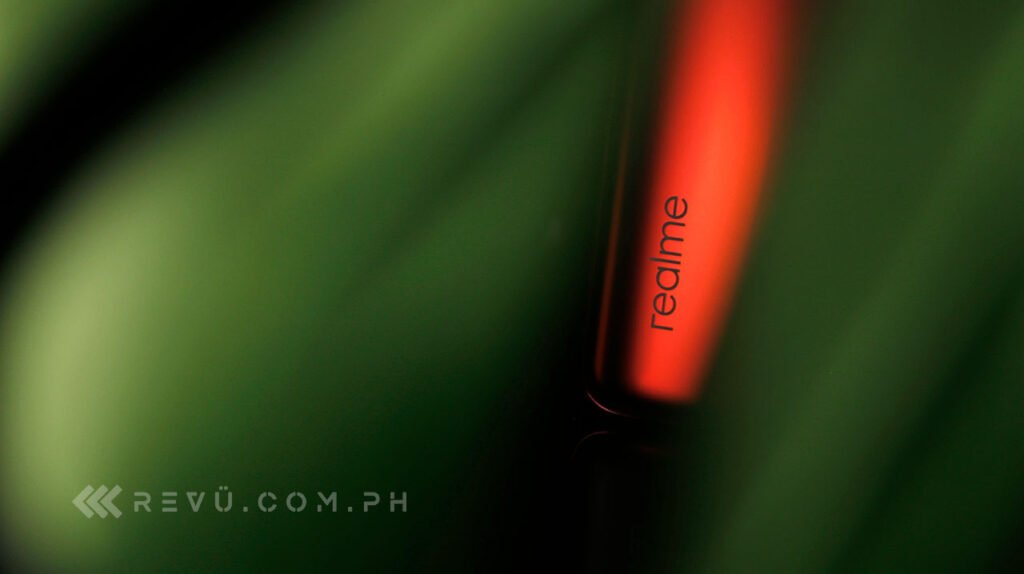 The device isn't too big or bulky, and the 6.44-inch Super AMOLED screen likely won't give you too much trouble reaching apps and buttons at the top of the display. We did find the X50 Pro 5G a bit heavy, though, which is not surprising given the aluminum and glass all around. The extra speaker channel and the addition of 5G have most certainly impacted the dimensions of this Realme as well. As a quick aside, there are several antenna bands on the frame, more so than the usual, but nothing out of the ordinary among 5G phones we've tested.
While it may not look like a sexy, top-of-the-line model like its 2020 peers, the X50 Pro 5G is exquisitely made. It's definitely the most premium Realme we've used so far, and that's not to be understated. Flushed with the metal frame, the curves over the sides really makes it look like the frosted glass seamlessly flows off both ends. The power button has a metallic-yellow accent, which is another nice touch.
Unsurprisingly, the X50 Pro 5G doesn't include a 3.5mm headphone jack, something that's also missing on most flagships today. It does feature a second channel for stereo sound, with the top speaker in the earpiece and the downward-firing main speaker lined up at the bottom. Though not the richest sound ever, the audio quality from the dual setup is impressively loud and punchy, with good bass and treble balance.
There's no waterproofing here, as expected, so try not to get caught in the rain with the device. For added protection, the X50 Pro 5G ships with a clear silicone case that fits perfectly and may come in handy to safeguard the phone from accidental drops and scratches.
The Realme X50 Pro 5G doesn't support wireless charging. But with 65-watt SuperDart Charge that can get the phone to full capacity in about half an hour, who cares, right? We certainly don't miss wireless charging when we can fully recharge the battery in about the same time as it takes us to enjoy our first cup of coffee in the morning.
Screen
The Realme X50 Pro 5G packs a 6.44-inch Super AMOLED panel with a pill-shaped punch hole for two independent cameras. Obviously, it's not the smallest cutout we've seen in the segment, but then again, we'd rather have a secondary ultra-wide-angle selfie camera than not, as it really helps take pictures with a wide focal length. Think small family gatherings this holiday season and selfies with sprawling Christmas displays in the background.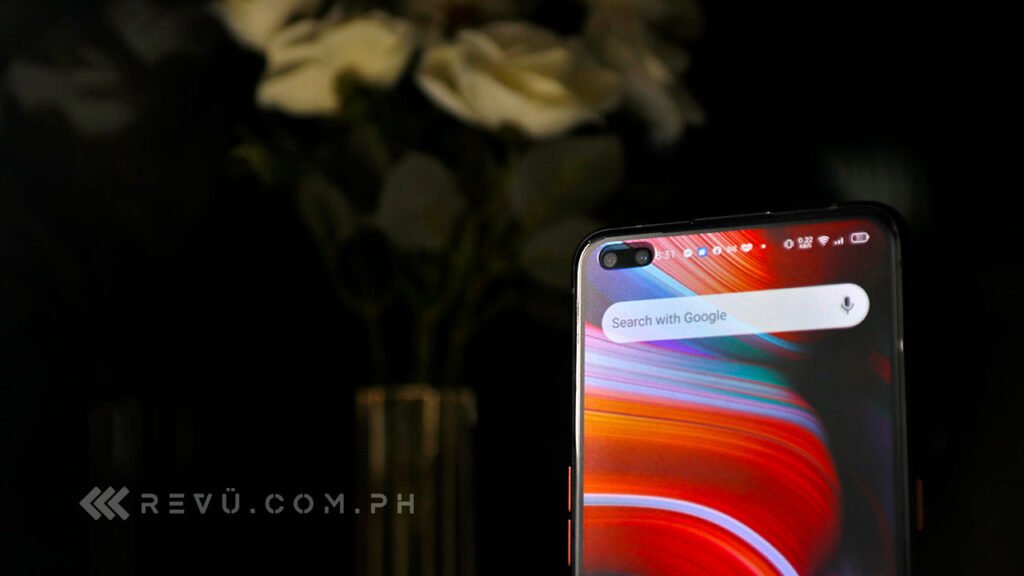 The display has a FHD+ resolution of 2,400 x 1,080 and a 92% screen-to-body ratio, evidenced by the minimal bezels all around. More impressively, the X50 Pro 5G can run at 90Hz for a smoother experience. And while there aren't a ton of games that support faster screens at the moment, the benefits of a 90Hz or higher refresh rate are undeniable. You can switch between 60Hz, 90Hz, or Auto select in the Settings, which optimizes the refresh rate for longer battery life depending on what you're viewing.
The phone is certified for HDR10+ content playback as well, although don't be surprised if Netflix and similar platforms won't allow you to stream HDR video, or in HD for that matter. Curiously, the unit we have doesn't come with Widevine L1 certification; it only supports L3, which can be used to stream standard definition (SD) content. Hopefully, Realme will release a software update soon to upgrade the X50 Pro 5G to Widevine L1 and allow the handset to make better use of its hardware.
That's not to say the Super AMOLED on the smartphone isn't any good; it's actually pleasingly vibrant and rich, and at peak brightness, you'll have no trouble using it outdoors and in bright light. As usual, enabling auto brightness will yield a brighter picture than what you can achieve by manually adjusting the brightness slider.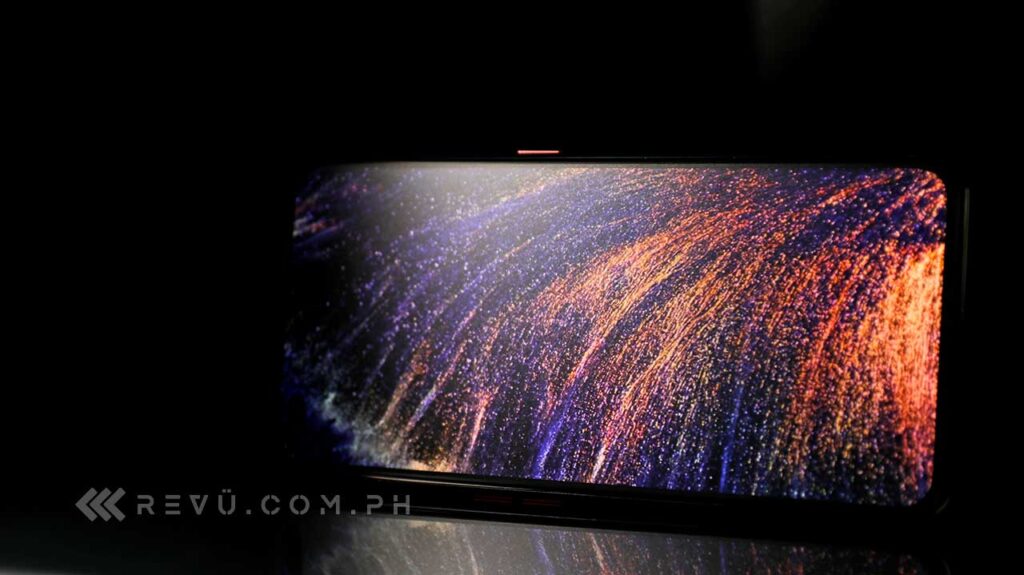 There's an optical fingerprint reader onboard for easier and faster unlocking, and you can also use it to lock apps and files with your fingerprint. Consider using it; it's one of the fastest and most consistent out there, and you probably wouldn't miss using a physical scanner after spending time familiarizing yourself with the display's fingerprint-detection area. We never bothered to set up face unlock on our unit, which says a lot about how great the fingerprint sensor is.
Oh, and you get always-on functionality on the Realme X50 Pro 5G, so you don't need to unlock the phone to check the time and alerts. Most flagships have it as well, but very few give you the option to customize the lock screen with text and images.
Camera
The quad-sensor vertical array at the back features a 64-megapixel Samsung ISOCELL Bright GW1 sensor, which is the same sensor present on the Realme X3 SuperZoom. For the secondary cameras, you get a 12-megapixel telephoto camera that can do up to 20x zoom with software enhancement and 2x optical zoom, an 8-megapixel ultra-wide camera, and a 2-megapixel monochrome sensor that works for portraits, as well as normal shots, improving contrast on the latter.
It's not the most amazing camera set on a Realme device to date — our vote goes to the Realme X3 SuperZoom, which can do 60x zoom on a periscope telephoto lens — but you do get the benefit of an extra front camera for group pictures here, same as on the X3 SuperZoom. The main front-facing shooter is likewise a 32-megapixel unit.
There is no front-facing sensor to shoot portraits with, but you can still capture selfies with a blurred background using the native Camera app's Portrait mode. You also have a Night mode, if you want to snap brighter pictures at night or in a dark indoor scene, such as in a restaurant or a car. It works on all three independent cameras — main, ultra wide, and telephoto — and includes a tripod setting that allows the phone to shoot for as long as 50 seconds.
Pictures taken with the Realme X50 Pro 5G: 1) Night mode; 2) Auto mode; 3) Night mode, ultra-wide; 4) Auto mode, ultra-wide; 5) Night mode, ultra-wide; 6) Auto mode, ultra-wide; 7) Night mode; 8) Auto mode; 9) 1x; 10) 2x zoom; 11) 5x zoom; 12) 1x; 13) 2x zoom; 14) 5x zoom; 15) Cyberpunk filter; 16) Flamingo filter; 17) Modern Gold filter; 18) 1x selfie; 19) Ultra-wide selfie; 20) Auto mode; 21) Portrait mode
And the sample action shot we shared earlier…
Realme's Camera app seems to have a dedicated shooting mode for almost any scenario including closeups. And there's an Expert setting as well for people who know their way around a camera and own decent lighting equipment. Expert mode even lets you capture a RAW file for each image and use the wide and telephoto lenses to take pictures manually.
If you enjoy taking pictures of toys and miniatures, you'll find that the Realme X50 Pro 5G is a particularly excellent tool to work with.
When shooting video with the 64-megapixel camera, the device supports up to 4K resolution at 60 frames per second, which is impressive but hardly surprising given the flagship-grade hardware. The front-facer goes up to 1080p at 30 fps and can shoot ultra-wide footage using the secondary camera.
Performance
A Qualcomm Snapdragon 865 with an X55 5G modem powers the Realme X50 Pro 5G and runs on the latest Realme UI 2.0 based on Android 11. UI 2.0 introduces three Dark mode styles — Enhanced, Medium, and Gentle — plus an improved Game Space app with an Immersive mode that reduces distractions while playing, among other things. The chipset, which is fabricated on a 7nm process, same as the Snapdragon 865 Plus, is mated to 12GB of LPDDR5 RAM and 256GB of native UFS 3.0 storage.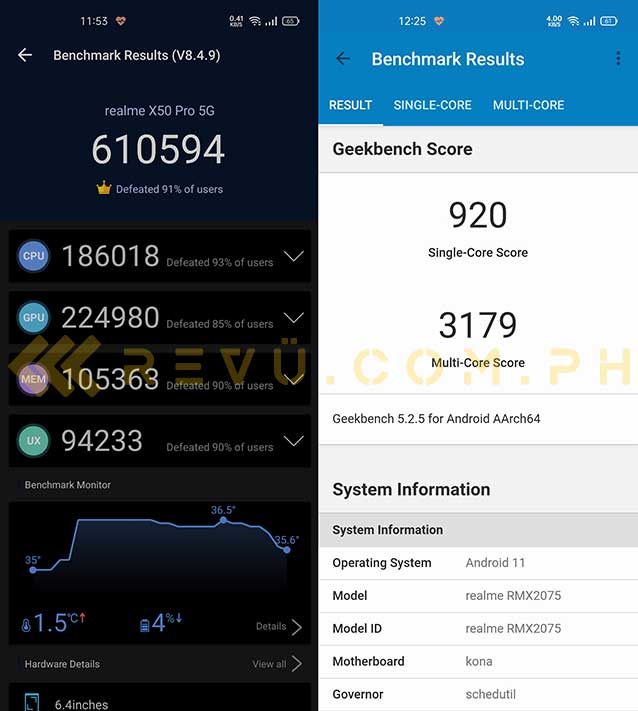 Unfortunately, there's no option to expand the storage. That might be a drawback for some, though not necessarily a deal-breaker, unless you're looking to download huge files and shoot 4K video. Not to mention, cloud storage is always an option if you have a bit of cash to spare. What we're saying is the built-in memory should be enough for most users. But if it's not, then you may need to look elsewhere for a phone with bigger storage.
Watch us play League of Legends: Wild Rift, Slam Dunk (3:00 mark), and Alto's Adventure (6:00 mark) on the Realme X50 Pro 5G
Driven by a Snapdragon 865, the X50 Pro 5G feels like a proper flagship, the way the best — and most expensive — smartphones typically do. It's a top-tier product with top-tier pedigree and the performance to match. If you're after a phone that will likely remain fast and responsive for years to come, a Snapdragon 865-based model is highly recommended.
For better cooling and sustained peak performance, Realme brings a five-dimensional cooling system to the X50 Pro 5G. This includes a vapor chamber plus multiple graphite layers. The cooling system is effective and manages to keep the back of the smartphone cool, even when playing games or running benchmarks one after another.
5G speed test on the Realme X50 Pro 5G in Rizal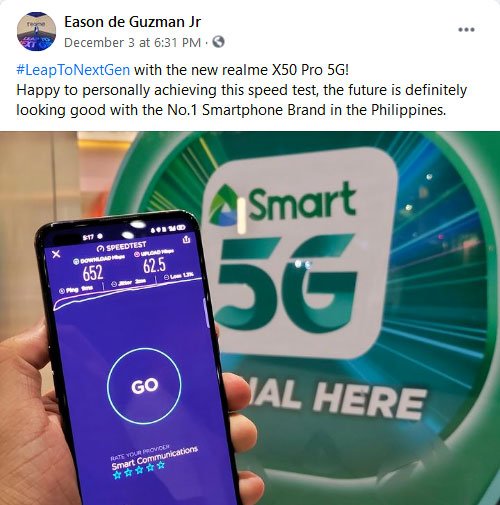 5G is, of course, one of the main attractions here, and we're happy to report that the Realme X50 Pro 5G supports local networks carrying the ultra-fast wireless mobile standard. Currently, the X50 Pro 5G is only available through Smart's Signature data plan, which is priced as low as P999 ($21) monthly for 5GB of data. If you live in a 5G area with a Smart signal, this device will be a treat to own as a daily driver.
Battery life
A 4,200mAh cell keeps the lights on here. While that's nothing particularly special on paper, the battery backup is enough to get the Realme X50 Pro 5G through a full day without recharging — even with the 90Hz setting enabled. The idle or standby performance isn't as impressive, especially with an always-on lock screen sipping battery in the background when active. Mobile gamers who spend a considerable amount of time playing will probably empty the battery before nighttime.
Our unit registered 12 hours and 28 minutes on the PCMark battery test with the screen set to 90Hz and at half brightness. That's a pretty impressive output given the phone's internals and battery capacity.
The X50 Pro 5G is the first handset to support Realme's 65-watt SuperDart fast charging, and the 65W power brick is included in the retail box, so there's no need to purchase a separate charger to enjoy the highest speed offered on the device.
The claim is that a 35-minute charge can refill the battery completely. We can confirm that's actually the case with our unit. A full charge from flat can be achieved in about 39 minutes, give or take. Wow, just wow.
As far as fast charging is concerned, it should be noted that the only commercial phone capable of handily beating this Realme is the Xiaomi Mi 10 Ultra, which supports up to 120 watts of power delivery. It's also worth mentioning that the Realme X50 Pro 5G supports all previous VOOC charging options and USB-PD. We've used a bunch of different fast chargers to top up our unit, including a laptop power adapter.
Final thoughts
We've waited a while for Realme to bring a real flagship on the local market. And now that it's here and we've put it through its paces, we can say with confidence that the X50 Pro 5G doesn't disappoint. This is a smartphone that combines the power of Qualcomm's Snapdragon 865 with a fast AMOLED screen, capable cameras, and 65 watts of incredibly quick power delivery. And it's capable of super-fast 5G speeds, too!
Frankly, the only thing keeping us from wholeheartedly recommending it is its limited availability. You can only get the X50 Pro 5G through a data plan on one network. While a rival telco might offer the phone down the line, devices bundled with data will always be less attractive for people who already have a subscription and are not looking to give up the status quo, and for those who are not in the market for a monthly contract.
Otherwise, the Realme X50 Pro 5G is a worthwhile wait that will only get better with time as local telcos continue to roll out their 5G capabilities in the Philippines. It's a powerhouse of a phone to cap the year that, despite all the challenges and disruptions in the industry, saw many highs for Realme.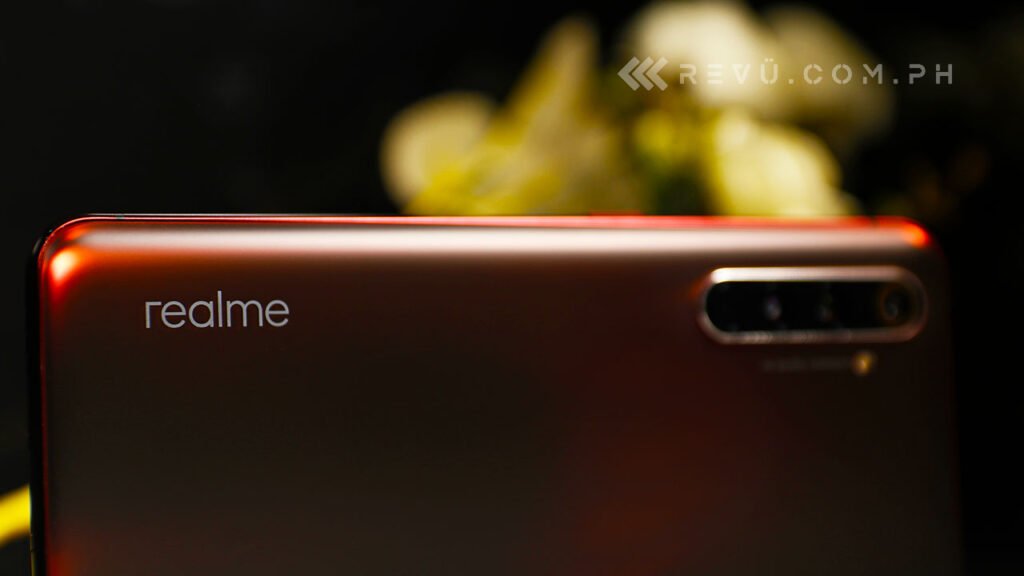 Realme X50 Pro 5G specs
6.44-inch Super AMOLED display, 2,400 x 1,080 resolution (20:9), 90Hz refresh rate, dual punch hole
Octa-core Qualcomm Snapdragon 865 processor with 5G
12GB RAM
256GB storage
Quad 64-megapixel (main), 8-megapixel (ultra wide), 12-megapixel (telephoto), 2-megapixel (depth) rear cameras
Dual 32-megapixel, 8-megapixel (ultra wide), front cameras
Fingerprint reader (under display)
4,200mAh battery with 65-watt fast charging
Realme UI 2.0 based on Android 11
Colors: Moss Green, Rust Red
---