Estimated reading time: 19 minutes
Huawei's latest-gen Mate is bigger than ever — both literally and figuratively. It's got new styling to match its premium looks; it has more screen real estate than its predecessor; it packs more power, faster charging, and, perhaps more importantly, the tech giant's best cameras yet, at least according to the marketing slogans.
As with all Huawei devices launched last year, there are no traces of Google here. However, in fairness to Huawei, the company has done everything it reasonably could to build a software ecosystem of its own — and the fruits are showing early. For long-time Huawei users and those after a first-rate camera experience, the Mate 40 Pro promises lots to get excited about on the surface.
In the Philippines, the Huawei Mate 40 Pro with 8GB RAM and 256GB of native storage has a suggested retail price of P55,999, or roughly $1,166 converted. It is also available via postpaid offers from Globe Telecom and Smart Communications.
Hardware
The Huawei Mate 40 Pro is a large device — even by today's flagship standards. It is almost as tall as the Galaxy S21 Ultra, which is Samsung's ultimate S series phone this year, and is much bigger than the Mate 30 Pro before it. It is heavier than its predecessor, too, coming in at around 212 grams including the built-in battery. It is still IP68-certified for dust- and water-resistance as well, so you can take it with you in the shower or tub, or use it under the rain without having to think twice.
Unlike its predecessor, though, the Huawei Mate 40 Pro includes remarkable dual speakers for stereo output when in speaker mode. The speakers are located on the top and bottom sides, below the precision-driller speaker holes. They actually deliver some audible bass to go along with the rich and loud sound at high volume. The latest Mate also retains an IR blaster at the top, allowing the phone to pull double-duty as a universal remote control for home appliances, including TVs, entertainment systems, and air conditioners, using the preinstalled Smart Remote app.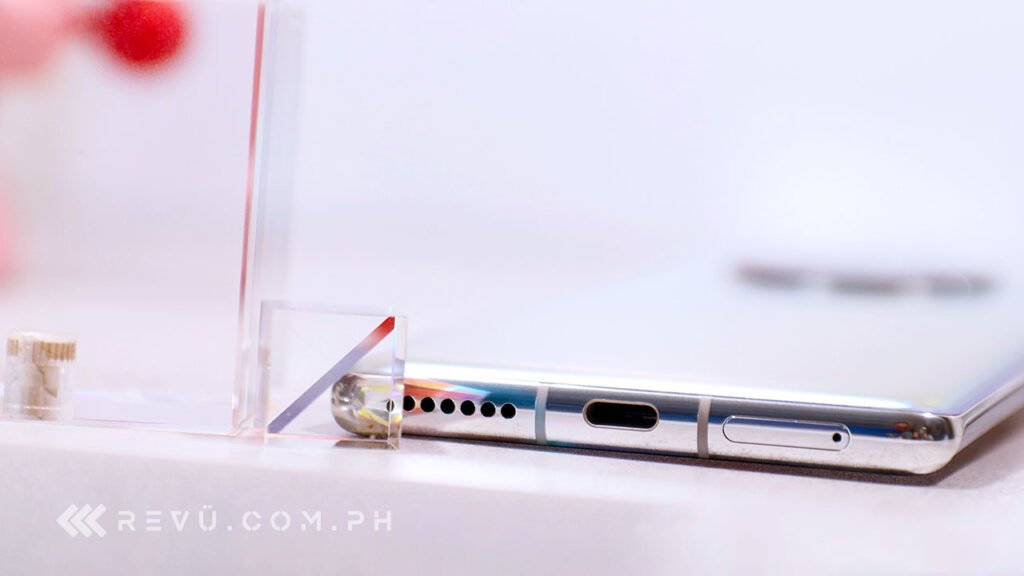 The right-side volume rocker makes a welcome return to the Pro hardware, and it sits on top of the red power/wake button. The left and right sides of the Mate 40 Pro are likewise touch-sensitive, same as on the previous model, so if you want to adjust the volume by gently tapping the edge and then sliding your finger up or down the screen, you can still do so. Not sure why Huawei brought the volume rocker back, but we're guessing many Mate 30 Pro users weren't happy with the absence of physical volume buttons and complained about it. Personally, we're fine with touch sensors replacing analog controls, but that's just us.
A lot of the features we like about the Mate 30 Pro have made their way here, the aggressively curved OLED screen and aesthetic-fitting circular camera unit included. At 6.76 inches across, the display is much bigger this time around and packs more pixels and tech than what the Mate 30 Pro's 6.53-inch OLED offers. The new camera design is called Space Ring. It's pleasing to look at and matches the phone's all-around curvature. The Space Ring camera is also huge, occupying a good portion of the rear panel, and results in a camera hump that protrudes quite a bit.
Huawei didn't add extra cameras to the Mate 40 Pro, but you do get higher-quality sensors in the form of a 50-megapixel wide camera with omnidirectional PDAF and laser auto-focus and a 12-megapixel telephoto option with optical image stabilization or OIS and 5x optical zoom lens. Those two cameras are similar to what's on the Huawei P40 Pro. You'll find a 20-megapixel ultra-wide camera and a multispectral color-temperature sensor as well at the back. The latter helps with color reproduction, so you get more accurate colors when shooting photos and video.
Huawei's impressively accurate face-unlock tech makes a comeback — still as useful as ever, or perhaps more so, thanks to an upgraded Time-of-Flight or ToF camera that adds some new tricks to the user experience. These include the ability to trigger Always On Display just by looking at the screen when the Display mode is switched to Smart. It's a nifty feature that makes glancing at the time and date and checking for notifications much easier at the expense of marginally faster battery drain.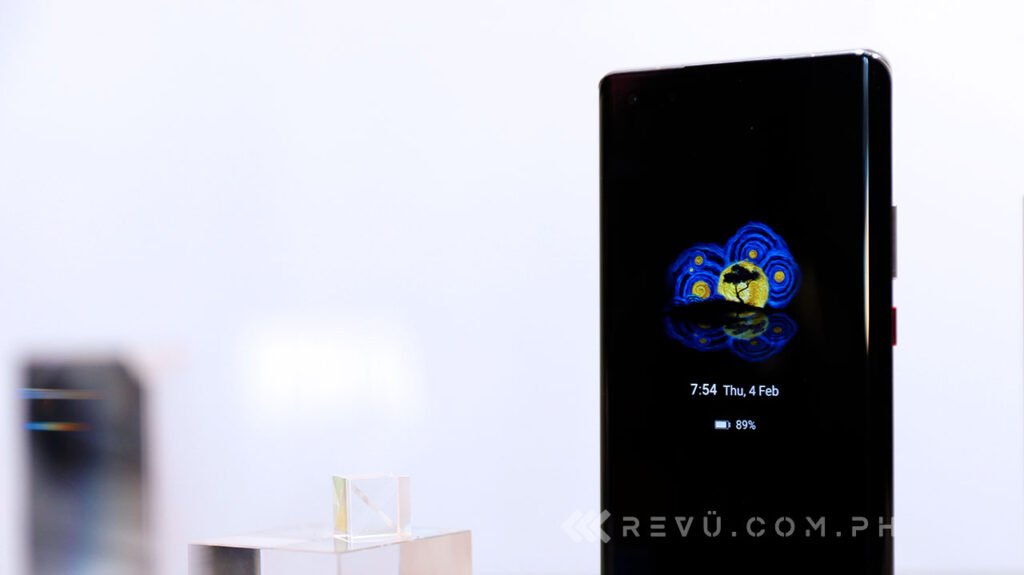 You also get additional hands-free gesture controls, allowing you to scroll or swipe just by placing your hand in sight of the camera. This works for screenshots, too. Like face unlock, gesture controls via the ToF camera work well even in low light, although you may need to keep your hand movements slow and deliberate for them to be recognized.
Another feature that uses the ToF camera is AI Auto Rotate, which detects the orientation of your eyes and locks the rotation of the UI. This is much more accurate than relying on the accelerometer and/or gyroscope to rotate the screen and can be handy if you regularly use your phone while lying in bed. The camera likewise recognizes when there are other faces looking at your screen and automatically hides sensitive notifications from prying eyes.
The front-facing 32-megapixel Quad Bayer unit in the Mate 30 Pro has been replaced by a 13-megapixel sensor that sits behind an ultra-wide-angle lens. On paper, the selfie cam looks like a downgrade, but the extra field of view at the cost of some resolution is a tradeoff we're okay with given the results produced by our camera test (which we'll get to in a moment).
It's also worth noting that the Huawei Mate 40 Pro doesn't have a wide, obtrusive center notch like its predecessor. Instead, you have a dual punch-hole cutout in the top-left corner that's about half the size of the Mate 30 Pro's notch size.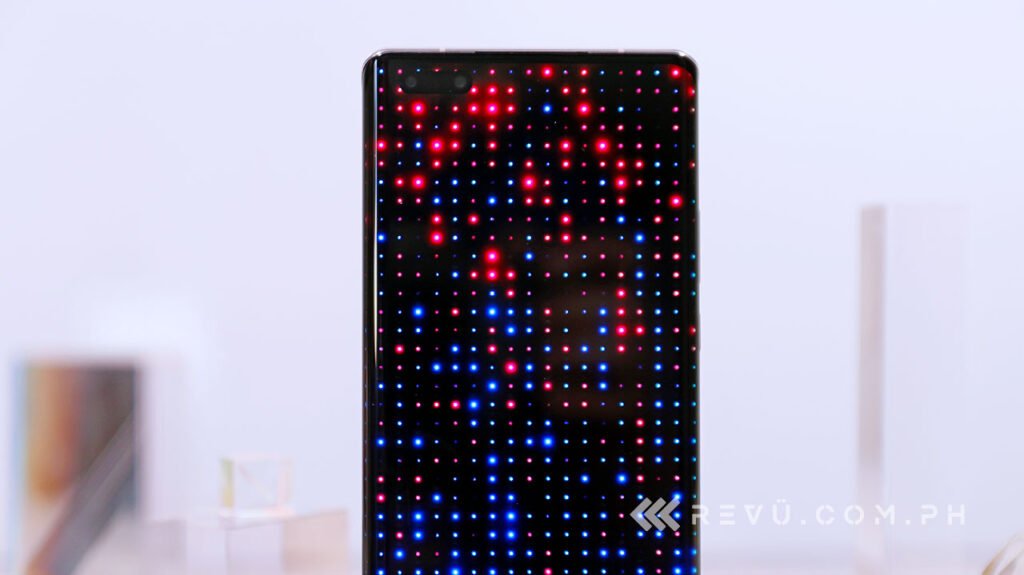 Huawei introduces a new signature color to the Mate lineup called Mystic Silver. It is one of the two color options available in the Philippines (the other is conveniently called Black), and, as you can tell, it looks absolutely gorgeous in pictures. The silver matte finish gives the Mate 40 Pro a premium look, but it's the dazzling rainbow effect on top that really makes it standout when compared with other flagships on the market today. It reminds us of Samsung's Aura Glow color that was introduced in the Galaxy Note 10 series, but the execution here is more restrained, yet more visually appealing.
Visually, the Mystic Silver version of the Mate 40 Pro may be the most impressive phone Huawei has ever produced. And in the hands, it feels impeccably built — an engineering feat even, considering the laundry list of fresh and returning features the company managed to pack in. The only thing we would change is its size. This is a super-specced phone in a super-sized package, and there's no going around that. If you care about one-handed operation, the Huawei Mate 40 Pro might not be the most suitable flagship for you.
Screen
Huawei's Mate series has always been known for its generous — and gorgeous — display. The Mate 40 Pro makes no attempt to change that. In fact, the curved 6.76-inch OLED panel here is easily one of the tallest the company has ever introduced. It's also one of the most immersive out there, with a resolution closer to 2K than 1080p (2,772 x 1,344, to be exact) and a 94% screen-to-body ratio. And despite being larger than the displays on the Mate 30 Pro and P40 Pro, the Huawei Mate 40 Pro boasts a higher pixel density than both outgoing flagships, improving to 456 dots per inch.
It supports HDR10 content, as well as a max refresh rate of 90Hz and 240Hz touch sampling. Its peak brightness is likewise plenty, particularly when adaptive brightness is enabled. Adjusting the brightness slider manually, the Mate 40 Pro seems capable of higher brightness than what the P40 Pro offers, and outdoor use isn't a problem even in sunny conditions.
There are two color modes to choose from: Natural and Vivid, with Default, Warm, and Cool presets for each, although you can manually adjust the color wheel to something more suited to your preference.
All the technical stuff aside, the Huawei Mate 40 Pro provides a fantastic viewing experience that is in line with the top-class competition. You get vivid colors, deep blacks, consistently good viewing angles, plus an always-on setting — you know, the whole package.
Besides that, there's the higher refresh rate, which is great for gaming and faster than the 60Hz standard for mobile devices, but could certainly be better, especially considering there are 144Hz displays out there today. Perhaps Huawei should look into faster OLED technology to stay competitive this year, especially if rumors are true that Apple's next iPhone would sport a 120Hz panel.
Like most modern flagships, the Huawei Mate 40 Pro has an embedded optical fingerprint reader under its display. Its speed and accuracy are top-notch, making it a more suitable option for unlocking the handset in complete darkness, as opposed to using face unlock.
Camera
The Mate 40 Pro boasts three cameras and a color-temperature sensor on the back, as mentioned earlier. Huawei's Ultra Vision Camera with a 50-megapixel Sony IMX700 sensor (a carryover from the P40 Pro Plus and P40 Pro), f/1.9 aperture lens, and OIS serves as the main camera here. It uses a RYYB [red, yellow, yellow, blue] sub-pixel formation. The secondary cameras include a 20-megapixel Cine Camera with f/1.8 lens for ultra-wide shots and a 12-megapixel periscope telephoto option with f/3.4 optics, OIS, plus 5x optical and 50x optical- and digital-zoom capabilities.
Unsurprisingly, Huawei says these cameras altogether deliver the best imaging experience ever on a mobile device, and it's hard to argue against that given the results, as well as where the Mate 40 Pro ranks among the smartphones tested by Dxomark, an industry-renowned platform for reviewing cameras and other smartphone hardware.
SEE ALSO: Mate vs Mate: Huawei outdoes self in camera-phone rankings
Dxomark currently rates the Mate 40 Pro as the second-best camera phone on the market, just behind the Mate 40 Pro Plus and well ahead of the Apple iPhone 12 Pro Max and iPhone 12 Pro, which are ranked fifth and sixth, respectively. Can Samsung elbow Huawei out of the top spot following the release of the Samsung Galaxy S21 series last month? We'll see.
The 12-megapixel binned pictures taken with the main camera look excellent, with rich colors, negligible fuzziness, and wide dynamic range. Of course, you can also shoot at 50 megapixels, but you won't get a lot of extra detail and could potentially see some noise around the frame instead.
The ultra-wide camera, on the other hand, doesn't offer the widest field of view, but makes up for it with likable colors, good dynamic range, and excellent sharpness throughout the frame. And since the camera has auto-focus, it can produce dramatic images where the foreground is in focus while the background is heavily blurred. But it won't focus if the subject is too close to the phone, and it's a shame you can't use it for extreme macro shots.
The zoom shots from the periscope camera also look great. They're detailed and relatively noise-free within the optical zoom range. If you want to shoot closeups, the 5x option is probably your best bet, too, along with Aperture mode.
Shots taken with the Samsung Galaxy Note 20 Ultra (first picture in each set) compared with the Mate's — from our Samsung Galaxy Note 20 Ultra vs Huawei Mate40 Pro: Big-flagship showdown article: 1st set) Auto; 2) Ultra-wide; 3) Auto; 4) Ultra-wide; 5) Auto; 6) Ultra-wide; 7) 1x; 8) 5x zoom; 9) 50x zoom; 10) Auto; 11) Night mode; 12) Auto; 13) Night mode; 14-15) Portrait; 16) Ultra-wide selfie; 17) Portrait selfie; 18) Auto selfie
no images were found
Additional pictures captured on the Huawei Mate 40 Pro
Low-light performance across the three cameras is exceptional, as expected. Plenty of sharpness at the area of focus; lots of detail in both highlight and shadow areas; nicely saturated colors; and acceptable noise levels. The 50-megapixel camera, in particular, does so well in unfavorable lighting that switching to Night mode won't always result in better and brighter pictures. You can drag out more highlight detail, but that's usually it and nothing more. Plus, you need to keep the device steady for a few seconds to take a picture when shooting in Night mode.
Huawei's Pro supports manual ISO of up to 6400, and even images captured at that high ISO are serviceable, as shown in our tests. Most flagships won't let you go over ISO 3200. Other shooting modes include Slow-mo, Panorama, Monochrome, AR Lens, Light Painting, HDR, Time-lapse, Stickers, Documents, Dual-view, High-res, and Story Creator, which lets you create professional-looking short videos in seconds.
It's truly remarkable what the Hauwei Mate 40 Pro can deliver with its rear-facing camera setup. Believe the hype: This camera deserves a spot at the top of the smartphone world and is unmatched by its rivals from big-name manufacturers — as far as taking pictures is concerned at least.
Watch this to see for yourself why the Huawei Mate 40 Pro's videography features — such as real-time HDR, video stabilization, audio zoom and focus, and Story Creator mode, just to name a few — make the phone ideal for vlogging. This was first uploaded to our Facebook page
The Mate 40 Pro can capture up to 4K video at 30 frames per second using its Ultra Vision Camera and Cine Camera. Thanks to its superior sensor, the 50-megapixel camera records higher-quality footage with the same settings versus what the Cine Camera is capable of. With superb colors, detail, and dynamic range, it's among the best we've used for shooting video. The difference in picture quality between the primary and secondary cameras is pretty negligible at lower resolutions, though.
Moving over to the 13-megapixel selfie camera, it's using an f/2.4 fixed-focus aperture lens with an 18mm-equivalent focal length and assisted by a TOF camera for adding depth to portrait-style selfies. In real-world tests, we found the front shooter to be generally great in a wide variety of conditions, not to mention, the extra-wide focal length makes it useful when shooting group selfies in tight spaces at close range. We're particularly impressed with the way the Huawei Mate 40 Pro handles colors and skin tones.
Performance
With the launch of the latest Mate comes a new 5nm HiSilicon Kirin chipset from Huawei. The Mate 40 Pro sports the flagship HiSilicon Kirin 9000 with Cortex-A77 cores and 24-core Mali-G78 graphics (which is the highest spec for this GPU), and pairs the processor with 8GB of LPDDR4X RAM and 128GB, 256GB, or 512GB of UFS 3.1 storage depending on your region.
UFS 3.1 is the newest and most advanced specification for low-power memory and delivers more speed for less power consumption in devices. The Huawei Mate 40 Pro is one of the few phones on the local market that has moved on to UFS 3.1, and the benefits of faster storage can be felt with daily usage. Apps generally open quickly, while games with large file sizes install and unpack data in the background are handled well, too.
The Kirin 9000 supports faster-than-4G 5G data as well, but you'll need to be in a 5G location to take advantage of it. As we have come to expect from a premium Huawei phone, the Mate 40 Pro's 5G hardware performs exceptionally well and its antenna also has the best reception of any 5G handset we've tested. As always, activating 5G while browsing the web or streaming video will reduce battery life a lot faster, so keep that in mind.
One of those random 5G speed tests we regularly do, this time on the #HuaweiMate40Pro.#HuaweiMate40 #LeapFurtherAhead pic.twitter.com/GhCqBneKUM

— Revü Philippines (@RevuPhilippines) February 9, 2021
5G speed test on the Huawei Mate 40 Pro. Results vary depending on the area
For hardcore gamers, there's Performance mode that unlocks the full potential of the Kirin 9000 at the cost of battery life and the Huawei GameCenter app, which is a redundant digital storefront for games available on the AppGallery.
A more useful feature is AppAssistant. You can activate it by swiping from the upper-left corner of the display, and doing so will open a small window with toggles for Game Acceleration, Uninterrupted Gaming, Screen Recording, L/R buttons, and many more. All these functions are self-explanatory, except for the L/R buttons toggle, which you can use to bind a game's virtual controls to the pressure-sensitive sensors along the top and bottom sides of the screens, turning them into shoulder triggers when the phone is rotated sideways.
Outside of gaming, the Huawei Mate 40 Pro, combined with 90Hz refresh and the powerful Kirin 9000, feels as responsive as any high-end Android we've used and runs just as fast as when we first got it a few months ago. The ample serving of RAM also means apps stay in the background for most of the time, and we experienced no lags whatsoever while multitasking with a decent load of browser tabs.
We haven't done any benchmark tests on a device powered by a Qualcomm Snapdragon 888, which, according to multiple platforms, is the fastest non-Apple chipset around, but the benchmark scores of our unit are the highest we've seen yet in the Android space. HiSilicon's latest SoC is simply a beast.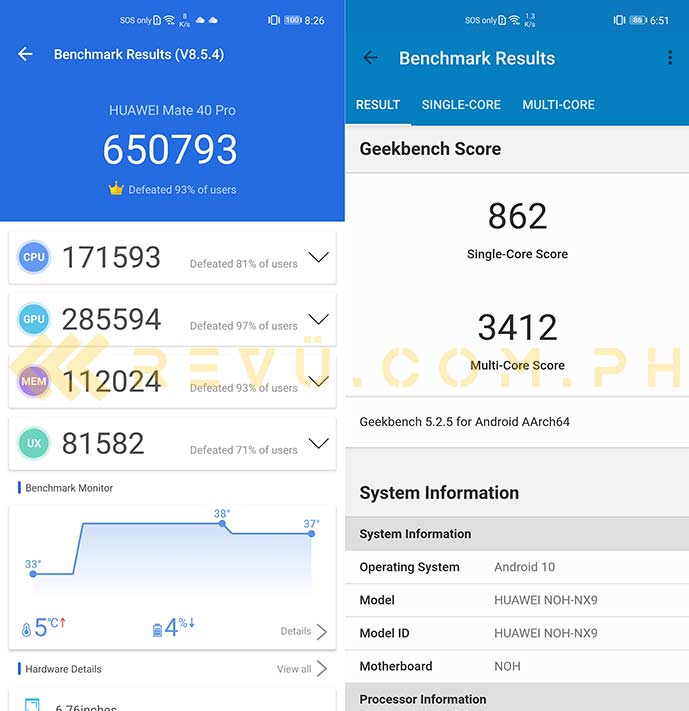 When it comes to power usage, we noticed that the Kirin 9000 draws more power than the Kirin 990 in the Mate 30 and P40 series both when idle and while playing demanding games like Genshin Impact.
Out of the box, the Mate 40 Pro runs Huawei's EMUI 11 software based on Android 10, which is a generation behind what most manufacturers ship today with their flagships. It's not as big of a deal as some might think, especially with the UI being as responsive as it is. EMUI 11 on the Mate 40 Pro is a polished affair and a joy to use, and the animations that pop up look beautiful and slick on the huge OLED display.
READ ALSO: Here's the easiest way to run Google apps on a Huawei device
The absence of Google and everything else that goes with it — Google Mobile Services, Widevine DRM, and essential apps like the Play Store — is a major bummer, but not unexpected. If you are desperate for Band-Aid solutions, there are alternatives and workarounds that will allow most Google apps to work on the Mate 40 Pro in a virtual environment. Not the same, of course, but certainly better than nothing.
With the public release of HarmonyOS looming on Huawei's horizon, we might need to revisit the Mate 40 Pro sometime in the future as one of the first devices utilizing the in-house operating system.
Battery and charging
Somewhat surprisingly, despite having a larger screen and 5G support, the Huawei Mate 40 Pro's 4,400mAh cell offers less battery capacity as compared with the 4,500mAh cell in the Mate 30 Pro. In practice, though, the latest Mate doesn't seem to be a step down in terms of average battery mileage. On average, we are able to get a full day of battery life from the Mate 40 Pro with Always On Display and 90Hz refresh enabled.
It ultimately depends on your usage and whether or not you use the device heavily for 5G data and/or gaming. Those scenarios can draw a serious amount of power and transfer a lot of heat to the rear panel, especially during long hours of gameplay. The hit on battery life is a reasonable price to pay for speed, and there's no way to tame it without affecting performance.
If you need more battery life to get you through the day, we suggest enabling Power Saving mode under the Battery settings, disabling AOD, and pegging the refresh rate to Dynamic or Standard instead of High.
The Huawei Mate 40 Pro can do fast wired and wireless charging using proprietary technologies and impressively supports up to 66 watts when connected via USB-C and up to 50 watts on supported wireless-charging docks. The bundled charger is rated for 66 watts of power delivery, so you don't have to worry about buying a separate power brick to enjoy the fastest charging speeds.
Using the charger, we clocked a full charge from zero in 48 minutes, but got the battery to 85% after just half an hour plugged in. It's incredibly fast and convenient at the same time. Charging from critical battery levels takes the same amount of time as watching an episode in a series. That's absurd even for a modern high-end handset!
Final thoughts
Huawei is producing the best-performing camera phones you can buy and has been consistent throughout the past couple of years. With the latest Mate, the company solidifies its position not just as a bar-setter with a proven track record in the mobile landscape, but as an innovator that has plenty more to offer, including a sizable and sharp OLED display, a powerhouse chipset with 5G, and crazy-fast charging — provided you are willing to embrace the lack of Google apps and services.
Packed with a slew of features and powerful specs, this phone is close to the full package, needless to say. Ultimately, the decision is less complicated than you might think. If you're okay with its biggest downside — or you're optimistic about Huawei's future with HarmonyOS — and you're due for an upgrade, picking up the Huawei Mate 40 Pro is an easy decision.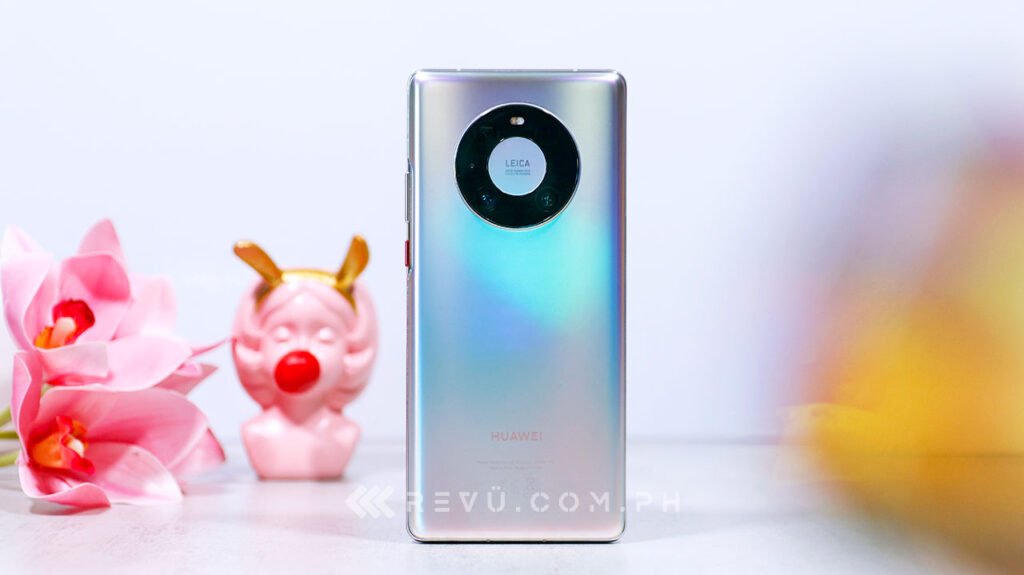 Huawei Mate 40 Pro specs
6.76-inch curved OLED display, 2,772 x 1,344 resolution, 90Hz refresh rate
Octa-core 5nm Kirin 9000 processor with built-in 5G
Mali-G78 MP24 GPU
8GB RAM
256GB storage
Quad 50-megapixel, f/1.9 (main), 20-megapixel (Cine ultra-wide), 12-megapixel (periscope telephoto) with OIS, TOF 3D rear cameras
13-megapixel (Cine), f/2.4, TOF 3D front cameras
Fingerprint reader (in-display)
4,400mAh battery with 66-watt USB-C charging, 50-watt wireless fast charging
EMUI 11 based on Android 10
IP68 rating
Color options: Mystic Silver, Black, White, Yellow (leather), Green (leather)
---