Estimated reading time: 6 minutes

Xiaomi seems to be ending the first quarter of 2021 with a bang — a deafeningly loud one at that. The company has scheduled what it calls a "mega launch" March 29 in both the Chinese and global markets, with as many as 16 products speculated to be announced, including the Mi Band 6, Mi Notebook Pro, and Mi Router.
(Update, March 30: The Xiaomi Mi 11i was launched at the Xiaomi Mega Launch as well! See how it compares with the Mi 11 on paper here.)

(Update, March 29: Two Xiaomi Mi 11 Lite versions launched, with the 5G model announced as the world's first Snapdragon 780G phone! Prices and specs here.)

(Update, March 29: And we have a new No. 1 camera phone! Meet the Xiaomi Mi 11 Ultra flagship phone, now official worldwide.)
At the heart of a strategy that creates a connected ecosystem with smartphones at the center, the stars of the show are expected to be the Xiaomi Mi 11 Ultra, Mi 11 Pro, Mi 11 Lite, and of course, the Xiaomi Mi Mix, which is confirmed to make a comeback after a two-year hiatus.
What do we know about them so far? Read on.
Xiaomi Mi Mix
Being camera enthusiasts, this is the one we're most excited about. The still-unnamed Xiaomi Mi Mix device is set to debut liquid lens on a smartphone, allowing one sensor to take macro and telephoto shots. The focal length is altered by electronically controlling the liquid element to change the radius of the lens' curvature quickly. In normal speak, the upcoming Mix model should be able to "focus both closely and to optical infinity in milliseconds."
The new @Xiaomi #MiMix is going to feature liquid lens tech, an infinitely-variable design factor. More info in just 4 days! pic.twitter.com/czfUavcGW6

— Daniel D (@Daniel_in_HD) March 25, 2021
Liquid lens on a phone? Sounds exciting
We remember calling the original Mi Mix "the future of smartphones" at the time it was launched in October 2016. Its successors — the Mi Mix 2, Mi Mix 2S, and Mi Mix 3 — were equally designed to impress. Unfortunately, the Xiaomi Mi Mix Alpha, which was announced in September 2019, remained a concept device. It's about time we see a new Mix… or two.
Xiaomi Mi 11 Ultra
Xiaomi itself has revealed two things that weren't in the rumor mill: that this model packs a silicon-oxygen anode battery, which use nano-scale silicon materials on the negative electrode instead of graphite to allow for faster charging while keeping the frame thin, and that it boasts the first full-phase change cooling technology.
#Mi11Ultra features a new super fast-charging silicon-oxygen anode battery. Core benefits, thinner and faster charging.
This is similar to electric vehicles, adding nano-scale silicon materials to the negative electrode to increase theoretical gram capacity 10x vs graphite. pic.twitter.com/tydYYXjaX5

— Daniel D (@Daniel_in_HD) March 26, 2021
Could be game-changing
But the rest? We pretty much know almost everything there is to know about the handset, as the Ultra figured in a hands-on video leak a month and a half ago. The YouTube video was already taken down a long time ago, but not before many people took screenshots of and downloaded the content.
The clip shows that the Xiaomi Mi 11 Ultra gets a small secondary display that can mimic the front panel and is probably there to act mainly as a viewfinder when taking a selfie with the best camera on the phone. The unit likewise sports a 50-megapixel main sensor; two 48-megapixel cameras — one for ultra-wide and the other for zoom shots up to 120x; a a 20-megapixel selfie shooter housed in a punch hole; 67-watt fast charging to go along with what could likely be 67-watt wireless charging and 10-watt reverse charging; and Qualcomm's Snapdragon 888 chip.
👀 Something BIG on the way from @Xiaomi

50MP, 2.8micron super pixel. The world's very first Dual PD Pro. 18 months of research went into this sensor, and it shows.

See you on March 29th! pic.twitter.com/rU2N15JHok

— Daniel D (@Daniel_in_HD) March 24, 2021
The main sensor
Expect also a 6.8-inch quad-curved OLED screen that supports 2K resolution and 120Hz adaptive refresh rate, IP68 rating, stereo speakers tuned by Harman Kardon, a 5,000mAh battery, and MIUI 12.5 based on Android 11.
Xiaomi Mi 11 Ultra's surprising feature
Xiaomi Mi 11 Pro
Otherwise known as the smartphone we expected to launch alongside the regular Xiaomi Mi 11… but didn't.
The leaked image of the Mi 11 Pro shows a device that looks a lot like the vanilla model. However, the design of the camera module is different. It's horizontally oriented and has an extra sensor and a larger flash.
Reports say the Pro shares many features as the Mi 11 Ultra, from the display to the battery. Expect a 13-megapixel ultra-wide-angle lens, a 5-megapixel macro sensor, and a 120x telephoto one to assist the 50-megapixel primary camera, though.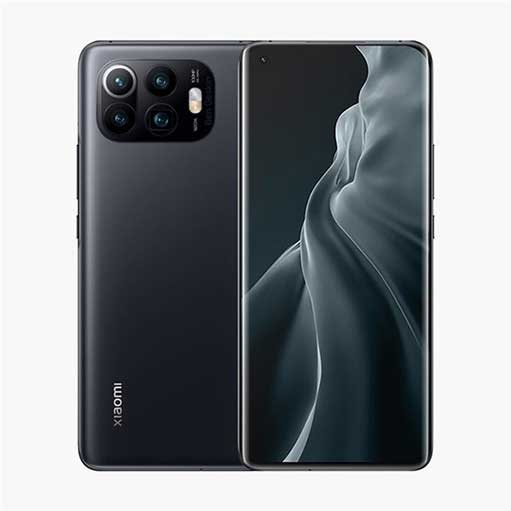 Xiaomi Mi 11 Lite 4G and Xiaomi Mi 11 Lite 5G
Germany-based WinFuture may very well have spilled what we want to know about the Lite member of the Mi 11 series — or what Xiaomi calls the Mi 11 Youth Edition in China.
The tech site claims that the Xiaomi Mi 11 Lite has 4G and 5G versions, with both getting a 6.55-inch AMOLED display with 2,400 x 1,080 resolution and a 90Hz refresh rate; 64-megapixel main, 8-megapixel ultra-wide, and 5-megapixel macro sensors on the back; a 20-megapixel front-facing camera; a 4,250mAh battery that supports 33-watt fast charging; and MIUI 12 on top of Android 11. The 4G variant is powered by a Snapdragon 732G. The 5G-ready unit, on the other hand, will debut Qualcomm's newly announced 5nm Snapdragon 780G chip, the successor to the Snapdragon 765 processor. Here's a two-part unboxing video of the cheaper model.
Xiaomi Mi 11 Lite: here's a quick and suuuuper dirty unboxing video of the new smartphone that won't get taken down.

Part 1: https://t.co/5QxUmxnPf2
Part 2: https://t.co/nE8l6Gtdvq

— Roland Quandt (@rquandt) March 25, 2021
The Xiaomi Mi 11 Lite unboxed
In Europe, the device's price is as follows:
Xiaomi Mi 11 Lite 4G

64GB: €279 (around P16,004 in Philippine pesos or $330 in U.S. dollars)
128GB: €329 (P18,872 or $389)

Xiaomi Mi 11 Lite 5G

64GB: €399 (P22,887 or $472)
128GB: €429 (P24,608 or $507)
A smartphone with a brand new style is coming your way!

Don't miss the #XiaomiMegaLaunch at 19:30 (GMT+8) on March 29th! pic.twitter.com/cnn0naq9Xt

— Xiaomi (@Xiaomi) March 25, 2021
Representing the colors of the Xiaomi Mi 11 Lite?
---