After weeks of hints and teasing online, the OPPO A94 — known in other markets as the OPPO Reno5 F, Reno5 Lite, and F19 Pro — has finally been launched in the Philippines. The direct sequel to the A92 (at least locally, as the A93 didn't make it here) introduces a new AMOLED panel with fingerprint-sensing and always-on capabilities and faster wired charging up to 30 watts, while retaining some key features of the model before it, including an attractive polycarbonate back and quad cameras led by a competent sensor.
In the Philippines, the A94 is priced at P13,999, or roughly $290 converted, making it the most aggressively priced OPPO with an AMOLED display technology on the local market. It's also the first A series phone in the country that isn't an LCD affair. You can buy it from here:
But beyond the much-needed screen update, is there anything else of note here? Read our full review of the OPPO A94 to find out if it's worth your money.
Hardware
Sporting a polycarbonate build, the OPPO A94 is both slim and lightweight, coming at just 172 grams, with a thickness of about 7.8mm at its thickest point. The screen is 6.43 inches, so it's just right — not too small or too large for single-handed use. The overall size and dimensions of the handset plus the slight curvature on the sides lend well to comfort.
We're able to wrap our fingers around our unit just with one hand, although there were instances when we needed to pull off some finger gymnastics to reach the top portion of the screen to press an icon or pull down the notification bar.
In typical OPPO styling, the power/lock button is housed on the right edge, opposite the volume rocker along the left flank. You won't find a physical fingerprint reader here; there's a scanner embedded into the screen, making it convenient to unlock the phone with either hand. Compared to its direct predecessor on the local market, the A92, that phone had a side-mounted sensor that favored right-handed users. The fingerprint-sensing area of the A94 is also sufficiently sized and located near the bottom of the display for easier access.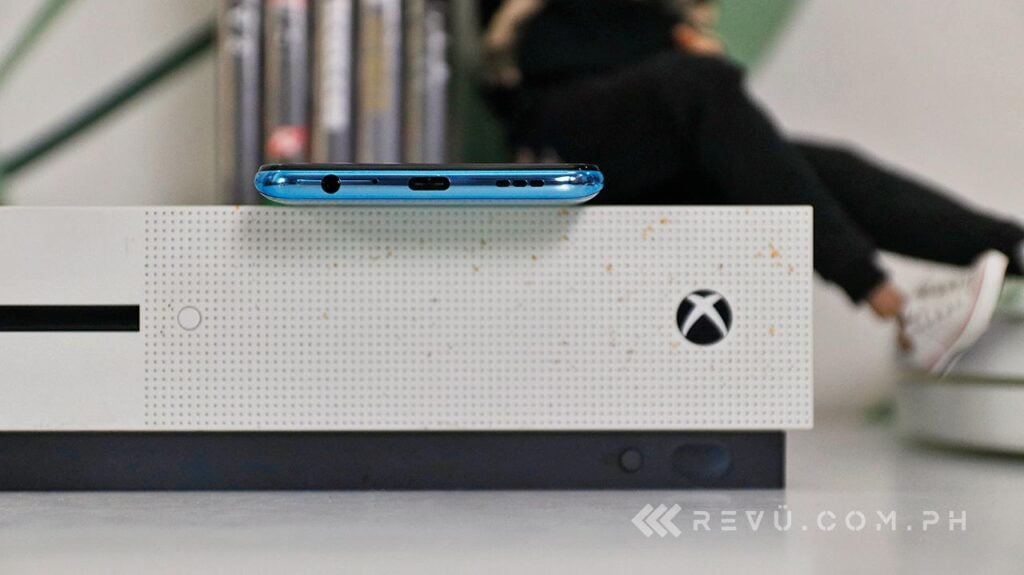 Moving on to the bottom, you'll find the OPPO A94's USB-C port in the middle flanked by a 3.5mm audio jack for your wired earphones and a single, down-firing speaker, which can get sufficiently loud if you're streaming music, watching a movie or series, or listening to a podcast. At reasonable volume levels, the speaker delivers clear and crisp vocals, and we don't have many complaints about the rest of the sound quality either. The top edge has no buttons or ports of any kind, but you do get a secondary microphone hole for stereo recording.
The back of our unit adopts a gradient metallic purple/blue paint job with a glossy finish on top, which extends to the sides for better aesthetics and visibility. OPPO calls this variant Fantastic Purple, and we're happy to report that description is accurate for the most part.
Also on the rear panel is a rectangular camera cutout and a dual-flash unit. The company has equipped the A94 with a 48-megapixel, f/1.7 camera alongside an 8-megapixel ultra-wide option and a pair of 2-megapixel sensors for macro and portrait shots for a total of four rear cameras, virtually unchanged from the OPPo A92's camera setup.
The most significant upgrade can be found on the front, with the A94 now flaunting an AMOLED panel with small bezels and a single punch hole.
Screen
Of course, the upgrade to an AMOLED screen is a big deal — the big deal here. We'd even argue that it's the most impressive spec here. The A94 is the first OPPO A series smartphone in the Philippines with an AMOLED panel, and it feels like the timing couldn't be better for a product like this. Survey the industry, and you'll find that many other companies, including Samsung, Realme, and Xiaomi, have moved on from LCD displays on their latest budget and midrange offerings.
It might have taken a while, but it's finally happening: Manufacturers are increasingly opting for AMOLED displays, with LCD now mostly reserved for cheap, entry-level devices.
As expected, the OPPO A94 doesn't disappoint in the screen department. Obviously, its picture quality is not on a par with the flagship OPPO Find X3 Pro's, though it still provides a noticeable jump in vibrancy and black depth nonetheless, especially if you're coming from a cheap LCD panel. Its 6.43-inch AMOLED offers FHD+ resolution, bright and vivid colors, pleasingly deep blacks, excellent viewing angles, plus some other benefits you'd want to find in a phone based on AMOLED panel technology.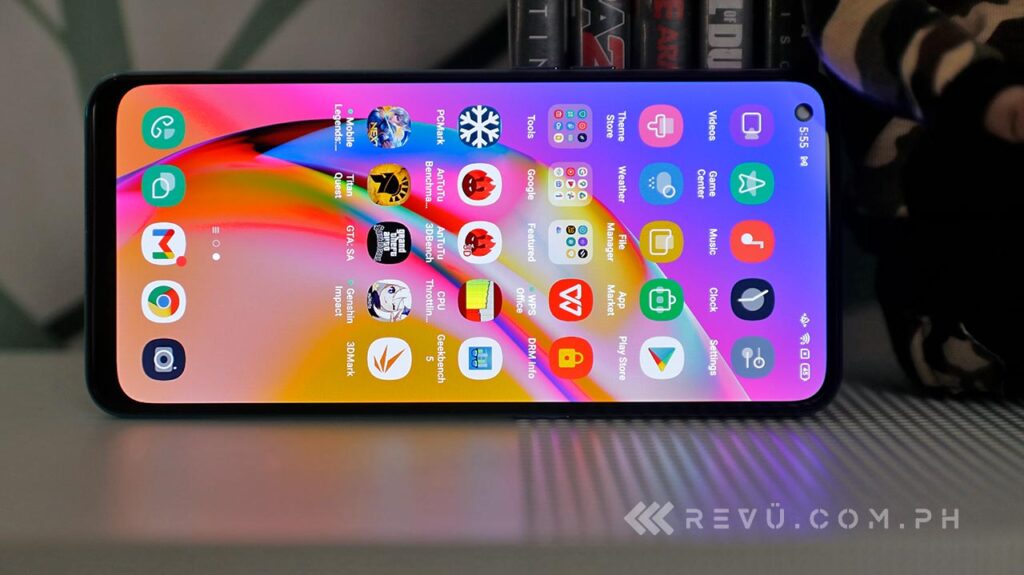 The A94 offers a nice viewing experience both indoors and outdoors. We took our unit out in bright sunlight and still found the screen to be pretty legible. Granted, it's not the most vibrant or brightest on the market, with 800 nits of peak brightness in auto brightness mode. But in terms of picture quality, it's right up there in the elite category of affordable smartphones with great displays.
Watching movies and TV series and gaming genuinely feel like the screen has an impact. It helps that the bezels are slim enough to be easily overlooked, offering a screen-to-body ratio of 90.8%, per OPPO's website, while the punch hole at the top left is small, and so far, hasn't distracted us in the way most waterdrop notches do. It's also worth pointing out that the A94 ships with Widevine L1 certification to ensure you get HD resolution on Netflix and other video-streaming platforms. 4K HDR at 60 fps on YouTube is supported as well.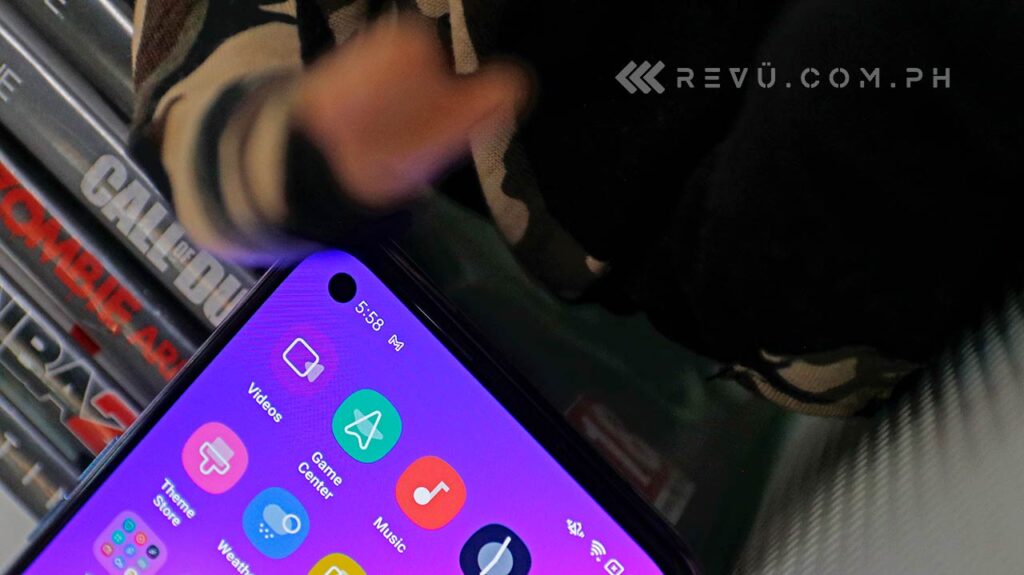 The refresh rate sits at 60Hz, which is standard fare for modern devices, but gamers will be happy to see that the touch-sampling rate can go as high as 180Hz in Game mode, making the screen feel more responsive when you need it.
The OPPO A94 also boasts an under-display fingerprint scanner for easier unlocking without incorporating a physical scanner at the back or on the side. Always-on functionality is available as well, but you won't get to choose between a variety of lockscreens, much less customize one using a picture from your image gallery.
You will find a couple of display options, though, including one that allows you to schedule when the always-on lockscreen will start and end. There's also a battery-saving option that automatically disables the always-on display if your phone has been idle for a while.
Camera
One of the strong suits of the A94 is its cameras' capabilities powered by four rear sensors. With Night/Ultra Dark mode available on the main and ultra-wide cameras, the guarantee here is that you'll be able to pull off decent snaps no matter what kind of lighting situation you find yourself in. That's true for the 48-megapixel shooter at least, but not so true when it comes to images shot on the secondary cameras, which tend to look fuzzy or pixelated in low light.
The OPPO A94 rectangular setup includes a 48-megapixel primary camera, an 8-megapixel ultra-wide camera, and a pair of 2-megapixel sensors for mono and macro photography. On the front, there is a 32-megapixel selfie shooter, which is one of the sharpest you can get in the segment.
For the most part, the 48-megapixel sensor impresses when shooting in brightly lit areas. Colors look accurate, while HDR gives you just enough pop of color if you want brighter highlights and detailed shadows. Enabling OPPO's AI Scene Enhancement feature can make for even more vivid images that look great on the A94's AMOLED screen. Low-light performance is above average, too; with Night/Ultra Dark mode on, the sensor produces usable images even in dim lighting conditions.
Pictures captured on the OPPO A94: 1) 1x; 2) 2x zoom; 3) 5x zoom; 4) Auto; 5) Ultra Night mode; 6) Auto; 7) Ultra Night mode; 8) Auto; 9) Dynamic Bokeh Portrait; 10) Auto; 11) AI Color; 12) 1x; 13) Ultra-wide; 14) Ultra-wide; 15) 1x; 16) 2x zoom; 17) 5x zoom; 18) 10x zoom; 19) Auto; 20) Macro mode; 21) Auto; 22) 2x zoom; 23) Auto; 24) Portrait
When it comes to wide-angle shots, the A94's 8-megapixel camera offers a generous field of view and dependable performance outdoors, but there is a noticeable drop in overall image quality when switching from the main camera.
If you make a habit of zooming in with your smartphone camera, you might be disappointed that the OPPO A94 doesn't have a dedicated telephoto lens. Instead, you zoom in using the main camera with magnifications of up to 10x and quick toggles for 2x and 5x digital zoom. The good news is that you get a decent amount of detail in 2x and 5x modes, so most users should be happy enough with their zoom shots. Personally, we'd rather not use the 10x option, but it's there for those who need it.
Shot on the OPPO A94
When it comes to taking videos, you can shoot from 720p at 30 frames per second up to 4K at 30fps. There are no options for 60fps recording, unfortunately. The colors in the short clips we took were satisfyingly accurate. And we like that the OPPO A94 gives you plenty of video filters and effects to help you get creative with your footage. The company also brings its bokeh to videos. The depth effect works on people and objects.
If you want to shoot steadier footage without the need for a tripod or gimbal, the A94 comes equipped with the company's superb Ultra Steady video feature, which has been adopted from the Reno series and uses software to compensate for jerky camera movement, resulting in cleaner and less janky clips at the expense of some cropping.
OPPO's Soloop smart video editor is preinstalled on the A94, so you can quickly edit videos and add music, with different themes, templates, and filters to choose from. With just a few taps, you should be able to produce social media-ready clips that can be readily shared on apps like Instagram and TikTok.
Performance
Besides the upgrade to AMOLED, another big change coming from the A92 is that OPPO has opted for a MediaTek Helio P95 chipset that uses IMG 9XM-HP8 graphics operating at 970MHz. Recall that the previous-gen model was equipped with a Qualcomm Snapdragon 665. The memory specs have remained the same, with the A94 sporting 8GB LPDDR4X RAM and 128GB of expandable storage.
Unfortunately, in terms of day-to-day performance, the difference between the Helio P95 and Snapdragon 665 is negligible and largely unnoticeable. The phone is pretty smooth and responsive, and multitasking isn't clumsy either. Again, there's no high refresh rate here; the display sticks to 60Hz no matter what you do on it. Honestly, though, the A94's AMOLED panel looks good, so we weren't bothered by its lack of smoothness compared to other phones at this price point.
When it comes to gaming, the OPPO A94 delivers decent frame rates in demanding games at low to medium settings. This is expected given the hardware. On a more positive note, fans of Mobile Legends: Bang Bang — still one of the most popular Android games in the Philippines today — can expect HFR or High Frame Rate mode to be supported at launch. The game doesn't support Ultra graphics settings on the handset, but it's probably for the best for gamers who want the smoothest possible experience online.
Using the free CPU Throttling Test app, we ran a couple of stress tests on our unit and saw promising results, suggesting stable performance under heavy workloads. After a full hour of torture, our phone throttled to 89% of its max performance — the lowest figure we got — which was better than expected.
Battery life
The OPPO A94 is equipped with a 4,310mAh battery that lasts a full day even with Always-On Display active at all times. Per usual, the battery life can stretch a bit further than usual if you enable Power Saving or Super Power Saving mode and other battery-saving features like Sleep Standby Optimization and Dark mode, which looks fantastic on the smartphone's AMOLED screen. It's also nice that you'll get an alert in the notification panel every now and then when an app is consuming an excessive amount of battery in the background.
Our unit lasted 11 hours and 46 minutes in the PCMark battery-life test, which is an average figure for a modern phone. While the battery life isn't spectacular, the A94 boasts OPPO's proprietary VOOC Flash Charge 4.0 technology that fast-charges the battery up to 30 watts using the supplied power brick, so you can enjoy faster charging right out of the gate.
According to OPPO, just five minutes plugged in can provide enough juice to give you 2.9 hours of video playback. Based on real-world tests, this is one of the fastest-charging devices in the segment, needing only 46 minutes to go from 18% to full capacity and less than an hour to recharge from flat to 100%.
Those are quite the feats for a phone at this price level, but more impressive is that, as with high-end OPPO smartphones like the Find X3 Pro, the back of our unit never got too warm for comfort during testing. Though we don't recommend it, you can still use the phone while charging without feeling any discomfort.
Final thoughts
The OPPO A94 is a solid, competent lower midranger for P13,999 ($290). The major — and most obvious — selling point for us is the panel. The upgrade to AMOLED is greatly appreciated, and coupled with an embedded fingerprint scanner and Always-On Display, you don't get the feeling that you're missing out on many high-end features either. The inclusion of 30-watt fast charging is very much welcome, too — being able to get a full charge after an hour or less plugged in is both huge and rare at this pricing.
The A94 looks great and feels better in the hand. Both Fluid Black and Fantastic Purple color options are aesthetically pleasing in person, although our vote goes to the latter simply because we prefer gradient designs, especially ones that are hard to come by.
OPPO, currently the top smartphone vendor in the Philippines, may not be the first brand that comes to mind when consumers think about getting the best deal they can get for their money, but the OPPO A94, with its improved screen and unexpectedly lower price tag, surely feels like a step in that direction.
OPPO A94 specs
6.43-inch AMOLED display, 2,400 x 1,080 resolution, 60Hz refresh rate, up to 180Hz touch sampling (Game mode)
Octa-core MediaTek Helio P95 processor
IMG 9XM-HP8 GPU
8GB RAM
128GB storage
Quad 48-megapixel, f/1.7 (main); 8-megapixel, f/2.2 (ultra wide); 2-megapixel, f/2.4 (macro); and 2-megapixel, f/2.4 (mono) rear cameras
32-megapixel, f/2.4 front camera
Fingerprint reader (under-display)
4,310mAh battery with 30-watt USB-C fast charging
ColorOS 11.1 based on Android 11
Color options: Fluid Black, Fantastic Purple
---