Realme entered the smartphone scene in 2018 as an underdog with huge potential. Now, in 2021, the former OPPO sub-brand is currently one of the top mobile brands in the Philippines and in the region after seeing exponential year-on-year growth since its inception.
Potential fulfilled is an understatement. But Realme didn't stop with offering value-for-money smartphones that gave the company its winning formula.

It soon expanded its ecosystem in the country, offering smartphone accessories such as TWS earphones, fitness bands, smartwatches, and even backpacks and luggage, using the same principles and retail strategies that helped propel Realme to its stratospheric highs.
In 2020, Realme added televisions to its growing product categories, and now they're here: the company's first smart TV offerings in the Philippines. So, is the Realme Smart TV — which comes in 32- and 43-inch variants with HD and FHD resolutions, respectively, and runs Android TV — any good? And is it a recommended purchase for those who are looking for an inexpensive big screen for streaming content?
Read our review of the 43-inch Realme Smart TV to find out.
Price and availability
In the Philippines, the Realme Smart TV starts at P11,990 (around $247 converted) for the 32-inch model, while the 43-inch variant we tested is priced at P18,990 ($391). The first day of sale is scheduled for the 3rd at Realme Philippines' official brand store on Shopee, in time for the latter's 3.3 Mega Shopping Sale. The TV will be offered at Realme stores concept nationwide as well.
The trendy TechLife every Filipino wants… and needs is here! 😉
Get the realme Smart TV and realme Watch S Pro with HUGE discounts on the #Shopee33!
realme Smart TV- https://t.co/N813D7clKo
realme Watch S Pro- https://t.co/Cm6cXJQ6GA #realmeTechLife #realmePH pic.twitter.com/H8UZDhinPV

— realme Philippines (@Realme_PH) March 2, 2021
More details of the promo here
What's in the box:
Realme Smart TV
AV cable
Two base stands
Four screws (for the base stands)
Remote control
Two AAA batteries (for the remote)
Quick Start guide
Instruction manual
Warranty card
Hardware
The Realme Smart TV has a minimalist design and a plastic casing with a rectangular bulge at the back that houses the internals and connectivity ports. The bezels — which come in at a pretty impressive (especially for the price) 8.7mm on the top, left, and right sides — and removable base stands are also made of plastic. The bottom bezel sports the Realme logo in white and is considerably thicker than the rest of the TV's borders.
The television weighs 6.7kg without the base stands installed, making it relatively easy for one or two persons to carry and place on a rack or table. Naturally, the 32-incher is much lighter at 4kg). It can be wall-mounted, too, thanks to VESA sockets located on the rear panel. Unfortunately, the retail box doesn't include a wall-mount bracket, so you'll need to purchase one separately if you want to hang the TV on your wall.
We personally didn't want our unit to sit on a table, which would take up a lot of space in our office, so we placed it on a VESA-compatible tripod stand instead. It was not easy getting the screws to clamp down on our TV, just to let you know. Hopefully, your experience will be different. Installing the stands that ship with the unit, though, should be hassle-free.
Whether you hang the TV on a wall or place it on a flat surface, this smart TV won't call too much attention, and it's also of reasonable thickness to not stick out like a sore thumb in your living room or bedroom. Its design isn't going to blow you away, but then again, most TVs don't — and those that do usually cost boatloads of money.
The physical power button can be found below the Realme logo, alongside an IR receiver and a red LED light, which lights up discreetly when the TV is switched off or in standby mode.
It's also flanked by bottom-firing, Dolby Audio-certified quad stereo speakers with a combined output of 24 watts, which is great and certainly more than enough to fill an average-sized room at mid-to-high volume. In fact, the Realme Smart TV's speakers are loud enough that we did not feel the need to pair it with our soundbar or eight-channel home theater at any point during our testing period.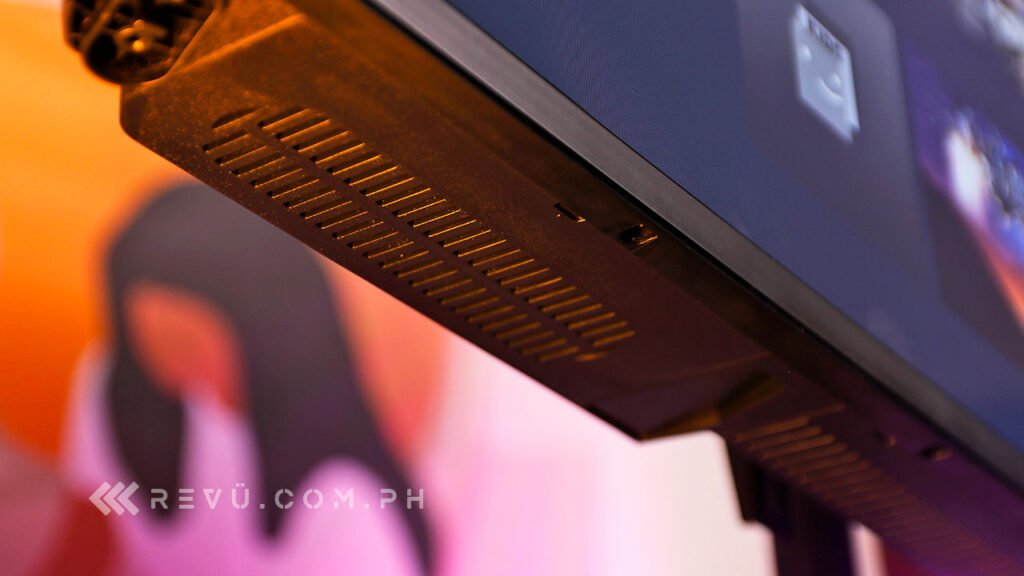 For a TV at this price point, the Realme Smart TV offers built-in speakers that are surprisingly clear and crisp. We found they work best for dialogues and surround-sound listening, although you can head over to the Sound menu in the Settings panel and calibrate the audio for various surroundings.
The stands bend outwards the TV and are longer than the panel's actual length (108cm, in the case of the 43-inch model). They have rubber cushions at the base as well, to avoid any sliding. More importantly, they look sturdy enough to handle the weight of the television without tipping over. In our situation, we simply wanted to mount our unit on a tripod stand, which not only saves space but also allows us to quickly move the TV around the house.
When it comes to wired connectivity, the Realme Smart TV has 10 rear ports. There are six ports on the right-hand side of the back panel: HDMI ARC, antenna, digital audio out (SPDIF), AV, USB 2.0, and 3.5mm headphone jack. The rest are downwards-facing in an alcove. There are a total of three HDMI ports; unfortunately, only one is HDMI ARC and none of them support the HDMI 2.0 standard or higher.
If you want to show off HDR content, you can still do so with the apps installed on your TV, since it does support HLG and HDR10 video decoding. Netflix works well for streaming HDR video.
For wireless connections, you get 2.4GHz Wi-Fi, Bluetooth 5.0, infrared, and DLNA. You can connect Bluetooth accessories to the TV, such as soundbars, earphones, mice, keyboards, and even video-game controllers for cloud gaming and emulators. If you want to use your Android device to operate the TV and easily type in emails and passwords, you can download Google's Android TV Remote Control app for free on the Play Store.
The Realme Smart TV has Chromecast built-in, too, allowing you to stream just about any movie or show or song on your phone that you want so long as you use a compatible platform. We tried casting YouTube videos from our phone to the TV, and it worked flawlessly.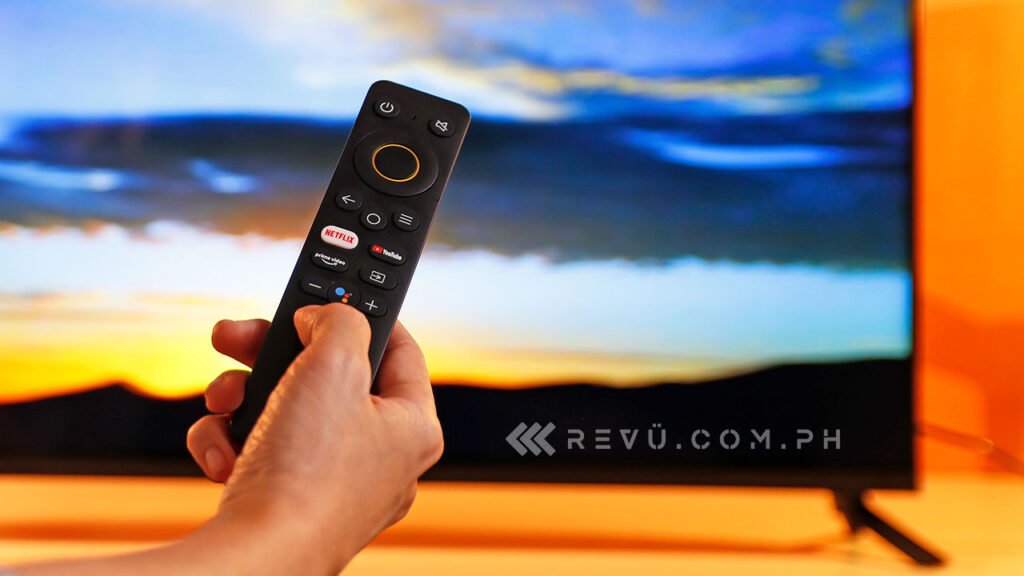 As one would expect at this price range, the Realme Smart TV remote is made of plastic but is also ergonomic and lightweight. It likewise sports a matte finish and mushy buttons, adding to the comfort factor of using the remote. We wish it were a little bit bigger, though, and the lack of buttons — you only get a total of 12 here — won't appeal to users who surf channels repeatedly on cable TV.
The remote has a built-in microphone for voice control, as well as shortcuts to Netflix, Amazon Prime Video, YouTube, and Google Assistant and a D-Pad with a clickable center button. It also includes Back, Home, and Settings buttons, though the latter doesn't bring up the Settings screen while you are streaming a video. You need to go back to the home screen first to adjust the picture and audio settings; you can't do it on the fly.
Conveniently, you can long-press the remote's Home button to quickly access apps fully compatible with the native OS. We found this to be the most convenient way to multitask on the Realme Smart TV.
Screen
The panel comes in two sizes: 32 and 43 inches. Besides the size difference, the resolution also varies per model. The smaller unit runs at 1,366 x 768, while the 43-incher boasts a resolution of 1,920 x 1,080. Regardless of its size, the Realme Smart TV uses a VA or Vertically Aligned-type display. Compared to their IPS counterparts, VA screens are typically more suited to watching in dark rooms, thanks to their higher contrast ratios.
Realme quotes a viewing angle of about 178 degrees, which is decent, while the advertised peak brightness of 400 nits, courtesy of the company's Chroma Boost picture engine, looks impressive on paper. Chroma Boost, which is also present on Realme phones, is said to enhance the overall picture quality of the smart TV, with improvements to brightness, color, contrast, and clarity.
True enough, viewing the TV with the lights turned off is a real pleasure. The black levels are really dark and superior to Coocaa and Devant units we have.
It's great for casual gaming and shows, but movies bring out the best in the Realme Smart TV. In well-lit areas, the panel can be quite reflective, especially of bright objects in your room. You have the option to tweak the display's brightness to make things better during the daytime, of course. We personally tinkered with the settings to suit our preferences and the room where the TV is located.
Performance
The Realme Smart TV is powered by a quad-core MediaTek chipset with ARM Cortex-A53 CPUs and Mali-470 MP3 graphics. The processor is mated to 1GB RAM and 8GB of native storage, of which around 4.5GB is available to users. It takes a while to power on — a little over 30 seconds, usually, although it does feel like a long wait sometimes. And our unit stutters during the first couple of minutes after booting sometimes, reacting late to button presses.
Bear with it; the user experience gets drastically better the longer the TV stays on. Once the Realme Smart TV is warmed up and primed for viewing, the experience is mostly fluid and responsive. We highly recommend using a keyboard and mouse when browsing the web or any app store including Android TV's Play Store.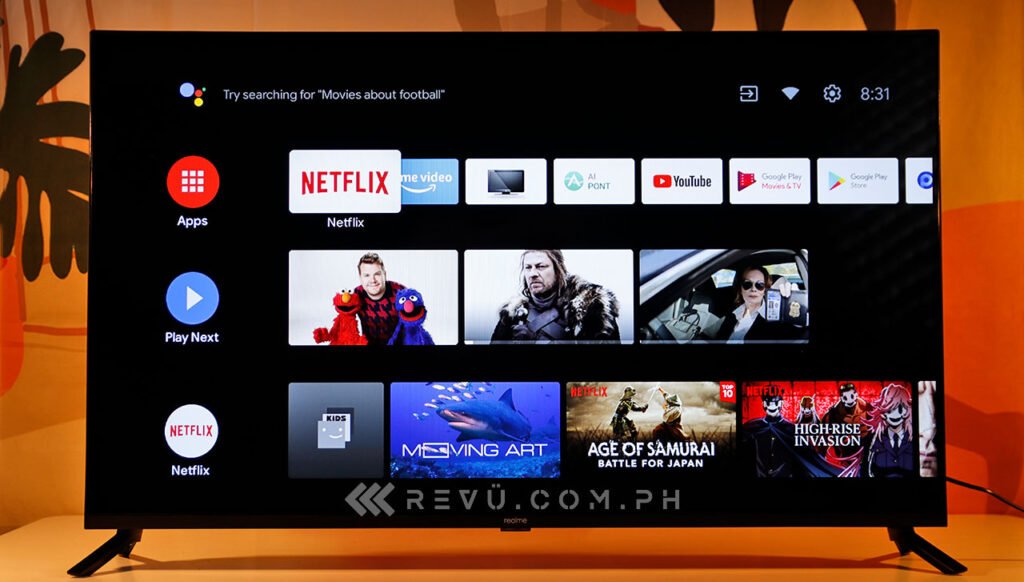 Now, on to its software. This television runs vanilla Android TV based on Android 9 Pie. The user interface is simple and intuitive to use, and you won't find plenty of bloatware preinstalled, unlike on other Android TVs. Netflix, YouTube, and Amazon Prime Video are available out of the box, which is fine because you'll probably download at least one or two of them anyway, as most smart TV owners do.
Besides YouTube and Play Store, the bundle of Google apps preinstalled on the Realme Smart TV include Play Movies, Play Music, and Play Games. You can install third-party apps from other app stores like Aptoide, and sideloading unverified apps is possible but tricky. Not to mention, the limited internal storage isn't much for both apps and media.
Final thoughts
At a video conference with local media last month, Realme Philippines said it would be looking at the sales of its latest ecosystem products to decide whether or not to expand its existing product categories here. That decision might ultimately fall on the Realme Smart TV, which we think is a good buy.
For a first try, Realme did an admirable job. The Realme Smart TV gets a number of things right — the remote; the contrasty panel coupled with HDR video decoding; generally smooth performance (at least once warmed up) on stock Android TV — at a number bargain hunters will probably find agreeable. It's not the cheapest among similarly sized Android TVs on the local market, no question, but you are definitely getting your money's worth.
---