When it comes to wallet-friendly smartphones, the Philippines hosts a good number of quality options, including ones of the challenger brands like Infinix that are looking to disrupt the market.
(Update, July 5: The Infinix Hot 10S MLBB Limited Edition is coming to the Philippines! Details here.)
The Infinix Hot 10S is one of the brand's latest — and most attractive — offerings locally, with a suggested retail price of only P5,990 (roughly $124 converted) for the base 4GB/64GB variant, while the version with 6GB RAM and 128GB of storage, like the unit we have, goes for P6,990 ($144).
Those are low prices, especially considering the tech and battery life you get with this model. But how does it stack up against its competition, which includes the POCO M3, Xiaomi's current champion in the bargain basement? Read our full review of the Infinix Hot 10S to find out.
Decent hardware with a huge display
The Infinix Hot 10S arrives in the Philippines with one of the biggest displays on a budget phone. It's LCD and measures a whopping 6.82 inches across, with the body and battery capacity to match the handset's generous screen real estate. Needless to say, the Hot 10S is a two-handed device, though you might be able to wrap your fingers around the chassis even with the included clear case on. The weight isn't an issue when using it in landscape mode with both hands.
The display itself gets a 1,640 x 720 resolution and a waterdrop cutout at the top for the selfie camera. It's a decent panel for the segment, although the underwhelming HD+ resolution is fairly obvious given the smartphone's pixel density. It isn't as bright and vibrant, which limits the screen's utility outdoors. For media and gaming, though, its size alone should make the Hot 10S a compelling choice despite the picture quality.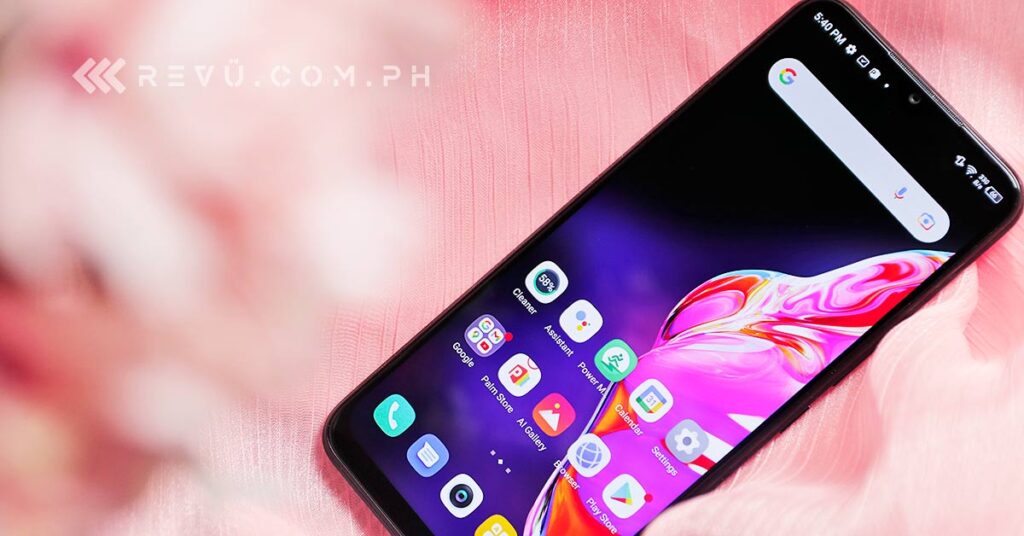 The plastic armor Infinix ships with the Hot 10S doesn't cover the entire sides, leaving the left and right edges open for a more comfortable grip when using the handset in portrait orientation, which is usually how people hold their phone for regular usage. On the flip side, this unorthodox case also leaves the Infinix Hot 10S more susceptible to damage if dropped, not to mention, it is prone to scratches.
The glossy back features a subtle diamond pattern across the entire panel. It's probably least visible on our black unit. The rear panel also has a physical fingerprint reader that works as intended and can be used to open locked apps, accept incoming calls, start or stop recording calls, and dismiss alarms. However, we wish it were located a bit lower — a little closer to the middle section of the panel, where it would be easier to access.
The power/wake key and volume buttons on the right-hand side are clicky and feel satisfying to press. Opposite them is the card tray on the left with two nano-SIM slots and a dedicated microSD card slot for expandable storage. Flip the unit, and you will find a microUSB charging port flanked by a headphone jack and a single loudspeaker at the bottom.
The audio port should be useful, especially for this smartphone's price-conscious target market. Though hardly surprising, the speaker, on the other hand, lacks authority and could use a lot more depth to sound especially at higher volume levels. On a related note, the Infinix Hot 10S comes with the YoParty app, which you won't find on the Google Play Store; it lets you connect to other devices on the same Wi-Fi network and play the same music at the same time.
Fast refresh rate with the chipset to match
Of course, one of the main attractions here is the 90Hz refresh rate. Typically, smartphones at this price range have 60Hz screens, as most devices do. The Infinix Hot 10S goes above what is expected, offering a higher refresh rate for smoother visuals when gaming and navigating the Android 11-based user interface.
And this model does feel faster and more responsive in use than other similarly priced handsets like Xiaomi's POCO M3, which operates at 60Hz and packs a Qualcomm Snapdragon 662 inside. The Hot 10S uses a MediaTek Helio G85 chipset instead to deliver slightly better performance in games and other demanding tasks. The Helio G85 is featured in the Tecno POVA 2 and Realme Narzo 30A as well.
Gameplay: Genshin Impact and Mobile Legends: Bang Bang (4:30 mark)
Genshin Impact, easily one of the most hardware-intensive titles you can run on any mobile device today, runs smoothly on the Infinix Hot 10S, but with the graphics toned down for higher and more consistent frame rates. HFR mode is supported in Mobile Legends, too, so you'll be able to play the game above 30 fps and enjoy better visuals.
Casual users will find the Hot 10S' day-to-day performance pleasing enough. If you need more oomph when playing games and multitasking, though, there's Game mode, which can be enabled in the Settings app under Special Function.
There's the Game Assistant panel as well, which gives you access to quick shortcuts by sliding the panel out from the side during gameplay. This lets you activate the Infinix's MagicButton feature, allowing you to map functions on the screen to the volume keys, ideal for when you're playing a shooter like Call of Duty: Mobile or PUBG Mobile.
Another software feature we like is Kids mode. As the name suggests, this lets you set limits to how much time and mobile data a user can spend on an app. It likewise includes Auto Eye Care to make the display easier on the eyes and a posture alert that lets the user know about their incorrect posture while using the device. You can set Kids mode to automatically trigger when a certain app is launched.
At the back, the Infinix Hot 10S sports a 48-megapixel main camera coupled with a 2-megapixel secondary depth sensor and a tertiary AI sensor. Up front, you get an 8-megapixel selfie shooter alongside a dual-flash module, one of which acts as a notification light for alerts and charging status. Basically, there's only one camera on the rear and front responsible for taking photos.
Picture quality is not one of the Hot 10S' strong points, but it can get away with decent shots outdoors and in areas with good lighting, especially since you don't have a pool of shooting modes available at your disposal to make your photos and videos look more interesting. Notably, there's no Pro or Manual mode here.
You do get Super Night and Portrait modes, at least. Super Night does a serviceable job of brightening images taken in low light, but also washes out detail. It doesn't extend to the selfie camera, though there are two front-facing flash units on the top bezel that can do the same task without the need for software magic.
Sample pictures taken with the Infinix Hot 10S: 1) Night mode; 2) Auto mode; 3-4) food shots all in Auto mode; 5) Auto mode; 6-8) with filters; 9) 10x zoom; 10) 1x; 11) Portrait mode; 12) Auto mode; and 13-14) selfies
Marathon battery life with 18-watt charging
The Infinix Hot 10S packs a 6,000mAh battery, one of the biggest you'll find in the category. As expected, it takes a while for this high-capacity cell to be fully drained, comfortably lasting us two days of mixed usage in between charges, despite the phone's huge screen and above-average refresh rate. Obviously, operating at a native 720p resolution helps lower power consumption. It helps that the MediaTek Helio G85 chip inside is a frugal performer.
In the PCMark battery-rundown test, our unit managed 15 hours and 28 minutes with the refresh rate set to 90Hz. That's a fairly accurate rating, but you can achieve better results if you set the screen to run at 60Hz.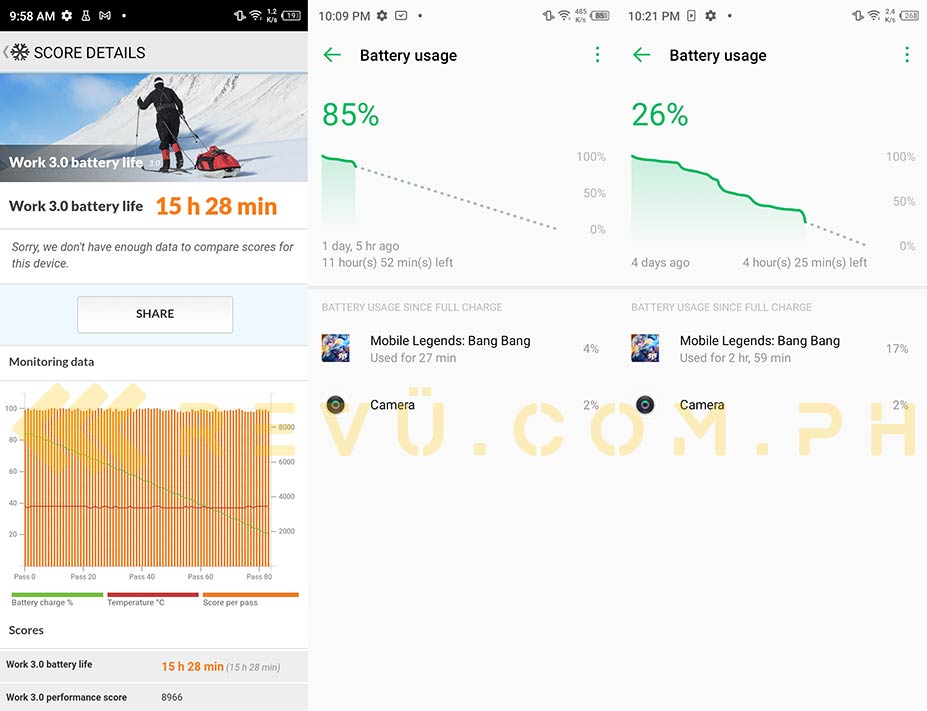 Three hours of Mobile Legends play time reduced the battery level by just 17%. On a separate occasion, an hour and 16 minutes of gameplay depleted the battery by 5%. Those are impressive stats and should be indicative of how efficient the Hot 10S is when it comes to running online games with nice visuals.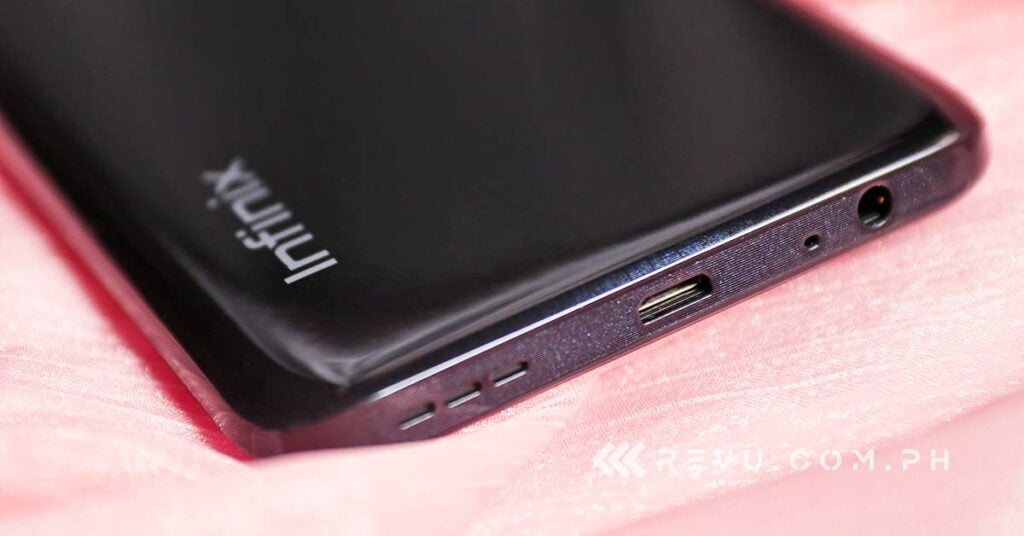 Charging is done via a microUSB port, and Infinix includes a 10-watt power adapter in the retail box. However, we found that the smartphone is actually capable of charging up to 18 watts using a higher-watt charger. Similar to many premium Samsung devices, the Hot 10S is somewhat limited by the adapter it ships with. However, we can forgive the omission here given Infinix's aggressive pricing model.
Taking advantage of its fast-charging capability, we were able to fully recharge the Hot 10S in 2 hours and 35 minutes. If you can spare the expense, an 18-watt power brick will save you a lot of time for not a lot of money.
Final thoughts
If you're after a big, long-lasting phone that brings big savings, the Infinix Hot 10S is as good — even better in most cases — a choice as any for gaming and multimedia. Its 90Hz refresh rate is a rarity at this price range, while the rest of the specs, including the Helio G85 chipset under the hood and 6,000mAh battery that (surprisingly) supports fast charging, are attractive selling points. There are plenty of excellent options for bargain hunters out there, but we feel that the Hot 10S stands as one of the best choices in its segment.
Infinix Hot 10S specs
6.82-inch LCD display, 1,640 x 720 resolution, 90Hz refresh rate, 180Hz touch-sampling rate
12nm octa-core MediaTek Helio G85 processor
Mali-G52 GPU
4GB/6GB RAM
128GB expandable storage
Triple 48-megapixel (main), 2-megapixel (depth), AI cameras with quad flash
8-megapixel front camera with dual flash
Fingerprint reader (rear-mounted)
6,000mAh battery with microUSB charging
XOS 7.6 based on Android 11
---