Seven months after the Reno6 series launch in the Philippines, OPPO is at it again with their direct successors: the Reno7 5G and more affordable Reno7 Z 5G. While similar in name and certain features, each smartphone has its own distinct characteristics and price points.

With an initial retail price of P19,999 ($382), the OPPO Reno7 Z 5G is P7,000 ($134) cheaper than the non-Z model and at the same price as the Reno6 Z 5G when it first came out. Although there's an improvement in processor over its predecessor, the Reno7 Z 5G holds back on other aspects.
The Reno7 Z 5G's compromises are necessary to maintain the midrange price and slot itself well below the higher-end model. However, this doesn't mean the Z variant is a slouch. In fact, it could very well be the go-to option for OPPO fans and those willing to jump ship from competing brands.
Lean on the outside…
Unlike its higher-end sibling, the Reno7 Z 5G is flat on all sides. You'd feel the edges brush against your palm each time you pick up the phone. Some may prefer a curvier body, but we appreciate the solid look of this model. In fact, it reminds us of the iPhone 13's edgy design.
It's incredibly slim at only 7.5mm, too, making it easy to slide into pockets. The two protruding camera bumps might snag your clothing, but the bundled clear case evens out the back.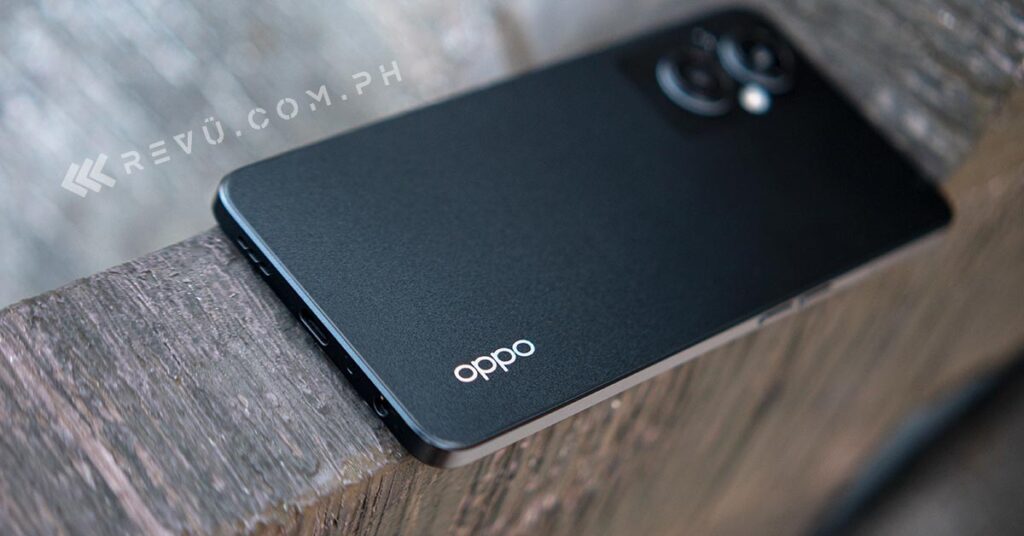 Our review unit came in matte black, which rejects fingerprints and minor scratches. The mix of a flat design and matte finish is refreshing in a sea of generic-looking midrange smartphones. The other color option, Rainbow Spectrum, is much flashier, as you can tell by its name.
Similar to other smartphones in its class, the OPPO Reno7 Z 5G has both a 3.5mm audio port and USB-C port, allowing you to use wired earphones and charge your handset at the same time. We're impressed by how the company managed to fit a 4,500mAh battery in such a slim device with this many ports.
… somewhat loaded on the inside
There's a pro and con to the OPPO Reno7 Z 5G's screen. The pro: It's a nicely sized 6.4-inch 1080p AMOLED panel. The con: Its refresh rate is limited to 60Hz. With competing manufacturers like Samsung and Realme setting at least 90Hz as the modern-day standard, it's sad to see anything lower on a P19,999 product.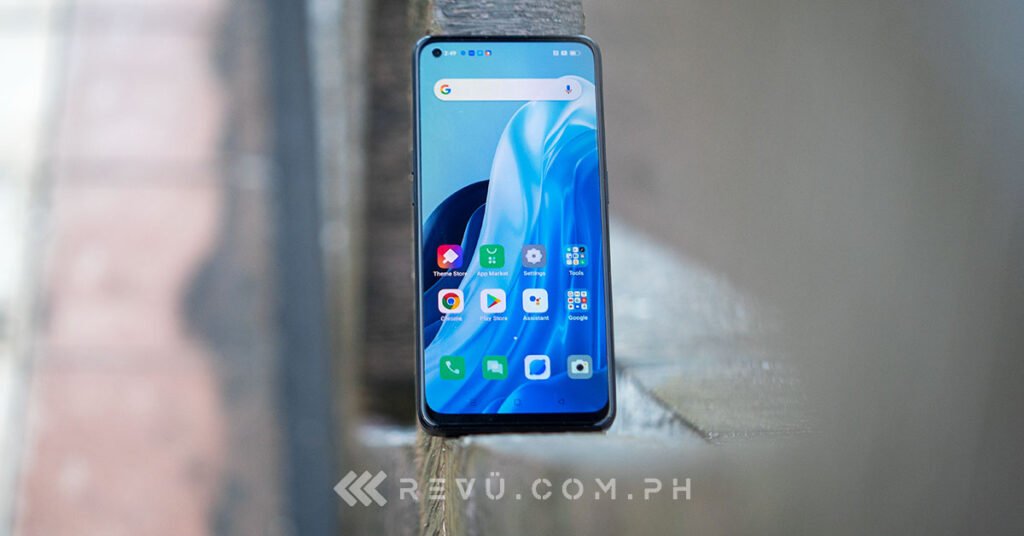 On the bright side, you get an always-on display with minimal drain on battery life and an under-display fingerprint reader. The Reno7 Z 5G's ColorOS 12 interface is based on the nearly two-year-old Android 11, but the brand manages to load it up with features such as Smart Sidebar for quick access to commonly used apps and Flexible Windows for multitasking.
Our favorite aesthetic feature has to be OPPO's Dual Orbit Lights. The two camera lenses on the rear glow around their rings during certain instances. For example, charging the battery would produce continuous lighting, whereas they would blink for incoming calls and messages. While it seemed gimmicky at first, we eventually appreciated the additional purpose of the camera bumps.
On a side note, we had difficulty using the Netflix app on our unit. Our review guide says the Reno7 Z 5G is certified for the streaming service's app, but Google Play sometimes said it was no longer compatible. When it did function, the single down-firing loudspeaker was satisfactory at best.
Not truly triple cameras
Even though the OPPO Reno7 Z 5G has three rear cameras, you're likely to only use the 64-megapixel unit. That's because the depth and macro cameras — both of which are 2 megapixels in resolution — serve no noticeable purpose. You could go as far as covering their lenses during shoots and notice no difference.
Fortunately, the 64-megapixel camera gets the job done in most situations. It outputs at 16 megapixels unless you turn on 64M mode to maximize the entire image sensor. We found ourselves using the default auto settings most of the time. The camera's photos were quite sharp in daylight and even provided up to 5x digital zoom with adequate detail.
Sample shots. Click on a thumbnail to launch the gallery
Portrait mode does a great job as usual in blurring the background and removing unwanted blemishes from one's subject. Night mode improves the lighting in dark environments at the expense of some color smearing. Video recording is available at up to 1080p, but we couldn't adjust the frame rate to below or above the standard 30 frames per second.
The solo front-facing 16-megapixel camera performed as well as we'd expect from OPPO. Not only did it make our selfies look clear no matter where we stood, it recognized our face to unlock the phone the moment we woke it up. It's also in a non-intrusive location at the top-left corner of the screen.
A familiar midrange experience
The midrange Qualcomm Snapdragon 695 5G once again makes an appearance. It offers its standard set of features to the Reno7 Z 5G, including 5G connectivity, efficient battery consumption, and decent visual performance. Along with 8GB of RAM and 128GB of expandable storage, the processor easily handles all tasks you could throw at it, even while multitasking.
As with any midrange smartphone, the hindrance is graphically demanding gaming. Genshin Impact is the most appropriate test: The OPPO Reno7 Z 5G managed medium settings at a steady 30fps and temperature below 40 degrees Celsius most of the time. Stuttering and higher heat levels occurred only when the processor was pushed for several minutes straight. Naturally, lighter games like Mobile Legends, Apex Legends, and Pokemon Unite were a cinch for this smartphone.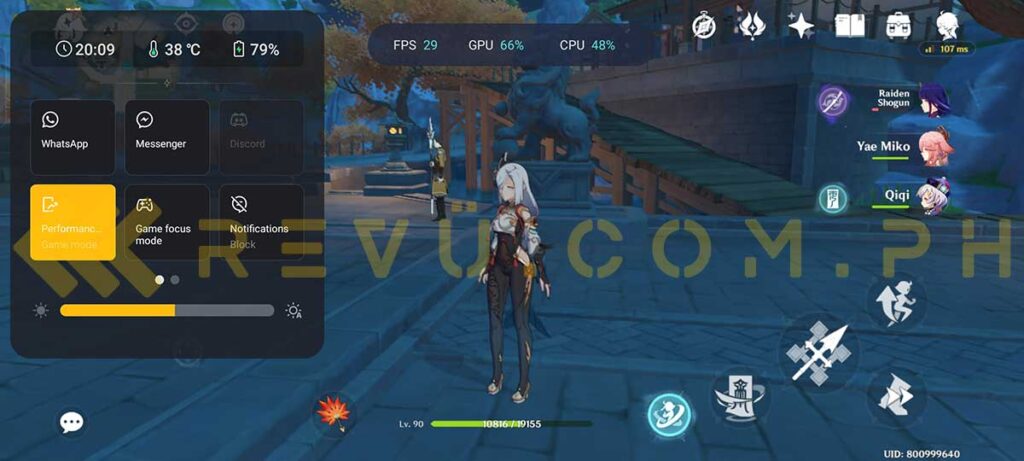 The 4,500mAh capacity is plenty for every usage, giving us more than five hours of screen-on time per full charge. We tried pulling more accurate numbers from PCMark's Work 3.0 battery test, but it either supplied us with a lower-than-expected nine hours and 53 minutes, or an unknown error. We were still happy with the battery performance, especially after realizing the 33-watt SuperVOOC charger could top the phone up in just 65 minutes.
Are good looks enough?
You can see where OPPO cut corners for the Reno7 Z 5G: Two of the three rear cameras don't have much use, the display is stuck at 60Hz, and it ships with Android 11 while Android 12 is gradually becoming commonplace.
The Reno7 Z 5G shines in other aspects, however. We love the slim design and matte black finish, as well as the Dual Orbit Lights which can be seen even when faced down. The chipset's performance matched our expectations, and we loved how fast the battery would charge to full.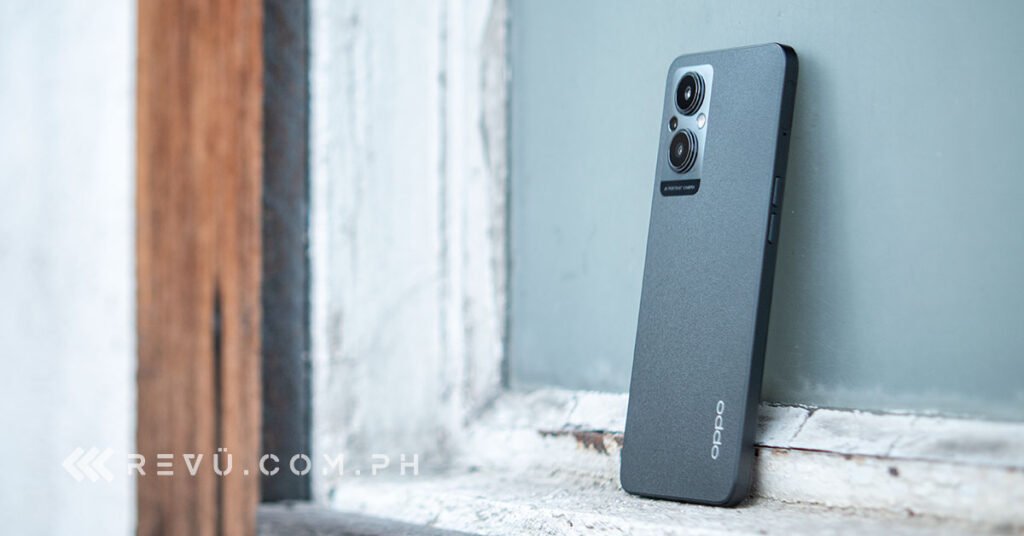 As always, the sub-P20,000 category is tricky. We have heavy-hitters in the Realme 9 Pro and Redmi Note 11 Pro 5G, which have the same Snapdragon 695 5G processor and RAM/storage configuration (8GB/128GB) at much lower prices. Samsung also unveiled new Galaxy A smartphones for OPPO to worry about.
A sharp design and reliable performance give the OPPO Reno7 Z 5G its edge. With so many generic-looking smartphones on the market, this Reno stands out, and does so with minimal compromise.
Links to purchase details can be found on this page
OPPO Reno7 Z 5G specs
6.4-inch 1080p AMOLED, 60Hz refresh rate
Qualcomm Snapdragon 695 5G processor
8GB RAM
128GB storage, expandable via microSD
64-megapixel main, 2-megapixel depth, 2-megapixel macro cameras
16-megapixel front camera
Under-display fingerprint sensor
4,500mAh battery
33-watt SuperVOOC charging
ColorOS 12, Android 11
Rainbow Spectrum or Cosmic Black
---